DX Voice from Mount Athos Monk Apollo, SV2ASP, SK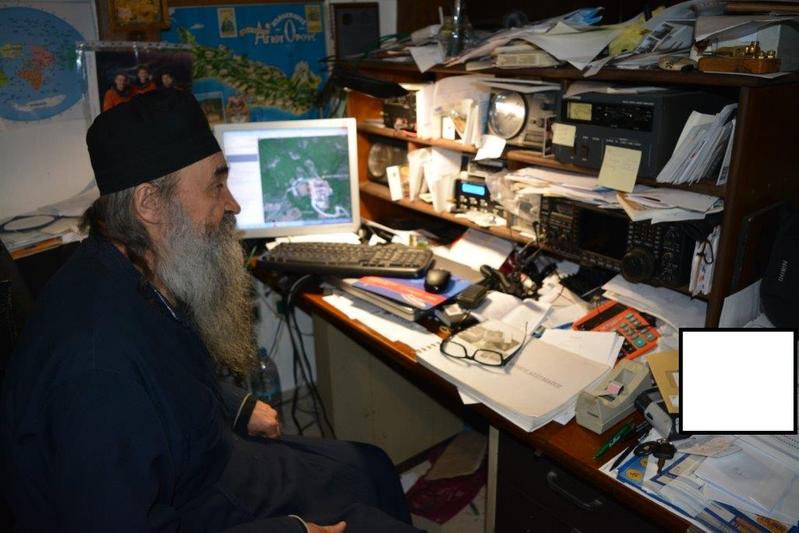 Mount Athos' best-known radio amateur, Monk Apollo, SV2ASP, died on May 5 after complications resulting from cancer. He was 64. Monk Apollo was essentially the lone DX voice from Mount Athos, the 20th most-wanted DXCC entity, where he operated from the Monastery of Docheiariou. Born into a large family in western Greece, he became a monk in 1973, eventually joining the monastery on the Holy Mountain in 1980.
When the need for reliable communication from the monastery surfaced in the 1980s, Monk Apollo followed a recommendation to become a radio amateur, and received permission from the Holy Council to operate on the air in 1990. He celebrated his 10th anniversary on the air with the special call sign SY2A.
Members of the SZ1A club visited in 2003 and began helping him to maintain his station and antennas. Zorro Miyazawa, JH1AJT, followed with additional assistance in 2016.
"We will miss his smile, his good willingness and friendship. I will never forget the times he awoke in the middle of the night to make skeds with amateurs needing Mount Athos for a new one. I was lucky to have him as a friend," remarked Kostas Stamatis, SV1DPI, a close friend.
Chip Cohen, W1YW, commented on QRZ.com, "For many decades, Monk Apollo was the sole operator from the rare country of Mount Athos. A talented man, Father Apollo combined an engineering background with a deep religious faith. He became an international ambassador for ham radio and one of our most famous hams."
(Source: QST Magazine, July 2019 Vol. 103 No. 7, pg. 80)
Our own Monk Peter recently became an Amateur Radio Operator ("Ham") in the General class. Father Peter had been an operator for the last two years and upgraded his license this week.  The upgrade gives him access to high frequency bands which facilitate longer distance communication.  This qualification will allow Father Peter to establish a long-range radio station at the Monastery.  All this was done with full support of the monastic brotherhood, and in keeping with our plan to make the Monastery a shelter for the local community in the event of a large-scale emergency such as an earthquake.
Amateur radio has long played a role in disaster communications when normal means such as cellphones, the internet, or land lines, are out of service. This type of emergency backup has been in place on the Holy Mountain in Greece for some years, and is a wonderful means by which monks can serve the greater needs of nearby communities during times of major disaster events.
With love and blessings,
Abbot Tryphon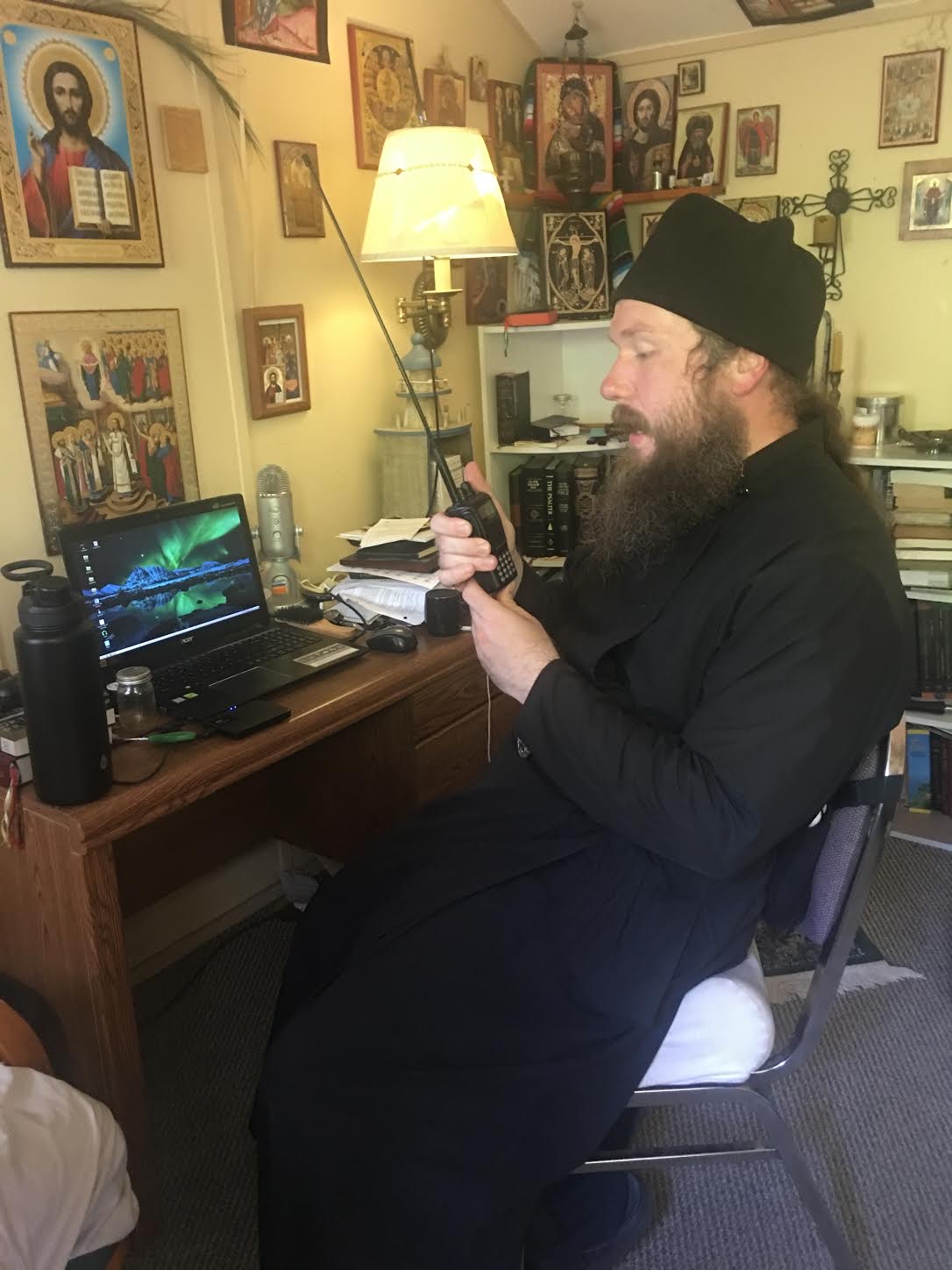 Sunday June 30, 2019 / June 17, 2019
2nd Sunday after Pentecost. All Russian Saints. Tone one.
Apostles' (Peter & Paul) Fast. Fish Allowed
All venerable and holy Fathers of the Holy Mount Athos (movable holiday on the 2nd Sunday of Pentecost).
All venerable and holy Fathers of Bulgaria (movable holiday on the 2nd Sunday of Pentecost).
"Kaluga" Icon of the Most Holy Theotokos (1771) (movable holiday on the first Sunday of the Apostles' Fast).
Martyrs Manuel, Sabel, and Ismael of Persia (362).
New Hieromartyrs Aberkius priest and Nicander (1918).
New Hieromartyr Maximus (1934).
Virgin-Martyr Pelagia (1943).
Hieromartyr Philoneides, bishop of Kurion in Cyprus (306).
Venerables Joseph and Pior, disciples of St. Anthony the Great (4th c.).
Uncovering of the relics (1562) of the Alfanov Brothers of Novgorod (1389): Saints Nicetas, Cyril, Nicephorus, Clement, and Isaac of Novgorod, founders of the Sikolnitzki Monastery.
Venerable Ananias the Iconographer of Novgorod (1581).
Martyr Nectan of Hartland (Devon) (6th c.), and St. Botolph, abbot and confessor, of Boston (England) (680) (Celtic & British).
Martyr Isaurus, and with him Basil, Innocent, Felix, Hermes, and Peregrinus of Athens (Greek).
St. Aetius the Eunuch, enlightener of Ethiopia, baptized by the Apostle Philip (1st c.).
Martyr Shalva of Akhaltsikhe (1227) (Georgia).
St. Hypatius, abbot of monastery of Rufinianos (446).
The Scripture Readings
Mark 16:1-8
He Is Risen
16 Now when the Sabbath was past, Mary Magdalene, Mary the mother of James, and Salome bought spices, that they might come and anoint Him. 2 Very early in the morning, on the first day of the week, they came to the tomb when the sun had risen. 3 And they said among themselves, "Who will roll away the stone from the door of the tomb for us?" 4 But when they looked up, they saw that the stone had been rolled away—for it was very large. 5 And entering the tomb, they saw a young man clothed in a long white robe sitting on the right side; and they were alarmed.
6 But he said to them, "Do not be alarmed. You seek Jesus of Nazareth, who was crucified. He is risen! He is not here. See the place where they laid Him. 7 But go, tell His disciples—and Peter—that He is going before you into Galilee; there you will see Him, as He said to you."
8 So they went out quickly and fled from the tomb, for they trembled and were amazed. And they said nothing to anyone, for they were afraid.
Romans 2:10-16
10 but glory, honor, and peace to everyone who works what is good, to the Jew first and also to the Greek. 11 For there is no partiality with God.
12 For as many as have sinned without law will also perish without law, and as many as have sinned in the law will be judged by the law 13 (for not the hearers of the law are just in the sight of God, but the doers of the law will be justified; 14 for when Gentiles, who do not have the law, by nature do the things in the law, these, although not having the law, are a law to themselves, 15 who show the work of the law written in their hearts, their conscience also bearing witness, and between themselves their thoughts accusing or else excusing them) 16 in the day when God will judge the secrets of men by Jesus Christ, according to my gospel.
Matthew 4:18-23
Four Fishermen Called as Disciples
18 And Jesus, walking by the Sea of Galilee, saw two brothers, Simon called Peter, and Andrew his brother, casting a net into the sea; for they were fishermen. 19 Then He said to them, "Follow Me, and I will make you fishers of men." 20 They immediately left their nets and followed Him.
21 Going on from there, He saw two other brothers, James the son of Zebedee, and John his brother, in the boat with Zebedee their father, mending their nets. He called them, 22 and immediately they left the boat and their father, and followed Him.
Jesus Heals a Great Multitude
23 And Jesus went about all Galilee, teaching in their synagogues, preaching the gospel of the kingdom, and healing all kinds of sickness and all kinds of disease among the people.