The great virtue of forgiving our enemies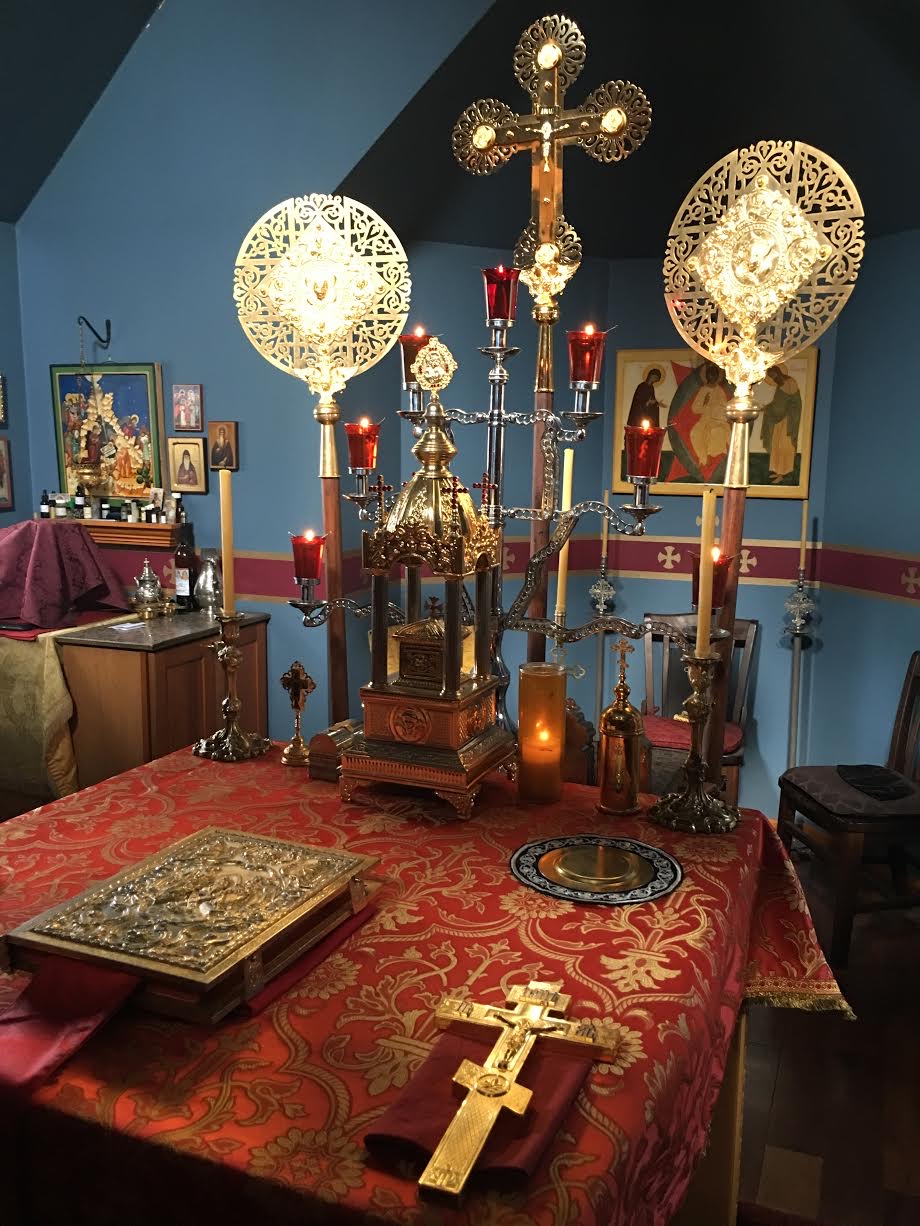 There is the story of Saint Epiphanius of Cyprus who invited Hilarion the Great to dinner, and in order to show his hospitality place fried chicken on the table. Hilarion, when he saw the fried chicken, asked forgiveness, but said he had not eaten meat since his tonsure as a monk. Saint Epiphanius responded by saying that he, since his monastic tonsure, had never gone to bed without first forgiving his enemy.
Moved by his words, Hilarion said: "Your virtue is greater than mine, Oh holy master! Fasting is indeed an admirable thing, but it is more admirable to forgive those who have insulted us." It is through our fasting that we prepare for charity, but by forgiving insults, we show our charity. Our fasting precedes forgiveness, but fasting alone does not save without forgiveness.
With love in Christ,
Abbot Tryphon
Monday June 24, 2019 / June 11, 2019
2nd Week after Pentecost. Tone eight.
Apostles' (Peter & Paul) Fast. Fish Allowed
Beginning of Apostles' (Peter & Paul) Fast
Holy Apostles Bartholomew and Barnabas (1st c.).
Venerable Barnabas, abbot of Vetluga (1445).
New Hieromartyr Mitrophan priest, and those with him (1900).
Uncovering of the relics (1572) of Venerable Ephraim, abbot of New Torzhok (1053).
Icon of the Most Holy Theotokos "It is Truly Meet" ("Axion Estin") (10th c.).
Translation of the relics of Venerable Arcadius, monk of Vyazma and New Torzhok (1077).
St. Niphont patriarch of Constantinople (Romania).
Commemoration of the appearance of the Archangel Gabriel (10th c.) to a monk on Mt. Athos, and the revelation of the hymn "It Is Truly Meet" (Axion Estin).
St. Barnabus of Basa near Limasol in Cyprus (Greek).
Martyr Theopemptus and four otherss (Greek).
The Scripture Readings
John 21:15-25
Jesus Restores Peter
15 So when they had eaten breakfast, Jesus said to Simon Peter, "Simon, son of Jonah, do you love Me more than these?"
He said to Him, "Yes, Lord; You know that I love You."
He said to him, "Feed My lambs."
16 He said to him again a second time, "Simon, son of Jonah, do you love Me?"
He said to Him, "Yes, Lord; You know that I love You."
He said to him, "Tend My sheep."
17 He said to him the third time, "Simon, son of Jonah, do you love Me?" Peter was grieved because He said to him the third time, "Do you love Me?"
And he said to Him, "Lord, You know all things; You know that I love You."
Jesus said to him, "Feed My sheep. 18 Most assuredly, I say to you, when you were younger, you girded yourself and walked where you wished; but when you are old, you will stretch out your hands, and another will gird you and carry you where you do not wish."19 This He spoke, signifying by what death he would glorify God. And when He had spoken this, He said to him, "Follow Me."
The Beloved Disciple and His Book
20 Then Peter, turning around, saw the disciple whom Jesus loved following, who also had leaned on His breast at the supper, and said, "Lord, who is the one who betrays You?" 21 Peter, seeing him, said to Jesus, "But Lord, what about this man?"
22 Jesus said to him, "If I will that he remain till I come, what is that to you? You follow Me."
23 Then this saying went out among the brethren that this disciple would not die. Yet Jesus did not say to him that he would not die, but, "If I will that he remain till I come, what is that to you?"
24 This is the disciple who testifies of these things, and wrote these things; and we know that his testimony is true.
25 And there are also many other things that Jesus did, which if they were written one by one, I suppose that even the world itself could not contain the books that would be written. Amen.
Romans 2:28-3:18
28 For he is not a Jew who is one outwardly, nor is circumcision that which is outward in the flesh; 29 but he is a Jew who is oneinwardly; and circumcision is that of the heart, in the Spirit, not in the letter; whose praise is not from men but from God.
God's Judgment Defended
3 What advantage then has the Jew, or what is the profit of circumcision? 2 Much in every way! Chiefly because to them were committed the oracles of God. 3 For what if some did not believe? Will their unbelief make the faithfulness of God without effect? 4 Certainly not! Indeed, let God be true but every man a liar. As it is written:
"That You may be justified in Your words,
And may overcome when You are judged."
5 But if our unrighteousness demonstrates the righteousness of God, what shall we say? Is God unjust who inflicts wrath? (I speak as a man.) 6 Certainly not! For then how will God judge the world?
7 For if the truth of God has increased through my lie to His glory, why am I also still judged as a sinner? 8 And why not say, "Let us do evil that good may come"?—as we are slanderously reported and as some affirm that we say. Their condemnation is just.
All Have Sinned
9 What then? Are we better than they? Not at all. For we have previously charged both Jews and Greeks that they are all under sin.
10 As it is written:
"There is none righteous, no, not one;
11 There is none who understands;
There is none who seeks after God.
12 They have all turned aside;
They have together become unprofitable;
There is none who does good, no, not one."
13 "Their throat is an open tomb;
With their tongues they have practiced deceit";
"The poison of asps is under their lips";
14 "Whose mouth is full of cursing and bitterness."
15 "Their feet are swift to shed blood;
16 Destruction and misery are in their ways;
17 And the way of peace they have not known."
18 "There is no fear of God before their eyes."