Living as Orthodox Christians in a Non-Christian World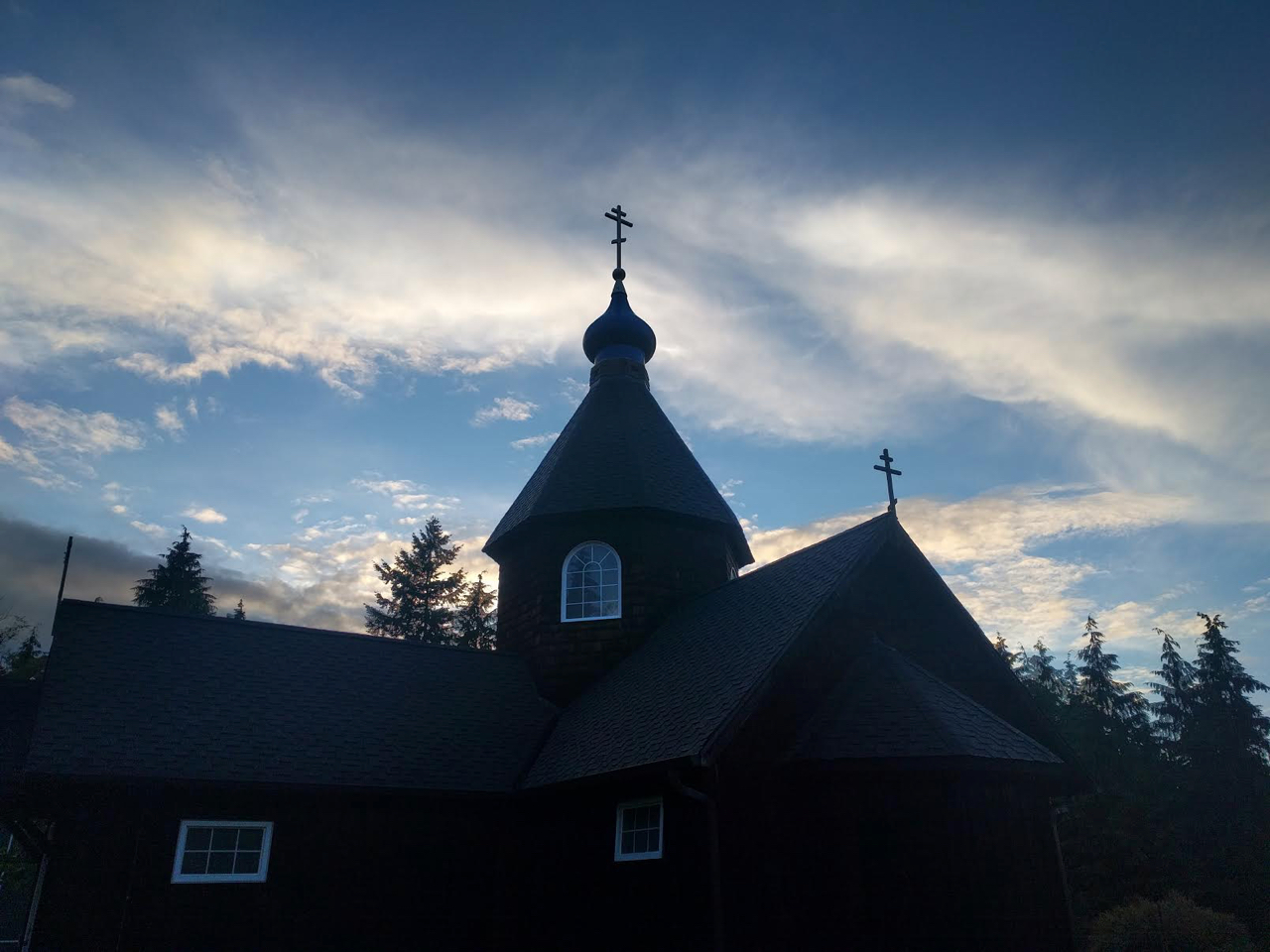 In this pluralistic society there are many Orthodox individuals who've found themselves sharing their lives with non-Orthodox family members. Sometimes these families are not even practicing Christians, so the struggle to keep to the traditions and practices of the Orthodox Faith can be difficult. The lenten periods can be especially hard when the whole family is eating meat, eggs and dairy, while the Orthodox member is required by the Church to fast.
Even the blessing prayers before each meal can be awkward when other members of one's household are not believers. There are also those Sunday mornings or feast days when other members of one's family want to head for the beach, but you're needing to be in church for the Divine Liturgy. The difficulty of being true to one's faith can be even more difficult if your family members hold to anti-religious sentiments.
I remember an uncle who was so hostile towards religion that he forbade my aunt and cousins to attend church. Although he was an extreme example, there are many Orthodox Christians who struggle to live their faith in an environment that is not conducive to the spiritual life. This hostility towards our Orthodox Christian faith can also even carry over into the workplace. A goodly number of employers do not let Orthodox Christians take time off for holy days, or even major feast days such as the Nativity of Christ.
When we are committed to Christ we must not allow others to keep us from practicing our faith. Although it is not necessary to be in their face about our faith, it is important that we remember the example of the early Christians. They were so committed to Christ that they willingly faced martyrdom rather than deny their faith, or compromise Christian principles.
It has been my experience that many individuals who deny the importance of religion in their lives have, in reality, simply been turned off to religiosity. They've seen a form of Christianity that is disingenuous and have therefore discounted Christianity all together. Others see Christians as judgmental and self-righteous, and are therefore turned off to any religious expression.
What to do! First of all we must not hide our faith under any circumstances. This does not mean that we are preachy or self-righteous. A Christian who is grateful for their faith is also compassionate toward those who have no faith. Giving a loving witness to Christ while following the dictates of our Orthodox traditions is a good starting point.
If we are seated at the dinner table with unbelievers, it is important that we not be showy about our faith, but also important that we not hide the fact that we are Orthodox Christians. Making a simple sign of the cross over ourselves before we eat expresses not only our gratitude towards God for our food, but gives quiet witness to our willingness to truly live our lives in open love of our Saviour. The Lord said if we deny Him before men, He will deny us before the Father. Keeping the traditions of our faith, staying true to the fast periods and making an effort to attend Liturgy on a weekly basis is absolutely necessary if we are to grow spiritually.
Most important, our dedication to our faith and a willingness to give witness to our love of Christ can have a huge impact on those around us. If our love of the Saviour translates into love of family and neighbor, those around us will see that our God is real, and our Orthodox faith is truly a way of life, one that actually transforms our nature. When people see that we are filled with joyous living and not judging others, they in turn will want what we have. The Pearl of Great Price can be theirs as well!
With love in Christ,
Abbot Tryphon
Photo: Taken in the evening by Niklaus von Houck, a visitor at the monastery.
Wednesday June 12, 2019 / May 30, 2019
Afterfeast of the Ascension. Tone six.
Fast. Fish Allowed
Venerable Dodo of the St. David-Gareji Monastery, Georgia (596) (movable holiday on the Wednesday of Holy Ascension).
Venerable Isaac, founder of the Dalmatian Monastery at Constantinople (383).
New Hieromartyr Basil priest (1942).
Martyr Natalius.
Martyrs Romanus, Meletius and Euplius.
St. Macrina, grandmother of St. Basil the Great (4th c.).
Venerable James, monk of Galich Monastery (15th c.).
Venerables Isaiah and Nikanor of Arkhangel'sk.
Martyr Barlaam of Caesarea in Cappadocia.
St. Venantius of Gaul (374).
St. Hubert of Maastricht (727) (Neth.).
The Scripture Readings
Acts 23:1-11
The Jerusalem Jews Plot to Kill Paul
23 Then Paul, looking earnestly at the council, said, "Men and brethren, I have lived in all good conscience before God until this day." 2 And the high priest Ananias commanded those who stood by him to strike him on the mouth. 3 Then Paul said to him, "God will strike you, you whitewashed wall! For you sit to judge me according to the law, and do you command me to be struck contrary to the law?"
4 And those who stood by said, "Do you revile God's high priest?"
5 Then Paul said, "I did not know, brethren, that he was the high priest; for it is written, 'You shall not speak evil of a ruler of your people.' "
6 But when Paul perceived that one part were Sadducees and the other Pharisees, he cried out in the council, "Men and brethren, I am a Pharisee, the son of a Pharisee; concerning the hope and resurrection of the dead I am being judged!"
7 And when he had said this, a dissension arose between the Pharisees and the Sadducees; and the assembly was divided. 8 For Sadducees say that there is no resurrection—and no angel or spirit; but the Pharisees confess both. 9 Then there arose a loud outcry. And the scribes of the Pharisees' party arose and protested, saying, "We find no evil in this man; but if a spirit or an angel has spoken to him, let us not fight against God."
10 Now when there arose a great dissension, the commander, fearing lest Paul might be pulled to pieces by them, commanded the soldiers to go down and take him by force from among them, and bring him into the barracks.
The Plot Against Paul
11 But the following night the Lord stood by him and said, "Be of good cheer, Paul; for as you have testified for Me in Jerusalem, so you must also bear witness at Rome."
John 16:15-23
15 All things that the Father has are Mine. Therefore I said that He will take of Mine and declare it to you.
Sorrow Will Turn to Joy
16 "A little while, and you will not see Me; and again a little while, and you will see Me, because I go to the Father."
17 Then some of His disciples said among themselves, "What is this that He says to us, 'A little while, and you will not see Me; and again a little while, and you will see Me'; and, 'because I go to the Father'?" 18 They said therefore, "What is this that He says, 'A little while'? We do not know what He is saying."
19 Now Jesus knew that they desired to ask Him, and He said to them, "Are you inquiring among yourselves about what I said, 'A little while, and you will not see Me; and again a little while, and you will see Me'? 20 Most assuredly, I say to you that you will weep andlament, but the world will rejoice; and you will be sorrowful, but your sorrow will be turned into joy. 21 A woman, when she is in labor, has sorrow because her hour has come; but as soon as she has given birth to the child, she no longer remembers the anguish, for joy that a human being has been born into the world. 22 Therefore you now have sorrow; but I will see you again and your heart will rejoice, and your joy no one will take from you.
23 "And in that day you will ask Me nothing. Most assuredly, I say to you, whatever you ask the Father in My name He will give you.