Your closest friend should be yourself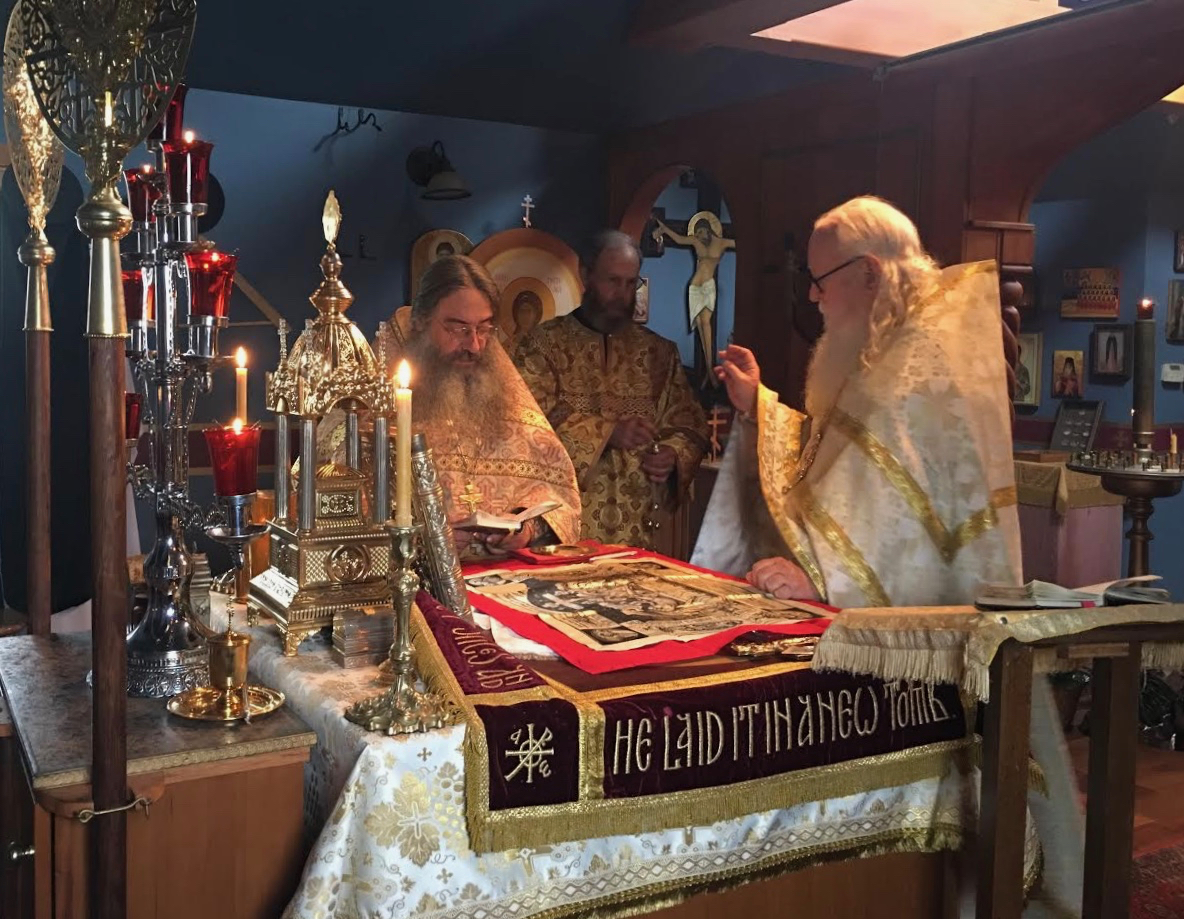 If you have never learned to accept and love yourself, you will never be able to love another person. If you don't learn to forgive yourself, you will never be able to forgive another person. You must learn to be your own best friend.
To love yourself is not about narcissism, an excessive focus on oneself that can be a sign of serious mental illness. Rather, the love of oneself that is healthy, is the love we have for what God has created. We recognize we have been created in His image and likeness, and we are worthy of love, because God Himself loves us.
Being our own best friend is a recognition that what God has created is good, and the invitation to commune with our Creator God has set us apart from the rest of creation. Being our own best friend is the way to kindle within ourselves a grateful heart, and open us to the love God has for us, and, in turn, give us the ability to love God, and to love others.
With love in Christ,
Abbot Tryphon
Photo: Friday was the first time I was able to serve since I was assaulted. I'm still suffering a lot of hip and neck pain, and my hearing is still off, so I want to thank all of you for your continued prayers for my complete recovery.
Saturday May 4, 2019 / April 21, 2019
Bright Saturday.
Bright Week. Fast-free
Hieromartyr Januarius, bishop of Benevento, and his companions: Festus, Proclus, and Sosius, deacons; Desiderius, reader; and Eutychius and Acutius, laymen, at Pozzuoli (305).
Hieromartyr Theodore of Perge in Pamphylia, his mother Philippa, and Martyrs Dioscorus, Socrates, and Dionysius (2nd c.).
Uncovering of the relics (1999) of St. Theodore of Sanaxar (1791).
St. Alexis, priest of Bortsumany, Nizhni-Novgorod (1848).
New Hieromartyr John priest (1918).
St. Nicholas confessor, priest (1933).
New Hieromartyr Alexis priest (1938).
New Hieromartyr Protopresbyter Basil Martysz of Teratyn (Chelm and Podlasie, Poland) (1945).
Martyrs Isaacius, Apollo, and Codratus of Nicomedia (303).
St. Maximus (Maximian), patriarch of Constantinople (434).
The Mozdok Icon of the Mother of God.
Martyr Alexandra the Empress (303).
Venerable Jakov (James) of Stromynsk.
St. Niphon, bishop of Novgorod (Kiev Caves).
Venerable Beuno, abbot of Clynnog, England (ca. 640) (Celtic & British).
St. Maelruba of Apur Crossan (722) (Celtic & British).
St. Ethilwald, hermit of Farne. (Celtic & British).
St. Anastasius of Sinai (beg. of 8th c.).
The Scripture Readings
Acts 3:11-16
Preaching in Solomon's Portico
11 Now as the lame man who was healed held on to Peter and John, all the people ran together to them in the porch which is called Solomon's, greatly amazed. 12 So when Peter saw it, he responded to the people: "Men of Israel, why do you marvel at this? Or why look so intently at us, as though by our own power or godliness we had made this man walk? 13 The God of Abraham, Isaac, and Jacob, the God of our fathers, glorified His Servant Jesus, whom you delivered up and denied in the presence of Pilate, when he was determined to let Him go. 14 But you denied the Holy One and the Just, and asked for a murderer to be granted to you, 15 and killed the Prince of life, whom God raised from the dead, of which we are witnesses. 16 And His name, through faith in His name, has made this man strong, whom you see and know. Yes, the faith which comes through Him has given him this perfect soundness in the presence of you all.
John 3:22-33
John the Baptist Exalts Christ
22 After these things Jesus and His disciples came into the land of Judea, and there He remained with them and baptized. 23 Now John also was baptizing in Aenon near Salim, because there was much water there. And they came and were baptized. 24 For John had not yet been thrown into prison.
25 Then there arose a dispute between some of John's disciples and the Jews about purification. 26 And they came to John and said to him, "Rabbi, He who was with you beyond the Jordan, to whom you have testified—behold, He is baptizing, and all are coming to Him!"
27 John answered and said, "A man can receive nothing unless it has been given to him from heaven. 28 You yourselves bear me witness, that I said, 'I am not the Christ,' but, 'I have been sent before Him.' 29 He who has the bride is the bridegroom; but the friend of the bridegroom, who stands and hears him, rejoices greatly because of the bridegroom's voice. Therefore this joy of mine is fulfilled. 30 He must increase, but I must decrease. 31 He who comes from above is above all; he who is of the earth is earthly and speaks of the earth. He who comes from heaven is above all. 32 And what He has seen and heard, that He testifies; and no one receives His testimony. 33 He who has received His testimony has certified that God is true.