The eye of the soul and the mind of the heart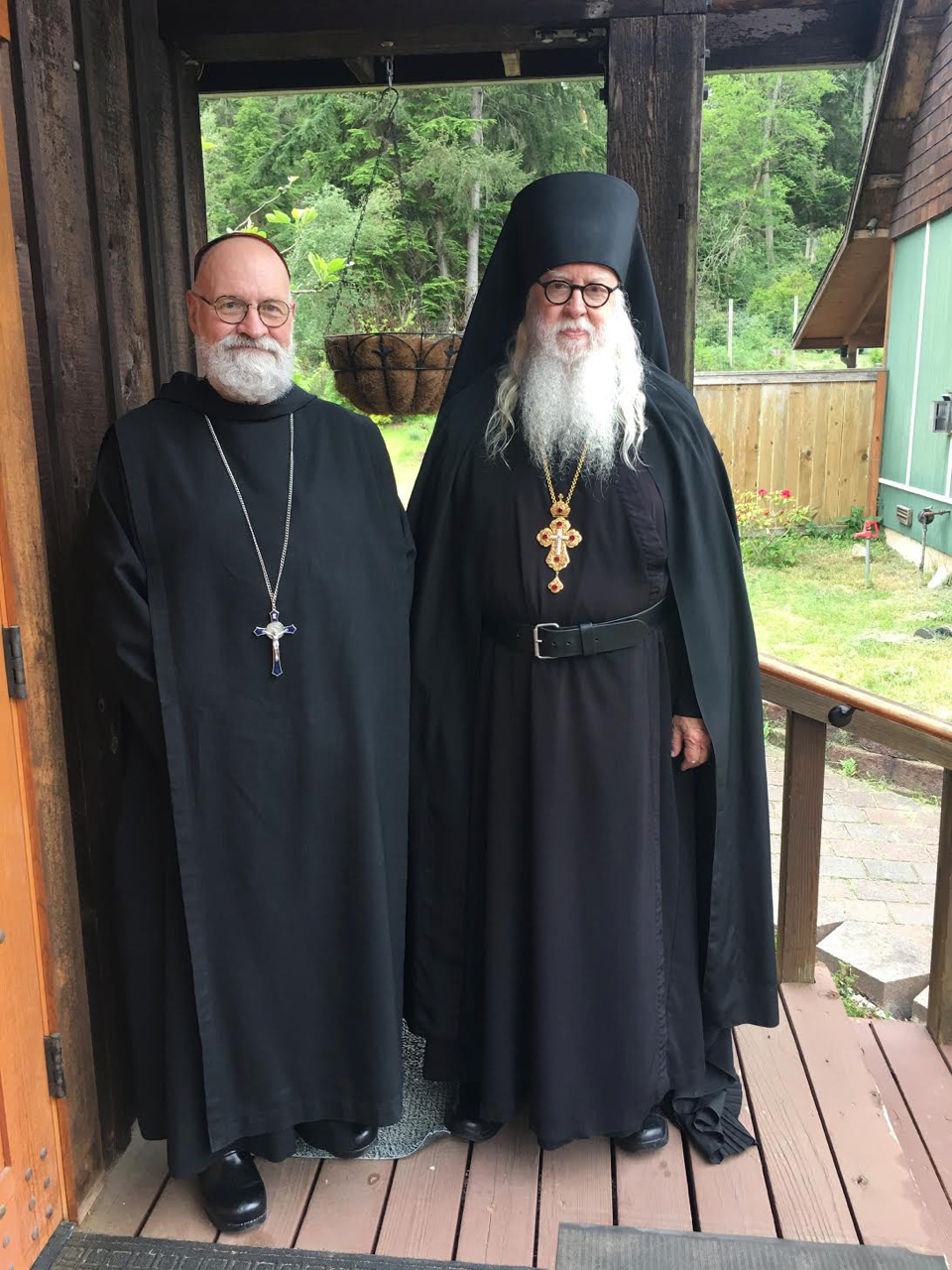 There is the seen, and there is the unseen, the material and the immaterial. That which is material can be scientifically examined and experienced, the immaterial can only be seen and experienced spiritually. These are two worlds that are only seemingly at odds with one another. If you attempt to examine that which is of a spiritual nature using a science that is by its very nature meant to explore the material realm, you will fail.
The things that are of God are far beyond the capabilities of our finite mind to comprehend. The divine can only be known through the nous, that place in the heart that is our true center. It, unlike the brain, is capable of knowledge that is beyond human comprehension, coming as it does from noetic knowledge.
When we try to apply words to the noetic form, we fail. We can no more explain God than we can explain quantum physics, since both are unseen. God is outside the realm of human intellectual understanding. The Eastern Church approaches things of God as holy mysteries, since God can only be known in His divine energies, not in His essence. If a scientist can believe in quantum physics, the unseen, why can he not believe in God Whom he has not seen? If we can believe in the concept of infinity, something that goes on and on without end, why can we not believe in God?
The science of the soul is noetic and can be examined and experienced only through the activation of the nous. The nous in Orthodox Christian theology is the eye of the soul, and the mind of the heart. God created us with the nous because the human intellect is not capable of knowing Him without it. The intellect alone can not know God, for human reasoning is limited to the things that are of a material nature. God is unknowable without His divine revelation, and only the nous can perceive this knowledge. God's essence remains inaccessible without noetic knowledge. Science has it's place, but only the heart can know God.
Quantum physics, while mysterious, is still part of the created material realm, and is fairly explainable now. The real difference isn't between seen and unseen, but at its root, created and uncreated. It was the uncreated energies of God that Moses saw in the burning bush, or that the Apostles experienced in the transfiguration of Christ. A scientist will understand the properties of light (photons), but will have no clue about the uncreated light, which heals, deifies and casts no shadow. Fr. George Calciu of blessed memory experienced this light in the midst of the worst Romanian prisons, and the result is another effect that science cannot explain: incorruption of the body after death.
Love in Christ,
Abbot Tryphon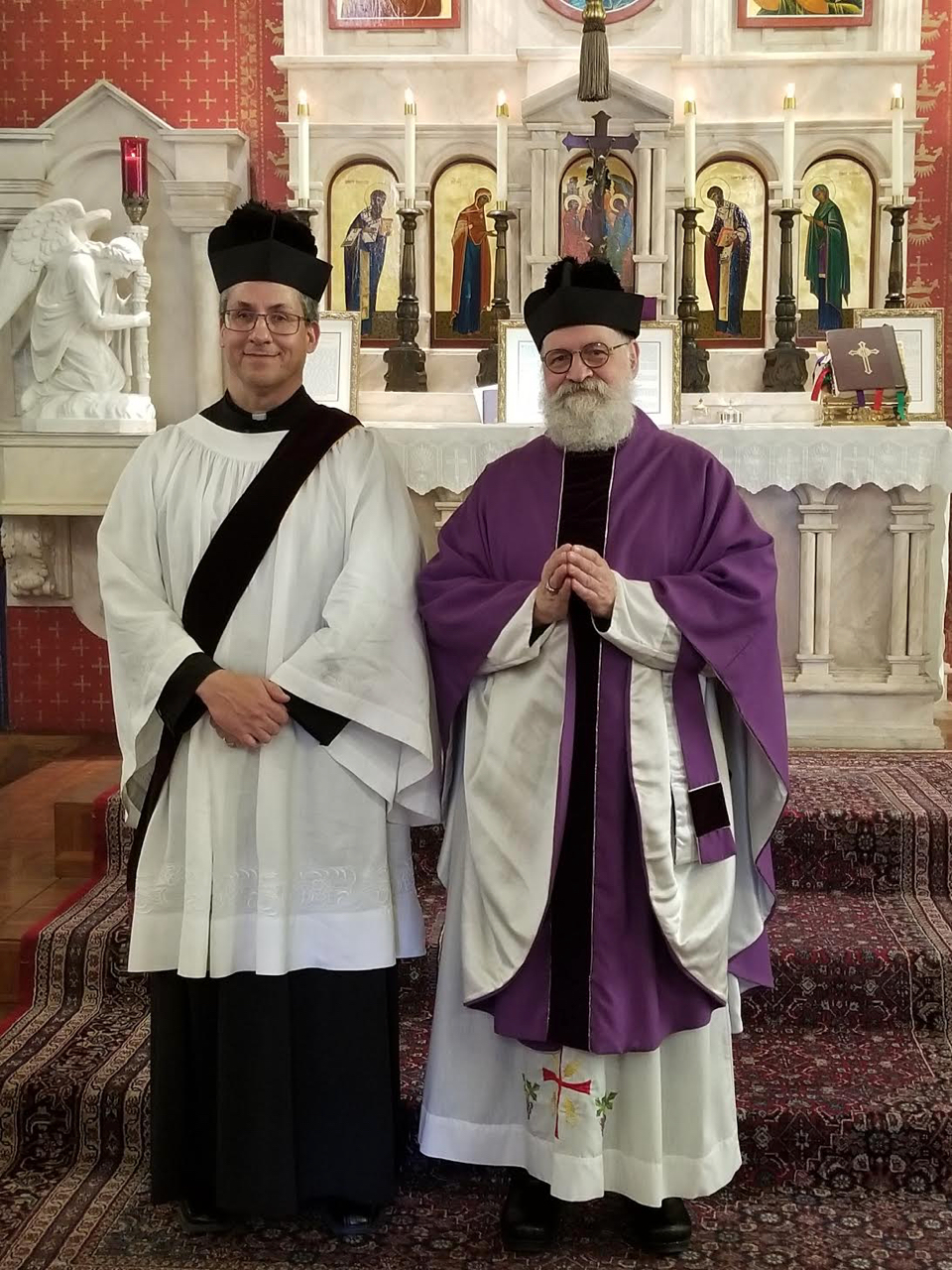 Photo: We were delighted to have Abbot Theodore of The Community of Our Lady and Saint Lawrence, a Western Rite Orthodox monastery in Colorado, join us for Liturgy on Sunday morning. Abbot Theodore is with The Antiochian Orthodox Christian Archdiocese, and a long time friend of our monastery.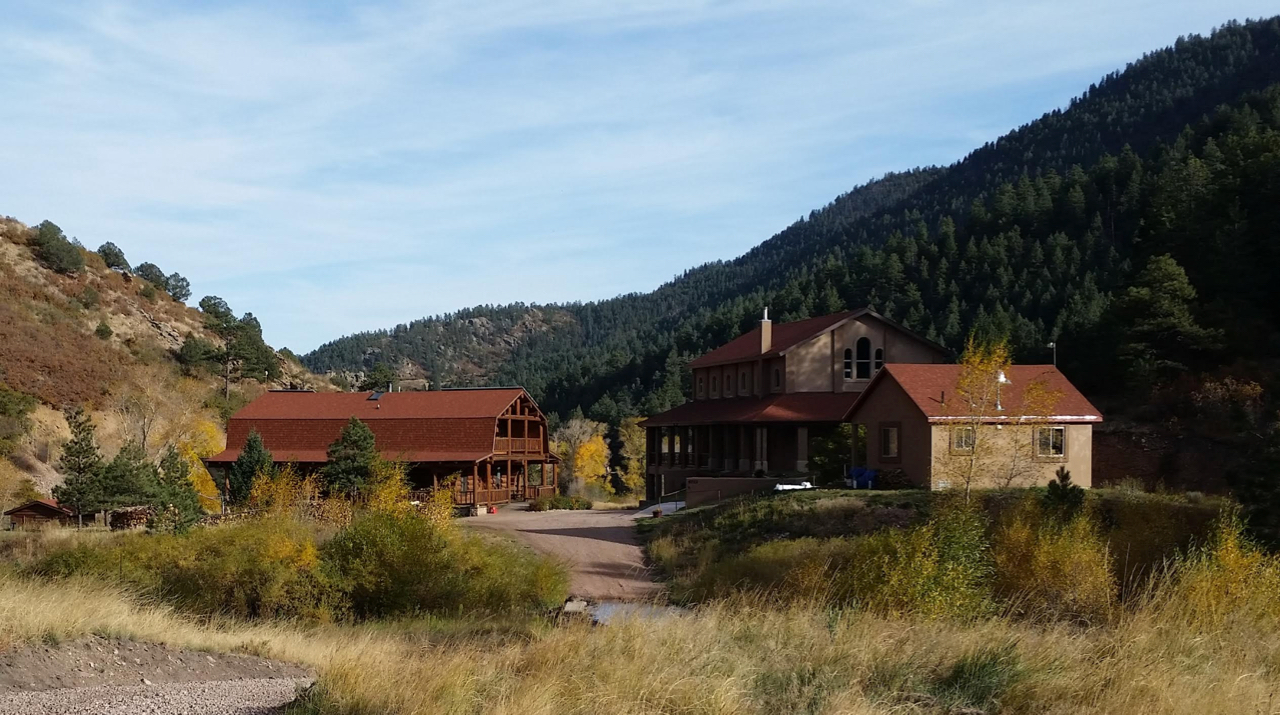 Monday May 13, 2019 / April 30, 2019
Third Week of Pascha. Tone two.
Holy Apostle James, the brother of St. John the Theologian (44).
Uncovering of the relics (1558) of St. Nicetas, bishop of Novgorod (1108).
St. Ignatius (Brianchaninov), Bishop of the Caucasus and Stavropol (1867).
St. Donatus, bishop of Euroea in Epirus (387).
Uncovering of the relics of Hieromartyr Basil, bishop of Amasea (322).
Martyr Maximus of Ephesus.
New Martyr Argyra of Prussa (1725).
Venerable Clement the Hymnographer, abbot of the Studion (9th c.).
Icon of the Most Holy Theotokos "Of the Passion".
Translation of the relics of Venerable Sabbas, abbot of Zvenigorod Monastery.
St. Erconwald, bishop of London ( 693) (Celtic & British).
Martyrs Eutropius and Estelle of Saintes (3rd. c.) (Gaul).
Sts. Quintian and Atticus (Greek).
The Scripture Readings
John 21:15-25
Jesus Restores Peter
15 So when they had eaten breakfast, Jesus said to Simon Peter, "Simon, son of Jonah, do you love Me more than these?"
He said to Him, "Yes, Lord; You know that I love You."
He said to him, "Feed My lambs."
16 He said to him again a second time, "Simon, son of Jonah, do you love Me?"
He said to Him, "Yes, Lord; You know that I love You."
He said to him, "Tend My sheep."
17 He said to him the third time, "Simon, son of Jonah, do you love Me?" Peter was grieved because He said to him the third time, "Do you love Me?"
And he said to Him, "Lord, You know all things; You know that I love You."
Jesus said to him, "Feed My sheep. 18 Most assuredly, I say to you, when you were younger, you girded yourself and walked where you wished; but when you are old, you will stretch out your hands, and another will gird you and carry you where you do not wish."19 This He spoke, signifying by what death he would glorify God. And when He had spoken this, He said to him, "Follow Me."
The Beloved Disciple and His Book
20 Then Peter, turning around, saw the disciple whom Jesus loved following, who also had leaned on His breast at the supper, and said, "Lord, who is the one who betrays You?" 21 Peter, seeing him, said to Jesus, "But Lord, what about this man?"
22 Jesus said to him, "If I will that he remain till I come, what is that to you? You follow Me."
23 Then this saying went out among the brethren that this disciple would not die. Yet Jesus did not say to him that he would not die, but, "If I will that he remain till I come, what is that to you?"
24 This is the disciple who testifies of these things, and wrote these things; and we know that his testimony is true.
25 And there are also many other things that Jesus did, which if they were written one by one, I suppose that even the world itself could not contain the books that would be written. Amen.
Acts 6:8-7:5
Stephen Accused of Blasphemy
8 And Stephen, full of faith and power, did great wonders and signs among the people. 9 Then there arose some from what is called the Synagogue of the Freedmen (Cyrenians, Alexandrians, and those from Cilicia and Asia), disputing with Stephen. 10 And they were not able to resist the wisdom and the Spirit by which he spoke. 11 Then they secretly induced men to say, "We have heard him speak blasphemous words against Moses and God." 12 And they stirred up the people, the elders, and the scribes; and they came upon him, seized him, and brought him to the council. 13 They also set up false witnesses who said, "This man does not cease to speak blasphemous words against this holy place and the law; 14 for we have heard him say that this Jesus of Nazareth will destroy this place and change the customs which Moses delivered to us." 15 And all who sat in the council, looking steadfastly at him, saw his face as the face of an angel.
Stephen's Address: The Call of Abraham
7 Then the high priest said, "Are these things so?"
2 And he said, "Brethren and fathers, listen: The God of glory appeared to our father Abraham when he was in Mesopotamia, before he dwelt in Haran, 3 and said to him, 'Get out of your country and from your relatives, and come to a land that I will show you.' 4 Then he came out of the land of the Chaldeans and dwelt in Haran. And from there, when his father was dead, He moved him to this land in which you now dwell. 5 And God gave him no inheritance in it, not even enough to set his foot on. But even when Abraham had no child, He promised to give it to him for a possession, and to his descendants after him.
Acts 7:47-60
47 But Solomon built Him a house.
48 "However, the Most High does not dwell in temples made with hands, as the prophet says:
49 'Heaven is My throne,
And earth is My footstool.
What house will you build for Me? says the Lord,
Or what is the place of My rest?
50 Has My hand not made all these things?'
Israel Resists the Holy Spirit
51 "You stiff-necked and uncircumcised in heart and ears! You always resist the Holy Spirit; as your fathers did, so do you. 52 Which of the prophets did your fathers not persecute? And they killed those who foretold the coming of the Just One, of whom you now have become the betrayers and murderers, 53 who have received the law by the direction of angels and have not kept it."
Stephen the Martyr
54 When they heard these things they were cut to the heart, and they gnashed at him with their teeth. 55 But he, being full of the Holy Spirit, gazed into heaven and saw the glory of God, and Jesus standing at the right hand of God, 56 and said, "Look! I see the heavens opened and the Son of Man standing at the right hand of God!"
57 Then they cried out with a loud voice, stopped their ears, and ran at him with one accord; 58 and they cast him out of the city and stoned him. And the witnesses laid down their clothes at the feet of a young man named Saul. 59 And they stoned Stephen as he was calling on God and saying, "Lord Jesus, receive my spirit." 60 Then he knelt down and cried out with a loud voice, "Lord, do not charge them with this sin." And when he had said this, he fell asleep.
John 4:46-54
A Nobleman's Son Healed
46 So Jesus came again to Cana of Galilee where He had made the water wine. And there was a certain nobleman whose son was sick at Capernaum. 47 When he heard that Jesus had come out of Judea into Galilee, he went to Him and implored Him to come down and heal his son, for he was at the point of death. 48 Then Jesus said to him, "Unless you people see signs and wonders, you will by no means believe."
49 The nobleman said to Him, "Sir, come down before my child dies!"
50 Jesus said to him, "Go your way; your son lives." So the man believed the word that Jesus spoke to him, and he went his way. 51 And as he was now going down, his servants met him and told him, saying, "Your son lives!"
52 Then he inquired of them the hour when he got better. And they said to him, "Yesterday at the seventh hour the fever left him." 53 So the father knew that it was at the same hour in which Jesus said to him, "Your son lives." And he himself believed, and his whole household.
54 This again is the second sign Jesus did when He had come out of Judea into Galilee.