Pride destroys virtue and renders it useless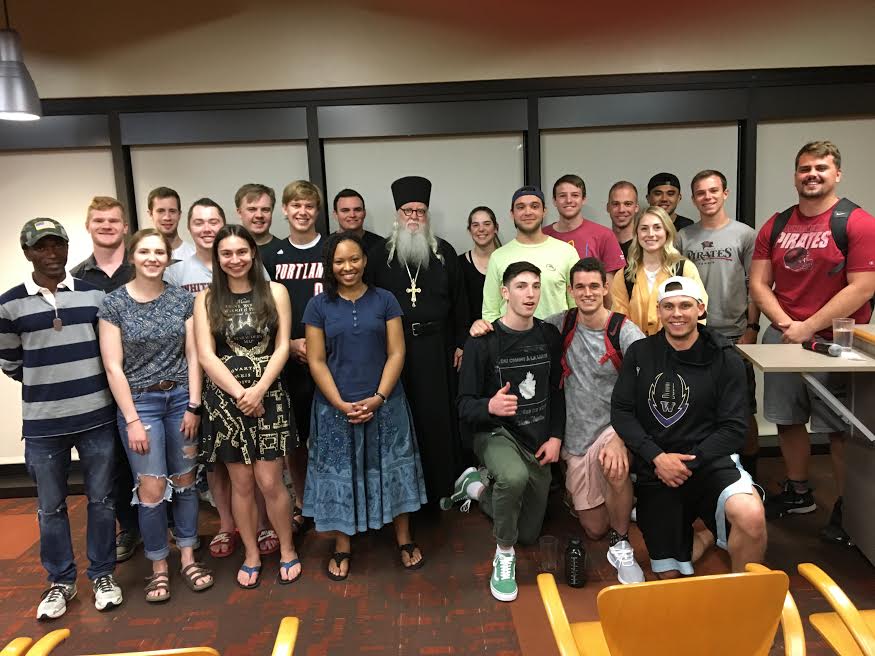 The absolute necessary element for salvation is faith, and the enemy of faith is pride. Our faith in Christ will bring us into everlasting life, because faith brings us into communion with God. Pride destroys faith because it makes us believe we do not need God, and pride is what leads many into the abyss of atheism, for pride makes us believe that there is nothing beyond ourselves. Pride leads us to believe that we are all important, and that nothing exists beyond ourselves. Once pride takes hold, our heart grows hard, and faith grows cold and dies.
Repentance is the cure for pride, and only through repentance can we rekindle the grace that brings life to our faith. Humbling ourselves before God, and giving ourselves over to divine worship, brings us back into the natural relationship that was preordained for us before the fall, and faith grows as grace rebounds.
With love in Christ,
Abbot Tryphon
Photo: I gave a talk at Whitworth University in Spokane, on Tuesday, and was blessed to have some quality time with my brother, Dwayne, and his dear wife Claudia. Returning to the monastery on Friday.
Thursday May 9, 2019 / April 26, 2019
Second Week of Pascha. Tone one.
Hieromartyr Basil, bishop of Amasea (322).
St. Stephen, bishop of Perm (1396).
New Hieromartyr John (Pankov) priest and his children, Martyrs Nicholas and Peter (1918).
Righteous Virgin Glaphyra of Nicomedia (322).
Venerable Ioannicius of Devich (Serbia) (1430).
Commemoration of Fallen Soldiers.
Venerable Jusca, righteous.
St. Nestor the Silent (Greek).
Venerables Andrew and Anatole, disciples of St. Euthymius the Great (5th c.) (Greek).
St. Richarius, abbot in Picardy (645).
St. Calantius of Tamaseos on Cyprus (8th c.).
St. George of Cyprus (1091).
The Scripture Readings
Acts 4:23-31
Prayer for Boldness
23 And being let go, they went to their own companions and reported all that the chief priests and elders had said to them. 24 So when they heard that, they raised their voice to God with one accord and said: "Lord, You are God, who made heaven and earth and the sea, and all that is in them, 25 who [a]by the mouth of Your servant David have said:
'Why did the nations rage,
And the people plot vain things?
26 The kings of the earth took their stand,
And the rulers were gathered together
Against the Lord and against His Christ.'
27 "For truly against Your holy Servant Jesus, whom You anointed, both Herod and Pontius Pilate, with the Gentiles and the people of Israel, were gathered together 28 to do whatever Your hand and Your purpose determined before to be done. 29 Now, Lord, look on their threats, and grant to Your servants that with all boldness they may speak Your word, 30 by stretching out Your hand to heal, and that signs and wonders may be done through the name of Your holy Servant Jesus."
31 And when they had prayed, the place where they were assembled together was shaken; and they were all filled with the Holy Spirit, and they spoke the word of God with boldness.
John 5:24-30
Life and Judgment Are Through the Son
24 "Most assuredly, I say to you, he who hears My word and believes in Him who sent Me has everlasting life, and shall not come into judgment, but has passed from death into life. 25 Most assuredly, I say to you, the hour is coming, and now is, when the dead will hear the voice of the Son of God; and those who hear will live. 26 For as the Father has life in Himself, so He has granted the Son to have life in Himself, 27 and has given Him authority to execute judgment also, because He is the Son of Man. 28 Do not marvel at this; for the hour is coming in which all who are in the graves will hear His voice 29 and come forth—those who have done good, to the resurrection of life, and those who have done evil, to the resurrection of condemnation. 30 I can of Myself do nothing. As I hear, I judge; and My judgment is righteous, because I do not seek My own will but the will of the Father who sent Me.