Humankind is a microcosm of the universe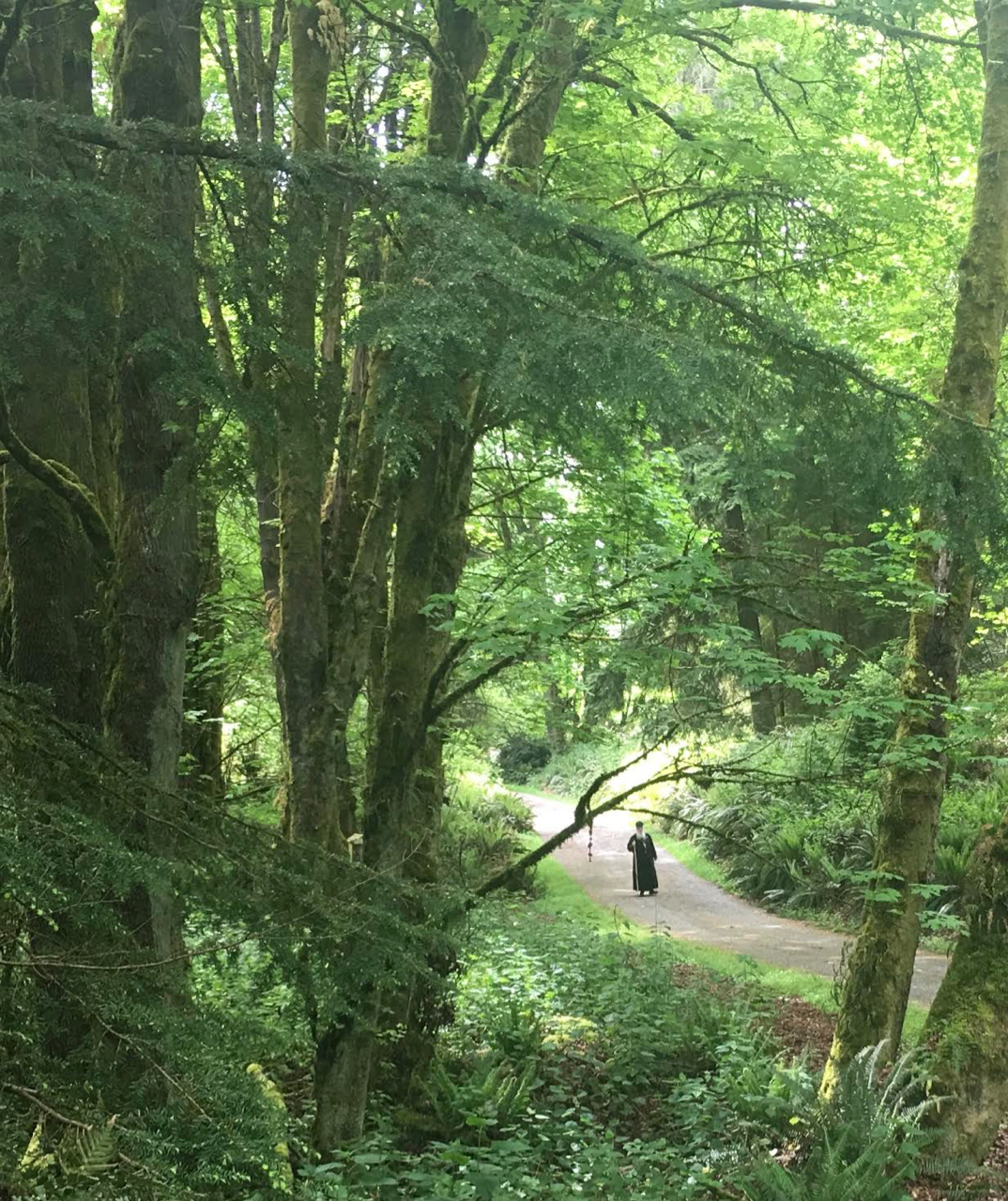 It has been said that humans are a microcosm of the whole universe because we have within ourselves the entire material world, and with it the noetic powers of the cosmos. Created as we were for immortality, it is our fallen nature that has separated us from that which God had intended. When we avail ourselves to the transformational healing that comes with repentance, we will see the Kingdom of God, which is within.
Love in Christ,
Abbot Tryphon
Thursday May 30, 2019 / May 17, 2019
Fifth Week of Pascha. Tone four.
Apostle Andronicus of the Seventy and his fellow laborer Junia (1st c.).
Venerable Euphrosyne (Princess Eudocia) of Moscow (1407).
Martyrs Solochon, Pamphamer, and Pamphalon at Chalcedon (298).
St. Stephen, archbishop of Constantinople (893).
Translation of the relics (1551) of Venerable Adrian, abbot of Ondrusov (Valaam) (1549).
St. Melangell, virgin hermitess of Wales (6th c.) (Celtic & British).
Venerables Nectarius (1550) and Theophanes (1544) of Meteora (Greek).
Venerable Athanasius the New, wonderworker of Christianopolis (18th c.) (Greek).
Great-martyr Nicholas of Sophia (1555).
St. Jonah Atamansk, priest of Odessa (1924).
The Scripture Readings
Acts 14:20-27
20 However, when the disciples gathered around him, he rose up and went into the city. And the next day he departed with Barnabas to Derbe.
Strengthening the Converts
21 And when they had preached the gospel to that city and made many disciples, they returned to Lystra, Iconium, and Antioch, 22 strengthening the souls of the disciples, exhorting them to continue in the faith, and saying, "We must through many tribulations enter the kingdom of God." 23 So when they had appointed elders in every church, and prayed with fasting, they commended them to the Lord in whom they had believed. 24 And after they had passed through Pisidia, they came to Pamphylia. 25 Now when they had preached the word in Perga, they went down to Attalia. 26 From there they sailed to Antioch, where they had been commended to the grace of God for the work which they had completed.
27 Now when they had come and gathered the church together, they reported all that God had done with them, and that He had opened the door of faith to the Gentiles.
John 9:39-10:9
39 And Jesus said, "For judgment I have come into this world, that those who do not see may see, and that those who see may be made blind."
40 Then some of the Pharisees who were with Him heard these words, and said to Him, "Are we blind also?"
41 Jesus said to them, "If you were blind, you would have no sin; but now you say, 'We see.' Therefore your sin remains.
Jesus the True Shepherd
10 "Most assuredly, I say to you, he who does not enter the sheepfold by the door, but climbs up some other way, the same is a thief and a robber. 2 But he who enters by the door is the shepherd of the sheep. 3 To him the doorkeeper opens, and the sheep hear his voice; and he calls his own sheep by name and leads them out. 4 And when he brings out his own sheep, he goes before them; and the sheep follow him, for they know his voice. 5 Yet they will by no means follow a stranger, but will flee from him, for they do not know the voice of strangers." 6 Jesus used this illustration, but they did not understand the things which He spoke to them.
Jesus the Good Shepherd
7 Then Jesus said to them again, "Most assuredly, I say to you, I am the door of the sheep. 8 All who ever came before Me are thieves and robbers, but the sheep did not hear them. 9 I am the door. If anyone enters by Me, he will be saved, and will go in and out and find pasture.