The two natures of the Church image the two natures of Christ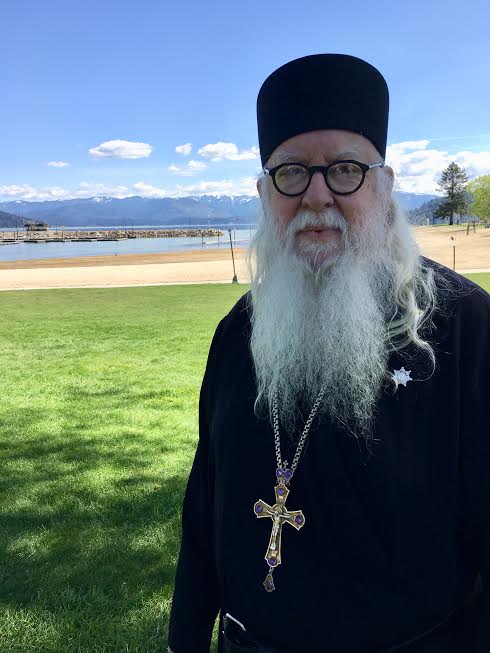 Christ, the God-man, was equally divine and human, and His Church is an image of this dual nature. Since we are not fully realized as the children of the Most High, journeying, as we are, to the Kingdom that is within, our human nature is still sinful and fallen. Thus, the Church, being both human and divine, is comprised of we who are incomplete and imperfect. But Christ, being the head of His Church, has created the Church as a holy institution, filled with the healing power of the Holy Spirit, and transforming all of us into a pure Body.
Because Christ, as God-Man, is both divine and human, His Church manifests itself as both divine and human, although we are incomplete and imperfect. Yet the transformational grace that abounds in the Church, is changing us, and our cooperation with God's grace is making us a loving people, cooperating with the movement of the Holy Spirit, ever making us closer to the image our Creator God intended. Christ came to bring us fully into communion with the God Who loves us, and His mercy gives us the power to truly love Christ, and to truly love our neighbor.
The Church is not divided into two parts, but is fully an undivided whole, and is therefore both the invisible yet mystical body of Christ. The Church is thus called by God to promote the communion of man with God, and with all our fellow believers. The unity of the Church becomes our own unity with God, and with others, and partakers in the Heavenly Kingdom.
With love in Christ,
Abbot Tryphon
Wednesday May 8, 2019 / April 25, 2019
Second Week of Pascha. Tone one.
Fast. Fish Allowed
Holy Apostle and Evangelist Mark (63).
Martyr Sergius (1938).
Venerable Basil Polianomerulsk (1767) (Romania).
Venerable Sylvester, abbot of Obnora (1379).
"Constantinople" Icon (1071) of the Mother of God.
St. Macedonius, patriarch of Constantinople (516).
St. Aninanus, second bishop of Alexandria (86).
Hieromartyr Stephen, bishop of Antioch (479).
Martyr Nice (Greek).
Eight anchorites who were martyred. (Greek).
The Scripture Readings
Luke 10:1-15
The Seventy Sent Out
10 After these things the Lord appointed seventy others also, and sent them two by two before His face into every city and place where He Himself was about to go. 2 Then He said to them, "The harvest truly is great, but the laborers are few; therefore pray the Lord of the harvest to send out laborers into His harvest. 3 Go your way; behold, I send you out as lambs among wolves. 4 Carry neither money bag, knapsack, nor sandals; and greet no one along the road. 5 But whatever house you enter, first say, 'Peace to this house.' 6 And if a son of peace is there, your peace will rest on it; if not, it will return to you. 7 And remain in the same house, eating and drinking such things as they give, for the laborer is worthy of his wages. Do not go from house to house. 8 Whatever city you enter, and they receive you, eat such things as are set before you. 9 And heal the sick there, and say to them, 'The kingdom of God has come near to you.' 10 But whatever city you enter, and they do not receive you, go out into its streets and say, 11 'The very dust of your city which clings to us we wipe off against you. Nevertheless know this, that the kingdom of God has come near you.' 12 But I say to you that it will be more tolerable in that Day for Sodom than for that city.
Woe to the Impenitent Cities
13 "Woe to you, Chorazin! Woe to you, Bethsaida! For if the mighty works which were done in you had been done in Tyre and Sidon, they would have repented long ago, sitting in sackcloth and ashes. 14 But it will be more tolerable for Tyre and Sidon at the judgment than for you. 15 And you, Capernaum, who are exalted to heaven, will be brought down to Hades.
Acts 4:13-22
The Name of Jesus Forbidden
13 Now when they saw the boldness of Peter and John, and perceived that they were uneducated and untrained men, they marveled. And they realized that they had been with Jesus. 14 And seeing the man who had been healed standing with them, they could say nothing against it. 15 But when they had commanded them to go aside out of the council, they conferred among themselves, 16 saying, "What shall we do to these men? For, indeed, that a notable miracle has been done through them is evident[b] to all who dwell in Jerusalem, and we cannot deny it. 17 But so that it spreads no further among the people, let us severely threaten them, that from now on they speak to no man in this name."
18 So they called them and commanded them not to speak at all nor teach in the name of Jesus. 19 But Peter and John answered and said to them, "Whether it is right in the sight of God to listen to you more than to God, you judge. 20 For we cannot but speak the things which we have seen and heard." 21 So when they had further threatened them, they let them go, finding no way of punishing them, because of the people, since they all glorified God for what had been done. 22 For the man was over forty years old on whom this miracle of healing had been performed.
John 5:17-24
17 But Jesus answered them, "My Father has been working until now, and I have been working."
18 Therefore the Jews sought all the more to kill Him, because He not only broke the Sabbath, but also said that God was His Father, making Himself equal with God. 19 Then Jesus answered and said to them, "Most assuredly, I say to you, the Son can do nothing of Himself, but what He sees the Father do; for whatever He does, the Son also does in like manner. 20 For the Father loves the Son, andshows Him all things that He Himself does; and He will show Him greater works than these, that you may marvel. 21 For as the Father raises the dead and gives life to them, even so the Son gives life to whom He will. 22 For the Father judges no one, but has committed all judgment to the Son, 23 that all should honor the Son just as they honor the Father. He who does not honor the Son does not honor the Father who sent Him.
Life and Judgment Are Through the Son
24 "Most assuredly, I say to you, he who hears My word and believes in Him who sent Me has everlasting life, and shall not come into judgment, but has passed from death into life.