Recognizing our shared humanity with the homeless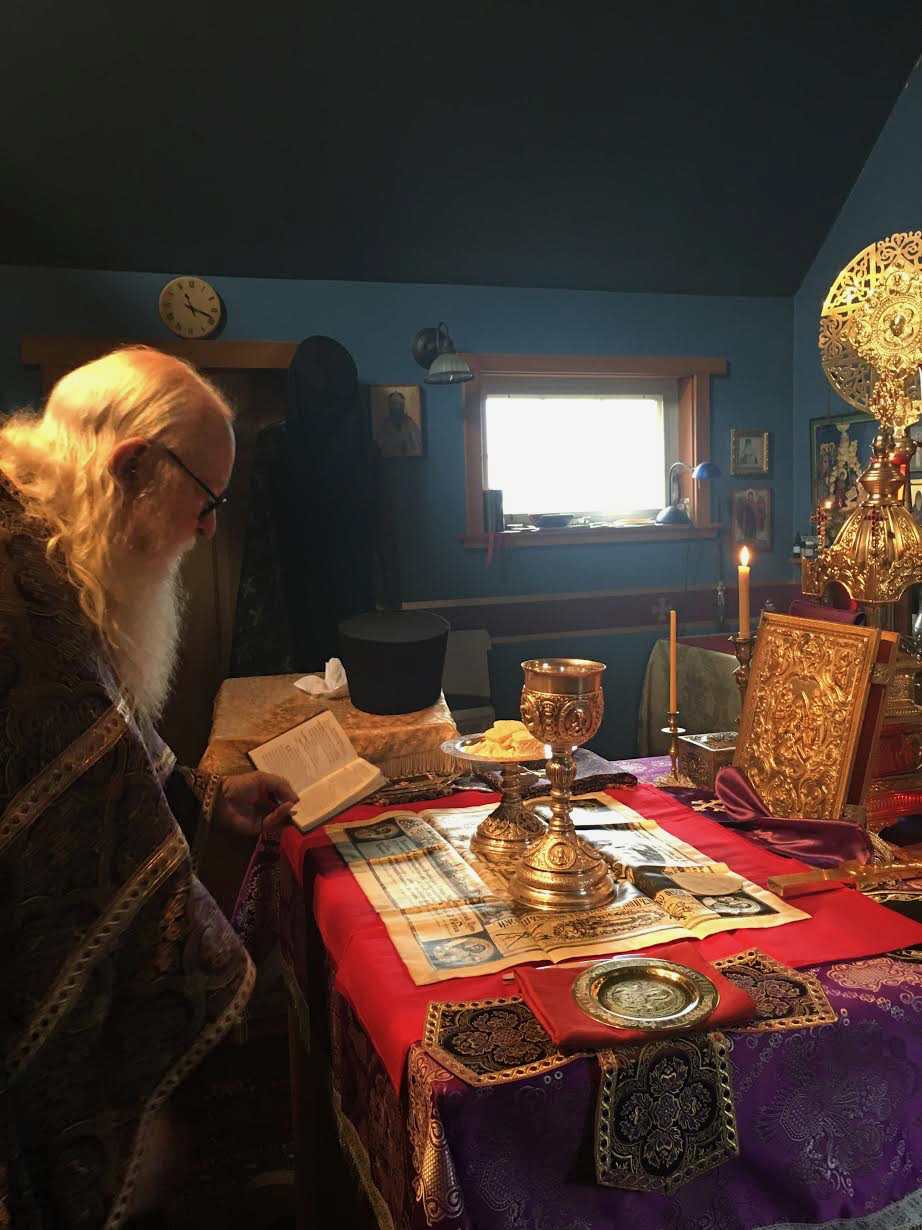 Some forty years ago, I was walking with an elderly bishop of the Russian Church, on a street in San Francisco. I had spotted a filthy homeless man walking towards us. This man's hair was disheveled, filthy with years of dirt, and was wearing torn clothing. He had no soles on his shoes, so with each step we could see the bottom of his feet. Instinctively, I took the elbow of the bishop, and attempted to get him to cross in the middle of the street. The bishop asked why, and I said, "Look at the crazy man coming towards us". The bishop told me we were not crossing, but would continue.
When directly in front of the the man, the bishop stopped, reached out, taking the man's filthy right hand into his own, and placed a twenty dollar bill into the man's hand, covering the bill with the man's left hand. At that moment the man looked up into our eyes, saying nothing. But looking back were the bluest, clearest eyes I had ever seen. They were not the eyes of a homeless man, nor the eyes of a deranged man, eyes filled with wisdom, compassion, and holiness.
As we walked away, I remarked about the man's eyes, to which the bishop responded by saying, "We just encountered an angel unaware, and we were being tested," recalling the words of Scripture, "Be not forgetful to entertain strangers: for thereby some have entertained angels unawares" (Hebrews 13:2).
I shall never forget that moment, and will forever expect that a homeless person might indeed be an angel unaware. With that in mind, I have been carrying one twenty dollar bill, one ten dollar bill, one five dollar bill, and a one dollar bill, in my left pocket. Should I encounter a homeless person, I am not forced to decide whether they will use any money I give them for drugs or alcohol, or if they are worthy of my charity, but I leave it up to God. Since the bills are previously mixed, whatever I pull out is up to God. They person receives what God has decided they need.
I once heard of a wonderful woman who would routinely give a backpack that was full of socks, gloves, hand-warmers, a beanie, toiletries, and a letter from her saying everything would be OK, to a homeless person. In one fell swoop. she gave them the ultimate gift, warmth and dignity.
For most homeless people, asking for handouts, and constantly being told to move along, get a job, or even totally ignored, leaves them feeling totally useless. The idea of getting wasted thus becomes very appealing, for it allows them to forget, even for a few hours, the humiliation and pain they experience on a daily basis. Other homeless people are the only ones they relate to, and they thus fall into a trap that only serves to perpetuate their sense of despair.  It becomes a trap from which they feel utterly unable to escape.
There are kind people who give out prepared packs with toothpaste and a toothbrush, deodorant, disposable razors and shaving cream, socks, hand/feet warmers, etc. When they see someone who needs help they give them the pack, together with some cash. Most important, they demonstrate to the homeless person that they are worthy of kindness and love.
Perhaps the most invaluable thing we can do for the homeless person we meet is to stop and have a real conversation with them. In doing so we recognize their dignity as fellow citizens, and extend Christ's love for them in our charity.
Most importantly,  it is not the money people need from us, but a sense of normalcy. When we acknowledge them with a friendly hello, we restore their sense of shared humanity, and doing so can be the catalyst to helping them turn away from drugs and alcohol, which they often use as a way of escaping the reality of their horid state.
Finally, when I do see someone in need, I always ask them, in exchange for my gift, to pray for me. I do this because I want to give them the opportunity to do something for me, thus allowing them to keep their personal dignity in tact.
With love in Christ,
Abbot Tryphon
Saturday April 20, 2019 / April 7, 2019
Lazarus Saturday. Tone five.
Great Lent. Caviar Allowed
Feast of the Georgian Language (movable holiday on the Lazarus Saturday) (Georgia).
Venerable George the Confessor, bishop of Mitylene (820).
New Hieromartyr Arcadius priest (1933).
Martyr Eudocia (1939).
Venerable Daniel, abbot, of Pereyaslavl-Zalesski (1540).
Martyr Calliopus at Pompeiopolis in Cilicia (304).
Martyrs Rufinus deacon, Aquilina, and 200 soldiers at Sinope (310).
Venerable Serapion of Egypt, monk (5th c.).
Venerable Nilus, abbot of Sora (1508).
Venarable Serapion archbishop of Novgorod.
The Byzantine Icon of the Mother of God.
St. George, patriarch of Jerusalem (807).
St. Gerasimus of Byzantium (1739).
Venerable Leucius, abbot of Volokolamsk (1492).
St. Govan of Cornwall.
The Scripture Readings
Hebrews 12:28-13:8
28 Therefore, since we are receiving a kingdom which cannot be shaken, let us have grace, by which we may serve God acceptably with reverence and godly fear. 29 For our God is a consuming fire.
Concluding Moral Directions
13 Let brotherly love continue. 2 Do not forget to entertain strangers, for by so doing some have unwittingly entertained angels. 3 Remember the prisoners as if chained with them—those who are mistreated—since you yourselves are in the body also.
4 Marriage is honorable among all, and the bed undefiled; but fornicators and adulterers God will judge.
5 Let your conduct be without covetousness; be content with such things as you have. For He Himself has said, "I will never leave you nor forsake you." 6 So we may boldly say:
"The Lord is my helper;
I will not fear.
What can man do to me?"
Concluding Religious Directions
7 Remember those who rule over you, who have spoken the word of God to you, whose faith follow, considering the outcome of their conduct. 8 Jesus Christ is the same yesterday, today, and forever.
John 11:1-45
The Death of Lazarus
11 Now a certain man was sick, Lazarus of Bethany, the town of Mary and her sister Martha. 2 It was that Mary who anointed the Lord with fragrant oil and wiped His feet with her hair, whose brother Lazarus was sick. 3 Therefore the sisters sent to Him, saying, "Lord, behold, he whom You love is sick."
4 When Jesus heard that, He said, "This sickness is not unto death, but for the glory of God, that the Son of God may be glorified through it."
5 Now Jesus loved Martha and her sister and Lazarus. 6 So, when He heard that he was sick, He stayed two more days in the place where He was. 7 Then after this He said to the disciples, "Let us go to Judea again."
8 The disciples said to Him, "Rabbi, lately the Jews sought to stone You, and are You going there again?"
9 Jesus answered, "Are there not twelve hours in the day? If anyone walks in the day, he does not stumble, because he sees the light of this world. 10 But if one walks in the night, he stumbles, because the light is not in him." 11 These things He said, and after that He said to them, "Our friend Lazarus sleeps, but I go that I may wake him up."
12 Then His disciples said, "Lord, if he sleeps he will get well." 13 However, Jesus spoke of his death, but they thought that He was speaking about taking rest in sleep.
14 Then Jesus said to them plainly, "Lazarus is dead. 15 And I am glad for your sakes that I was not there, that you may believe. Nevertheless let us go to him."
16 Then Thomas, who is called the Twin, said to his fellow disciples, "Let us also go, that we may die with Him."
I Am the Resurrection and the Life
17 So when Jesus came, He found that he had already been in the tomb four days. 18 Now Bethany was near Jerusalem, about two miles away. 19 And many of the Jews had joined the women around Martha and Mary, to comfort them concerning their brother.
20 Then Martha, as soon as she heard that Jesus was coming, went and met Him, but Mary was sitting in the house. 21 Now Martha said to Jesus, "Lord, if You had been here, my brother would not have died. 22 But even now I know that whatever You ask of God, God will give You."
23 Jesus said to her, "Your brother will rise again."
24 Martha said to Him, "I know that he will rise again in the resurrection at the last day."
25 Jesus said to her, "I am the resurrection and the life. He who believes in Me, though he may die, he shall live. 26 And whoever lives and believes in Me shall never die. Do you believe this?"
27 She said to Him, "Yes, Lord, I believe that You are the Christ, the Son of God, who is to come into the world."
Jesus and Death, the Last Enemy
28 And when she had said these things, she went her way and secretly called Mary her sister, saying, "The Teacher has come and is calling for you." 29 As soon as she heard that, she arose quickly and came to Him. 30 Now Jesus had not yet come into the town, but was in the place where Martha met Him. 31 Then the Jews who were with her in the house, and comforting her, when they saw that Mary rose up quickly and went out, followed her, saying, "She is going to the tomb to weep there."
32 Then, when Mary came where Jesus was, and saw Him, she fell down at His feet, saying to Him, "Lord, if You had been here, my brother would not have died."
33 Therefore, when Jesus saw her weeping, and the Jews who came with her weeping, He groaned in the spirit and was troubled. 34 And He said, "Where have you laid him?"
They said to Him, "Lord, come and see."
35 Jesus wept. 36 Then the Jews said, "See how He loved him!"
37 And some of them said, "Could not this Man, who opened the eyes of the blind, also have kept this man from dying?"
Lazarus Raised from the Dead
38 Then Jesus, again groaning in Himself, came to the tomb. It was a cave, and a stone lay against it. 39 Jesus said, "Take away the stone."
Martha, the sister of him who was dead, said to Him, "Lord, by this time there is a stench, for he has been dead four days."
40 Jesus said to her, "Did I not say to you that if you would believe you would see the glory of God?" 41 Then they took away the stone from the place where the dead man was lying. And Jesus lifted up His eyes and said, "Father, I thank You that You have heard Me.42 And I know that You always hear Me, but because of the people who are standing by I said this, that they may believe that You sent Me." 43 Now when He had said these things, He cried with a loud voice, "Lazarus, come forth!" 44 And he who had died came out bound hand and foot with graveclothes, and his face was wrapped with a cloth. Jesus said to them, "Loose him, and let him go."
The Plot to Kill Jesus
45 Then many of the Jews who had come to Mary, and had seen the things Jesus did, believed in Him.