Taking Orthodoxy beyond the self-congratulatory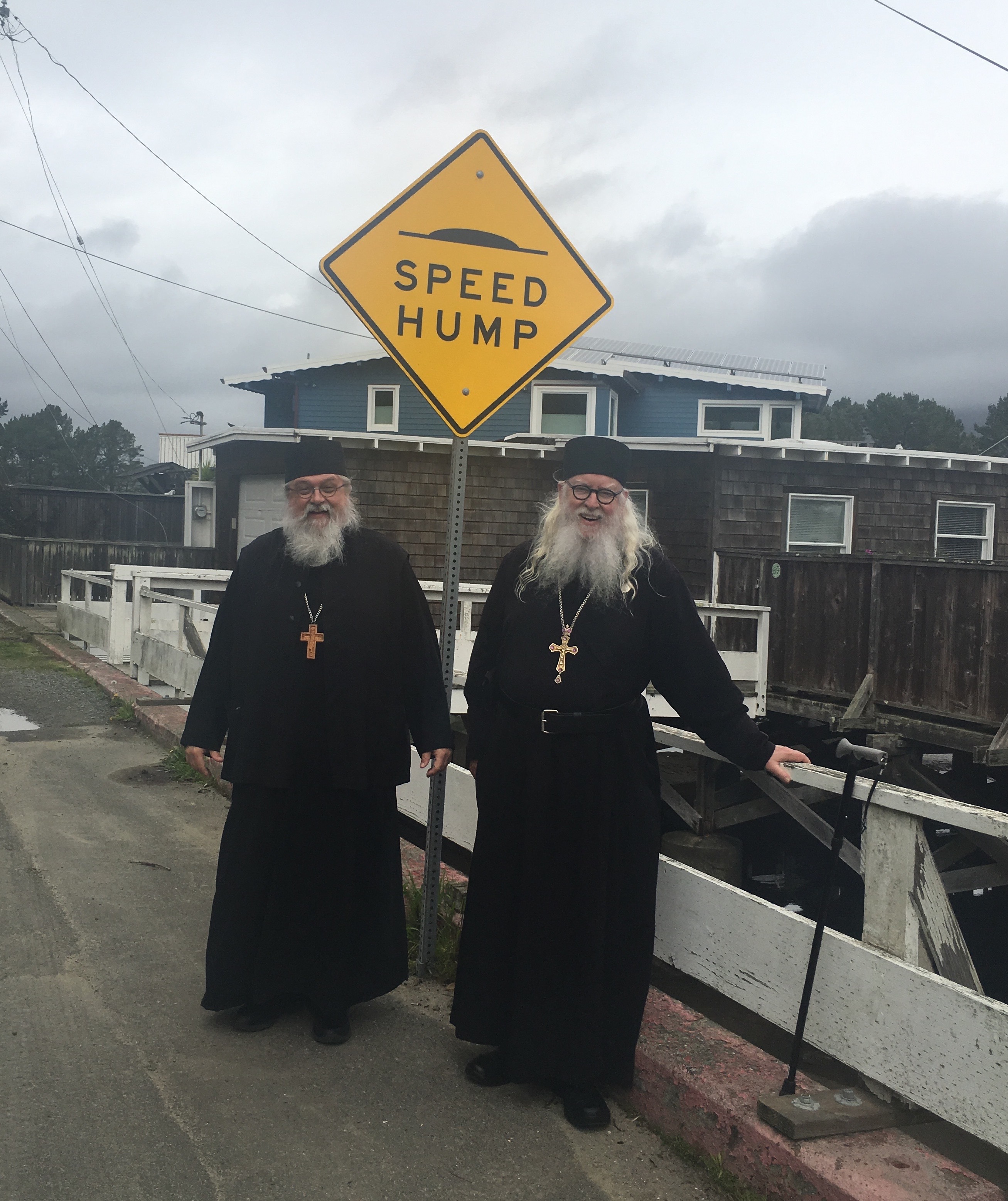 We must guard against noticing when another parishioner seems careless in the making of the sign of the cross, while we go about demonstrating for all around us, the proper way. Making sweeping signs of the cross that are done in such a way as to be almost a caricature, following up with profound bows, we can end up distracting fellow worshipers in the process. If we make a public display of our fasting, making sure our non-Orthodox family and friends know how strict we are, we miss the point of fasting. If we struggle to make our icon corner the largest and most complete of anyone in the parish, but never stand before it in prayer, we treat it as nothing more than nice art.
If we allow ourselves to become spiritual gluttons, and turn the traditions of Orthodoxy into occasions for sensual and prideful displays, we will not embrace the grace that can be ours through quiet and penitential struggle. If our public displays of piety become distractions for fellow worshipers, we can actually be diverting our attention from the all important confrontation of our personal sin. Externals, while important to Orthodox piety, and the deepening of our faith, must not be allowed to replace the mystery of faith that comes only with the acquisition of a humble and contrite heart.
We must guard against allowing external displays of Orthodoxy to become an end in themselves, and remember these traditions and pious practices were designed to serve as aids for deepening our faith by connecting our whole being, both body and soul, on this journey to God. We must take Orthodoxy beyond the self-congratulatory of being a part of a beautiful faith, with sublime worship practices, glorious temples, and beautiful vestments.
Without giving our full attention to the struggle for holiness, and deepening our prayer time, we will end with a weak form of Orthodoxy, that is beautiful on the outside , but hollow on the inside. Taking simple little steps under the guidance and direction from one's priest or spiritual father, or by council with that pious little old lady, whose face radiates the light of Christ, we will be able to enter into the Kingdom of God, having gained the humility and joy that does not necessitate being extravagant with the externals.
With love in Christ,
Abbot Tryphon
Photo: My friend of thirty-three years, Archpriest Basil Rhodes, rector of Saint Nicholas Orthodox Church in Saratoga, CA.
Thursday April 4, 2019 / March 22, 2019
Fourth Week of the Great Lent: Adoration of Cross. Tone three.
Great Lent. By Monastic Charter: Food without Oil
Hieromartyr Basil, presbyter of Ancyra (362).
Martyr Drosida (Drosis) of Antioch, and five virgins (104).
Venerable Isaac, founder of the Dalmatian Monastery at Constantinople (383).
Martyrs Callinica and Basilissa of Rome (2nd c.).
Venerable Euthymius of Constantinople.
"The Izborsk" Icon of the Mother of God (1657).
St. Paul, bishop of Narbonne, Brittany (3rd c.) (Celtic & British).
New Martyr Euthymius of Mt. Athos (1814) (Greek).
New Martyr Basil (Zelentsov) bishop of Priluk (1930).
New Martyr Schema-abbess Sophia of Kiev (1941) and her priest Demetrius Ivanov (1934).
The Scripture Readings
Isaiah 28:14-22
14 Therefore hear the word of the Lord, you scornful men,
Who rule this people who are in Jerusalem,
15 Because you have said, "We have made a covenant with death,
And with Sheol we are in agreement.
When the overflowing scourge passes through,
It will not come to us,
For we have made lies our refuge,
And under falsehood we have hidden ourselves."
A Cornerstone in Zion
16 Therefore thus says the Lord God:
"Behold, I lay in Zion a stone for a foundation,
A tried stone, a precious cornerstone, a sure foundation;
Whoever believes will not act hastily.
17 Also I will make justice the measuring line,
And righteousness the plummet;
The hail will sweep away the refuge of lies,
And the waters will overflow the hiding place.
18 Your covenant with death will be annulled,
And your agreement with Sheol will not stand;
When the overflowing scourge passes through,
Then you will be trampled down by it.
19 As often as it goes out it will take you;
For morning by morning it will pass over,
And by day and by night;
It will be a terror just to understand the report."
20 For the bed is too short to stretch out on,
And the covering so narrow that one cannot wrap himself in it.
21 For the Lord will rise up as at Mount Perazim,
He will be angry as in the Valley of Gibeon—
That He may do His work, His awesome work,
And bring to pass His act, His unusual act.
22 Now therefore, do not be mockers,
Lest your bonds be made strong;
For I have heard from the Lord God of hosts,
A destruction determined even upon the whole earth.
Genesis 10:32-11:9
32 These were the families of the sons of Noah, according to their generations, in their nations; and from these the nations were divided on the earth after the flood.
The Tower of Babel
11 Now the whole earth had one language and one speech. 2 And it came to pass, as they journeyed from the east, that they found a plain in the land of Shinar, and they dwelt there. 3 Then they said to one another, "Come, let us make bricks and bake themthoroughly." They had brick for stone, and they had asphalt for mortar. 4 And they said, "Come, let us build ourselves a city, and a tower whose top is in the heavens; let us make a name for ourselves, lest we be scattered abroad over the face of the whole earth."
5 But the Lord came down to see the city and the tower which the sons of men had built. 6 And the Lord said, "Indeed the people areone and they all have one language, and this is what they begin to do; now nothing that they propose to do will be withheld from them. 7 Come, let Us go down and there confuse their language, that they may not understand one another's speech." 8 So the Lordscattered them abroad from there over the face of all the earth, and they ceased building the city. 9 Therefore its name is called Babel, because there the Lord confused the language of all the earth; and from there the Lord scattered them abroad over the face of all the earth.
Proverbs 13:19-14:6
19 A desire accomplished is sweet to the soul,
But it is an abomination to fools to depart from evil.
20 He who walks with wise men will be wise,
But the companion of fools will be destroyed.
21 Evil pursues sinners,
But to the righteous, good shall be repaid.
22 A good man leaves an inheritance to his children's children,
But the wealth of the sinner is stored up for the righteous.
23 Much food is in the fallow ground of the poor,
And for lack of justice there is waste.
24 He who spares his rod hates his son,
But he who loves him disciplines him promptly.
25 The righteous eats to the satisfying of his soul,
But the stomach of the wicked shall be in want.
The Ways of Life and Death
14 The wise woman builds her house,
But the foolish pulls it down with her hands.
2 He who walks in his uprightness fears the Lord,
But he who is perverse in his ways despises Him.
3 In the mouth of a fool is a rod of pride,
But the lips of the wise will preserve them.
4 Where no oxen are, the trough is clean;
But much increase comes by the strength of an ox.
5 A faithful witness does not lie,
But a false witness will utter lies.
6 A scoffer seeks wisdom and does not find it,
But knowledge is easy to him who understands.