Neither praise oneself, nor be consumed with self-loathing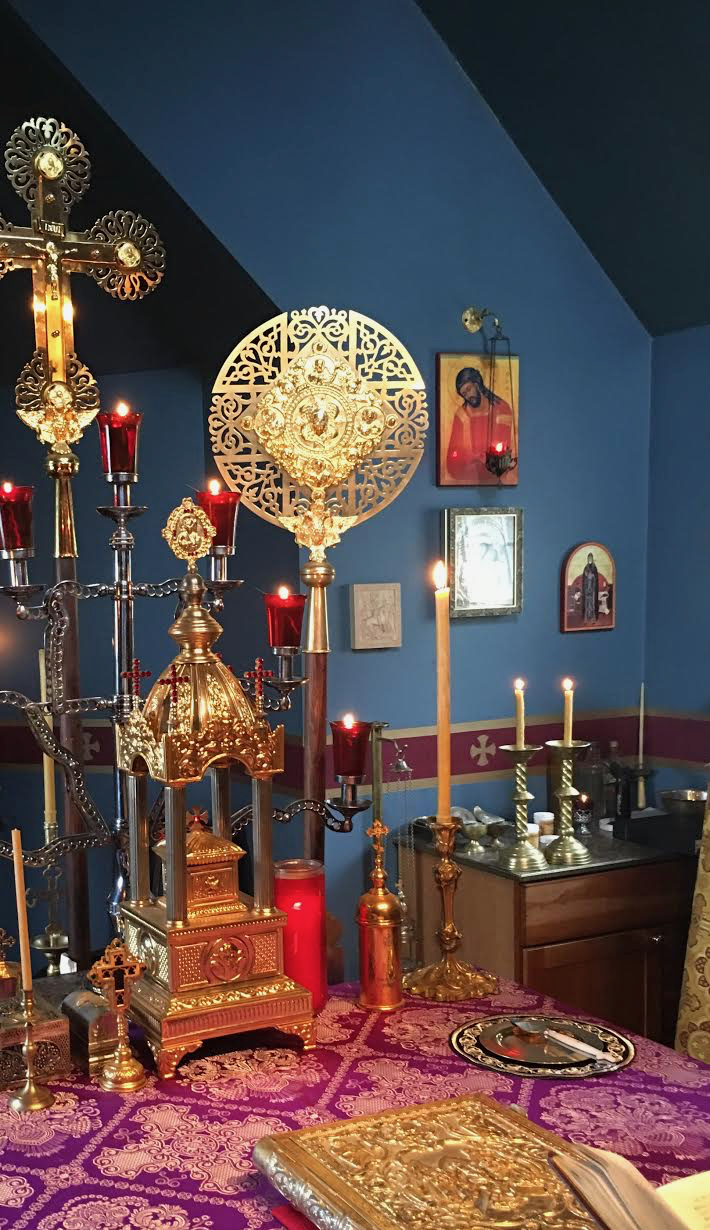 Humility does not require we think poorly of ourselves, nor be given over to self-loathing. Just as we must not be praising ourselves, we must not sink to a state of self-loathing, for both states have their basis in the ego. I would be the last person to suggest anyone be trapped in a state of self-hatred, or wallow in the mire of low self-esteem. I am rather concerned for those who are drawn into the sin of pride, which is the result of a false attempt at self-esteem. Feeling good about yourself is not the same as being puffed up with pride.
C.S. Lewis wrote that it is not wrong or sinful for a pretty woman to look in a mirror and notice she possesses beauty, but it is better that she should walk away and forget about it.  In the same way, it is not pride that leads us to notice we have a special gift as a musician, a writer, an orator, or are good with children. What is important for the Christian, is to give thanks to God for our gifts, while turning our face towards Christ with gratitude, thankful for the opportunity to use our gifts in service to God, and to our neighbor.
When we possess a healthy humility, we are neither filled with self-loathing, nor giving ourself over to self-praise, but immersing ourself in service to the God Who created us, as we are. We do not stand like the Pharisee, giving thanks that we are not like other men, but, like the Publican, we stand before God, in all our nakedness, asking to be made whole. We confess before the Lord our unworthiness, yet give thanks for the status we have as His children. We are a royal people, delivered from our sin and death by a Saviour Who came down as a servant.
As a practicing therapist for many years before becoming a monk, I believe it is sometimes good for people to see a psychologist. However, the problem with the psychological profession is found in the fact that this approach is generally based on a humanistic mindset. Orthodoxy Psychotherapy, as expounded so beautifully by Metropolitan Hierotheos in his book by the same name, is far superior for bringing about healing.
The hospital of the soul, which is the best definition of the Church, is that place where we can receive the healing we need to arrive at a place where we attain that perfect balance between humility and a healthy self-esteem, devoid of the sin of pride.
With love in Christ,
Abbot Tryphon
Wednesday April 24, 2019 / April 11, 2019
Passion Week: Great Wednesday.
Great Lent. By Monastic Charter: Strict Fast (Bread, Vegetables, Fruits)
Hieromartyr Antipas, bishop of Pergamus (92), disciple of St. John the Theologian.
New Hieromartyr Nicholas priest (1938).
Venerable James, abbot of Zhelezny Bor (1442), and his fellow-ascetic St. James.
St. Barsanuphius, bishop of Tver (1576).
Martyrs Processus and Martinian of Rome (67).
Venerable Pharmuthius, anchorite of Egypt (4th c.).
Venerable John, disciple of Venerable Gregory of Decapolis (820).
St. Callinicus of Cernica, bishop of Rimnic in Romania (1868) (Romania).
Venerables Euthymius (1456) and Chariton (1509), abbots of Syanzhema (Vologda).
Venerable Guthlac, hermit of Crowland (714) (Celtic & British).
Hieromartyr Domninus, bishop of Salona in Dalmatia, and eight soldiers with him (100).
St. Philip, bishop of Gortyna, Crete (180).
The Scripture Readings
John 12:17-50
17 Therefore the people, who were with Him when He called Lazarus out of his tomb and raised him from the dead, bore witness. 18 For this reason the people also met Him, because they heard that He had done this sign. 19 The Pharisees therefore said among themselves, "You see that you are accomplishing nothing. Look, the world has gone after Him!"
The Fruitful Grain of Wheat
20 Now there were certain Greeks among those who came up to worship at the feast. 21 Then they came to Philip, who was from Bethsaida of Galilee, and asked him, saying, "Sir, we wish to see Jesus."
22 Philip came and told Andrew, and in turn Andrew and Philip told Jesus.
23 But Jesus answered them, saying, "The hour has come that the Son of Man should be glorified. 24 Most assuredly, I say to you,unless a grain of wheat falls into the ground and dies, it remains alone; but if it dies, it produces much grain. 25 He who loves his life will lose it, and he who hates his life in this world will keep it for eternal life. 26 If anyone serves Me, let him follow Me; and where I am, there My servant will be also. If anyone serves Me, him My Father will honor.
Jesus Predicts His Death on the Cross
27 "Now My soul is troubled, and what shall I say? 'Father, save Me from this hour'? But for this purpose I came to this hour. 28 Father, glorify Your name."
Then a voice came from heaven, saying, "I have both glorified it and will glorify it again."
29 Therefore the people who stood by and heard it said that it had thundered. Others said, "An angel has spoken to Him."
30 Jesus answered and said, "This voice did not come because of Me, but for your sake. 31 Now is the judgment of this world; nowthe ruler of this world will be cast out. 32 And I, if I am lifted up from the earth, will draw all peoples to Myself." 33 This He said, signifying by what death He would die.
34 The people answered Him, "We have heard from the law that the Christ remains forever; and how can You say, 'The Son of Man must be lifted up'? Who is this Son of Man?"
35 Then Jesus said to them, "A little while longer the light is with you. Walk while you have the light, lest darkness overtake you; he who walks in darkness does not know where he is going. 36 While you have the light, believe in the light, that you may become sons of light." These things Jesus spoke, and departed, and was hidden from them.
Who Has Believed Our Report?
37 But although He had done so many signs before them, they did not believe in Him, 38 that the word of Isaiah the prophet might be fulfilled, which he spoke:
"Lord, who has believed our report?
And to whom has the arm of the Lord been revealed?"
39 Therefore they could not believe, because Isaiah said again:
40 "He has blinded their eyes and hardened their hearts,
Lest they should see with their eyes,
Lest they should understand with their hearts and turn,
So that I should heal them."
41 These things Isaiah said when he saw His glory and spoke of Him.
Walk in the Light
42 Nevertheless even among the rulers many believed in Him, but because of the Pharisees they did not confess Him, lest they should be put out of the synagogue; 43 for they loved the praise of men more than the praise of God.
44 Then Jesus cried out and said, "He who believes in Me, believes not in Me but in Him who sent Me. 45 And he who sees Me sees Him who sent Me. 46 I have come as a light into the world, that whoever believes in Me should not abide in darkness. 47 And if anyone hears My words and does not believe, I do not judge him; for I did not come to judge the world but to save the world. 48 He who rejects Me, and does not receive My words, has that which judges him—the word that I have spoken will judge him in the last day.49 For I have not spoken on My own authority; but the Father who sent Me gave Me a command, what I should say and what I should speak. 50 And I know that His command is everlasting life. Therefore, whatever I speak, just as the Father has told Me, so I speak."
Matthew 26:6-16
The Anointing at Bethany
6 And when Jesus was in Bethany at the house of Simon the leper, 7 a woman came to Him having an alabaster flask of very costly fragrant oil, and she poured it on His head as He sat at the table. 8 But when His disciples saw it, they were indignant, saying, "Why this waste? 9 For this fragrant oil might have been sold for much and given to the poor."
10 But when Jesus was aware of it, He said to them, "Why do you trouble the woman? For she has done a good work for Me. 11 For you have the poor with you always, but Me you do not have always. 12 For in pouring this fragrant oil on My body, she did it for Myburial. 13 Assuredly, I say to you, wherever this gospel is preached in the whole world, what this woman has done will also be told as a memorial to her."
Judas Agrees to Betray Jesus
14 Then one of the twelve, called Judas Iscariot, went to the chief priests 15 and said, "What are you willing to give me if I deliver Him to you?" And they counted out to him thirty pieces of silver. 16 So from that time he sought opportunity to betray Him.