An Update from the Old Monk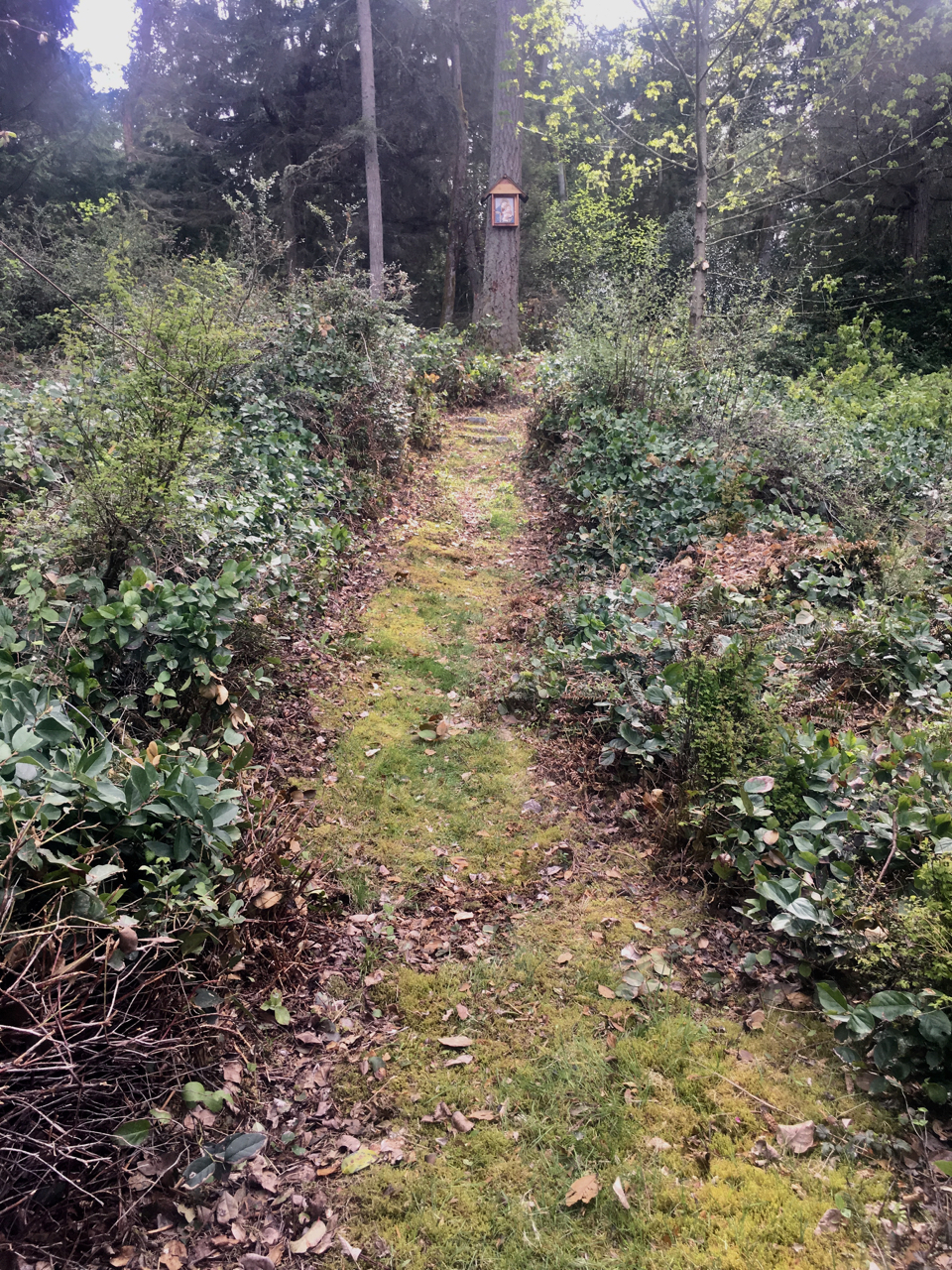 I should be filled with rage against a brute who could perpetrate such an unwarranted attack against me, especially since I'd smiled at him, just prior to the sucker punch. In my mind I assumed he was approaching me with a request for money, or wanting to know what I was. Since I try, with God's help, to be kind to everyone, even trying to bring a smile on a strangers face by saying something self-effacing in an attempt to put them at ease, I was totally caught off guard by what he did to me.
Instead, I find myself filled with compassion and love for the poor tortured soul who was driven to commit such a heinous act. That a young man would sucker punch an obviously old man, and a stranger to him, is truly hard for me to comprehend. Even more, I am praying for my attacker. The reason is this: Although I am imperfect, and a terrible sinner, I am graced to live a fulfilling and fruitful life, assured of God's love for me and surrounded by people who love me also. Not so the man who sucker punched me. His pointless act suggests someone filled with loathing for those around him and even more for himself. What inner torment could cause him to lash out at someone who has done him no harm? He is his own victim even more than I am his victim. I know I have forgiven him, but can he forgive himself ? My prayer for him is that he can find the courage to ask God to forgive him.
Meanwhile, I covet your prayers. I have been left with a certain amount of hearing loss, with a ringing in my left ear and reduced hearing in my right ear, along with an echoing sound. As a lover of classical music, I pray this will not be permanent. I'm also suffering from headaches, general body pain, and a bit unsteady in my walking. So, in your charity, please keep this old monk in your holy prayers.
To the countless people, including four metropolitans, three archbishops, five bishops, two abbots, two holy abbesses, and countless priests from many jurisdictions, who have reached out to me, I am humbled by your love and caring hearts. I thank all of you from the depths of my heart. And, as strange as it may sound to some, I am grateful that I was blessed to share in Christ's suffering and abuse, during these final days of the Great Lenten Journey. I received one sucker punch, but our dear Saviour received countless more, before His crucifixion on the cross.
The King County Sheriffs Department got a perfect set of photos of the man from surveillance video in the convenience store of the gas station, and have aired the photos through the television media, with the hope someone will recognize the him. I want him caught, not only that he not injure another person, but that I can have a chance to visit him in jail, and let him know that I forgive him, and that God loves him.
With love in Christ,
Abbot Tryphon
Thursday April 18, 2019 / April 5, 2019
Sixth Week of the Great Lent. Tone five.
Great Lent. By Monastic Charter: Food without Oil
Transation of the relics (1652) of St. Job, patriarch of Moscow (1607).
Martyrs Theodulus, reader, and Agathopodes, deacon, and those with them at Thessalonica (303).
New Hieromartyr Alexis priest (1930).
New Hieromartyr Nicholas priest (1931).
Venerable Publius of Egypt, monk (4th c.).
Venerables Theonas, Symeon, and Phorbinus of Egypt (4th c.).
Venerable Mark the Anchorite of Athens (400).
Venerable Plato, abbot of the Studion (813).
Venerable Theodora, nun, of Thessalonica (892) (Greek).
New Martyr George of New Ephesus (1801).
Repose of St. Philip the First, metropolitan of Moscow (1473).
Five girls martyred at Neanidor of Lesbos (Greek).
Martyrs Theodora and Didymus of Alexandria (305).
The Martyr Fermus.
New Martyr Argyra at Constantinople (1725).
New Martyr Panaghiotis of Jerusalem (1820).
St. Derfel of Lianderfel.
Venerable Ethelburga, queen and Abbes of Lyminge, Kent.
Martyrs Claudius, Diodorus, Victor, Victorinus, Pappia, Serapion, and Nicephorus (Greek).
The Scripture Readings
Isaiah 65:8-16
8 Thus says the Lord:
"As the new wine is found in the cluster,
And one says, 'Do not destroy it,
For a blessing is in it,'
So will I do for My servants' sake,
That I may not destroy them all.
9 I will bring forth descendants from Jacob,
And from Judah an heir of My mountains;
My elect shall inherit it,
And My servants shall dwell there.
10 Sharon shall be a fold of flocks,
And the Valley of Achor a place for herds to lie down,
For My people who have sought Me.
11 "But you are those who forsake the Lord,
Who forget My holy mountain,
Who prepare a table for Gad,
And who furnish a drink offering for Meni.
12 Therefore I will number you for the sword,
And you shall all bow down to the slaughter;
Because, when I called, you did not answer;
When I spoke, you did not hear,
But did evil before My eyes,
And chose that in which I do not delight."
13 Therefore thus says the Lord God:
"Behold, My servants shall eat,
But you shall be hungry;
Behold, My servants shall drink,
But you shall be thirsty;
Behold, My servants shall rejoice,
But you shall be ashamed;
14 Behold, My servants shall sing for joy of heart,
But you shall cry for sorrow of heart,
And wail for grief of spirit.
15 You shall leave your name as a curse to My chosen;
For the Lord God will slay you,
And call His servants by another name;
16 So that he who blesses himself in the earth
Shall bless himself in the God of truth;
And he who swears in the earth
Shall swear by the God of truth;
Because the former troubles are forgotten,
And because they are hidden from My eyes.
Genesis 46:1-7
Jacob's Journey to Egypt
46 So Israel took his journey with all that he had, and came to Beersheba, and offered sacrifices to the God of his father Isaac. 2 Then God spoke to Israel in the visions of the night, and said, "Jacob, Jacob!"
And he said, "Here I am."
3 So He said, "I am God, the God of your father; do not fear to go down to Egypt, for I will make of you a great nation there. 4 I will go down with you to Egypt, and I will also surely bring you up again; and Joseph will put his hand on your eyes."
5 Then Jacob arose from Beersheba; and the sons of Israel carried their father Jacob, their little ones, and their wives, in the [b]carts which Pharaoh had sent to carry him. 6 So they took their livestock and their goods, which they had acquired in the land of Canaan, and went to Egypt, Jacob and all his descendants with him. 7 His sons and his sons' sons, his daughters and his sons' daughters, and all his descendants he brought with him to Egypt.
Proverbs 23:15-24:5
15 My son, if your heart is wise,
My heart will rejoice—indeed, I myself;
16 Yes, my inmost being will rejoice
When your lips speak right things.
17 Do not let your heart envy sinners,
But be zealous for the fear of the Lord all the day;
18 For surely there is a hereafter,
And your hope will not be cut off.
19 Hear, my son, and be wise;
And guide your heart in the way.
20 Do not mix with winebibbers,
Or with gluttonous eaters of meat;
21 For the drunkard and the glutton will come to poverty,
And drowsiness will clothe a man with rags.
22 Listen to your father who begot you,
And do not despise your mother when she is old.
23 Buy the truth, and do not sell it,
Also wisdom and instruction and understanding.
24 The father of the righteous will greatly rejoice,
And he who begets a wise child will delight in him.
25 Let your father and your mother be glad,
And let her who bore you rejoice.
26 My son, give me your heart,
And let your eyes observe my ways.
27 For a harlot is a deep pit,
And a seductress is a narrow well.
28 She also lies in wait as for a victim,
And increases the unfaithful among men.
29 Who has woe?
Who has sorrow?
Who has contentions?
Who has complaints?
Who has wounds without cause?
Who has redness of eyes?
30 Those who linger long at the wine,
Those who go in search of mixed wine.
31 Do not look on the wine when it is red,
When it sparkles in the cup,
When it swirls around smoothly;
32 At the last it bites like a serpent,
And stings like a viper.
33 Your eyes will see strange things,
And your heart will utter perverse things.
34 Yes, you will be like one who lies down in the midst of the sea,
Or like one who lies at the top of the mast, saying:
35 "They have struck me, but I was not hurt;
They have beaten me, but I did not feel it.
When shall I awake, that I may seek another drink?"
Do Not Envy Evil Men
24 Do not be envious of evil men,
Nor desire to be with them;
2 For their heart devises violence,
And their lips talk of troublemaking.
3 Through wisdom a house is built,
And by understanding it is established;
4 By knowledge the rooms are filled
With all precious and pleasant riches.
5 A wise man is strong,
Yes, a man of knowledge increases strength;