Let us not, out of laziness, miss the Sunday Liturgy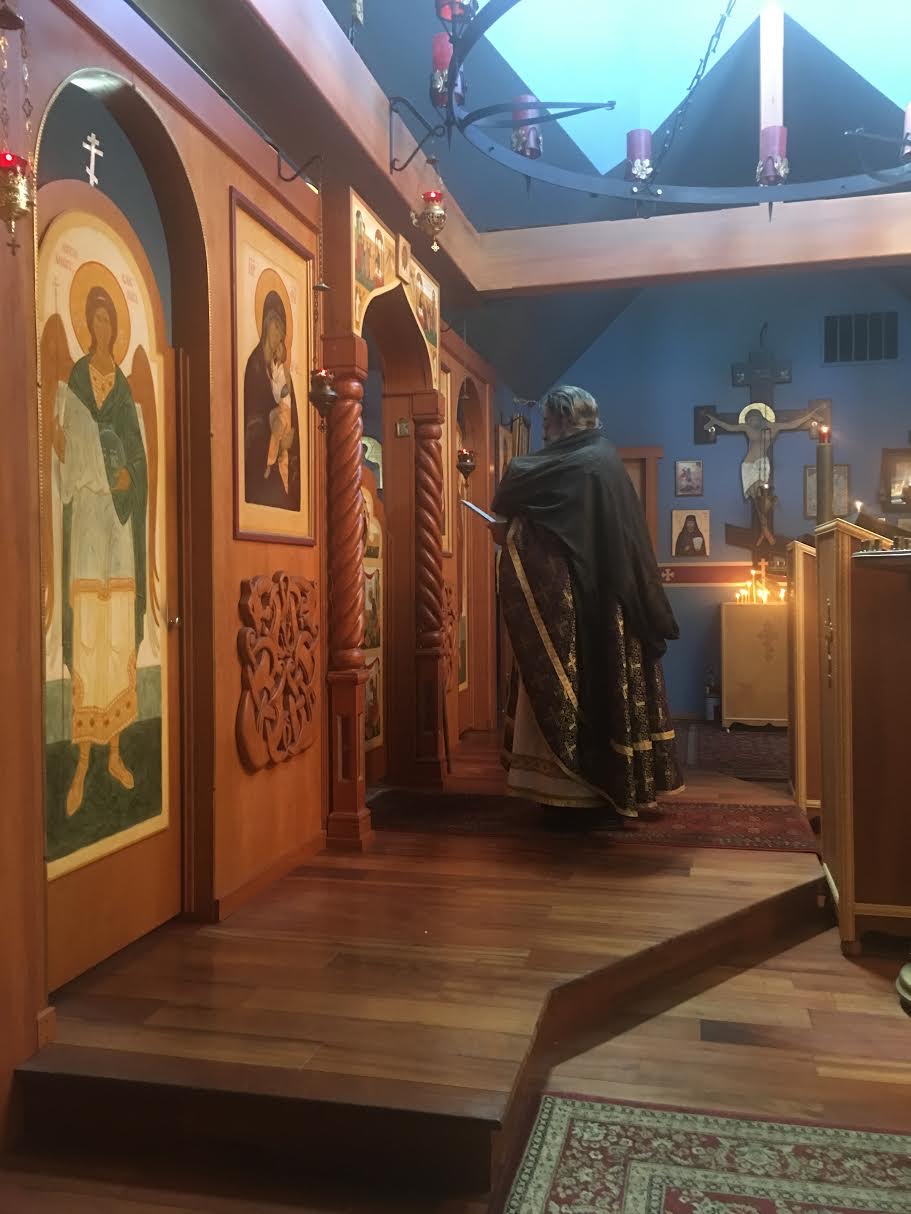 It seems we all go through periods in our lives when our church attendance drops off. Work and home life can seem hectic, and we fall into the trap of letting ourselves feel overwhelmed. Given the fast pace of our active lives, and feeling like we just don't have enough time in the day, it is easy to let the Sunday Divine Liturgy fall the the wayside, and convince ourselves that we need to have "Sunday off."
Saint Gregory Palamas begs to differ with us: "Let no one out of laziness or continuous worldly occupations miss these holy Sunday gatherings, which God Himself handed down to us, lest he be justly abandoned by God… If you are detained and do not attend on one occasion, make up for it the next time, bringing yourself to Christ's Church. Otherwise you may remain uncured, suffering from unbelief in your soul because of deeds or words, and failing to approach Christ's surgery to receive… holy healing."
With love in Christ,
Abbot Tryphon
Sunday March 24, 2019 / March 11, 2019
Second Sunday of the Great Lent. Tone two.
Great Lent. Food with Oil
St. Gregory Palamas the Archbishop of Thessalonica (movable holiday on the 2nd Sunday of the Great Lent).
Synaxis of all Venerable Fathers of the Kiev Caves (movable holiday on the 2nd Sunday of the Great Lent).
St. Sophronius, patriarch of Jerusalem (638).
St. Euthymius, Bishop of Novgorod, wonderwoker (1458).
Venerable Alexis of Goloseyevsky Skete, Kiev Caves (1917).
Venarable Patrikius confessor (1933).
New Hieromartyr Basil, priest (1937).
Venerable Sophronius, recluse of the Kiev Caves (13th c.).
Hieromartyr Pionius of Smyrna and those with him: Asclepiades, Macedonia, Linus and Sabina (250).
Translation of the relics of Martyr Epimachus of Pelusium to Constantinople (250).
St. Sophronius of Vratsa (1815) (Bulgaria).
Venerable George, abbot of Sinai, brother of St. John Climacus (7th c.).
Venerable John Moskhos (622).
Venerable Oengus the Culdee, compiler of first Irish martyrology (824) (Celtic & British).
Venerable George the New, wonderworker of Constantinople (970) (Greek).
St. Theodora, queen of Arta, wife of Despot Michael II of Epirus (1275) (Greek).
Hieromartyr Eulogius, metropolitan of Cordova (859).
Martyrs Trophimus and Thalus of Laodicea (300) (Greek).
Hieromartyr Constantine, in Kintyre.
The Scripture Readings
John 21:1-14
Breakfast by the Sea
21 After these things Jesus showed Himself again to the disciples at the Sea of Tiberias, and in this way He showed Himself: 2 Simon Peter, Thomas called the Twin, Nathanael of Cana in Galilee, the sons of Zebedee, and two others of His disciples were together. 3 Simon Peter said to them, "I am going fishing."
They said to him, "We are going with you also." They went out and immediately got into the boat, and that night they caught nothing. 4 But when the morning had now come, Jesus stood on the shore; yet the disciples did not know that it was Jesus. 5 Then Jesus said to them, "Children, have you any food?"
They answered Him, "No."
6 And He said to them, "Cast the net on the right side of the boat, and you will find some." So they cast, and now they were not able to draw it in because of the multitude of fish.
7 Therefore that disciple whom Jesus loved said to Peter, "It is the Lord!" Now when Simon Peter heard that it was the Lord, he put on his outer garment (for he had removed it), and plunged into the sea. 8 But the other disciples came in the little boat (for they were not far from land, but about two hundred cubits), dragging the net with fish. 9 Then, as soon as they had come to land, they saw a fire of coals there, and fish laid on it, and bread. 10 Jesus said to them, "Bring some of the fish which you have just caught."
11 Simon Peter went up and dragged the net to land, full of large fish, one hundred and fifty-three; and although there were so many, the net was not broken. 12 Jesus said to them, "Come and eat breakfast." Yet none of the disciples dared ask Him, "Who are You?"—knowing that it was the Lord. 13 Jesus then came and took the bread and gave it to them, and likewise the fish.
14 This is now the third time Jesus showed Himself to His disciples after He was raised from the dead.
Hebrews 1:10-2:3
10 And:
"You, Lord, in the beginning laid the foundation of the earth,
And the heavens are the work of Your hands.
11 They will perish, but You remain;
And they will all grow old like a garment;
12 Like a cloak You will fold them up,
And they will be changed.
But You are the same,
And Your years will not fail."
13 But to which of the angels has He ever said:
"Sit at My right hand,
Till I make Your enemies Your footstool"?
14 Are they not all ministering spirits sent forth to minister for those who will inherit salvation?
Do Not Neglect Salvation
2 Therefore we must give the more earnest heed to the things we have heard, lest we drift away. 2 For if the word spoken through angels proved steadfast, and every transgression and disobedience received a just reward, 3 how shall we escape if we neglect so great a salvation, which at the first began to be spoken by the Lord, and was confirmed to us by those who heard Him,
Mark 2:1-12
Jesus Forgives and Heals a Paralytic
2 And again He entered Capernaum after some days, and it was heard that He was in the house. 2 Immediately many gathered together, so that there was no longer room to receive them, not even near the door. And He preached the word to them. 3 Then they came to Him, bringing a paralytic who was carried by four men. 4 And when they could not come near Him because of the crowd, they uncovered the roof where He was. So when they had broken through, they let down the bed on which the paralytic was lying.
5 When Jesus saw their faith, He said to the paralytic, "Son, your sins are forgiven you."
6 And some of the scribes were sitting there and reasoning in their hearts, 7 "Why does this Man speak blasphemies like this? Who can forgive sins but God alone?"
8 But immediately, when Jesus perceived in His spirit that they reasoned thus within themselves, He said to them, "Why do you reason about these things in your hearts? 9 Which is easier, to say to the paralytic, 'Your sins are forgiven you,' or to say, 'Arise, take up your bed and walk'? 10 But that you may know that the Son of Man has power on earth to forgive sins"—He said to the paralytic, 11 "I say to you, arise, take up your bed, and go to your house." 12 Immediately he arose, took up the bed, and went out in the presence of them all, so that all were amazed and glorified God, saying, "We never saw anything like this!"