Staying connected with family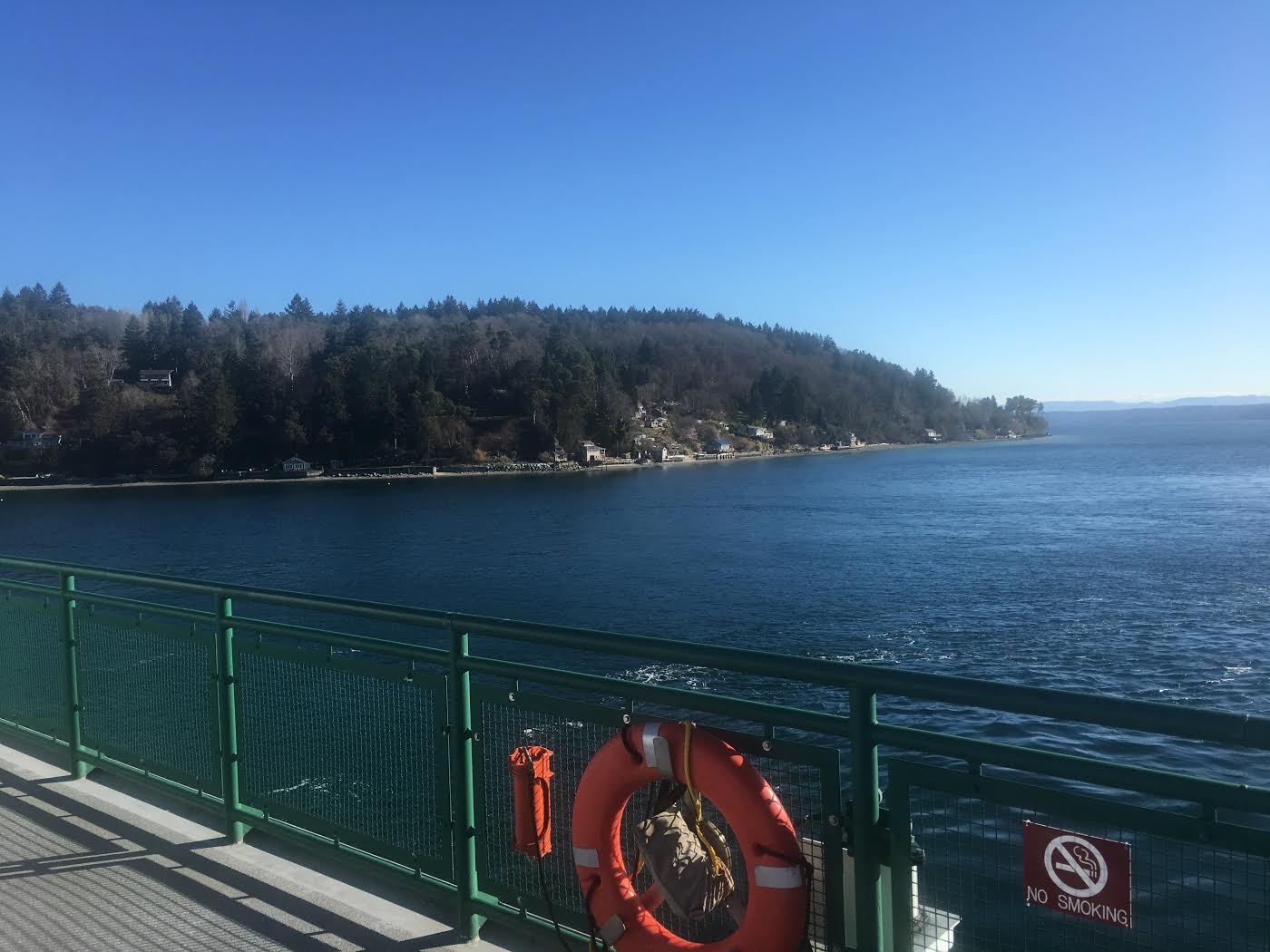 It is always sad to lose a family member in death, but it is also sad that it often takes a funeral to bring together relatives who've not seen each other in years. It is from this perspective that I realize I, as the oldest of the cousins, am the one family member who remembers how important family reunions were to my maternal grandmother. Grandma Haraldson, with whom I was very close, often recounted her late sisters (who were all gone by the time I was born), her parents, and other long lost relatives, as though they were simply across town. Her vivid descriptions of what life was like when she was a child, and the love that bound the extended family together, were spoken of as though the events had taken place in the here and now.
An early memory for me were those picnics in Spokane's Manito Park, where my grandmother would take all her grandkids for a day of food and play. The large and exquisite Victorian park, located in the heart of the South Hill neighborhood of old Spokane, was a magical place where we kids could connect with our long deceased relatives who had played in that very park. My great grandmother lived in a large Victorian mansion near the park, as did numerous other relatives, so my sojourns to this park, whenever I find myself in Spokane, flood my mind with wonderful memories of a happy childhood.
Family, for me, are more than blood connections, for much of whom I am today is all about the boy who grew up in a loving environment, where faith and family intertwined. It was from this extended family that I learned the importance of accepting people just the way they are, and without any expectation that any of them should first be required to conform to my own standards or expectations. It was from this loving family that I grew to accept myself as a worthy person, and learned how to love other people.
I will forever be grateful to God for having blessed me with such an extended family, wherein I learn lessons that have stay with me into old age. These lessons prepared me to be a monk, and priest, who is driven to reach out with love to everyone I meet, and, ultimately become a Christian who desires that all come to the knowledge of the Truth, and be saved.
With love in Christ,
Abbot Tryphon
Thursday March 7, 2019 / February 22, 2019
Week of the Last Judgment. Tone seven.
Maslenitsa. Meat is excluded
Venerable Shio Mgvime (6th c.) (Georgia) (movable holiday on Thursday of the Cheese-fare Week).
Uncovering of the relics of the Holy Martyrs at the gate of Eugenius at Constantinople (395-423).
New Hieromartyr Priest Michael Lisitsyn of Ust-Labinskaya, Russia (1918).
New Martyrs Joseph Smirnov protoierey, John Kastorsky deacon, Vladimir Ilinsky priest and John Perebaskin (1918).
New Martyr Theoktista Michailovna, fool-for-Christ of Voronezh (1936).
New Hieromartyrs Michael, John, Victor, John, Sergius, Andrew priests, New Hieromartyr Sergius and Antipa, Virgin-martyr Parasceva, Martyr Stephen, Virgin-martyrs Elizabeth, Irina and Barbara (1938).
Martyr Andrew (1941).
New Hieromartyr Philaret (1942).
Martyrs Maurice and his son Photinus, and Martyrs Theodore, Philip, and 70 soldiers, at Apamea in Syria (305).
Venerables Thalassius, Limnaeus, and Baradates, hermits of Syria (5th c.).
Venerable Athanasius the Confessor of Constantinople (826).
St. Telesphorus, pope of Rome (127).
St. Papius of Hierapolis (2nd c.).
Venerable Peter the Stylite of Mt. Athos (Greek).
St. Abilius, patriarch of Alexandria (98).
St. Titus, bishop of Bostra in Arabia (378).
Holy Nine Children of Kola: Guarami, Adarnasi, Bakari, Vache, Bardzini, Dachi, Djuansheri, Ramazi, and Parsmani (6th c.) (Georgia).
St. Leontius of Lycia (6th c.).
Sts. Babylus and his wife Comnita of Nicosa (7th c.).
Martyr Anthusa and her 12 servans (Greek).
St. Blaise, bishop (Greek).
The Scripture Readings
Jude 11-25
11 Woe to them! For they have gone in the way of Cain, have run greedily in the error of Balaam for profit, and perished in the rebellion of Korah.
Apostates Depraved and Doomed
12 These are spots in your love feasts, while they feast with you without fear, serving only themselves. They are clouds without water, carried about by the winds; late autumn trees without fruit, twice dead, pulled up by the roots; 13 raging waves of the sea, foaming up their own shame; wandering stars for whom is reserved the blackness of darkness forever.
14 Now Enoch, the seventh from Adam, prophesied about these men also, saying, "Behold, the Lord comes with ten thousands of His saints, 15 to execute judgment on all, to convict all who are ungodly among them of all their ungodly deeds which they have committed in an ungodly way, and of all the harsh things which ungodly sinners have spoken against Him."
Apostates Predicted
16 These are grumblers, complainers, walking according to their own lusts; and they mouth great swelling words, flattering people to gain advantage. 17 But you, beloved, remember the words which were spoken before by the apostles of our Lord Jesus Christ: 18 how they told you that there would be mockers in the last time who would walk according to their own ungodly lusts. 19 These are sensual persons, who cause divisions, not having the Spirit.
Maintain Your Life with God
20 But you, beloved, building yourselves up on your most holy faith, praying in the Holy Spirit, 21 keep yourselves in the love of God, looking for the mercy of our Lord Jesus Christ unto eternal life.
22 And on some have compassion, making a distinction; 23 but others save with fear, pulling them out of the fire, hating even the garment defiled by the flesh.
Glory to God
24 Now to Him who is able to keep you from stumbling,
And to present you faultless
Before the presence of His glory with exceeding joy,
25 To God our Savior,
Who alone is wise,
Be glory and majesty,
Dominion and power,
Both now and forever.
Amen.
Luke 23:1-34
Jesus Handed Over to Pontius Pilate
23 Then the whole multitude of them arose and led Him to Pilate. 2 And they began to accuse Him, saying, "We found this fellow perverting the nation, and forbidding to pay taxes to Caesar, saying that He Himself is Christ, a King."
3 Then Pilate asked Him, saying, "Are You the King of the Jews?"
He answered him and said, "It is as you say."
4 So Pilate said to the chief priests and the crowd, "I find no fault in this Man."
5 But they were the more fierce, saying, "He stirs up the people, teaching throughout all Judea, beginning from Galilee to this place."
Jesus Faces Herod
6 When Pilate heard of Galilee, he asked if the Man were a Galilean. 7 And as soon as he knew that He belonged to Herod's jurisdiction, he sent Him to Herod, who was also in Jerusalem at that time. 8 Now when Herod saw Jesus, he was exceedingly glad; for he had desired for a long time to see Him, because he had heard many things about Him, and he hoped to see some miracle done by Him. 9 Then he questioned Him with many words, but He answered him nothing. 10 And the chief priests and scribes stood and vehemently accused Him. 11 Then Herod, with his men of war, treated Him with contempt and mocked Him, arrayed Him in a gorgeous robe, and sent Him back to Pilate. 12 That very day Pilate and Herod became friends with each other, for previously they had been at enmity with each other.
Taking the Place of Barabbas
13 Then Pilate, when he had called together the chief priests, the rulers, and the people, 14 said to them, "You have brought this Man to me, as one who misleads the people. And indeed, having examined Him in your presence, I have found no fault in this Man concerning those things of which you accuse Him; 15 no, neither did Herod, for I sent you back to him; and indeed nothing deserving of death has been done by Him. 16 I will therefore chastise Him and release Him" 17 (for it was necessary for him to release one to them at the feast).
18 And they all cried out at once, saying, "Away with this Man, and release to us Barabbas"— 19 who had been thrown into prison for a certain rebellion made in the city, and for murder.
20 Pilate, therefore, wishing to release Jesus, again called out to them. 21 But they shouted, saying, "Crucify Him, crucify Him!"
22 Then he said to them the third time, "Why, what evil has He done? I have found no reason for death in Him. I will therefore chastise Him and let Him go."
23 But they were insistent, demanding with loud voices that He be crucified. And the voices of these men and of the chief priests prevailed. 24 So Pilate gave sentence that it should be as they requested. 25 And he released to them the one they requested, who for rebellion and murder had been thrown into prison; but he delivered Jesus to their will.
The King on a Cross
26 Now as they led Him away, they laid hold of a certain man, Simon a Cyrenian, who was coming from the country, and on him they laid the cross that he might bear it after Jesus.
27 And a great multitude of the people followed Him, and women who also mourned and lamented Him. 28 But Jesus, turning to them, said, "Daughters of Jerusalem, do not weep for Me, but weep for yourselves and for your children. 29 For indeed the days are coming in which they will say, 'Blessed are the barren, wombs that never bore, and breasts which never nursed!' 30 Then they will begin 'to say to the mountains, "Fall on us!" and to the hills, "Cover us!" ' 31 For if they do these things in the green wood, what will be done in the dry?"
32 There were also two others, criminals, led with Him to be put to death. 33 And when they had come to the place called Calvary, there they crucified Him, and the criminals, one on the right hand and the other on the left. 34 Then Jesus said, "Father, forgive them, for they do not know what they do."
And they divided His garments and cast lots.
Luke 23:44-56
Jesus Dies on the Cross
44 Now it was about the sixth hour, and there was darkness over all the earth until the ninth hour. 45 Then the sun was darkened, and the veil of the temple was torn in two. 46 And when Jesus had cried out with a loud voice, He said, "Father, 'into Your hands I commit My spirit.' " Having said this, He breathed His last.
47 So when the centurion saw what had happened, he glorified God, saying, "Certainly this was a righteous Man!"
48 And the whole crowd who came together to that sight, seeing what had been done, beat their breasts and returned. 49 But all His acquaintances, and the women who followed Him from Galilee, stood at a distance, watching these things.
Jesus Buried in Joseph's Tomb
50 Now behold, there was a man named Joseph, a council member, a good and just man. 51 He had not consented to their decision and deed. He was from Arimathea, a city of the Jews, who himself was also waiting for the kingdom of God. 52 This man went to Pilate and asked for the body of Jesus. 53 Then he took it down, wrapped it in linen, and laid it in a tomb that was hewn out of the rock, where no one had ever lain before. 54 That day was the Preparation, and the Sabbath drew near.
55 And the women who had come with Him from Galilee followed after, and they observed the tomb and how His body was laid. 56 Then they returned and prepared spices and fragrant oils. And they rested on the Sabbath according to the commandment.