We must recognize infanticide and abortion for the evil that it is
"Woe unto them that call evil good, and good evil; that put darkness for light, and light for darkness; that put bitter for sweet, and sweet for bitter!" Isaiah 5:20
Washington, Oregon, New York, and California, allow for the killing of newborn infants. Calling it late term abortion, it is in reality, the murder of newly born children. That the United States has lowered the moral and spiritual level to allow the holocaust of our own children, is beyond belief.
I see absolutely no difference between the Nazi slaughter of innocent men, women, and children, and the taking of a child's life through abortion. Aborting children in the early stages of development was heinous. The fact that millions were being aborted simply for the convenience of the mother was even worse. And now, we're being told that it is not only acceptable, but a celebrated choice to end a child's life at full term. This is pure, unadulterated evil.
As a young man growing up in a German Lutheran Church in Spokane, WA. I prayed God would have granted me the courage to speak up and denounce the slaughter of innocents at the hands of the Nazis had I been alive during World War II.  How can anyone who says he loves God, ignore the plight of millions of children who are murdered each year? Are we to remain silent, as did so many Germans under the Nazis, or are we to be bold in our refusal to remain silent concerning this new holocaust?
There is absolutely no difference between allowing a newly born child to die alone on a hospital table, and the holocaust done by the Nazis. Abortion and infanticide have no place in a nation that places so much emphasis on the importance of human rights, gay rights, women's rights, and the rights of immigrants. We must wake up to the evil that has taken our country, and we must speak out against this evil.
With love in Christ,
Abbot Tryphon
Photos: Archimandrite Arsenie (Popa), abbot of Sihastria Monastery in Romania (made famous by the Elder Cleopa​)​ visited our monastery on Tuesday, along with some of his monks.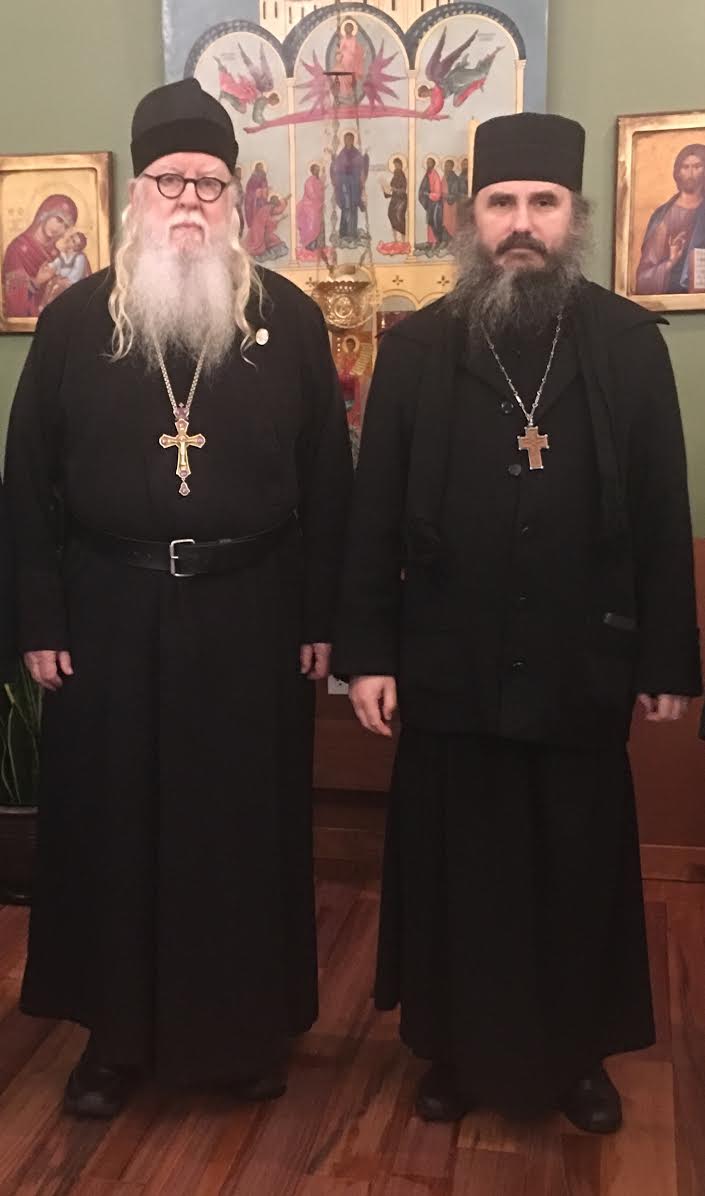 Thursday February 7, 2019 / January 25, 2019
37th Week after Pentecost. Tone three.
St. Gregory the Theologian, archbishop of Constantinople (389).
Venerable Anatole I (Zertsalov, the "Elder") of Optina (1894).
New Hieromartyr Vladimir, metropolitan of Kiev, proto-martyr of the communist yoke in Russia (1918).
New Martyr Abbess Margaret (Gunaronulo) of Menzelino (1918).
New Hieromartyr Peter archbishop of Voronezh (1929).
New Hieromartyr Basil bishop of Priluksk. 1930).
New Martyr Abbess Athanasia (Lepeshkin) of Zosima Hermitage (1931).
St. Stephen priest, martyr Boris (1938).
St. Moses, archbishop of Novgorod (1362).
Martyrs Felicitas of Rome and seven sons: Januarius, Felix, Philip, Silvanus, Alexander, Vitalis, and Martial (164).
Venerable Publius, ascetic of Syria (380).
Venerable Mares the Singer of Syria (430).
Icons of the Most Holy Theotokos "Assuage My Sorrow" and "Unexpected Joy.".
New Martyr Auxentius of Constantinople (1720) (Greek).
Martyr Medula and her companions (Greek).
St. Castinus, bishop of Byzantium (240) (Greek).
Venerable Demetrius Skevophylax ("Keeper of the Sacred Vessels") of Constantinople (8th c.) (Greek).
Venerable Apollo of the Thebaid, monk (4th c.) (Greek).
St. Bretanion (Vetranion), bishop of Tomis (380) (Romania).
St. Gregory of Golutvin (15th c.).
St. Dwyn, virin of Llandwyn.
The Scripture Readings
John 10:1-9
Jesus the True Shepherd
10 "Most assuredly, I say to you, he who does not enter the sheepfold by the door, but climbs up some other way, the same is a thief and a robber. 2 But he who enters by the door is the shepherd of the sheep. 3 To him the doorkeeper opens, and the sheep hear his voice; and he calls his own sheep by name and leads them out. 4 And when he brings out his own sheep, he goes before them; and the sheep follow him, for they know his voice. 5 Yet they will by no means follow a stranger, but will flee from him, for they do not know the voice of strangers." 6 Jesus used this illustration, but they did not understand the things which He spoke to them.
Jesus the Good Shepherd
7 Then Jesus said to them again, "Most assuredly, I say to you, I am the door of the sheep. 8 All who ever came before Me are thieves and robbers, but the sheep did not hear them. 9 I am the door. If anyone enters by Me, he will be saved, and will go in and out and find pasture.
James 4:7-5:9
Humility Cures Worldliness
7 Therefore submit to God. Resist the devil and he will flee from you. 8 Draw near to God and He will draw near to you. Cleanse yourhands, you sinners; and purify your hearts, you double-minded. 9 Lament and mourn and weep! Let your laughter be turned to mourning and your joy to gloom. 10 Humble yourselves in the sight of the Lord, and He will lift you up.
Do Not Judge a Brother
11 Do not speak evil of one another, brethren. He who speaks evil of a brother and judges his brother, speaks evil of the law and judges the law. But if you judge the law, you are not a doer of the law but a judge. 12 There is one Lawgiver, who is able to save and to destroy. Who are you to judge another?
Do Not Boast About Tomorrow
13 Come now, you who say, "Today or tomorrow we will go to such and such a city, spend a year there, buy and sell, and make a profit"; 14 whereas you do not know what will happen tomorrow. For what is your life? It is even a vapor that appears for a little time and then vanishes away. 15 Instead you ought to say, "If the Lord wills, we shall live and do this or that." 16 But now you boast in your arrogance. All such boasting is evil.
17 Therefore, to him who knows to do good and does not do it, to him it is sin.
Rich Oppressors Will Be Judged
5 Come now, you rich, weep and howl for your miseries that are coming upon you! 2 Your riches are corrupted, and your garments are moth-eaten. 3 Your gold and silver are corroded, and their corrosion will be a witness against you and will eat your flesh like fire. You have heaped up treasure in the last days. 4 Indeed the wages of the laborers who mowed your fields, which you kept back by fraud, cry out; and the cries of the reapers have reached the ears of the Lord of Sabaoth. 5 You have lived on the earth in pleasure and luxury; you have fattened your hearts as in a day of slaughter. 6 You have condemned, you have murdered the just; he does not resist you.
Be Patient and Persevering
7 Therefore be patient, brethren, until the coming of the Lord. See how the farmer waits for the precious fruit of the earth, waiting patiently for it until it receives the early and latter rain. 8 You also be patient. Establish your hearts, for the coming of the Lord is at hand.
9 Do not grumble against one another, brethren, lest you be condemned. Behold, the Judge is standing at the door!
Mark 11:27-33
Jesus' Authority Questioned
27 Then they came again to Jerusalem. And as He was walking in the temple, the chief priests, the scribes, and the elders came to Him. 28 And they said to Him, "By what authority are You doing these things? And who gave You this authority to do these things?"
29 But Jesus answered and said to them, "I also will ask you one question; then answer Me, and I will tell you by what authority I do these things: 30 The baptism of John—was it from heaven or from men? Answer Me."
31 And they reasoned among themselves, saying, "If we say, 'From heaven,' He will say, 'Why then did you not believe him?' 32 But if we say, 'From men' "—they feared the people, for all counted John to have been a prophet indeed. 33 So they answered and said to Jesus, "We do not know."
And Jesus answered and said to them, "Neither will I tell you by what authority I do these things."