The monastic vocation is all about relationships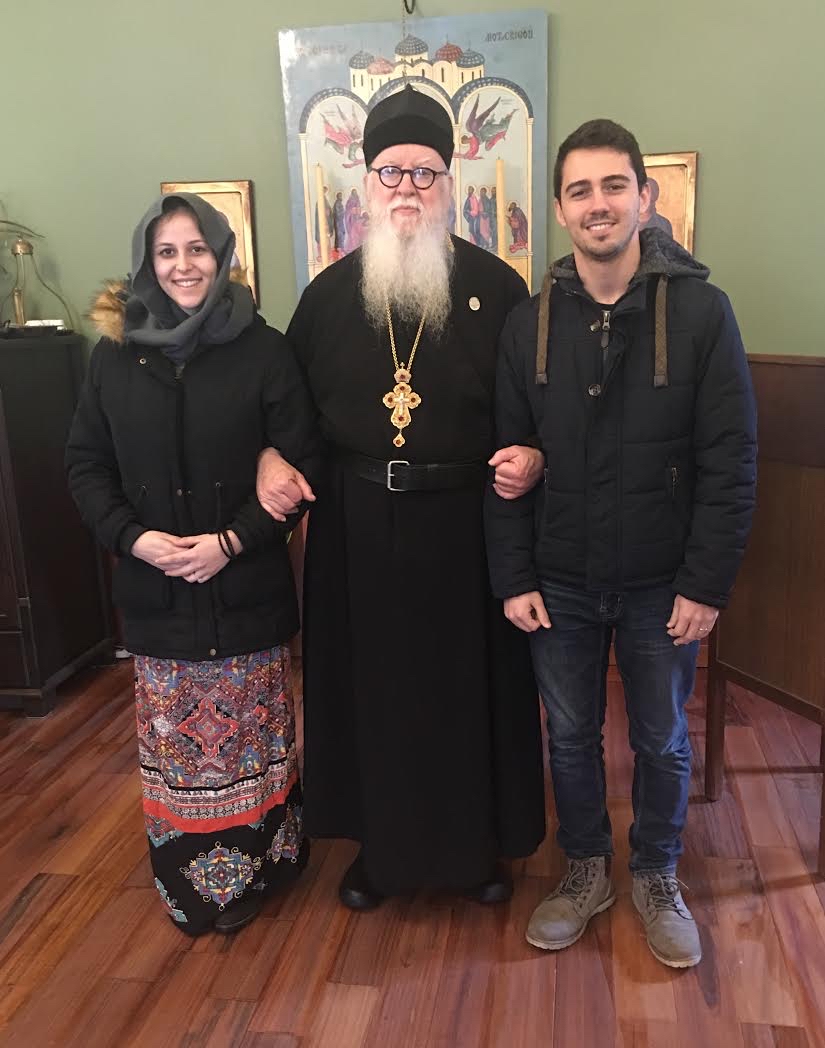 Sunday saw the commemoration of the Prodigal Son, a clear sign that we are getting closer to the beginning of Great and Holy Lent. The story of the parodical son is a call to repentance, and is seen, according to Bishop Nectary of Seattle of blessed memory, as the secondary Names Day of every monk.
The monastic vocation is a special calling from God that is all about relationships. Although it is a relationship that involves community (the monastic brotherhood), it primarily revolves around the monk's relationship with God.
Monks are not holy men who are living lives set apart from the world, but men who are seeking holiness by entering into a relationship with the God Who, through that relationship, promises holiness. The monk attempts, with God's help, to live a life that is in imitation of the angels, thus the monastic life is often referred to as the angelic life. Through his continued communion with God the monk attempts to give himself over to the transformation of his own life that comes with the action of the Holy Spirit.
Holiness is not something that is just about the saints, whose icons we venerate and whose lives we read about. Holiness is better understood as wholeness, made whole, or healed. We seek healing from the darkness and estrangement that we've inherited as a result of the fall. We seek out the God of righteousness Who alone can heal us of our infirmity. As Christ increases in us, our fallen nature decreases. In monastic obedience, the self is replaced by the will of God and the ego is trampled down.
The goal of the monk is to acquire the Holy Spirit from whom comes true repentance and a humble and contrite heart. This relationship that brings healing for the monk also brings healing for the world. Saint Seraphim of Sarov said that if you acquire inner peace, a thousand around you will be saved. The monk is thus not someone who leaves the world because he cares little for those in the world but because he cares for everyone and everything. Because he loves his neighbor and the whole of the cosmos, he gives himself over to be transformed by the Holy Spirit, becoming a living martyr to self.
The monk stands before God as an intercessor for the whole of mankind, not because he intentionally flees from others, but because he becomes closer to others by entering into an intimate relationship with Jesus Christ, Whom he serves.
Love in Christ,
Abbot Tryphon
Photo: Linsey and Vinnie King, members of  Saint John the Evangelist Orthodox Church in Scottsdale, Arizon, joined us for the Sunday Divine Liturgy.
Monday February 25, 2019 / February 12, 2019
Week of the Prodigal Son. Tone six.
Iveron Icon (Moscow) of the Most Holy Theotokos (9th c.).
St. Meletius, archbishop of Antioch (381).
St. Alexis, metropolitan of Moscow and wonderworker of all Russia (1378).
St. Meletius, archbishop of Kharkov (1840).
New Hieromartyr Alexius (Buy), bishop of Voronezh (1930).
New Martyr Mitrophan, archpriest (1931).
Venerable Mary, nun (who was called Marinus), and her father, St. Eugene, monk, at Alexandria (6th c.).
St. Anthony II, patriarch of Constantinople (895).
Saint Meletios of Lardos, Founder of Ypseni Monastery (19th c.).
Venerable Bassian, disciple of St. Paisius of Uglich and abbot of Ryabovsky Forest Monastery, Uglich (1509).
Callia, righteous.
Venerable Gertrude of Nijvel, abbess (659) (Neth.).
St. Ethilwald of Lindisfarne (740) (Celtic & British).
New Martyr Chrestos at Constantinople (1748) (Greek).
Martyrs Saturnius and Plotonus (Greek).
Hieromartyr Urban us, bishop of Rome (223-230).
Holy Fathers Prokhore the Georgian (11th c.), Luka (Mukhaidze) of Jerusalem (1277), Nikoloz Dvali (1314), аnd the Holy Fathers of the Georgian Monasteries in Jerusalem (Georgia).
The Scripture Readings
Luke 1:39-49
Mary Visits Elizabeth
39 Now Mary arose in those days and went into the hill country with haste, to a city of Judah, 40 and entered the house of Zacharias and greeted Elizabeth. 41 And it happened, when Elizabeth heard the greeting of Mary, that the babe leaped in her womb; and Elizabeth was filled with the Holy Spirit. 42 Then she spoke out with a loud voice and said, "Blessed are you among women, and blessed is the fruit of your womb! 43 But why is this granted to me, that the mother of my Lord should come to me? 44 For indeed, as soon as the voice of your greeting sounded in my ears, the babe leaped in my womb for joy. 45 Blessed is she who believed, for there will be a fulfillment of those things which were told her from the Lord."
The Song of Mary
46 And Mary said:
"My soul magnifies the Lord,
47 And my spirit has rejoiced in God my Savior.
48 For He has regarded the lowly state of His maidservant;
For behold, henceforth all generations will call me blessed.
49 For He who is mighty has done great things for me,
And holy is His name.
Luke 1:56
56 And Mary remained with her about three months, and returned to her house.
1 John 2:18-3:10
Deceptions of the Last Hour
18 Little children, it is the last hour; and as you have heard that the Antichrist is coming, even now many antichrists have come, by which we know that it is the last hour. 19 They went out from us, but they were not of us; for if they had been of us, they would have continued with us; but they went out that they might be made manifest, that none of them were of us.
20 But you have an anointing from the Holy One, and you know all things. 21 I have not written to you because you do not know the truth, but because you know it, and that no lie is of the truth.
22 Who is a liar but he who denies that Jesus is the Christ? He is antichrist who denies the Father and the Son. 23 Whoever denies the Son does not have the Father either; he who acknowledges the Son has the Father also.
Let Truth Abide in You
24 Therefore let that abide in you which you heard from the beginning. If what you heard from the beginning abides in you, you also will abide in the Son and in the Father. 25 And this is the promise that He has promised us—eternal life.
26 These things I have written to you concerning those who try to deceive you. 27 But the anointing which you have received from Him abides in you, and you do not need that anyone teach you; but as the same anointing teaches you concerning all things, and is true, and is not a lie, and just as it has taught you, you will abide in Him.
The Children of God
28 And now, little children, abide in Him, that when He appears, we may have confidence and not be ashamed before Him at His coming. 29 If you know that He is righteous, you know that everyone who practices righteousness is born of Him.
The Command to Love
3 Behold what manner of love the Father has bestowed on us, that we should be called children of God! Therefore the world does not know us, because it did not know Him. 2 Beloved, now we are children of God; and it has not yet been revealed what we shall be, but we know that when He is revealed, we shall be like Him, for we shall see Him as He is. 3 And everyone who has this hope in Him purifies himself, just as He is pure.
Sin and the Child of God
4 Whoever commits sin also commits lawlessness, and sin is lawlessness. 5 And you know that He was manifested to take away our sins, and in Him there is no sin. 6 Whoever abides in Him does not sin. Whoever sins has neither seen Him nor known Him.
7 Little children, let no one deceive you. He who practices righteousness is righteous, just as He is righteous. 8 He who sins is of the devil, for the devil has sinned from the beginning. For this purpose the Son of God was manifested, that He might destroy the works of the devil. 9 Whoever has been born of God does not sin, for His seed remains in him; and he cannot sin, because he has been born of God.
The Imperative of Love
10 In this the children of God and the children of the devil are manifest: Whoever does not practice righteousness is not of God, nor ishe who does not love his brother.