The divine flame will consume us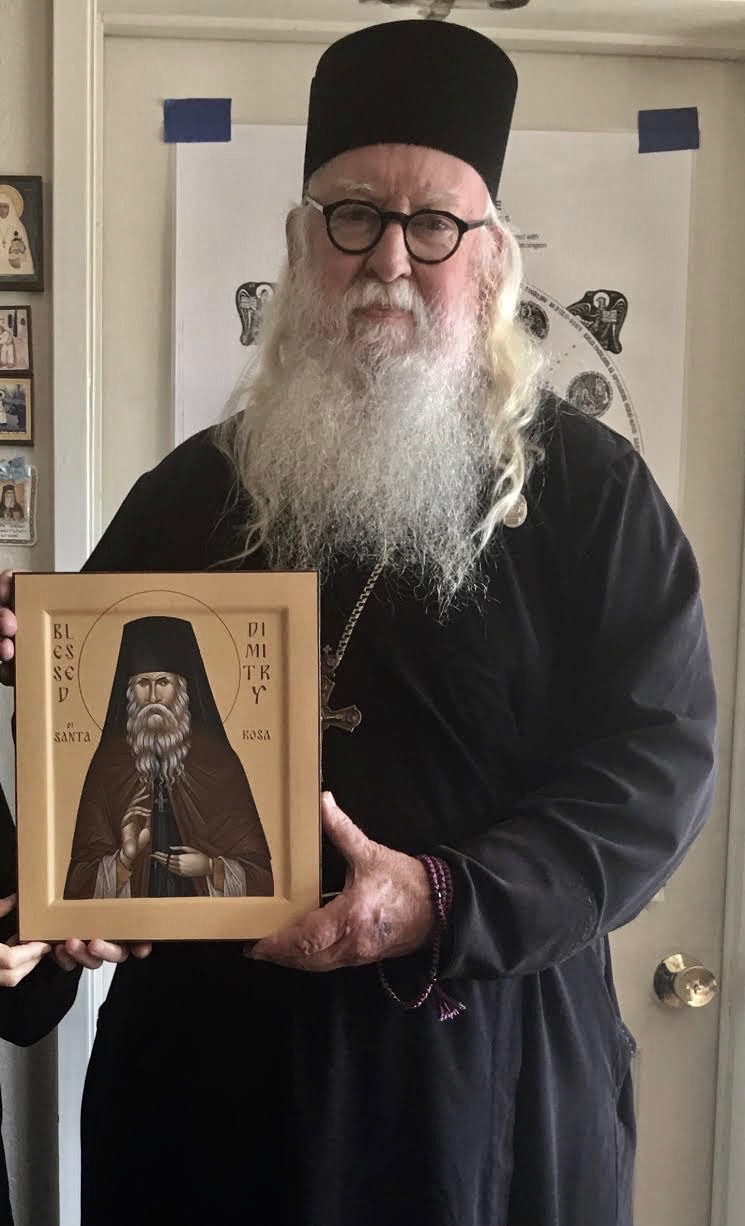 At the very first moment we decide to turn to God, our heart begins to be warmed by the action of the Holy Spirit. Our heart is kindled with the divine flame that will transform us. This flame will consume us completely, and will melt everything of a fallen nature within us. Once this flame of divine love has been actualized within our heart, we must do nothing that would allow it to be extinguished. We must cooperate with the Fire of God, and let it completely consume us.
We must let all our effort be focused on this spiritual transformation that begins in our heart. We must not let anything take center stage over this action by God that is meant to save us. From a little flame, this fire will burn in our heart, and nothing of our fallen nature will be able to withstand it. This flame will transform our whole being, for the action of the Holy Spirit will transport us into God's Kingdom, the Kingdom which resides within.
Love in Christ,
Abbot Tryphon
Photo: An icon of Blessed Dimitry of Santa Rosa, my spiritual father of blessed memory. The icon was painted by Shayne John Swenson.
Saturday February 23, 2019 / February 10, 2019
Week of the Publican and the Pharisee. Tone five.
Fast-free Week. Fast-free
Hieromartyr Charalampus, bishop of Magnesia in Thessaly, and Martyrs Porphyrius and Baptus (202).
New Hieromartyrs Peter and Valerian priests (1930).
New Martyr Anatole (Greesiuk), metropolitan of Odessa (1938).
St. Anna of Novgorod, wife of Yaroslav I (1050).
Venerable Prochorus of the Kiev Caves (1107).
Venerable Longinus, monk, of Koryazhemka (Vologda) (1540).
St. Galina (III).
Martyrs Ennatha, Valentina, and Paula of Palestine (308).
Icon of the Most Holy Theotokos of Areovindus ("Fiery Vision").
Synaxis of Novgorod Hierarchs: Sts. Joachim (1030), Luke the Jew (1058), Germanus (1095), Arcadius (1162), Gregory (1193), Martyrius (1199), Anthony (1232), Basil (1352), Moses (1362), Symeon (1421), Gennadius (1504), Pimen (1571), and Athonius (1648).
St. Anastasius II, archbishop of Jerusalem (706) (Greek).
Martyr Charalampus (another) and three women companions (Greek).
St. Scholastica of Italy, sister of St. Benedict (543).
St. John Chimchimeli of Bachkovo and Gremi (13th c.) (Georgia).
St. Merwinna, abbes of Romsey..
The Scripture Readings
2 Timothy 3:1
Perilous Times and Perilous Men
3 But know this, that in the last days perilous times will come:
Luke 20:46-21:4
46 "Beware of the scribes, who desire to go around in long robes, love greetings in the marketplaces, the best seats in the synagogues, and the best places at feasts, 47 who devour widows' houses, and for a pretense make long prayers. These will receive greater condemnation."
The Widow's Two Mites
21 And He looked up and saw the rich putting their gifts into the treasury, 2 and He saw also a certain poor widow putting in two mites. 3 So He said, "Truly I say to you that this poor widow has put in more than all; 4 for all these out of their abundance have put in offerings for God, but she out of her poverty put in all the livelihood that she had."