No one is required by God to remain in an abusive relationship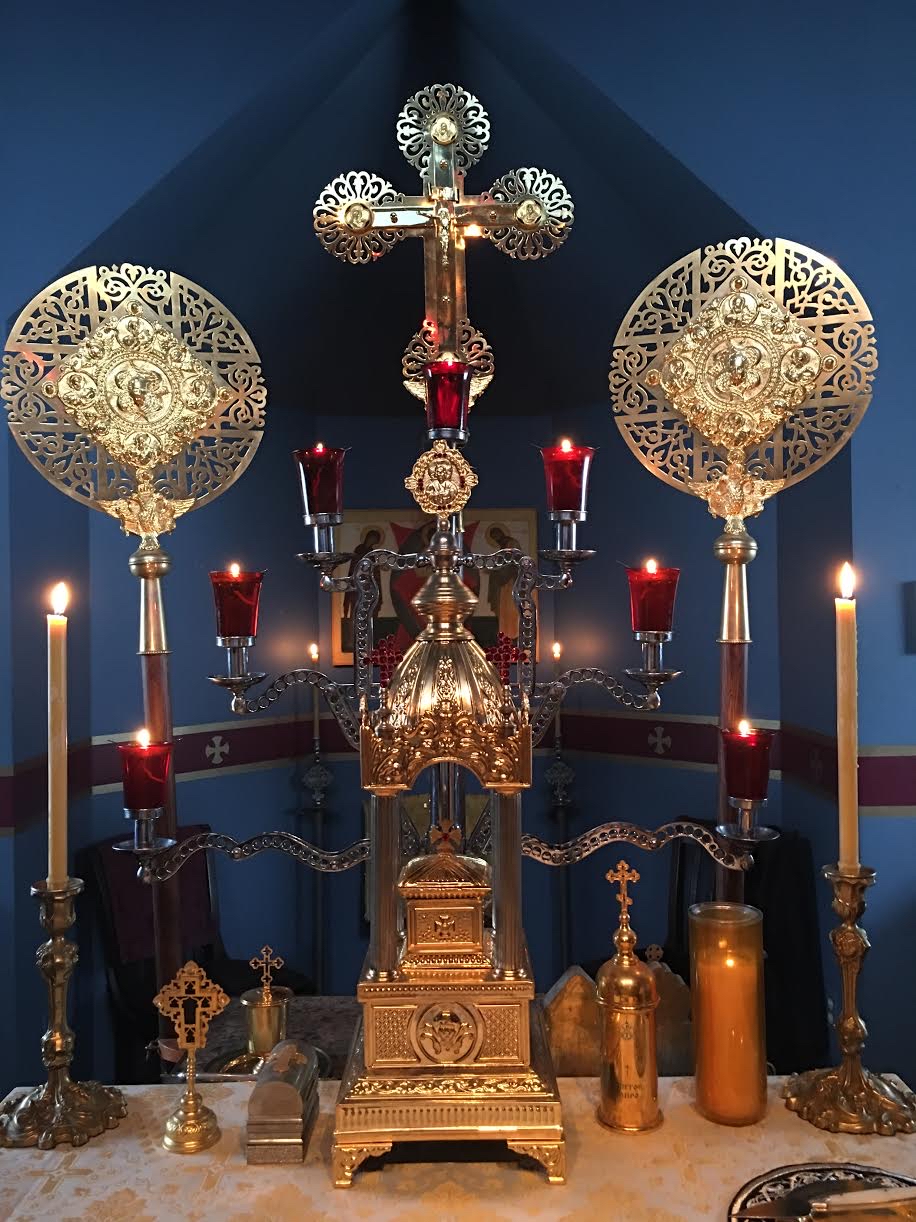 The best way to respond to another person's anger is not to withdraw, but to move towards them with kindness. There are times when distancing yourself from someone who is angry, is necessary, for there is absolutely no good reason for you to move towards another, when they are being abusive. For the wife of an abuser to remain in danger, in an attempt to transfer love while receiving abuse, is a form a suicide. Too many women, either out of fear, or for economic reasons, or for the sake of the children, remain in abusive relationships. This is clearly a situation that does not require the abused, out of Christian charity, to remain living with the abuser, for to do so could prove dangerous.
Likewise, if out of a desire to help the abuser, we offer love, but do not call them on their bad behavior, we could be guilty of enabling their abusive behavior. I once stopped my car at curbside, when I saw a man beating on a woman. It would have been unthinkable for me to continue driving, knowing this woman was in danger. After calling 911, I stepped between the man and woman, telling the man to back off (not something I'd recommend). Lucky for me I was able, probably because of my attire and size, to intimidate him to step back until the police arrived. My point in telling this story is that there are times when justice must reign, and we must offer assistance to someone who is being abused.
Remaining in an abusive relationship can be destructive to our spiritual lives, as well as being potentially dangerous. We must be wise as serpents, but meek as lambs, and temper our response to the anger of another. Striking back must not be our response, as we must recognizing the abuser must be called to repentance. In our attempt to offer love and goodness to the person who is heaping anger upon us, we could inadvertently be prolonging the day of their repentance. The person struggling with anger does not need you to be his enabler, and relationships of co-dependence have the potential of being spiritually destructive for both parties. As long as our response to someone's anger is itself devoid of anger, we are safe.
Permissiveness is not required when dealing with the abuser, for we must not allow the evil of abuse to continue. We must respond without anger, for the opposite of anger is not passively allowing the abusive behavior to continue. We must cultivate a strong sense of right and wrong, and oppose evil, not out of passion, but out of righteousness. If the anger is accompanied by a history of violence, the gravity of the offense most certainly does not require the abused to continue to live in the grip of the abuser. This can clearly be a situation that requires the abused to remove themselves, and their children, from the dangers of living with such a person. If moving out puts the abused in further danger, the police should be enlisted to help with the move.
It is important to note, finally, that it is not just men who can be the abusers. What I have written about women needing to remove themselves, and their children, from the dangers of living with the abuser, goes as well for men who find themselves in such unhealthy, and dangerous situations. There are also female abusers, and a man need not feel he is alone when dealing with an abusive woman.
With love in Christ,
Abbot Tryphon
Tuesday February 19, 2019 / February 6, 2019
Week of the Publican and the Pharisee. Tone five.
Fast-free Week. Fast-free
Venerable Bucolus, bishop of Smyrna (ca. 100).
New Hieromartyrs Demetrius priest and Martyr Anatolius (1921).
New Hieromartyr Basil priest (1930).
New Hieromartyr Priest Basil Nadezhnin of Moscow, (1937).
New Hieromartyr Alexander priest (1938).
Venerables Barsanuphius the Great and John the Prophet, monks of Palestine (6th c.).
St. Photius, patriarch of Constantinople (891).
Virgin-martyr Dorothea, and with her Martyrs Christina and Callista, sisters, and Theophilus, at Caesarea in Cappadocia (288-300).
Martyr Julian of Emesa (312).
Virgin-martyr Fausta, and with her Martyrs Evilasius and Maximus, at Cyzicus (ca. 305-311).
Virgin-martyrs Martha and Mary, and their brother Martyr Lycarion, in Egypt.
Venerable Dorothea, schemanun of Kashin (1629).
St. Mael, bishop of Ardagh, disciple of St. Patrick (488) (Celtic & British).
Martyrs Faustus, Basil and Silvanus of Darion in Constantinople (Greek).
Venerable John of Thebes, monk (Greek).
St. James, ascetic of Syria (ca. 460).
St. Vedast, bishop of Arras (540).
St. Amand, apostle of Maastricht (675) (Neth.).
St. Arsen of Iqalto, Georgia (1127).
The Scripture Readings
2 Peter 2:9-22
9 then the Lord knows how to deliver the godly out of temptations and to reserve the unjust under punishment for the day of judgment, 10 and especially those who walk according to the flesh in the lust of uncleanness and despise authority. They arepresumptuous, self-willed. They are not afraid to speak evil of dignitaries, 11 whereas angels, who are greater in power and might, do not bring a reviling accusation against them before the Lord.
Depravity of False Teachers
12 But these, like natural brute beasts made to be caught and destroyed, speak evil of the things they do not understand, and will utterly perish in their own corruption, 13 and will receive the wages of unrighteousness, as those who count it pleasure to carouse in the daytime. They are spots and blemishes, carousing in their own deceptions while they feast with you, 14 having eyes full of adultery and that cannot cease from sin, enticing unstable souls. They have a heart trained in covetous practices, and are accursed children. 15 They have forsaken the right way and gone astray, following the way of Balaam the son of Beor, who loved the wages of unrighteousness; 16 but he was rebuked for his iniquity: a dumb donkey speaking with a man's voice restrained the madness of the prophet.
17 These are wells without water, clouds carried by a tempest, for whom is reserved the blackness of darkness forever.
Deceptions of False Teachers
18 For when they speak great swelling words of emptiness, they allure through the lusts of the flesh, through lewdness, the ones who have actually escaped from those who live in error. 19 While they promise them liberty, they themselves are slaves of corruption; for by whom a person is overcome, by him also he is brought into bondage. 20 For if, after they have escaped the pollutions of the world through the knowledge of the Lord and Savior Jesus Christ, they are again entangled in them and overcome, the latter end is worse for them than the beginning. 21 For it would have been better for them not to have known the way of righteousness, than having known it, to turn from the holy commandment delivered to them. 22 But it has happened to them according to the true proverb: "A dog returns to his own vomit," and, "a sow, having washed, to her wallowing in the mire."
Mark 13:14-23
The Great Tribulation
14 "So when you see the 'abomination of desolation,' spoken of by Daniel the prophet, standing where it ought not" (let the reader understand), "then let those who are in Judea flee to the mountains. 15 Let him who is on the housetop not go down into the house, nor enter to take anything out of his house. 16 And let him who is in the field not go back to get his clothes. 17 But woe to those who are pregnant and to those who are nursing babies in those days! 18 And pray that your flight may not be in winter. 19 For in those days there will be tribulation, such as has not been since the beginning of the creation which God created until this time, nor ever shall be.20 And unless the Lord had shortened those days, no flesh would be saved; but for the elect's sake, whom He chose, He shortened the days.
21 "Then if anyone says to you, 'Look, here is the Christ!' or, 'Look, He is there!' do not believe it. 22 For false christs and false prophets will rise and show signs and wonders to deceive, if possible, even the elect. 23 But take heed; see, I have told you all things beforehand.