Tapping into the noetic memory of the heart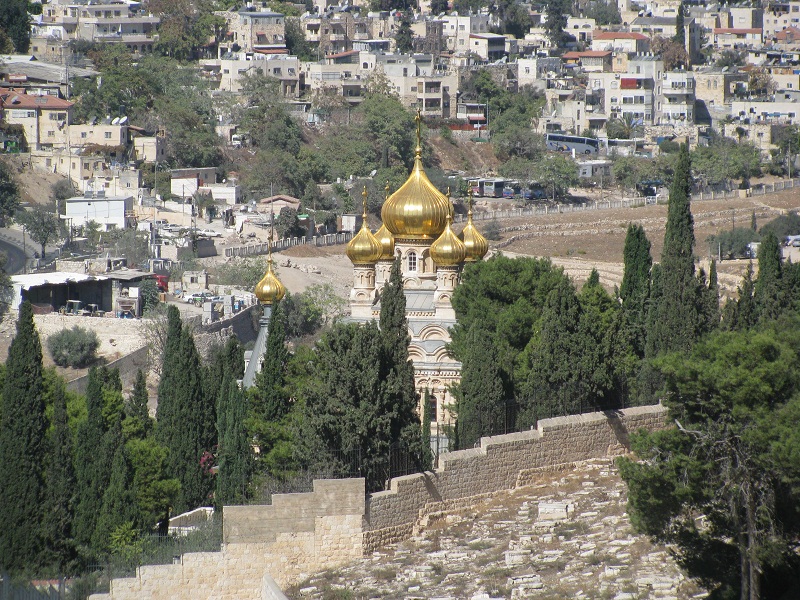 The heart, in the Orthodox tradition, does not only have a natural operation, as a mere pump that circulates blood. In Orthodox patristic tradition the heart is the center of our self-awareness. Saint Nicodemus of the Holy Mountain (+1809) calls the heart a natural and supernatural center, wherein resides "noetic" memory. Tapping into this noetic memory is manifested as the "incessant prayer" of the Holy Spirit inside the heart.
Humankind's mishandling of the memory of God led to the fall, and the reactivation of that memory through the healing of the "nous" (the eye of the soul), is necessary for the restoration of that memory. We must be made holy (whole) for communion with God to be restored.
Love in Christ,
Abbot Tryphon
Photos: The Convent of Saint Mary Magdalene, the Russian Orthodox church beside the Garden of Gethsemane.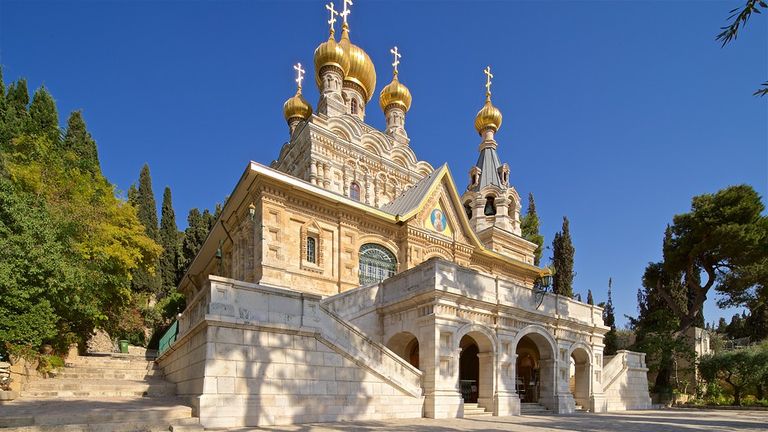 Sunday February 24, 2019 / February 11, 2019
Sunday of the Prodigal Son. Tone six.
Hieromartyr Blaise, bishop of Sebaste (316).
St. Vsevolod (in holy baptism Gabriel), prince and wonderworker of Pskov (1138).
Venerable Demetrius, monk of Priluki (Vologda) (1392).
Venerable Cassian the Barefoot (in the world 'Kosmas'), ascetic of the Joseph-Volokolamsk Monastery (1532)
St. Theodora, wife of Emperor Theophilus the Iconoclast (867).
St. Gobnait, abbess of Ballyvourney, Cork (Ireland) (7th c.) (Celtic & British).
Venerable Caedmon of Whitby, monk (680) (Celtic & British).
Venerable George (Kratovac) the Greatmartyr of Serbia (Greek).
Hieromartyr Lucius of Adrianopolis in Thrace (348).
St. Benedict of Aniane (821) (Gaul).
The Scripture Readings
Luke 24:36-53
Jesus Appears to His Disciples
36 Now as they said these things, Jesus Himself stood in the midst of them, and said to them, "Peace to you." 37 But they were terrified and frightened, and supposed they had seen a spirit. 38 And He said to them, "Why are you troubled? And why do doubts arise in your hearts? 39 Behold My hands and My feet, that it is I Myself. Handle Me and see, for a spirit does not have flesh and bones as you see I have."
40 When He had said this, He showed them His hands and His feet. 41 But while they still did not believe for joy, and marveled, He said to them, "Have you any food here?" 42 So they gave Him a piece of a broiled fish and some honeycomb. 43 And He took it and ate in their presence.
The Scriptures Opened
44 Then He said to them, "These are the words which I spoke to you while I was still with you, that all things must be fulfilled which were written in the Law of Moses and the Prophets and the Psalms concerning Me." 45 And He opened their understanding, that they might comprehend the Scriptures.
46 Then He said to them, "Thus it is written, and thus it was necessary for the Christ to suffer and to rise from the dead the third day, 47 and that repentance and remission of sins should be preached in His name to all nations, beginning at Jerusalem. 48 And you are witnesses of these things. 49 Behold, I send the Promise of My Father upon you; but tarry in the city of Jerusalem until you are endued with power from on high."
The Ascension
50 And He led them out as far as Bethany, and He lifted up His hands and blessed them. 51 Now it came to pass, while He blessed them, that He was parted from them and carried up into heaven. 52 And they worshiped Him, and returned to Jerusalem with great joy, 53 and were continually in the temple praising and blessing God. Amen.
1 Corinthians 6:12-20
Glorify God in Body and Spirit
12 All things are lawful for me, but all things are not helpful. All things are lawful for me, but I will not be brought under the power of any. 13 Foods for the stomach and the stomach for foods, but God will destroy both it and them. Now the body is not for sexual immorality but for the Lord, and the Lord for the body. 14 And God both raised up the Lord and will also raise us up by His power.
15 Do you not know that your bodies are members of Christ? Shall I then take the members of Christ and make them members of a harlot? Certainly not! 16 Or do you not know that he who is joined to a harlot is one body with her? For "the two," He says, "shall become one flesh." 17 But he who is joined to the Lord is one spirit with Him.
18 Flee sexual immorality. Every sin that a man does is outside the body, but he who commits sexual immorality sins against his own body. 19 Or do you not know that your body is the temple of the Holy Spirit who is in you, whom you have from God, and you are not your own? 20 For you were bought at a price; therefore glorify God in your body and in your spirit, which are God's.
Luke 15:11-32
The Parable of the Lost Son
11 Then He said: "A certain man had two sons. 12 And the younger of them said to his father, 'Father, give me the portion of goods that falls to me.' So he divided to them his livelihood. 13 And not many days after, the younger son gathered all together, journeyed to a far country, and there wasted his possessions with prodigal living. 14 But when he had spent all, there arose a severe famine in that land, and he began to be in want. 15 Then he went and joined himself to a citizen of that country, and he sent him into his fields to feed swine. 16 And he would gladly have filled his stomach with the pods that the swine ate, and no one gave him anything.
17 "But when he came to himself, he said, 'How many of my father's hired servants have bread enough and to spare, and I perish with hunger! 18 I will arise and go to my father, and will say to him, "Father, I have sinned against heaven and before you, 19 and I am no longer worthy to be called your son. Make me like one of your hired servants." '
20 "And he arose and came to his father. But when he was still a great way off, his father saw him and had compassion, and ran and fell on his neck and kissed him. 21 And the son said to him, 'Father, I have sinned against heaven and in your sight, and am no longer worthy to be called your son.'
22 "But the father said to his servants, 'Bring out the best robe and put it on him, and put a ring on his hand and sandals on his feet.23 And bring the fatted calf here and kill it, and let us eat and be merry; 24 for this my son was dead and is alive again; he was lost and is found.' And they began to be merry.
25 "Now his older son was in the field. And as he came and drew near to the house, he heard music and dancing. 26 So he called one of the servants and asked what these things meant. 27 And he said to him, 'Your brother has come, and because he has received him safe and sound, your father has killed the fatted calf.'
28 "But he was angry and would not go in. Therefore his father came out and pleaded with him. 29 So he answered and said to hisfather, 'Lo, these many years I have been serving you; I never transgressed your commandment at any time; and yet you never gave me a young goat, that I might make merry with my friends. 30 But as soon as this son of yours came, who has devoured your livelihood with harlots, you killed the fatted calf for him.'
31 "And he said to him, 'Son, you are always with me, and all that I have is yours. 32 It was right that we should make merry and be glad, for your brother was dead and is alive again, and was lost and is found.' "