Hell and hate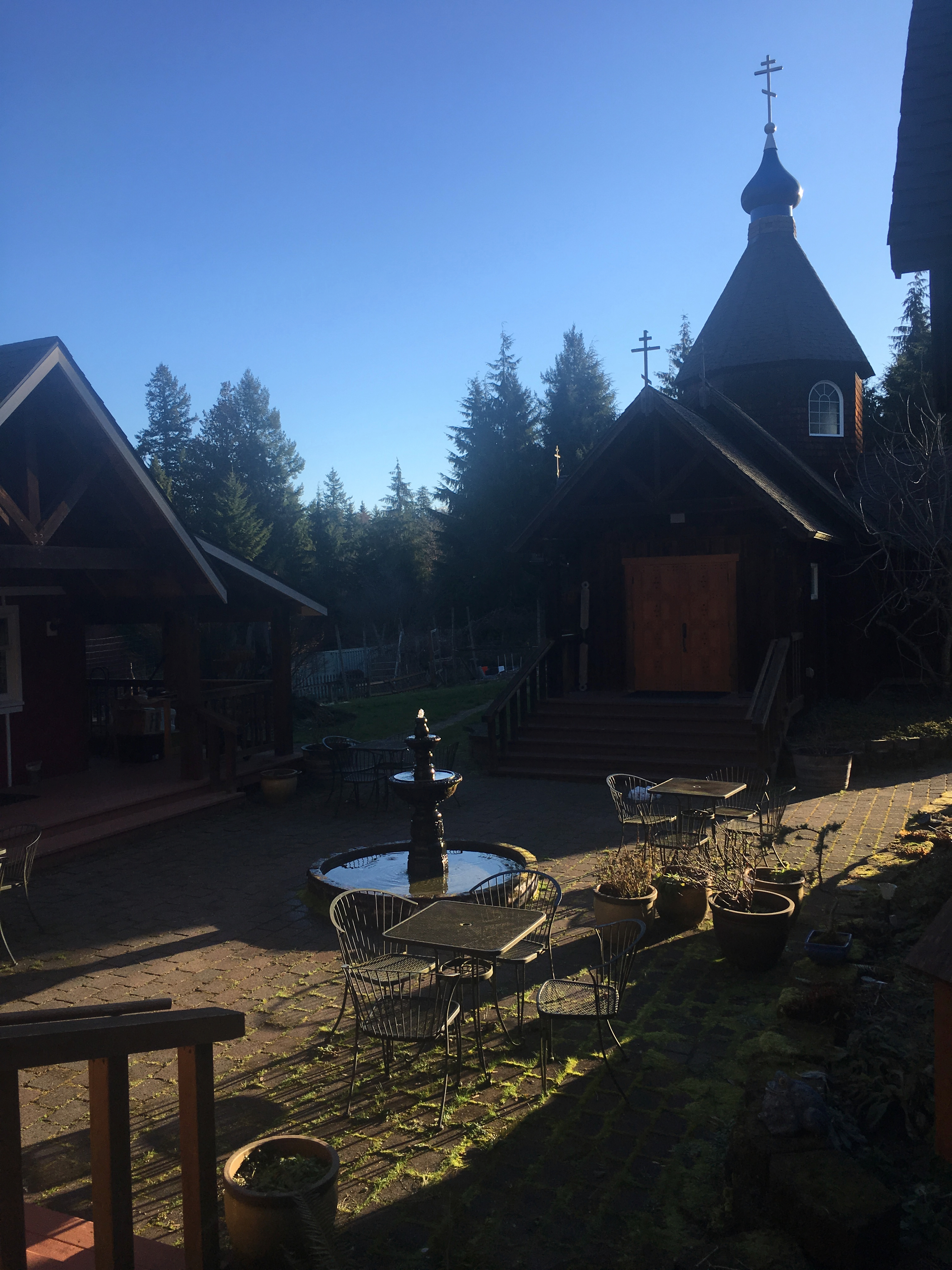 One of my favorite authors as a young man, was Thomas Merton, the famous Trappist monk. In the introduction to his work New Seeds of Contemplation he wrote: "Hell was where no one has anything in common with anyone else except the fact that they all hate one other and cannot get away from each other and from themselves."
This very much fits with the Orthodox view of hell as being in the presence of God for all eternity, and hating it. For the one who has never loved and who is consumed in his own ego and his own passions, being with God for all eternity will be to him, hell. Without love, we can not experience the Fire of God without being burned.
With love in Christ,
Abbot Tryphon
Tuesday February 26, 2019 / February 13, 2019
Week of the Prodigal Son. Tone six.
Venerable Martinian, monk, of Caesarea in Palestine (422).
New Hieromartyrs Basil and Gabriel priests (1919).
New Hieromartyr Silvester (Olshevsky) bishop of Omsk and Pavlodar (1920).
New Hieromartyrs Zosimas, Nicholas, Basil, John, Leontius, Vladimir, Parthenius, John, John, Michael priests and Eugene deacon, and Martyr Paul, Virgin-martyrs Anna, Vera and Irina (1938).
Blessed Archbishop Seraphim (Sobolev) of Bogucharsk (1950).
The holy woman Zoe of Bethlehem and Virgin Photina (5th c.).
Venerable Eulogius, archbishop of Alexandria (607-608).
Venerable Symeon the Myrrh-gusher, prince of Serbia (1200).
Synaxis of All Saints of Omsk Metropolia.
St. Martin the Merciful.
St. Modomnoc, bishop of Ossory (6th c.) (Celtic & British).
Apostle and Martyr Aquila, and Priscilla (Greek).
St. Timothy, patriarch of Alexandria (385).
St. Joseph of Volokolamsk (1515).
St. Castor of Karden, hieromonk and missionary (Germany)
St. Ermenhilda, abbes of Ely.
St. Huna, priest-monk of Huneya.
Translation of the relics of St. Edward the Martyr, King of England.
The Scripture Readings
1 John 3:11-20
11 For this is the message that you heard from the beginning, that we should love one another, 12 not as Cain who was of the wicked one and murdered his brother. And why did he murder him? Because his works were evil and his brother's righteous.
13 Do not marvel, my brethren, if the world hates you. 14 We know that we have passed from death to life, because we love the brethren. He who does not love his brother abides in death. 15 Whoever hates his brother is a murderer, and you know that no murderer has eternal life abiding in him.
The Outworking of Love
16 By this we know love, because He laid down His life for us. And we also ought to lay down our lives for the brethren. 17 But whoever has this world's goods, and sees his brother in need, and shuts up his heart from him, how does the love of God abide in him?
18 My little children, let us not love in word or in tongue, but in deed and in truth. 19 And by this we know that we are of the truth, and shall assure our hearts before Him. 20 For if our heart condemns us, God is greater than our heart, and knows all things.
Mark 14:10-42
Judas Agrees to Betray Jesus
10 Then Judas Iscariot, one of the twelve, went to the chief priests to betray Him to them. 11 And when they heard it, they were glad, and promised to give him money. So he sought how he might conveniently betray Him.
Jesus Celebrates the Passover with His Disciples
12 Now on the first day of Unleavened Bread, when they killed the Passover lamb, His disciples said to Him, "Where do You want us to go and prepare, that You may eat the Passover?"
13 And He sent out two of His disciples and said to them, "Go into the city, and a man will meet you carrying a pitcher of water; follow him. 14 Wherever he goes in, say to the master of the house, 'The Teacher says, "Where is the guest room in which I may eat the Passover with My disciples?" ' 15 Then he will show you a large upper room, furnished and prepared; there make ready for us."
16 So His disciples went out, and came into the city, and found it just as He had said to them; and they prepared the Passover.
17 In the evening He came with the twelve. 18 Now as they sat and ate, Jesus said, "Assuredly, I say to you, one of you who eats with Me will betray Me."
19 And they began to be sorrowful, and to say to Him one by one, "Is it I?" And another said, "Is it I?"
20 He answered and said to them, "It is one of the twelve, who dips with Me in the dish. 21 The Son of Man indeed goes just as it is written of Him, but woe to that man by whom the Son of Man is betrayed! It would have been good for that man if he had never been born."
Jesus Institutes the Lord's Supper
22 And as they were eating, Jesus took bread, blessed and broke it, and gave it to them and said, "Take, eat; this is My body."
23 Then He took the cup, and when He had given thanks He gave it to them, and they all drank from it. 24 And He said to them, "This is My blood of the new covenant, which is shed for many. 25 Assuredly, I say to you, I will no longer drink of the fruit of the vine until that day when I drink it new in the kingdom of God."
26 And when they had sung a hymn, they went out to the Mount of Olives.
Jesus Predicts Peter's Denial
27 Then Jesus said to them, "All of you will be made to stumble because of Me this night, for it is written:
'I will strike the Shepherd,
And the sheep will be scattered.'
28 "But after I have been raised, I will go before you to Galilee."
29 Peter said to Him, "Even if all are made to stumble, yet I will not be."
30 Jesus said to him, "Assuredly, I say to you that today, even this night, before the rooster crows twice, you will deny Me three times."
31 But he spoke more vehemently, "If I have to die with You, I will not deny You!"
And they all said likewise.
The Prayer in the Garden
32 Then they came to a place which was named Gethsemane; and He said to His disciples, "Sit here while I pray." 33 And He took Peter, James, and John with Him, and He began to be troubled and deeply distressed. 34 Then He said to them, "My soul is exceedingly sorrowful, even to death. Stay here and watch."
35 He went a little farther, and fell on the ground, and prayed that if it were possible, the hour might pass from Him. 36 And He said, "Abba, Father, all things are possible for You. Take this cup away from Me; nevertheless, not what I will, but what You will."
37 Then He came and found them sleeping, and said to Peter, "Simon, are you sleeping? Could you not watch one hour? 38 Watch and pray, lest you enter into temptation. The spirit indeed is willing, but the flesh is weak."
39 Again He went away and prayed, and spoke the same words. 40 And when He returned, He found them asleep again, for their eyes were heavy; and they did not know what to answer Him.
41 Then He came the third time and said to them, "Are you still sleeping and resting? It is enough! The hour has come; behold, the Son of Man is being betrayed into the hands of sinners. 42 Rise, let us be going. See, My betrayer is at hand."