Finding one's true home in the Orthodox Church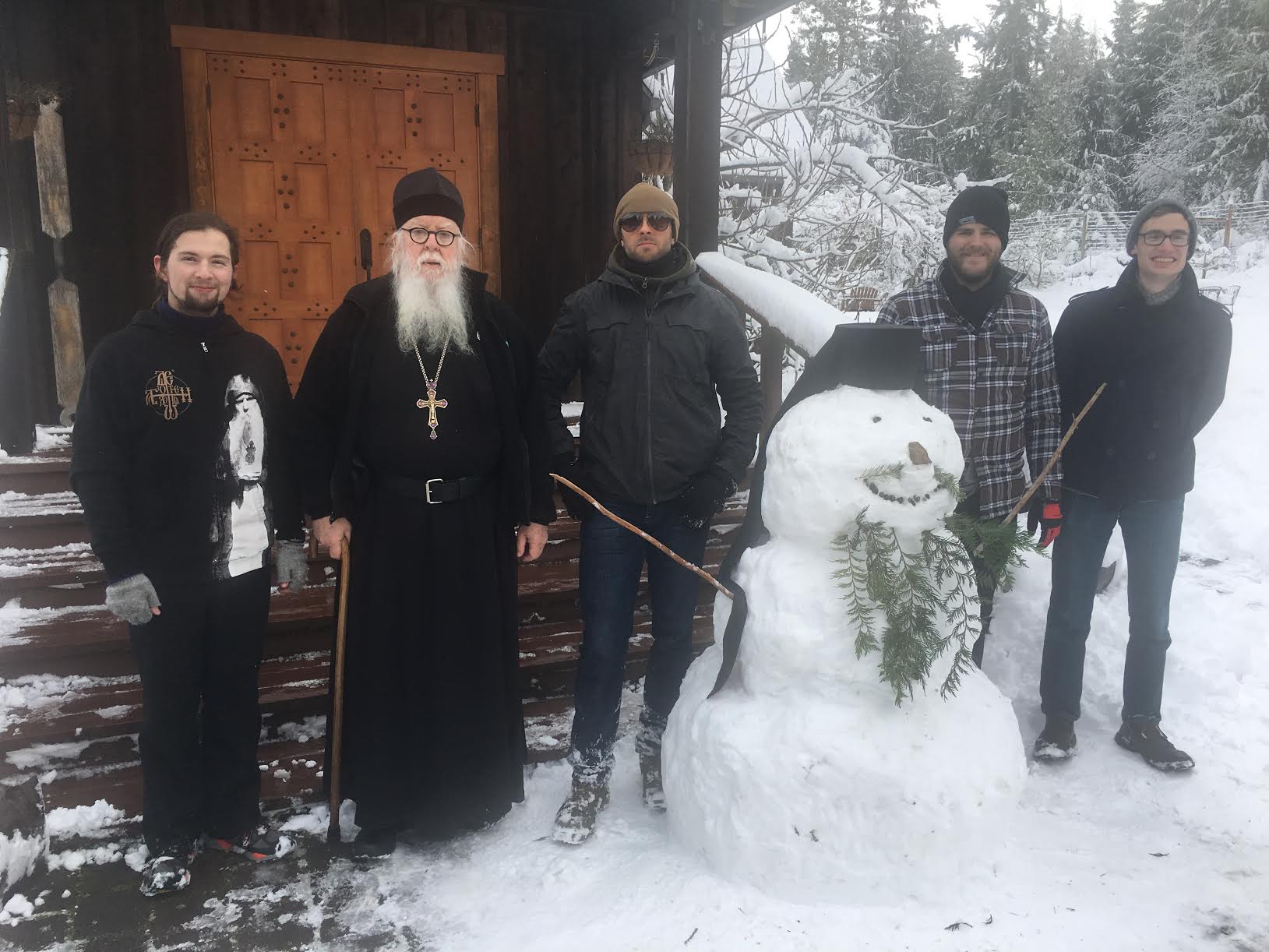 The one thing I have learned since my entrance into Orthodoxy is that this is the preserved Church that Christ founded, and the very Church whose first bishops were the apostles themselves. Preserved once and for all, it is neither Eastern nor Western, but simply the Church of Christ on this earth. I did not embrace an exotic faith of Eastern Christians, but rather immersed myself in the embrace of the Ancient Church. Within the protective walls of the Church of Christ, I am as comfortable as though in the city of my birth. Orthodox temples are as familiar to me as the living room of my childhood home, and I am at peace.
With love in Christ,
Abbot Tryphon
Photos: It has been our joy to host members of the Salish Brotherhood of Saint John, for the past four days. It is alway wonderful to spend time with young adults who have embraced Orthodoxy for themselves. Newly ordained Subdeacon Jacob Howell of San Diego, served in the altar with Abbot Tryphon and Hieromonk Paul.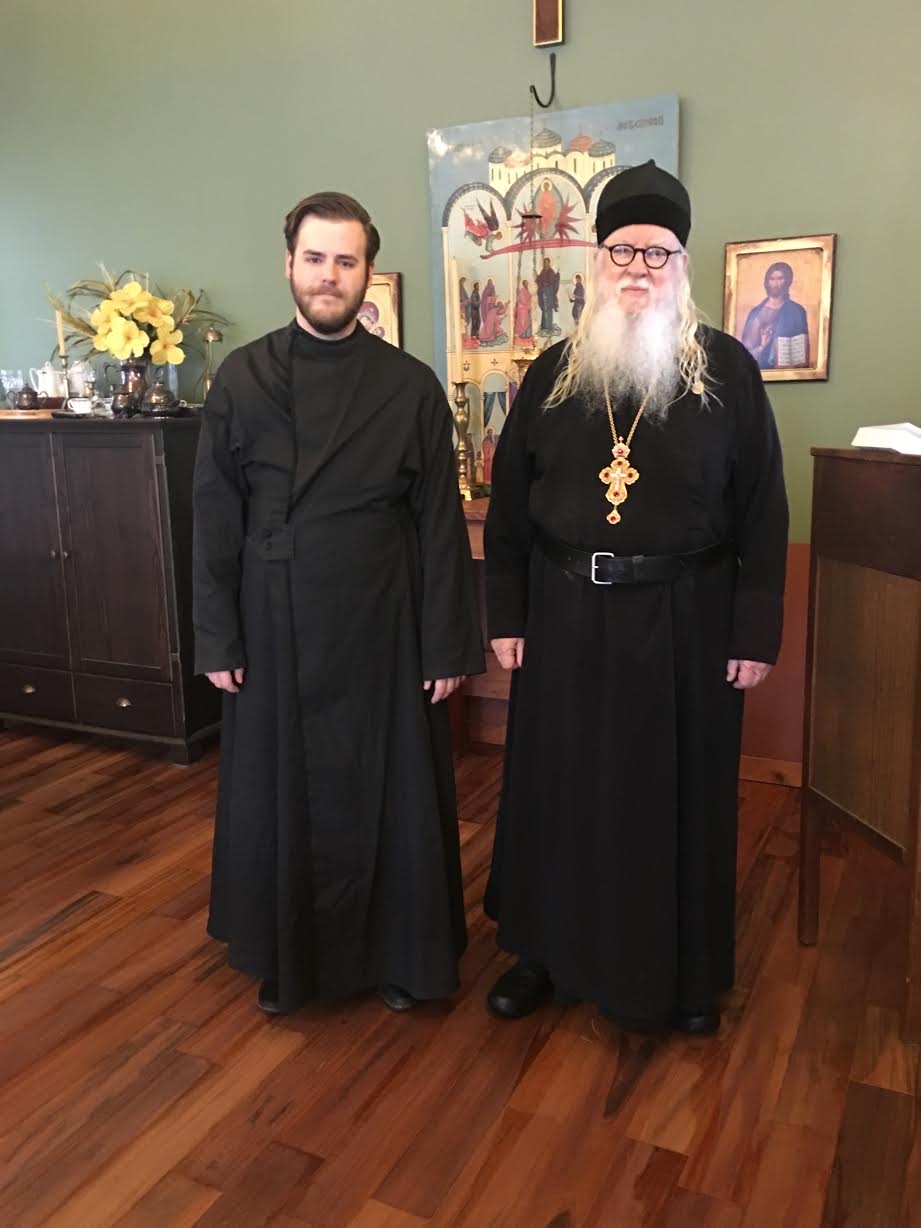 Please pray for us, as there is another major snow storm heading our way, and since we've had to use our backup generator because of numerous power outages, we are running very low on propane. Our road is impassible due to packed down ice and snow, and we won't be able to have a propane delivery until our snow and ice melt.
Monday February 11, 2019 / January 29, 2019
38th Week after Pentecost. Tone four.
Translation of the relics of Hieromartyr Ignatius the God-bearer, bishop of Antioch (107).
New Hieromartyrs John and Leontius priests, Constantine deacon and with them 5 Martyrs (1920).
St. Laurence, recluse of the Kiev Caves and bishop of Turov (1194).
Sts. Gerasimus (1441), Pitirim (1455), and Jonah (1470), bishops of Perm.
Synaxis of All Saints of Komi.
Martyrs Romanus, James, Philotheus, Hyperechius, Abibus, Julian and Paregorius at Samosata (297)
Martyrs Silvanus, bishop of Emesa, Luke the Deacon, and Mocius(Mucius) the Reader (312).
Synaxis of All Saints of Yekaterinburg.
New Martyr Demetrius of Chios (1802) (Greek).
Venerable Aphrahates of Persia, monk (370).
St. Barsimaeus the Confessor, bishop of Edessa (2nd c.).
Martyrs Sarbelus and his sister Bebaia of Edessa (115) (Greek).
Venerable Sulpicius Severus, disciple of St. Martin of Tours (406) (Gaul).
Venerable Gildas the Wise, abbot of Rhuys, Brittany (ca. 570) (Celtic & British).
St. Ashot Kuropalates of Tao-Klardjeti (829) (Georgia).
St. Ignatius, bishop of Smolensk (1210).
Venerable Andrew (Rublev) of Russia, iconographer (1430).
The Scripture Readings
1 Peter 2:21-3:9
21 For to this you were called, because Christ also suffered for us, leaving us an example, that you should follow His steps:
22 "Who committed no sin,
Nor was deceit found in His mouth";
23 who, when He was reviled, did not revile in return; when He suffered, He did not threaten, but committed Himself to Him who judges righteously; 24 who Himself bore our sins in His own body on the tree, that we, having died to sins, might live for righteousness—by whose stripes you were healed. 25 For you were like sheep going astray, but have now returned to the Shepherd and Overseer of your souls.
Submission to Husbands
3 Wives, likewise, be submissive to your own husbands, that even if some do not obey the word, they, without a word, may be won by the conduct of their wives, 2 when they observe your chaste conduct accompanied by fear. 3 Do not let your adornment be merely outward—arranging the hair, wearing gold, or putting on fine apparel— 4 rather let it be the hidden person of the heart, with the incorruptible beauty of a gentle and quiet spirit, which is very precious in the sight of God. 5 For in this manner, in former times, the holy women who trusted in God also adorned themselves, being submissive to their own husbands, 6 as Sarah obeyed Abraham, calling him lord, whose daughters you are if you do good and are not afraid with any terror.
A Word to Husbands
7 Husbands, likewise, dwell with them with understanding, giving honor to the wife, as to the weaker vessel, and as being heirs together of the grace of life, that your prayers may not be hindered.
Called to Blessing
8 Finally, all of you be of one mind, having compassion for one another; love as brothers, be tenderhearted, be courteous; 9 not returning evil for evil or reviling for reviling, but on the contrary blessing, knowing that you were called to this, that you may inherit a blessing.
Mark 12:13-17 New King James Version (NKJV)
The Pharisees: Is It Lawful to Pay Taxes to Caesar?
13 Then they sent to Him some of the Pharisees and the Herodians, to catch Him in His words. 14 When they had come, they said to Him, "Teacher, we know that You are true, and care about no one; for You do not regard the person of men, but teach the way of God in truth. Is it lawful to pay taxes to Caesar, or not? 15 Shall we pay, or shall we not pay?"
But He, knowing their hypocrisy, said to them, "Why do you test Me? Bring Me a denarius that I may see it." 16 So they brought it.
And He said to them, "Whose image and inscription is this?" They said to Him, "Caesar's."
17 And Jesus answered and said to them, "Render to Caesar the things that are Caesar's, and to God the things that are God's."
And they marveled at Him.