The Church on earth is in the midst of a battle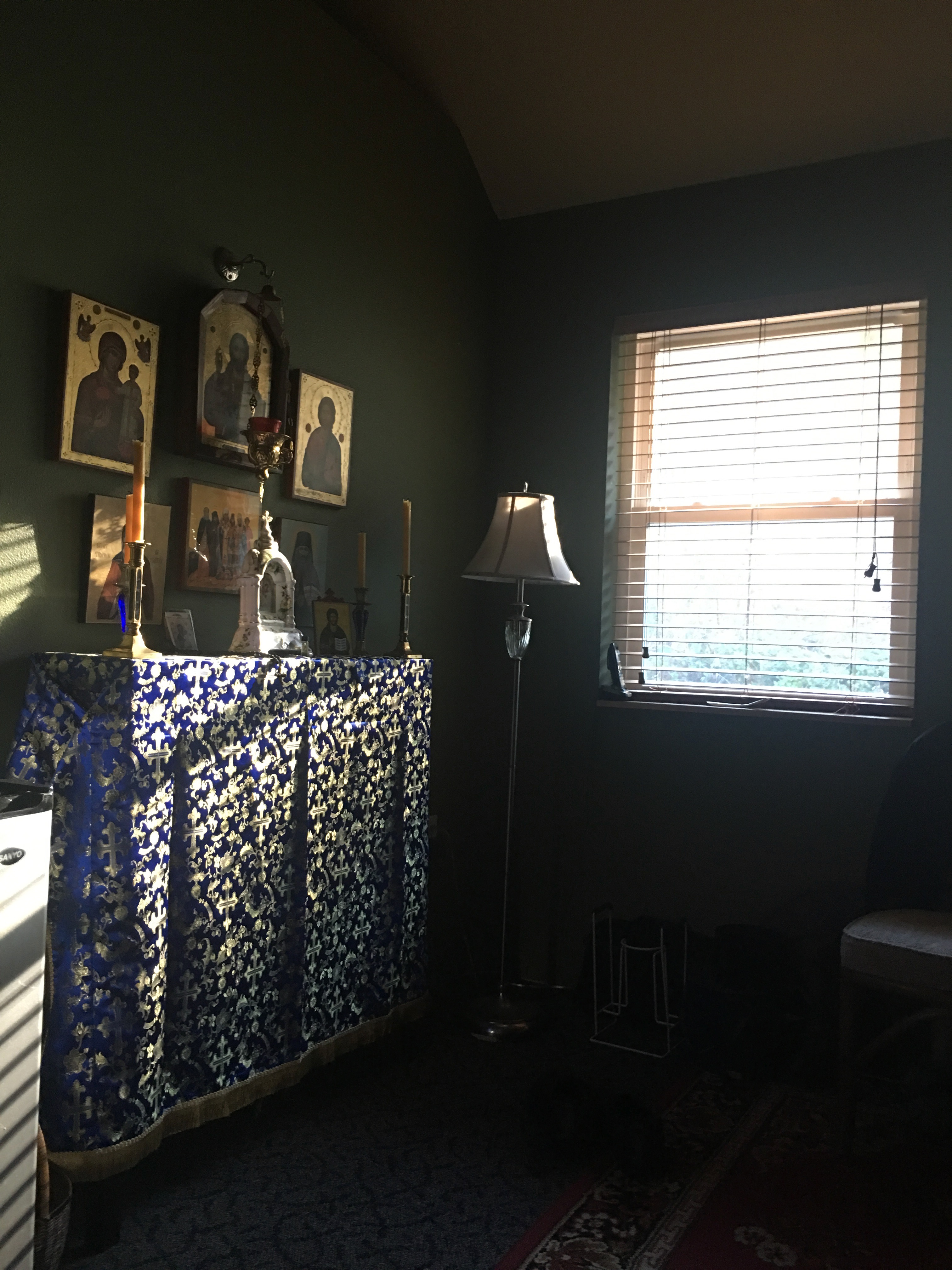 The Church Militant, which is the Church of Christ here on this earth, is in the midst of a battle. Our enemy is not one of flesh and blood, but one of darkness and evil. The survival of humankind is not dependent on the number of people who accept or reject the true faith, but rather that those who do, activate the fermentation, for just as yeast acts as a starter for bread, so faith in Christ can transform the world, and the entire cosmos. Saint Seraphim of Sarov said, "Save yourself, and a thousand around you will be saved".
As members of the Body of Christ, we Orthodox Christians must be fully engaged in this warfare that would bring down the Church. Just as liberators of peoples suppressed by evil dictators, we must introduce into this fallen world the hope that comes only through the Son of Righteousness, Jesus Christ. The Liberator of Souls is the disperser of the darkness and evil that would rip us away from our loving God.
It is a comfort, knowing as we do, that the Church Triumphant, made up of the saints in heaven, is united in this battle with the Church Militant, and good will ultimately win this battle. The resurrection of Christ from the dead ended the permanency of death, and darkness and evil will ultimately be defeated.
With love in Christ,
Abbot Tryphon
Tuesday January 15, 2019 / January 2, 2019
34th Week after Pentecost. Tone eight.
Sviatki. Fast-free
Forefeast of the Theophany.
St. Sylvester, pope of Rome (335).
Righteous Juliana of Lazarevo (1604).
Repose (1833), the second finding of relics (1991) of Venerable Seraphim, wonderworker of Sarov.
New Martyr Basil (1942).
Venerable Sylvester of the Kiev Caves (12th c.).
Hieromartyr Theogenes, bishop of Parium on the Hellespont (320).
St. Gerasimus, patriarch of Alexandria.
Venerable Theopemptos.
St. Theodota, mother of the first Sts. Cosmas and Damian (3rd c.).
Venerable Mark the Deaf.
Martyr Sergius of Caesarea in Cappadocia (301).
Martyrs Theopistos.
St. Cosmas, archbishop of Constantinople (1081).
Venerable Ammon of Tabennisi, monk (5th c.).
New Martyr George (Zorzes) the Georgian (1770) (Greek).
The Scripture Readings
Matthew 11:27-30
27 All things have been delivered to Me by My Father, and no one knows the Son except the Father. Nor does anyone know the Father except the Son, and the one to whom the Son wills to reveal Him. 28 Come to Me, all you who labor and are heavy laden, and I will give you rest. 29 Take My yoke upon you and learn from Me, for I am gentle and lowly in heart, and you will find rest for your souls.30 For My yoke is easy and My burden is light."
Hebrews 4:1-13
The Promise of Rest
4 Therefore, since a promise remains of entering His rest, let us fear lest any of you seem to have come short of it. 2 For indeed the gospel was preached to us as well as to them; but the word which they heard did not profit them, not being mixed with faith in those who heard it. 3 For we who have believed do enter that rest, as He has said:
"So I swore in My wrath,
'They shall not enter My rest,' "
although the works were finished from the foundation of the world. 4 For He has spoken in a certain place of the seventh day in this way: "And God rested on the seventh day from all His works"; 5 and again in this place: "They shall not enter My rest."
6 Since therefore it remains that some must enter it, and those to whom it was first preached did not enter because of disobedience, 7 again He designates a certain day, saying in David, "Today," after such a long time, as it has been said:
"Today, if you will hear His voice,
Do not harden your hearts."
8 For if Joshua had given them rest, then He would not afterward have spoken of another day. 9 There remains therefore a rest for the people of God. 10 For he who has entered His rest has himself also ceased from his works as God did from His.
The Word Discovers Our Condition
11 Let us therefore be diligent to enter that rest, lest anyone fall according to the same example of disobedience. 12 For the word of God is living and powerful, and sharper than any two-edged sword, piercing even to the division of soul and spirit, and of joints and marrow, and is a discerner of the thoughts and intents of the heart. 13 And there is no creature hidden from His sight, but all things arenaked and open to the eyes of Him to whom we must give account.
Mark 12:18-27
The Sadducees: What About the Resurrection?
18 Then some Sadducees, who say there is no resurrection, came to Him; and they asked Him, saying: 19 "Teacher, Moses wrote to us that if a man's brother dies, and leaves his wife behind, and leaves no children, his brother should take his wife and raise up offspring for his brother. 20 Now there were seven brothers. The first took a wife; and dying, he left no offspring. 21 And the second took her, and he died; nor did he leave any offspring. And the third likewise. 22 So the seven had her and left no offspring. Last of all the woman died also. 23 Therefore, in the resurrection, when they rise, whose wife will she be? For all seven had her as wife."
24 Jesus answered and said to them, "Are you not therefore mistaken, because you do not know the Scriptures nor the power of God? 25 For when they rise from the dead, they neither marry nor are given in marriage, but are like angels in heaven. 26 But concerning the dead, that they rise, have you not read in the book of Moses, in the burning bush passage, how God spoke to him, saying, 'I am the God of Abraham, the God of Isaac, and the God of Jacob'? 27 He is not the God of the dead, but the God of the living. You are therefore greatly mistaken."