We must be joyful and loving ambassadors for the Faith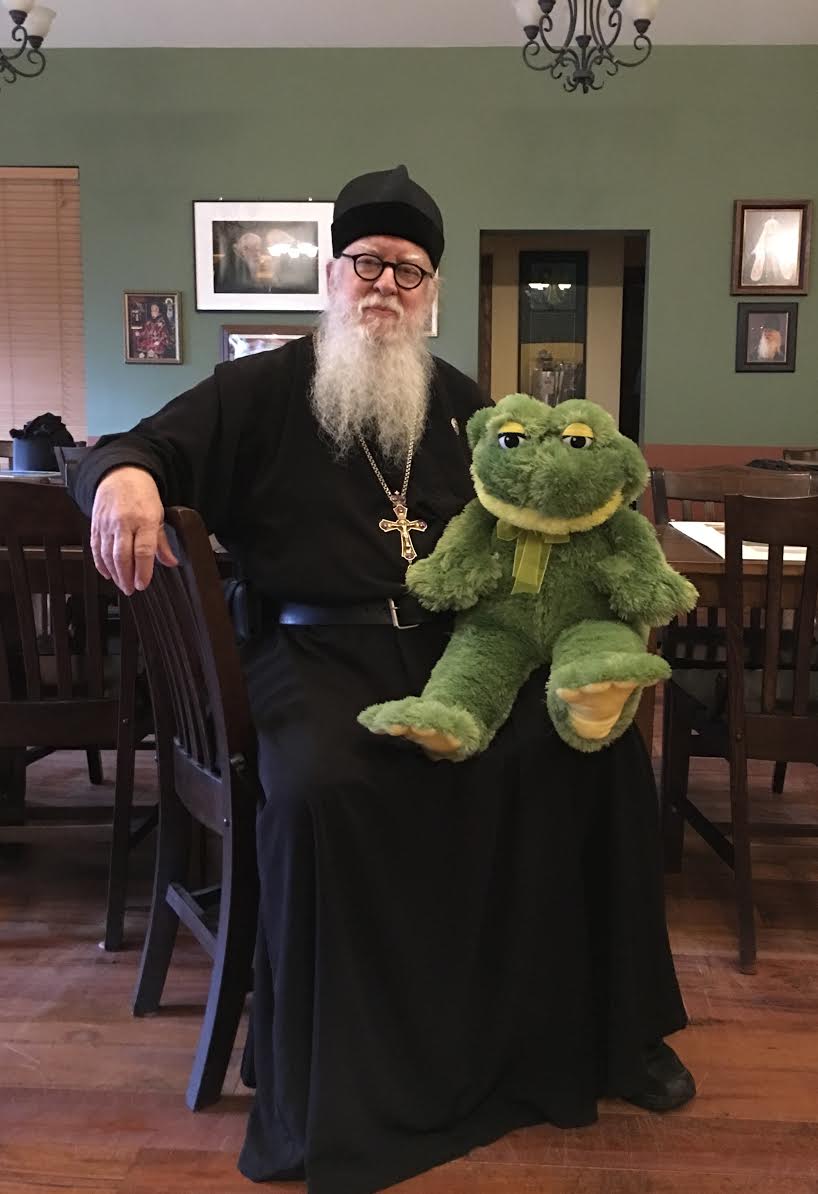 Some forty years ago I'd found myself wandering in a spiritual wasteland, knowing I was drying up, spiritually, and hoping there was something out there that would fill the void. Orthodoxy had not been in my scope, seeming, as it were, to be some exotic, eastern form of a Christian faith that had become stagnant, for me.
I was aware of the Orthodox claims to being the very Church founded by Christ, and I had witnessed the majesty of her divine services. I'd tasted a small portion of the sublime mystical theology that seemed to be intuitive in nature, rather than grounded in the logic and reason that had formed much of Western Christianity. I was aware of her ancient history, and the astounding beauty of her temples.
Yet the seemingly splintered nature of American Orthodoxy put me off, what with the myriad of ethnic expressions of a faith that claimed to be the One True Church. The strong nationalistic nature of some parishes I'd visited only confirmed that Orthodoxy could not possibly fill the void. Yet, as I think back, American Lutheranism was much the same when I was young, with the Norwegians, Germans, Danes, Finns, Swedes, and Latvians, all separated into difference denominations, with independent administrations.
As a man who held religious and politically liberal views, I found the Orthodox Church's positions to be backward looking, devoid of charity, and downright medieval. Her clergy, at least the ones I'd met, seemed unfriendly and standoffish. Sadly, I made sweeping judgements of the whole of Orthodoxy while standing from the vantage point of looking from the outside. I judged the Orthodox Church after having met but a few of her clergy. This seems particularly sad to me in hindsight, but this seems to be a common observation by many outsiders.
Now that I am within the walls of the Orthodox Church, and a priest myself, I try to be open, friendly, and approachable at all times, lest I, too, be a barrier for others. We clergy are the most visible ambassadors of the faith, and often the first to represent Orthodoxy to outsiders. If we are closed off, aloof, and unapproachable, we will be nothing but an obstacle to others, and they will not come close enough to Orthodoxy to be able to "taste and see".
If we are unloving and worldly, we will have masked Christ's Church from view, and others will not be drawn into the Life Giving Faith. As Christ's priests, we are called to show forth His light in the way we live our lives, and the way we love, all the while ushering the Light of Christ into a darken world that needs Orthodoxy, now more than ever.
Love in Christ,
Abbot Tryphon
Sunday January 13, 2019 / December 31, 2018
33rd Sunday after Pentecost. Tone eight.
Sviatki. Fast-free
Sunday after the Nativity of our Lord God and Savior Jesus Christ, holy ancestors.
Righteous Joseph the Betrothed, Holy Righteous David the King, and James the Brother of the Lord (movable holiday on the Sunday after the Nativity of our Lord God and Savior Jesus Christ).
Apodosis of the Nativity of Christ.
Venerable Melania the Younger, nun, of Rome (439).
New Hieromartyr Michael priest (1937).
Martyr Peter (1938).
Holy Confessor Dositheus, metropolitan of Zagreb (1945).
St. Peter Mogila, metropolitan of Kiev (1646).
Venerable Gelasius, monk, of Palestine.
Venerable Gaius, monk.
Venerable Theophylactus of Ochrid (1126).
Ten Virgin-martyrs of Nicomedia (Greek).
Venerable Zoticus of Constantinople, feeder of orphans (4th c.) (Greek).
St. Anysius, bishop of Thessalonica (406).
Venerable Sabiana, Abbess of the Samtskhe Monastery (11th c.).
Martyrs Busiris, Gaudentius and Nemo (Greek).
The Scripture Readings
John 21:15-25
Jesus Restores Peter
15 So when they had eaten breakfast, Jesus said to Simon Peter, "Simon, son of Jonah, do you love Me more than these?"
He said to Him, "Yes, Lord; You know that I love You."
He said to him, "Feed My lambs."
16 He said to him again a second time, "Simon, son of Jonah, do you love Me?"
He said to Him, "Yes, Lord; You know that I love You."
He said to him, "Tend My sheep."
17 He said to him the third time, "Simon, son of Jonah, do you love Me?" Peter was grieved because He said to him the third time, "Do you love Me?"
And he said to Him, "Lord, You know all things; You know that I love You."
Jesus said to him, "Feed My sheep. 18 Most assuredly, I say to you, when you were younger, you girded yourself and walked where you wished; but when you are old, you will stretch out your hands, and another will gird you and carry you where you do not wish."19 This He spoke, signifying by what death he would glorify God. And when He had spoken this, He said to him, "Follow Me."
The Beloved Disciple and His Book
20 Then Peter, turning around, saw the disciple whom Jesus loved following, who also had leaned on His breast at the supper, and said, "Lord, who is the one who betrays You?" 21 Peter, seeing him, said to Jesus, "But Lord, what about this man?"
22 Jesus said to him, "If I will that he remain till I come, what is that to you? You follow Me."
23 Then this saying went out among the brethren that this disciple would not die. Yet Jesus did not say to him that he would not die, but, "If I will that he remain till I come, what is that to you?"
24 This is the disciple who testifies of these things, and wrote these things; and we know that his testimony is true.
25 And there are also many other things that Jesus did, which if they were written one by one, I suppose that even the world itself could not contain the books that would be written. Amen.
Matthew 2:13-23
The Flight into Egypt
13 Now when they had departed, behold, an angel of the Lord appeared to Joseph in a dream, saying, "Arise, take the young Child and His mother, flee to Egypt, and stay there until I bring you word; for Herod will seek the young Child to destroy Him."
14 When he arose, he took the young Child and His mother by night and departed for Egypt, 15 and was there until the death of Herod, that it might be fulfilled which was spoken by the Lord through the prophet, saying, "Out of Egypt I called My Son."
Massacre of the Innocents
16 Then Herod, when he saw that he was deceived by the wise men, was exceedingly angry; and he sent forth and put to death all the male children who were in Bethlehem and in all its districts, from two years old and under, according to the time which he had determined from the wise men. 17 Then was fulfilled what was spoken by Jeremiah the prophet, saying:
18 "A voice was heard in Ramah,
Lamentation, weeping, and great mourning,
Rachel weeping for her children,
Refusing to be comforted,
Because they are no more."
The Home in Nazareth
19 Now when Herod was dead, behold, an angel of the Lord appeared in a dream to Joseph in Egypt, 20 saying, "Arise, take the young Child and His mother, and go to the land of Israel, for those who sought the young Child's life are dead." 21 Then he arose, took the young Child and His mother, and came into the land of Israel.
22 But when he heard that Archelaus was reigning over Judea instead of his father Herod, he was afraid to go there. And being warned by God in a dream, he turned aside into the region of Galilee. 23 And he came and dwelt in a city called Nazareth, that it might be fulfilled which was spoken by the prophets, "He shall be called a Nazarene."