All we need for happiness is right in front of us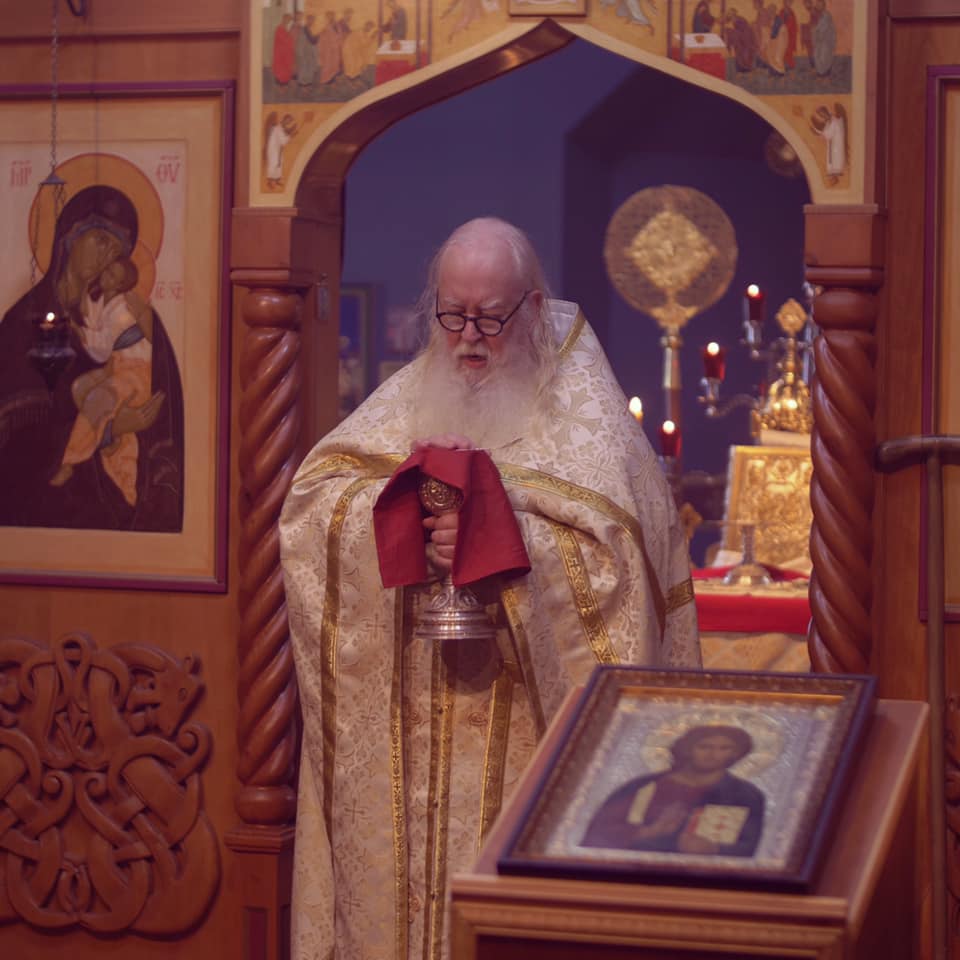 It is easy to resist taking care of oneself if we run at full speed as though we are the only one who can get things done. We all need to set priorities, making sure we focus on Christ and not let that which is transitory rule our lives. If we pay attention to our health, family and spiritual life, everything else will take care of itself. We shouldn't let life be so full of work that we don't have time to focus on the things that bring us joy. We must pay attention when the Lord is calling us to slow down.
If we focus only on the things that haven't been done, and ignore the little things that bring joy to our life, we'll find ourselves in a rut. If we are constantly thinking of where we'd rather be living, or the job we'd rather have, or the work that still needs to be completed, we'll wake up one day and realize all we've needed for happiness has been right in front of us. We don't want to wait to enjoy what we already have.
With love in Christ,
Abbot Tryphon
Thursday January 31, 2019 / January 18, 2019
36th Week after Pentecost. Tone two.
St. Athanasius the Great (373) and St. Cyril (444), archbishops of Alexandria.
Venerable Cyril, schemamonk, and Venerable Maria, schemanun (1337) (parents of St. Sergius of Radonezh).
New Hieromartyr Michael priest (1919).
New Hieromartyr Eugene priest (1930).
New Hieromartyrs Vladimir, Nicholas, Sergius Alexander priests (1938).
Venerable Athanasius, abbot of Syanzhema (Valaam) (1550).
Venerable Athanasius of Novolok, monk (16th-17th c.).
Venerable Marcian of Cyrrhus in Syria, monk (ca. 303).
Martyr Xenia.
St. Maximus of Serbia, metropolitan (1516) (Serbia).
Venerable Silvanus, of Palestine, monk.
St. Leobardus of Marmoutier (6th c.) (Gaul).
Martyr Theodula and her companions Helladius, Boethius, Evagrius and Macarius of Anazarbus in Cilicia, (304).
St. Ephraim the Lesser, the Philospher (1101) (Georgia).
Venerable Hieromonk Alexi (Shushania) of Teklati (1923) (Georgia).
St. Joachim, patriarch of Turnovo (1235).
St. Ninnidh of Inismacsaint (6th c.) (Celtic & British).
The Scripture Readings
Matthew 11:27-30
27 All things have been delivered to Me by My Father, and no one knows the Son except the Father. Nor does anyone know the Father except the Son, and the one to whom the Son wills to reveal Him. 28 Come to Me, all you who labor and are heavy laden, and I will give you rest. 29 Take My yoke upon you and learn from Me, for I am gentle and lowly in heart, and you will find rest for your souls.30 For My yoke is easy and My burden is light."
James 1:19-27
Qualities Needed in Trials
19 So then, my beloved brethren, let every man be swift to hear, slow to speak, slow to wrath; 20 for the wrath of man does not produce the righteousness of God.
Doers—Not Hearers Only
21 Therefore lay aside all filthiness and overflow of wickedness, and receive with meekness the implanted word, which is able to save your souls.
22 But be doers of the word, and not hearers only, deceiving yourselves. 23 For if anyone is a hearer of the word and not a doer, he is like a man observing his natural face in a mirror; 24 for he observes himself, goes away, and immediately forgets what kind of man he was. 25 But he who looks into the perfect law of liberty and continues in it, and is not a forgetful hearer but a doer of the work, this one will be blessed in what he does.
26 If anyone among you thinks he is religious, and does not bridle his tongue but deceives his own heart, this one's religion isuseless. 27 Pure and undefiled religion before God and the Father is this: to visit orphans and widows in their trouble, and to keep oneself unspotted from the world.
Mark 10:17-27
Jesus Counsels the Rich Young Ruler
17 Now as He was going out on the road, one came running, knelt before Him, and asked Him, "Good Teacher, what shall I do that I may inherit eternal life?"
18 So Jesus said to him, "Why do you call Me good? No one is good but One, that is, God. 19 You know the commandments: 'Do not commit adultery,' 'Do not murder,' 'Do not steal,' 'Do not bear false witness,' 'Do not defraud,' 'Honor your father and your mother.' "
20 And he answered and said to Him, "Teacher, all these things I have kept from my youth."
21 Then Jesus, looking at him, loved him, and said to him, "One thing you lack: Go your way, sell whatever you have and give to the poor, and you will have treasure in heaven; and come, take up the cross, and follow Me."
22 But he was sad at this word, and went away sorrowful, for he had great possessions.
With God All Things Are Possible
23 Then Jesus looked around and said to His disciples, "How hard it is for those who have riches to enter the kingdom of God!"24 And the disciples were astonished at His words. But Jesus answered again and said to them, "Children, how hard it is for thosewho trust in riches to enter the kingdom of God! 25 It is easier for a camel to go through the eye of a needle than for a rich man to enter the kingdom of God."
26 And they were greatly astonished, saying among themselves, "Who then can be saved?"
27 But Jesus looked at them and said, "With men it is impossible, but not with God; for with God all things are possible."