Proper etiquette upon entering an Orthodox temple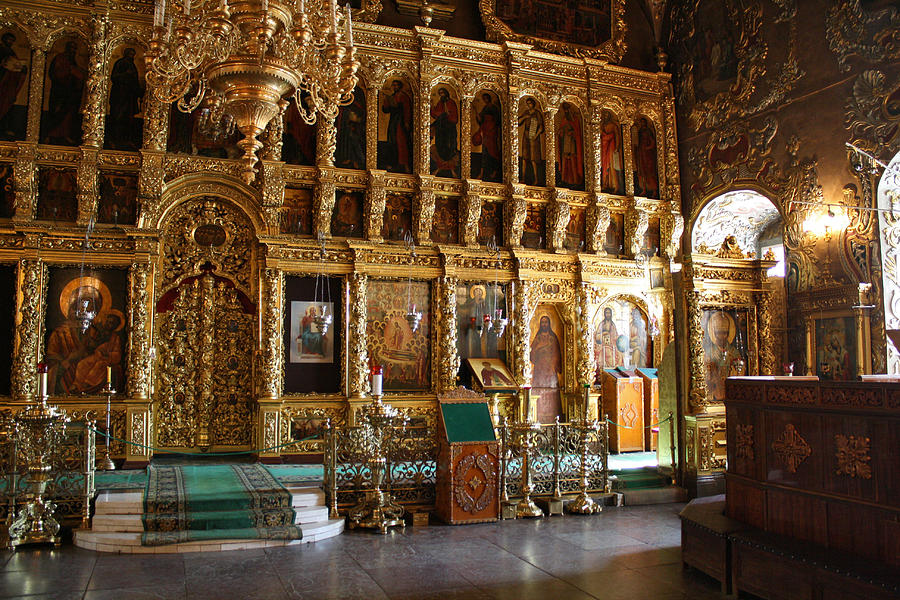 From ancient times, the traditional posture for prayer and worship in the Orthodox Church has been to stand. Traditionally Orthodox churches have no pews, but do provide chairs or benches on the side walls reserved for the elderly and infirm. When worshiping in churches with pews, we need know it is fully acceptable to stand for the entire service. In churches with pews, it is preferable to stand closer to the back, or on the side, so we do not block other worshipers view. If we prefer to sit, it is important to remember that we should always stand during the reading of the Holy Gospel, the Little and Great Entrances, the Anaphora, the distribution of Holy Communion, whenever the priest gives a blessing, and the Dismissal.
Orthodox Christians typically light candles when coming a church, as the candles are a form of offering that accompany our prayers. It is best that we not distract other worshipers by moving about in the service, but keep our private lighting of candles, and our veneration of icons, within those few minutes that take place before the start of the liturgical services.
Arriving before the service is to begin, should be the norm. This modern custom of arriving late for services deprives us of the important moments we should have encountering the Lord in the momentary solitude, while in the temple, for our private prayer and preparation for the Divine Liturgy. If we do arrive late, we must be sure to enter the church quietly and respectfully, making sure we do not distract other worshipers.
Remember, should we find ourselves seated, crossing one's legs in church is considered very disrespectful. Sitting in church is a concession, and not the normative way of prayer, so if we do sit down we must keep our feet on the floor, ready to stand at attention (which is what "Let us attend" means).
Leaving the church before the Dismissal is rude, and deprives us of the final blessing. Our Orthodox worship has a beginning with the words, "Blessed is the Kingdom…", and an end, "Let us depart in peace…". To give into the temptation to leave immediately after receiving the Holy Mysteries (Holy Communion) is to treat the Sacrament like a fast food restaurant where we come and go as we please.
If a woman insists on wearing lipstick to church, she must blot her lips well before venerating a holy icons, taking Holy Communion, or kissing the cross or the priest's or bishop's hand, so as not to leave makeup on these sacred objects. It would be better for her to wait until after church to put it on, keeping in mind that God is not impressed with how attractive one looks. Church is the place to adorn ourselves with good works and piety.
Traditionally Orthodox Christian women wear modest dresses or skirts that fall below the knee. Dresses should have backs and not be cut low in the front. We will not impress the Lord with clothing, but we should honor Him with our modesty, respect and piety. As the Holy Scripture say, "Holiness befits Thy House, O Lord, for evermore." ( Psalm 93:5).
While coat and tie are not mandatory for men, shirts should have collars and be buttoned to the collar. Slacks should be cleaned and pressed, while jeans are too casual for church, especially ones with patches or holes. Shorts should never be worn in God's House.
It is traditional to eat a piece of antidoron, the bread that was left over after Holy Communion was prepared. While antidoron is not Holy Communion, it is blessed bread and as such, should be eaten carefully so that crumbs don't fall on the floor. And parents should make sure their children take the antidoron carefully and respectfully.
In an age when we've become casual with just about everything, the divine services is the place where Christian piety must rule, and where our respect for God's House reflects our belief that the temple has been consecrated to the Glory of God. We must always remember that we are in church to worship the Holy Trinity Who is present. The celebrant priest's words, "With the fear of God and faith and love, draw near", must be forefront in our minds in the way we approach holy worship. This is the root of good church etiquette.
If we take our Orthodoxy seriously, proper church etiquette will reflect our wiliness to be obedience to the Holy Tradition of the Church of Christ.
With love in Christ,
Abbot Tryphon
Friday January 4, 2019 / December 22, 2018
32nd Week after Pentecost. Tone six.
Nativity (St. Philip's Fast). By Monastic Charter: Strict Fast (Bread, Vegetables, Fruits)
Forefeast of the Nativity of Christ.
Great-martyr Anastasia of Rome, deliverer from bonds, and her teacher Martyr Chrysogonus, and with them martyrs Theodota, Evodias, Eutychianus, and others who suffered under Diocletian (304).
New Hieromartyrs Demetrius and Theodore priests (1938).
Martyr Zoilus (Greek).
The Scripture Readings for the Royal Hours
Hebrews 1:1-2 Royal Hours – 1st Hour
Matthew 1:18-25 Royal Hours – 1st Hour
Galatians 3:23-29 Royal Hours – 3rd Hour
Luke 2:1-20 Royal Hours – 3rd Hour
Hebrews 1:10-2:3 Royal Hours – 6th Hour
Matthew 2:1-12 Royal Hours – 6th Hour
Hebrews 2:11-18 Royal Hours – 9th Hour
Matthew 2:13-23 Royal Hours – 9th Hour