Don't shelve a part of you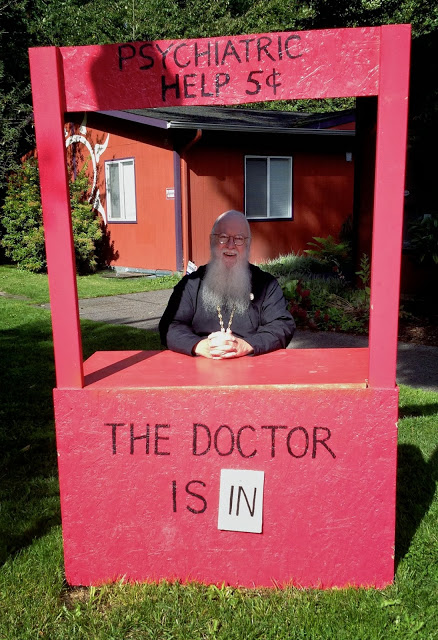 When we enter into communion with one another in the life of the Church, we come broken, and far from the image and likeness that God intended when He created us. We, to a one, are in need of the healing that comes from a life in Christ. Yet we often hinder ourselves from healing because we fear being who we are. This fear is sometimes based on what others may think of us, or what may happen if we don't fit in, or are not liked by others. We fear being rejected for essentially being ourselves.
Yet the Lord calls us to put aside our fear, because He loves us just as we are. In Christ there is no fear, because God is love, perfect and unconditional love. In our walk with Christ, we are healed, and made whole. We don't have to shelve that which makes us who we are, for it is we who are being made whole. Through total immersion in Christ, and in the disciplines of the Church, the transformational power of God's grace changes us. We don't become some stamped out version of everyone else, but are changed into the person God intended us to be. We are made perfect, just as we are."For we are his workmanship, created in Christ Jesus for good works, which God prepared beforehand, that we should walk in them (Ephesians 2:10)."
In our very weakness we are made whole, for Christ tells us, "'My grace is sufficient for you, for My strength is made perfect in weakness.' Therefore most gladly I will rather boast in my infirmities, that the power of Christ may rest upon me. Therefore I take pleasure in infirmities, in reproaches, in needs, in persecutions, in distresses, for Christ's sake. For when I am weak, then I am strong (2 Corinthians 12:9-10)."
To be a Christian is not about conformity to the image of other people, but rather, to the image of Christ. You needn't shelve who you are, but take on the image of who Christ is.
"Help me, O God, to put off all pretenses and find my true self." ~Living Prayer, by Metropolitan Anthony Bloom
With love in Christ,
Abbot Tryphon
Wednesday January 16, 2019 / January 3, 2019
34th Week after Pentecost. Tone eight.
Sviatki. Fast-free
Forefeast of the Theophany.
Prophet Malachias (400 B.C.).
Martyr Gordius at Caesarea in Cappadocia (314).
New Hieromartyr Basil Kolmogorov priest (1938).
St. Genevieve of Paris (512).
Venerable Abelard, abbot.
Finding of the relics of New Monk-martyr Ephraim of Nea Makri, in 1950 (Greek).
St. Peter of Atroa (837).
St. Thomais of Lesbos (10th c.).
Venerable Euthymius (Taqaishvili) the Man of God of Tbilisi (1953).
St. Findlugan of Islay (7th c.) (Celtic & British).
The Scripture Readings
Hebrews 5:11-6:8
11 of whom we have much to say, and hard to explain, since you have become dull of hearing.
Spiritual Immaturity
12 For though by this time you ought to be teachers, you need someone to teach you again the first principles of the oracles of God; and you have come to need milk and not solid food. 13 For everyone who partakes only of milk is unskilled in the word of righteousness, for he is a babe. 14 But solid food belongs to those who are of full age, that is, those who by reason of use have their senses exercised to discern both good and evil.
The Peril of Not Progressing
6 Therefore, leaving the discussion of the elementary principles of Christ, let us go on to perfection, not laying again the foundation of repentance from dead works and of faith toward God, 2 of the doctrine of baptisms, of laying on of hands, of resurrection of the dead, and of eternal judgment. 3 And this we will do if God permits.
4 For it is impossible for those who were once enlightened, and have tasted the heavenly gift, and have become partakers of the Holy Spirit, 5 and have tasted the good word of God and the powers of the age to come, 6 if they fall away, to renew them again to repentance, since they crucify again for themselves the Son of God, and put Him to an open shame.
7 For the earth which drinks in the rain that often comes upon it, and bears herbs useful for those by whom it is cultivated, receives blessing from God; 8 but if it bears thorns and briers, it is rejected and near to being cursed, whose end is to be burned.
Mark 12:28-37
The Scribes: Which Is the First Commandment of All?
28 Then one of the scribes came, and having heard them reasoning together, perceiving that He had answered them well, asked Him, "Which is the first commandment of all?"
29 Jesus answered him, "The first of all the commandments is: 'Hear, O Israel, the Lord our God, the Lord is one. 30 And you shalllove the Lord your God with all your heart, with all your soul, with all your mind, and with all your strength.' This is the first commandment. 31 And the second, like it, is this: 'You shall love your neighbor as yourself.' There is no other commandment greater than these."
32 So the scribe said to Him, "Well said, Teacher. You have spoken the truth, for there is one God, and there is no other but He. 33 And to love Him with all the heart, with all the understanding, with all the soul, and with all the strength, and to love one's neighbor as oneself, is more than all the whole burnt offerings and sacrifices."
34 Now when Jesus saw that he answered wisely, He said to him, "You are not far from the kingdom of God."
But after that no one dared question Him.
Jesus: How Can David Call His Descendant Lord?
35 Then Jesus answered and said, while He taught in the temple, "How is it that the scribes say that the Christ is the Son of David? 36 For David himself said by the Holy Spirit:
'The Lord said to my Lord,
"Sit at My right hand,
Till I make Your enemies Your footstool." '
37 Therefore David himself calls Him 'Lord'; how is He then his Son?"
And the common people heard Him gladly.