We are all in this struggle together, united in Christ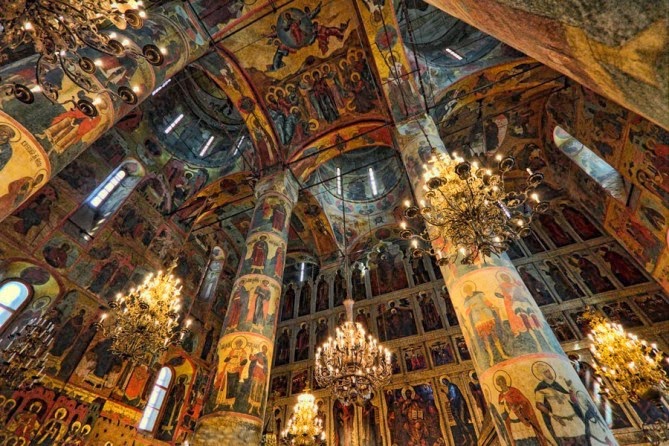 As we struggle in this life, it is good to remember that we are not alone, but  together with countless others in this life. We find our place of silence, where we encounter God, but even in this place set apart, we are together with others. In our journey to God, our common goal is the acquisition of a humble and contrite heart, and our common homeland is found in the Divine Liturgy, wherein we enter Paradise, and participate in the Heavenly Banquet, together.
In our moments of loneliness and despondency, we are not alone. We are together with other Orthodox Christians in our celebration of life, and even in our encounter with death. Even when we seem so alone, we are together with others, for in Christ we are one. The Lord loves all of us together, for we are all His children. Our struggles are our common struggles, and we are all, together, surrounded by His loving kindness.
Even death can not separate us from our loving God, and from one another, for even in death we are united together with other Christians. And at the moment we receive the Holy Mysteries, the unity we have is that very unity that God has designed for us that will last for all eternity, for the Divine Liturgy is when time and space cease to exist as we know it, and all of creation is united in worship before the Throne of Our Creator.
With love in Christ,
Abbot Tryphon
Tuesday December 11, 2018 / November 28, 2018
29th Week after Pentecost. Tone three.
Nativity (St. Philip's Fast). Fish Allowed
Martyr Stephen the New of Mt. St. Auxentius (767).
Martyr Hirenarchus and Seven Women-martyrs at Sebaste (303).
New Hieromartyr Seraphim (Chichagov), metropolitan of St. Petersburg (1937).
New Hieromartyrs Alexis, Alexis, Basil priests, Hieromartyrs Raphael, Vincent and Virgin-martyr Anysia (1937).
Virgin-Martyr Paraskeva (1938).
New Hieromartyr Nicholas priest (1941).
Uncovering of the relics of Venerable Sergius Srebriansky (2000).
Blessed Theodore, archbishop of Rostov (1394).
Martyrs Basil, Stephen, two Gregories, John (near Constantinople), Andrew, Peter, Anna, and many others (741-775).
Martyrs Timothy and Theodore, bishops; Peter, John, Sergius, Theodore, and Nicephorus, presbyters; Basil and Thomas, deacons; Hierotheus, Daniel, Chariton, Socrates, Comasius, and Eusebius, monks; and Etymasius at Tiberiopolis (361).
New Martyr Christos of Constantinople (1748) (Greek).
St. Theodore, bishop of Theodosiopolis in Armenia (end of 6th c.).
St. Oda, virgin of Brabant (726) (Neth.).
Virgin-Martyr Juthwara of Cornwall.
The Scripture Readings
Hebrews 4:1-13
The Promise of Rest
4 Therefore, since a promise remains of entering His rest, let us fear lest any of you seem to have come short of it. 2 For indeed the gospel was preached to us as well as to them; but the word which they heard did not profit them, not being mixed with faith in those who heard it. 3 For we who have believed do enter that rest, as He has said:
"So I swore in My wrath,
'They shall not enter My rest,' "
although the works were finished from the foundation of the world. 4 For He has spoken in a certain place of the seventh day in this way: "And God rested on the seventh day from all His works"; 5 and again in this place: "They shall not enter My rest."
6 Since therefore it remains that some must enter it, and those to whom it was first preached did not enter because of disobedience, 7 again He designates a certain day, saying in David, "Today," after such a long time, as it has been said:
"Today, if you will hear His voice,
Do not harden your hearts."
8 For if Joshua had given them rest, then He would not afterward have spoken of another day. 9 There remains therefore a rest for the people of God. 10 For he who has entered His rest has himself also ceased from his works as God did from His.
The Word Discovers Our Condition
11 Let us therefore be diligent to enter that rest, lest anyone fall according to the same example of disobedience. 12 For the word of God is living and powerful, and sharper than any two-edged sword, piercing even to the division of soul and spirit, and of joints and marrow, and is a discerner of the thoughts and intents of the heart. 13 And there is no creature hidden from His sight, but all things arenaked and open to the eyes of Him to whom we must give account.
Luke 19:45-48
Jesus Cleanses the Temple
45 Then He went into the temple and began to drive out those who bought and sold in it, 46 saying to them, "It is written, 'My house is a house of prayer,' but you have made it a 'den of thieves.' "
47 And He was teaching daily in the temple. But the chief priests, the scribes, and the leaders of the people sought to destroy Him, 48 and were unable to do anything; for all the people were very attentive to hear Him.