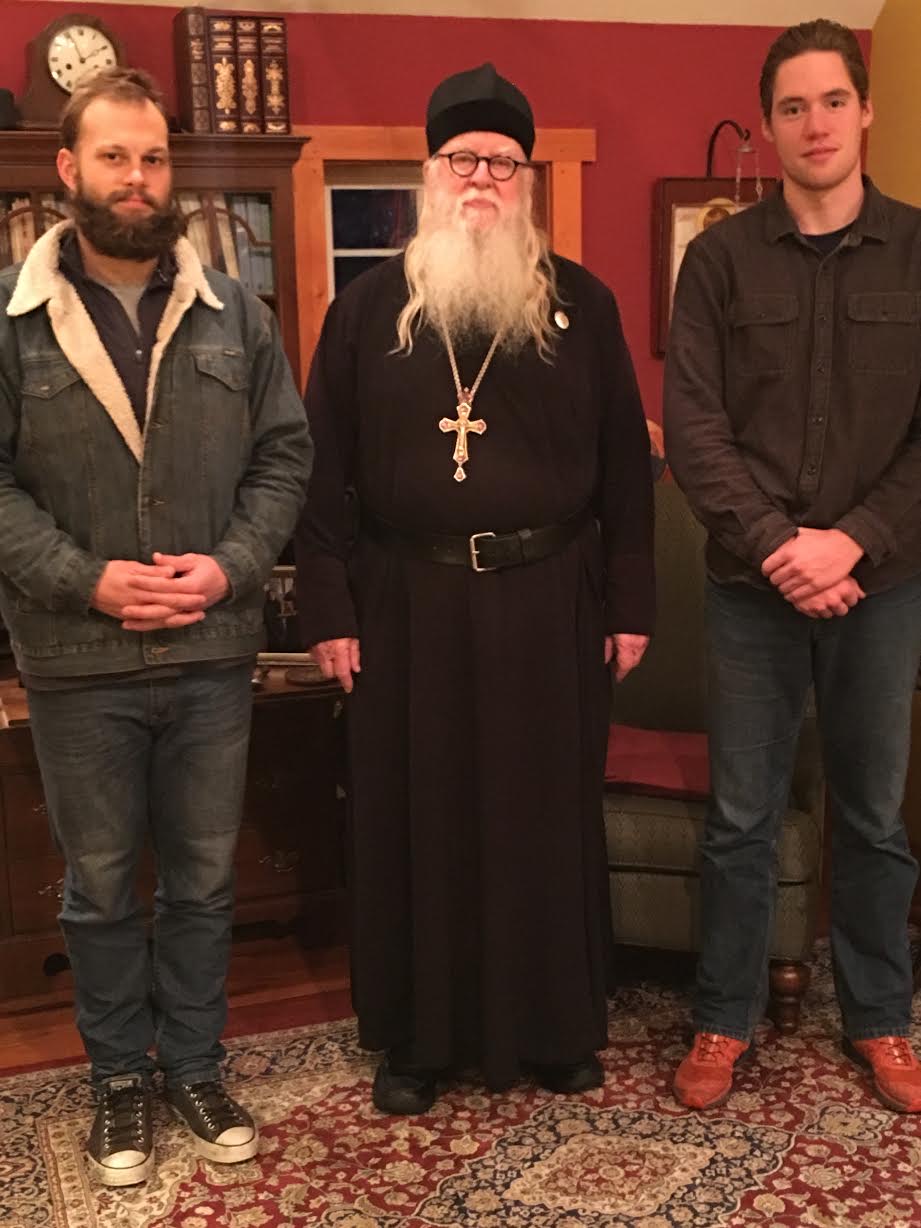 Photo: Keagan Latrell and Edwin Baxter have been spending time with us.
Sunday December 16, 2018 / December 3, 2018
29th Sunday after Pentecost. Tone four.
Nativity (St. Philip's Fast). Fish Allowed
Prophet Zephaniah (Sophonias) (635 B.C.).
Venerable Sabbas, abbot of Zvenigorod, disciple of St. Sergius of Radonezh (1406).
New Hieromartyr Andrew priest (1920).
New Hieromartyr Nicholas priest (1930).
St. Gregory confessor (1960).
Venerable Theodulus, eparch of Constantinople (440).
Venerable John the Silent of St. Sabbas' monastery (558).
Hieromartyr Theodore, archbishop of Alexandria (606).
Venarable Gregory of Cherniksk (Romania).
New Hieromartyr Gabriel, bishop of Ganos (1659) (Greek).
St. Birinus, bishop of Dorchester (649-650) (Celtic & British).
New Martyr Angelos of Chios (1813) (Greek).
Venerable Cosmas of St. Anne's Skete, Mt. Athos.
St. Sola, Anglo-Saxon missionary priest under St. Bobiface (790-794) (Germany).
St. Nicetius, bishop of Lyons (Gaul).
St. Lucius, king of Britain who requested missionaries for his people in A.D. 187.
Martyrs Agapius, Seleucus and Mamas (Greek).
The Scripture Readings
John 20:1-10
The Empty Tomb
20 Now the first day of the week Mary Magdalene went to the tomb early, while it was still dark, and saw that the stone had been taken away from the tomb. 2 Then she ran and came to Simon Peter, and to the other disciple, whom Jesus loved, and said to them, "They have taken away the Lord out of the tomb, and we do not know where they have laid Him."
3 Peter therefore went out, and the other disciple, and were going to the tomb. 4 So they both ran together, and the other disciple outran Peter and came to the tomb first. 5 And he, stooping down and looking in, saw the linen cloths lying there; yet he did not go in. 6 Then Simon Peter came, following him, and went into the tomb; and he saw the linen cloths lying there, 7 and the handkerchief that had been around His head, not lying with the linen cloths, but folded together in a place by itself. 8 Then the other disciple, who came to the tomb first, went in also; and he saw and believed. 9 For as yet they did not know the Scripture, that He must rise again from the dead. 10 Then the disciples went away again to their own homes.
1 Timothy 1:15-17
15 This is a faithful saying and worthy of all acceptance, that Christ Jesus came into the world to save sinners, of whom I am chief. 16 However, for this reason I obtained mercy, that in me first Jesus Christ might show all longsuffering, as a pattern to those who are going to believe on Him for everlasting life. 17 Now to the King eternal, immortal, invisible, to God who alone is wise, be honor and glory forever and ever. Amen.
Luke 18:18-27
Jesus Counsels the Rich Young Ruler
18 Now a certain ruler asked Him, saying, "Good Teacher, what shall I do to inherit eternal life?"
19 So Jesus said to him, "Why do you call Me good? No one is good but One, that is, God. 20 You know the commandments: 'Do not commit adultery,' 'Do not murder,' 'Do not steal,' 'Do not bear false witness,' 'Honor your father and your mother.' "
21 And he said, "All these things I have kept from my youth."
22 So when Jesus heard these things, He said to him, "You still lack one thing. Sell all that you have and distribute to the poor, and you will have treasure in heaven; and come, follow Me."
23 But when he heard this, he became very sorrowful, for he was very rich.
With God All Things Are Possible
24 And when Jesus saw that he became very sorrowful, He said, "How hard it is for those who have riches to enter the kingdom of God! 25 For it is easier for a camel to go through the eye of a needle than for a rich man to enter the kingdom of God."
26 And those who heard it said, "Who then can be saved?"
27 But He said, "The things which are impossible with men are possible with God."