Thank you for your continued prayerful and financial support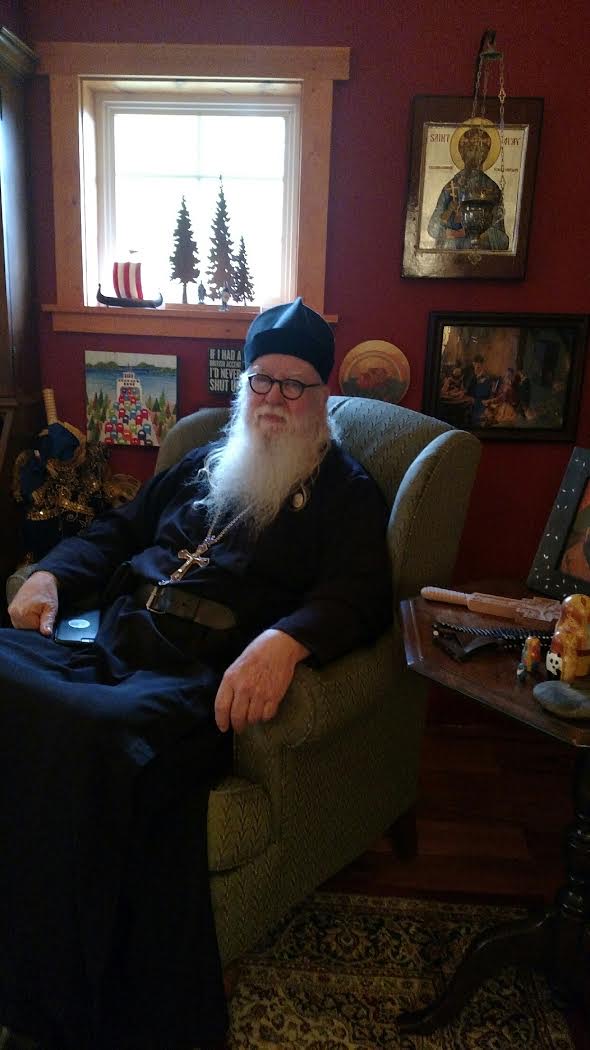 All-Merciful Saviour Monastery is a non-profit, 501 C3 organization, under IRS regulations. All donations are therefore tax deductible. We support ourselves through the sales of Monastery Blend Coffee, our fine line of handmade soaps, and a little gift shop. We grow as many of our fruits and vegetables as we can, and have chickens for our fresh, organic eggs.
The monastery is also very much dependent on the generosity of our friends, supporters, and benefactors. Like many of my readers, the monastery struggles to make ends meet, pay our monthly mortgage, heat the buildings, cover our insurance costs, and place food on the table for ourselves, and our many visitors.
Would you consider making a year-end donation towards the support of the Monastery? Donations can be either directly to the monastery through PayPal (the link is on the front page of our website and my blog), or you may send donations to:
All-Merciful Saviour Monastery
PO Box 2420
Vashon Island, WA 98070-2420 USA
Thank you, and may God bless you,
Abbot Tryphon
Saturday December 1, 2018 / November 18, 2018
27th Week after Pentecost. Tone one.
Nativity (St. Philip's Fast). Fish Allowed
Martyr Platon of Ancyra (266).
Martyr Romanus the Deacon of Caesarea and child-martyr Barulas of Antioch (303).
St. Nicholas confessor, priest (1948).
Martyrs Zacchaeus the Deacon and Alphaeus, of Caesarea in Palestine (303).
Synaxis of All Saints of Estonia.
St. Mawes, bishop in Cornwall and Brittany (5th c.) (Celtic & British).
St. Mabyn, nun of Cornwall (Celtic & British).
New Martyrs Anastasius of Epirus and Daniel (1750) (Greek).
Martyr Romanus, who suffered under Maximian (305).
St. Odo of Cluny (942) (Gaul).
The Scripture Readings
Galatians 5:22-6:2
22 But the fruit of the Spirit is love, joy, peace, longsuffering, kindness, goodness, faithfulness, 23 gentleness, self-control. Against such there is no law. 24 And those who are Christ's have crucified the flesh with its passions and desires. 25 If we live in the Spirit, let us also walk in the Spirit. 26 Let us not become conceited, provoking one another, envying one another.
Bear and Share Burdens
6 Brethren, if a man is overtaken in any trespass, you who are spiritual restore such a one in a spirit of gentleness, considering yourself lest you also be tempted. 2 Bear one another's burdens, and so fulfill the law of Christ.
Luke 9:57-62
The Cost of Discipleship
57 Now it happened as they journeyed on the road, that someone said to Him, "Lord, I will follow You wherever You go."
58 And Jesus said to him, "Foxes have holes and birds of the air have nests, but the Son of Man has nowhere to lay His head."
59 Then He said to another, "Follow Me."
But he said, "Lord, let me first go and bury my father."
60 Jesus said to him, "Let the dead bury their own dead, but you go and preach the kingdom of God."
61 And another also said, "Lord, I will follow You, but let me first go and bid them farewell who are at my house."
62 But Jesus said to him, "No one, having put his hand to the plow, and looking back, is fit for the kingdom of God."