Cruel and depraved is the killing of the unborn child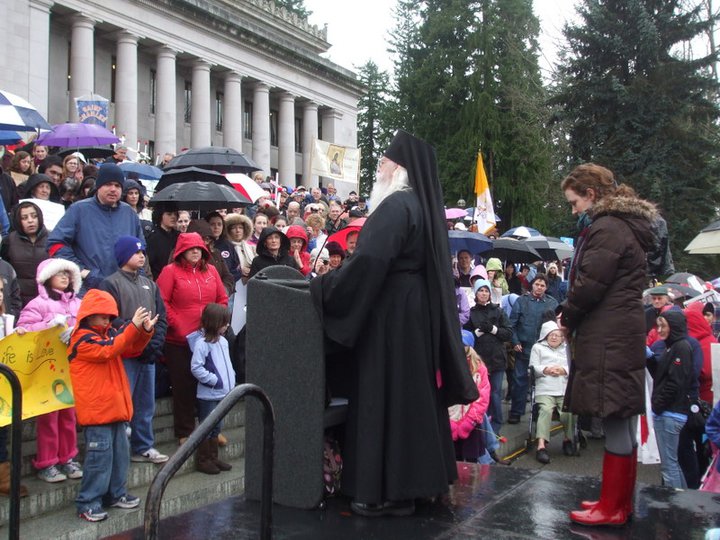 "Those who use abortifacients commit homicide." Saint Clement
We are living in a period of history that has seen the cause of human rights take the forefront as never before. We champion the cause of equality under the law for minorities, and continue the struggle for equal rights and equal pay for women, but ignore the rights of the most vulnerable among us, the unborn. We'd rather kill the child in the womb than deprive ourselves of a lifestyle that would be hampered by a baby. Sexual gratification takes priority over the right to life of the unwanted child that is the result of our unchecked lust.
We deny the humanity of the unborn, dismissing the reality of a life by deciding the child is not a real person until the moment they are born. We dispose of that which God has created, through the gift of our sexuality, preferring lustful gratification to chastity. The idea of saving oneself for the marriage bed has become as outdated as a Victrola.
We explain away the infanticide that is abortion, while our legal system can find a man guilty of murder should his attack on a pregnant woman result in the death of her unborn child. We think nothing of depriving another human being of life, while we pursue a life of unbridled pleasure for ourselves.
Saint Basil the Great said, "The woman who purposely destroys her unborn child is guilty of murder. The hair-splitting difference between formed and unformed makes no difference to us."
If we are to be a friend of God, we must keep the laws of God. An unborn child has been given the gift of life, even if under circumstances that are the result of our sin. That the child should forfeit her life for the convenience of selfish parents is unconscionable. The sin of sexual intercourse outside the marriage bed is compounded ten thousand times by the sin of abortion. The woman who would abort her child to avoid poverty will have placed her soul in a state of absolute poverty.
In an age when many question the morality of state sanctioned executions of criminals, or question the justification of war, it is beyond the pale that we would think we have the right to kill an unborn child.
We must ask ourselves, as did Saint John Chrysostom, "Why do you sow where the field is eager to destroy the fruit? Where there are medicines of sterility? Where there is murder before birth? You do not even let a harlot remain only a harlot, but you make her a murderess as well. Indeed, it is something worse than murder and I do not know what to call it; for she does not kill what is formed but prevents its formation. What then? Do you condemn the gifts of God, and fight with His laws? What is a curse you seek as though it were a blessing. Do you make the anteroom of slaughter? Do you teach the women who are given to you for a procreation of offspring to perpetuate killing?"
Let us stand firm for the rights of all people, especially for the most vulnerable, defenseless of them all, the unborn children. The Sixth Commandment tells us that we must not kill, and makes no distinction between the killing of another person, the killing of oneself (suicide), or the killing of the unborn.
The Church has confessed from the beginning that each life is created by God, that human life is the supreme gift of the Creator. Human life is not given unconditionally, but is given under the condition that we will be responsible for preserving it. The testimony that God respects life above all else is contained in the words of the Gospel:
"For God so loved the world, that he gave his only begotten Son, that whosoever believeth in him should not perish, but have everlasting life" (John 3:16).
In so far as God's perfection is beyond our understanding, by His grace and mercy we are called to theosis, the process of becoming like God. Theosis (deification) begins from the moment of our conception and continues until the very hour of our death. No one has the right to interfere in this process that was begun when God created us.
With love in Christ,
Abbot Tryphon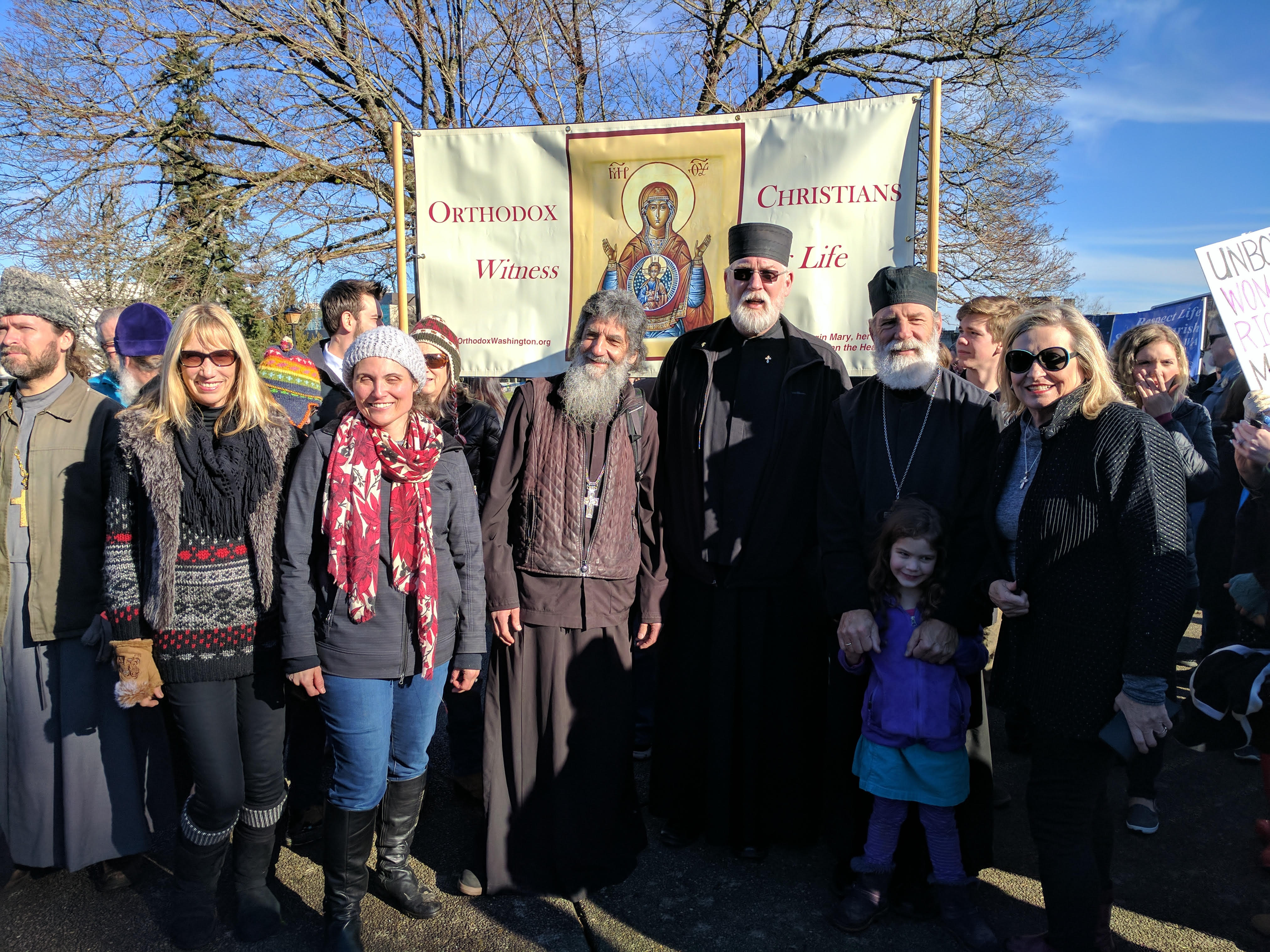 Photos: Abbot Tryphon speaking at the 2011 March for Life, at the State Capitol, in Olympia, WA. Shown also are some of the Orthodox clergy and laypeople who gathered on the steps of our state capital.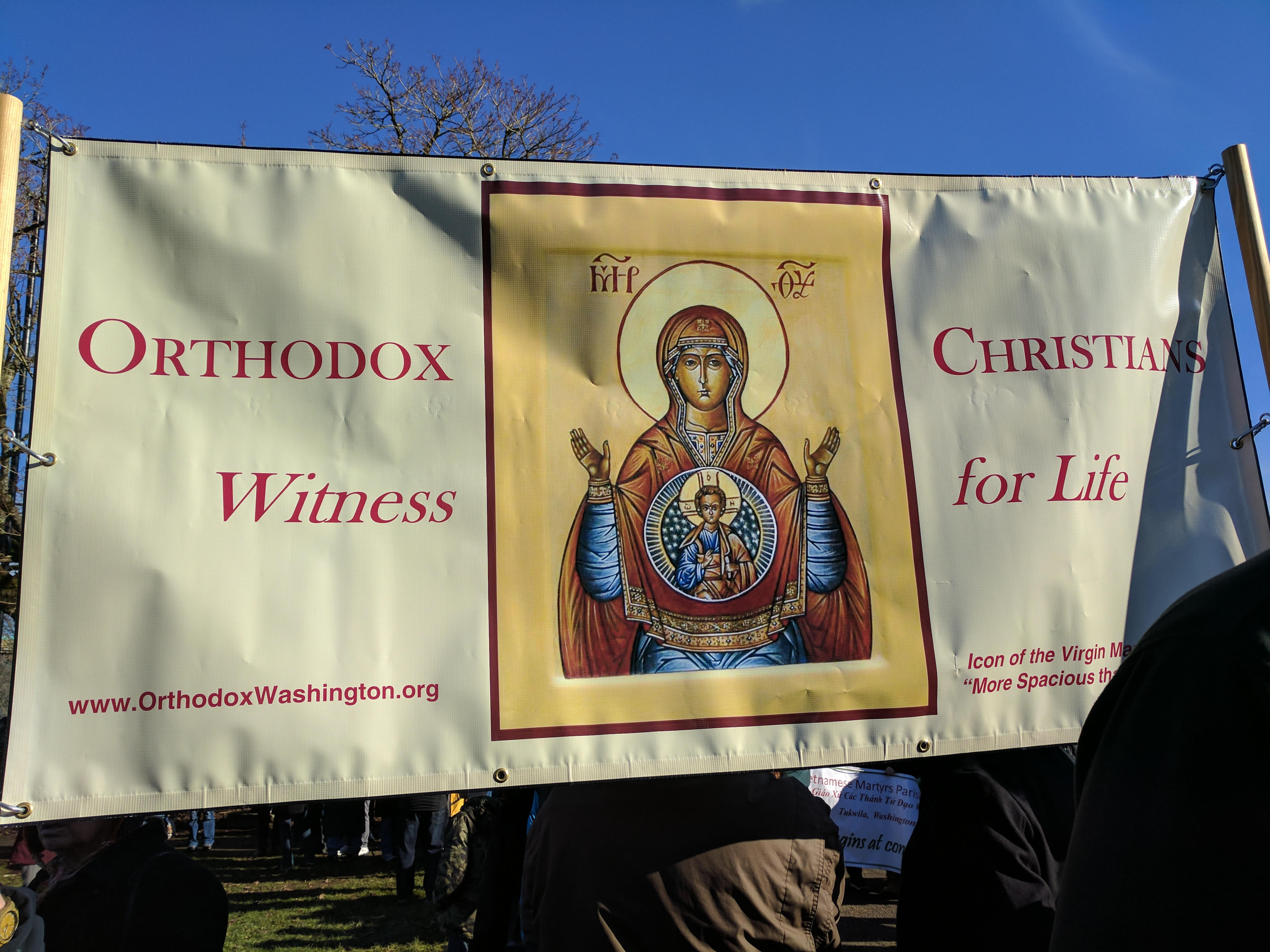 Friday December 14, 2018 / December 1, 2018
29th Week after Pentecost. Tone three.
Nativity (St. Philip's Fast). By Monastic Charter: Strict Fast (Bread, Vegetables, Fruits)
Prophet Nahum (7th c. B.C.).
Righteous Philaret the Merciful of Amnia in Asia Minor (792).
Martyr Ananias of Persia.
St. Eligius, bishop of Noyon (660) (Neth.).
St. Onesimus, archbishop of Ephesus (Greek).
Sts. Ananias and Solochonus, archbishops of Ephesus (Greek).
Venerable Anthony the New, monk of Kios in Bithynia (865) (Greek).
Venerable Ioannicus of Devich (Serbia).
St. Austremoine, first bishop of Clermont and apostle of the Auvergne (3rd c.).
St. Theoclites, bishop of Sparta (870).
St. Botolph, of Boston (England), abbot and confessor (680) (Celtic & British).
St. Tudwal, bishop of Lan Pabu.
The Scripture Readings
Hebrews 7:18-25
18 For on the one hand there is an annulling of the former commandment because of its weakness and unprofitableness, 19 for the law made nothing perfect; on the other hand, there is the bringing in of a better hope, through which we draw near to God.
Greatness of the New Priest
20 And inasmuch as He was not made priest without an oath 21 (for they have become priests without an oath, but He with an oath by Him who said to Him:
"The Lord has sworn
And will not relent,
'You are a priest forever
According to the order of Melchizedek' "),
22 by so much more Jesus has become a surety of a better covenant.
23 Also there were many priests, because they were prevented by death from continuing. 24 But He, because He continues forever, has an unchangeable priesthood. 25 Therefore He is also able to save to the uttermost those who come to God through Him, since He always lives to make intercession for them.
Luke 20:19-26
19 And the chief priests and the scribes that very hour sought to lay hands on Him, but they feared the people—for they knew He had spoken this parable against them.
The Pharisees: Is It Lawful to Pay Taxes to Caesar?
20 So they watched Him, and sent spies who pretended to be righteous, that they might seize on His words, in order to deliver Him to the power and the authority of the governor.
21 Then they asked Him, saying, "Teacher, we know that You say and teach rightly, and You do not show personal favoritism, but teach the way of God in truth: 22 Is it lawful for us to pay taxes to Caesar or not?"
23 But He perceived their craftiness, and said to them, "Why do you test Me? 24 Show Me a denarius. Whose image and inscription does it have?"
They answered and said, "Caesar's."
25 And He said to them, "Render therefore to Caesar the things that are Caesar's, and to God the things that are God's."
26 But they could not catch Him in His words in the presence of the people. And they marveled at His answer and kept silent.