The Church, like a forest, provides needed oxygen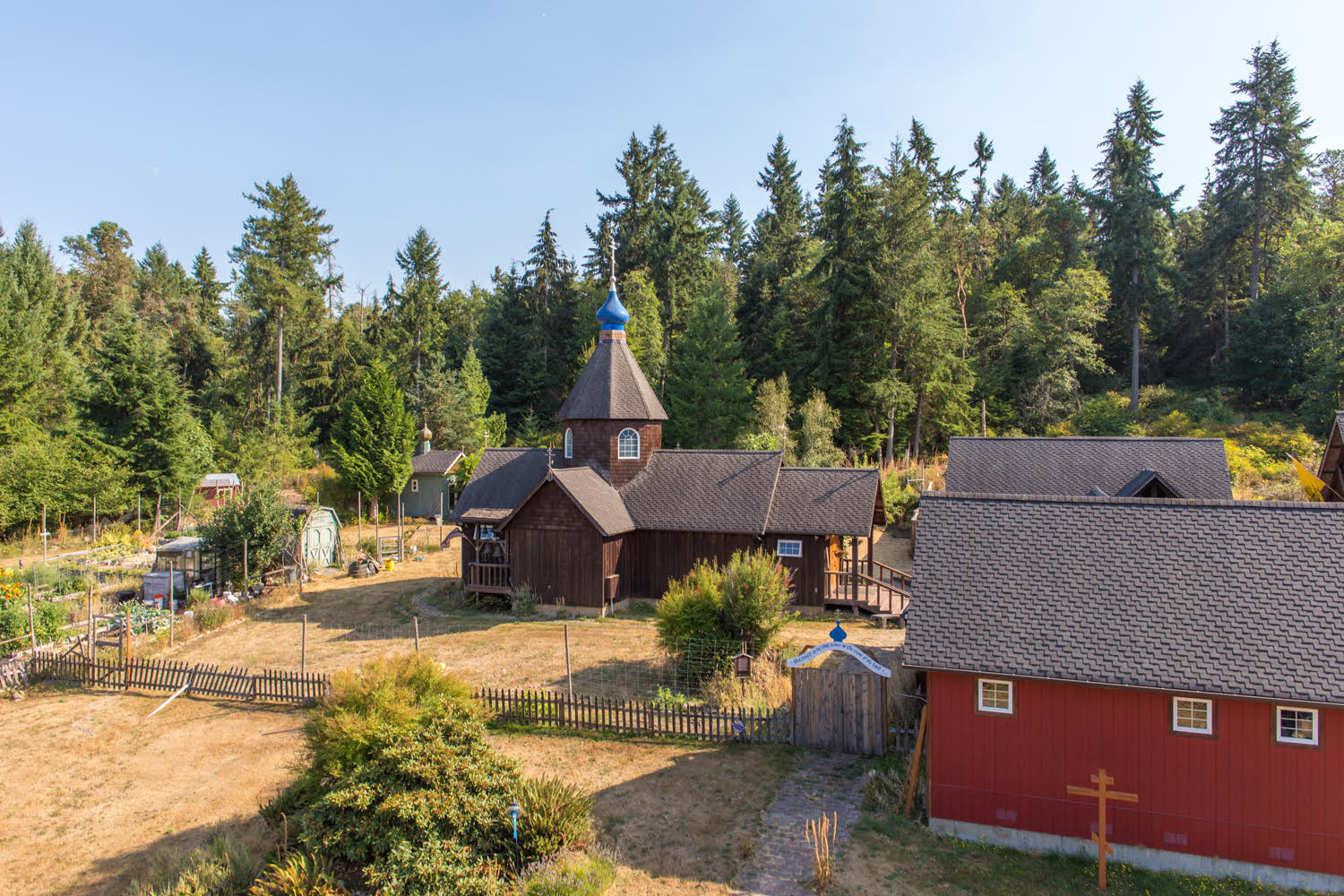 Growing up in Northern Idaho, I was surrounded by mountains and forests. I don't remember a time when forests did not tug at my heart and fill my imagination with thoughts of adventure. As a small child my parents took my brother Dwayne, and me, on annual camping trips to a state park on the far northeast side of Lake Pend Oreille. There my dad would make us small toy canoes, complete with sails, out of birch bark. This state park is virtually unchanged since that time, and I try to visit the campground every summer, when I go bass fishing with my brother.
As a high school student I regularly went hiking in the mountains around Sandpoint, Idaho, together with my best friend (now a professor of theology and philosophy in Scotland). Jim and I would climb to the highest point of a given mountain, and pray together. We could understand the Prophet Moses meeting God on Mt. Sinai, for we too felt the presence of God on the mountain. To this day I feel closer to God when hiking in a forest, and the grandeur of the mountains that surround the Puget Sound inspire me, and lift up my soul.
When we first cleared the land to build the monastery, we cut down as few trees as possible, desiring as we did to have the buildings appear as though cupped like a kitten in the hands of God. We even named our forest after Saint Seraphim of Sarov, who himself sought solitude in a forest. Our forest not only provides that needed solitude, but gives us oxygen, allowing us to breath. Like the forests throughout the whole world, ours provides good air to breath, and fills our lungs with the sweet odor that only a forest can provide. Is it any wonder I consider myself a conservationist?
Monks have always had a special place in their hearts for forests. Coptic and Ethiopian monks have been known to plant trees on desert mountains whereupon monasteries have been built, and calling these places, "holy forests". Russian monks sought their solitude in the Northern Thebaid, forests that became their desert.
For me, forests and mountains have always been associated with prayer. My first chapel was at the end of a hidden trail, in a forest that was just a short walk down the beach from our home on Lake Pond Oreille. I'd constructed a small altar out of driftwood, and nailed a cross made out of tree branches on a tree behind the altar. When in college, my first encounter with an icon took place during the very summer I'd visited the Redwood Forest of Northern California, for the first time.
Our temples are like forests in many ways. When we enter into an Orthodox temple we are encompassed in the living presence of God, and our spiritual lungs are filled. It is oxygen for the soul that we breath in, and the forest that surrounds us is none other than the cloud of witnesses, the saints, who join us in worship before the Throne of God. The oxygen we breath in is God's Grace that flows out to all who would seek the safety and sanctuary that awaits us in God's Holy Temple.
With love in Christ,
Abbot Tryphon
Monday December 17, 2018 / December 4, 2018
30th Week after Pentecost. Tone four.
Nativity (St. Philip's Fast). Fish Allowed
Great-martyr Barbara and Martyr Juliana at Heliapolis in Syria (306).
Venerable John Damascene (760).
New Hieromartyrs Alexis, John, Alexander and Nicholas priests, Basil deacon and with him 10 Martyrs (1918).
New Hieromartyr Demetrius priest, Virgin-martyrs Anastasia, Catherine and Cyra (1937).
New Hieromartyr Damascene, bishop of Glukhov (1935) and his father priest Nicholas (Tsedrik).
Venerable John, bishop of Polybotum (716).
St. Gennadius, archbishop of Novgorod (1504).
New Hieromartyr Seraphim, bishop of Phanar (Greek).
Martyrs Christodula and Chistodulus (Greek).
The Scripture Readings
Matthew 25:1-13
The Parable of the Wise and Foolish Virgins
25 "Then the kingdom of heaven shall be likened to ten virgins who took their lamps and went out to meet the bridegroom. 2 Now five of them were wise, and five were foolish. 3 Those who were foolish took their lamps and took no oil with them, 4 but the wise took oil in their vessels with their lamps. 5 But while the bridegroom was delayed, they all slumbered and slept.
6 "And at midnight a cry was heard: 'Behold, the bridegroom is coming; go out to meet him!' 7 Then all those virgins arose andtrimmed their lamps. 8 And the foolish said to the wise, 'Give us some of your oil, for our lamps are going out.' 9 But the wise answered, saying, 'No, lest there should not be enough for us and you; but go rather to those who sell, and buy for yourselves.'10 And while they went to buy, the bridegroom came, and those who were ready went in with him to the wedding; and the door was shut.
11 "Afterward the other virgins came also, saying, 'Lord, Lord, open to us!' 12 But he answered and said, 'Assuredly, I say to you, I do not know you.'
13 "Watch therefore, for you know neither the day nor the hour in which the Son of Man is coming.
Hebrews 8:7-13
A New Covenant
7 For if that first covenant had been faultless, then no place would have been sought for a second. 8 Because finding fault with them, He says: "Behold, the days are coming, says the Lord, when I will make a new covenant with the house of Israel and with the house of Judah— 9 not according to the covenant that I made with their fathers in the day when I took them by the hand to lead them out of the land of Egypt; because they did not continue in My covenant, and I disregarded them, says the Lord. 10 For this is the covenant that I will make with the house of Israel after those days, says the Lord: I will put My laws in their mind and write them on their hearts; and I will be their God, and they shall be My people. 11 None of them shall teach his neighbor, and none his brother, saying, 'Know theLord,' for all shall know Me, from the least of them to the greatest of them. 12 For I will be merciful to their unrighteousness, and their sins and their lawless deeds I will remember no more."
13 In that He says, "A new covenant," He has made the first obsolete. Now what is becoming obsolete and growing old is ready to vanish away.
Luke 20:27-44
The Sadducees: What About the Resurrection?
27 Then some of the Sadducees, who deny that there is a resurrection, came to Him and asked Him, 28 saying: "Teacher, Moses wrote to us that if a man's brother dies, having a wife, and he dies without children, his brother should take his wife and raise up offspring for his brother. 29 Now there were seven brothers. And the first took a wife, and died without children. 30 And the second took her as wife, and he died childless. 31 Then the third took her, and in like manner the seven also; and they left no children, and died. 32 Last of all the woman died also. 33 Therefore, in the resurrection, whose wife does she become? For all seven had her as wife."
34 Jesus answered and said to them, "The sons of this age marry and are given in marriage. 35 But those who are counted worthy to attain that age, and the resurrection from the dead, neither marry nor are given in marriage; 36 nor can they die anymore, for they are equal to the angels and are sons of God, being sons of the resurrection. 37 But even Moses showed in the burning bush passage that the dead are raised, when he called the Lord 'the God of Abraham, the God of Isaac, and the God of Jacob.' 38 For He is not the God of the dead but of the living, for all live to Him."
39 Then some of the scribes answered and said, "Teacher, You have spoken well." 40 But after that they dared not question Him anymore.
Jesus: How Can David Call His Descendant Lord?
41 And He said to them, "How can they say that the Christ is the Son of David? 42 Now David himself said in the Book of Psalms:
'The Lord said to my Lord,
"Sit at My right hand,
43 Till I make Your enemies Your footstool." '
44 Therefore David calls Him 'Lord'; how is He then his Son?"