Orthodoxy is about Christ, not religion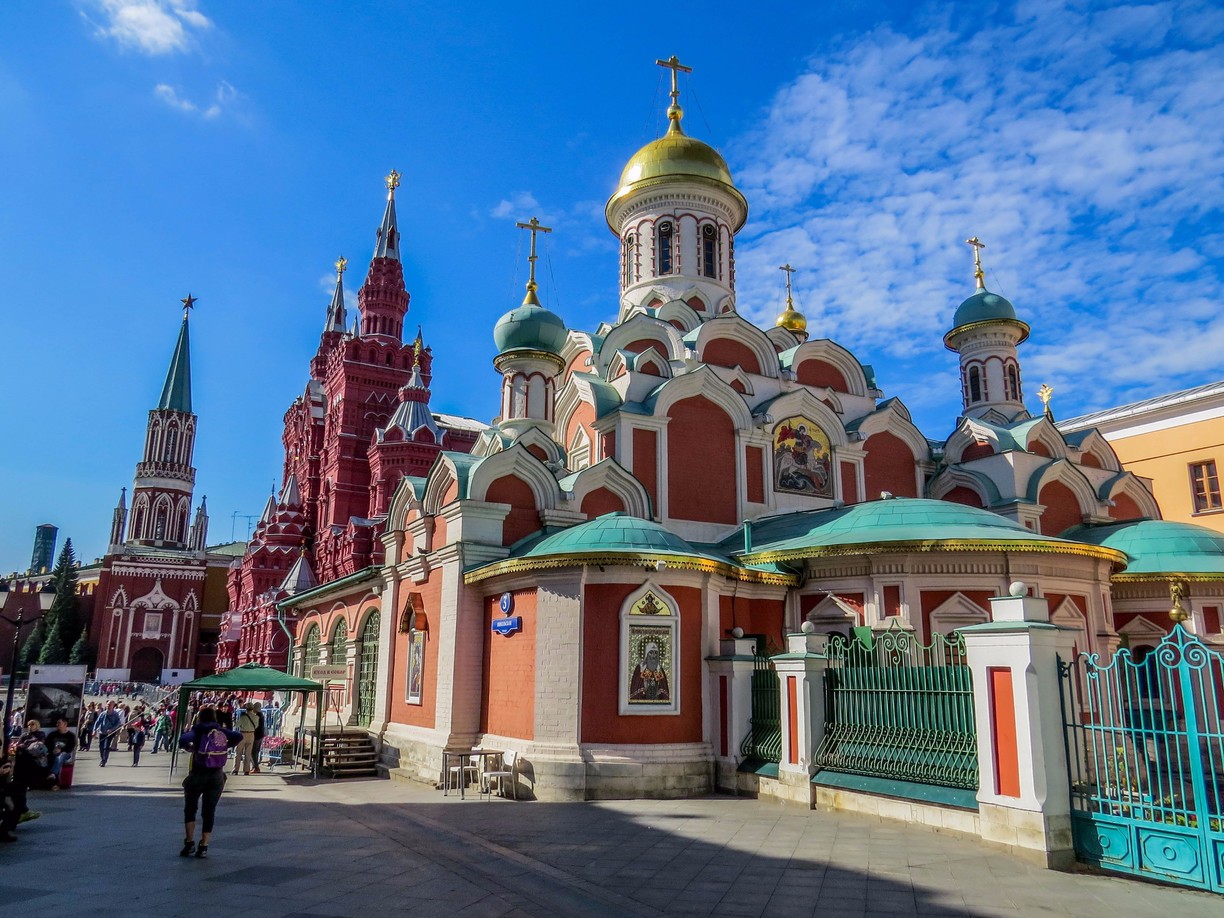 Orthodoxy is not a religion, but a way of life that is centered in Jesus Christ. Orthodoxy, as a way of life, has the cure to what ails us and can return us to that state of wholeness that was God's original intent for human kind. Because Orthodoxy is not about religion, it can offer the transformation of the heart that comes with entering into a relationship with our Creator.
This transformation begins with repentance, that moment when we decide to return to that pure state of communion with God, for which we were created. When we renounce ourselves, we become a different person through the action of God's grace. Where we became corrupt because of the fall, through repentance we are returned to that state for which we were created.
With love in Christ,
Abbot Tryphon
Photo: Our Lady of Kazan Church in Moscow, Russia, near the entrance to Red Square. Destroyed by Stalin, this church was rebuilt by the Mayor of Moscow. It was my great joy to have been able to pray in this church during my visit to Moscow, back in May of 2007. (click on photo to enlarge)
Sunday December 9, 2018 / November 26, 2018
28th Sunday after Pentecost. Tone three.
Nativity (St. Philip's Fast). Fish Allowed
Venerable Alypius the Stylite of Adrianopolis (640).
Dedication of the Church of St. George at Kiev (1051).
Repose of St. Innocent, first bishop of Irkutsk (1731).
New Hieromartyrs Nicholas, John, Gregory and Nazarius, Basil, Basil, Ilia, Basil, Daniel, Michael priests, New Hieromartyr Tikhon (1937).
New Hieromartyr Piter (after 1937).
Venerable James the Solitary of Syria (457).
Venerable Stylianos of Paphlagonia, monk (5th – 6th c.) (Greek).
Venerable Nicon Metanoeite ("Preacher of Repentance") of Armenia (998).
New Martyr George of Chios (1807) (Greek).
Venerables Athanasius and Theodosius of Cherepovets (1382), disciples of St. Sergius of Radonezh.
St. Silas, bishop of Persidos (Greek).
St. Peter, patriarch of Jerusalem (552).
St. Acacius of Mt. Latros (6th c.) (Greek).
The Scripture Readings
Luke 24:36-53
Jesus Appears to His Disciples
36 Now as they said these things, Jesus Himself stood in the midst of them, and said to them, "Peace to you." 37 But they were terrified and frightened, and supposed they had seen a spirit. 38 And He said to them, "Why are you troubled? And why do doubts arise in your hearts? 39 Behold My hands and My feet, that it is I Myself. Handle Me and see, for a spirit does not have flesh and bones as you see I have."
40 When He had said this, He showed them His hands and His feet. 41 But while they still did not believe for joy, and marveled, He said to them, "Have you any food here?" 42 So they gave Him a piece of a broiled fish and some honeycomb. 43 And He took it and ate in their presence.
The Scriptures Opened
44 Then He said to them, "These are the words which I spoke to you while I was still with you, that all things must be fulfilled which were written in the Law of Moses and the Prophets and the Psalms concerning Me." 45 And He opened their understanding, that they might comprehend the Scriptures.
46 Then He said to them, "Thus it is written, and thus it was necessary for the Christ to suffer and to rise from the dead the third day,47 and that repentance and remission of sins should be preached in His name to all nations, beginning at Jerusalem. 48 And you are witnesses of these things. 49 Behold, I send the Promise of My Father upon you; but tarry in the city of Jerusalem until you are endued with power from on high."
The Ascension
50 And He led them out as far as Bethany, and He lifted up His hands and blessed them. 51 Now it came to pass, while He blessed them, that He was parted from them and carried up into heaven. 52 And they worshiped Him, and returned to Jerusalem with great joy, 53 and were continually in the temple praising and blessing God. Amen.
Colossians 1:12-18
12 giving thanks to the Father who has qualified us to be partakers of the inheritance of the saints in the light. 13 He has delivered us from the power of darkness and conveyed us into the kingdom of the Son of His love, 14 in whom we have redemption through His blood, the forgiveness of sins.
15 He is the image of the invisible God, the firstborn over all creation. 16 For by Him all things were created that are in heaven and that are on earth, visible and invisible, whether thrones or dominions or principalities or powers. All things were created through Him and for Him. 17 And He is before all things, and in Him all things consist. 18 And He is the head of the body, the church, who is the beginning, the firstborn from the dead, that in all things He may have the preeminence.
Luke 13:10-17
A Spirit of Infirmity
10 Now He was teaching in one of the synagogues on the Sabbath. 11 And behold, there was a woman who had a spirit of infirmity eighteen years, and was bent over and could in no way raise herself up. 12 But when Jesus saw her, He called her to Him and said to her, "Woman, you are loosed from your infirmity." 13 And He laid His hands on her, and immediately she was made straight, and glorified God.
14 But the ruler of the synagogue answered with indignation, because Jesus had healed on the Sabbath; and he said to the crowd, "There are six days on which men ought to work; therefore come and be healed on them, and not on the Sabbath day."
15 The Lord then answered him and said, "Hypocrite! Does not each one of you on the Sabbath loose his ox or donkey from the stall, and lead it away to water it? 16 So ought not this woman, being a daughter of Abraham, whom Satan has bound—think of it—for eighteen years, be loosed from this bond on the Sabbath?" 17 And when He said these things, all His adversaries were put to shame; and all the multitude rejoiced for all the glorious things that were done by Him.