Earliest known prayer to the Virgin Mary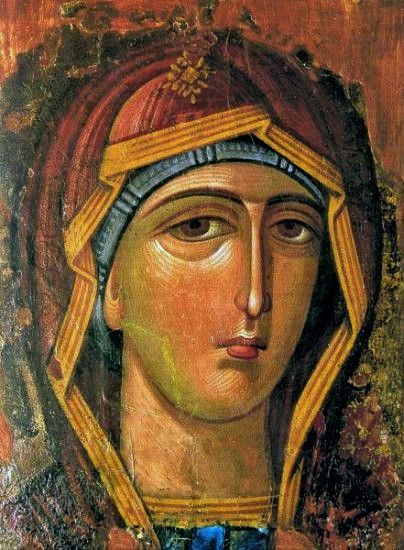 As far as we know, the earliest known prayer to the Virgin Mary is known as "Beneath thy compassion" (Greek: Ὑπὸ τὴν σὴν εὐσπλαγχνίαν). The earliest text of this hymn was found in a Christmas liturgy of the third century. It is written in Greek and dates to approximately 250 A.D.
In 1917, the John Rylands Library in Manchester acquired a large panel of Egyptian papyrus including the 18 cm by 9.4 cm fragment,  containing the text of this prayer in Greek.
C.H. Roberts published this document in 1938. His colleague E. Lobel, with whom he collaborated in editing the Oxyrhynchus papyri, basing his arguments on paleographic analysis, argued that the text could not possibly be older than the third century, and most probably was written between 250 and 280. This hymn thus precedes the "Hail Mary" in Christian prayer by several centuries.
The prayer reads: "Under your mercy we take refuge, Mother of God! Our prayers, do not despise in necessities, but from the danger deliver us, only pure, only blessed."
The idea held by our protestant friends, that the veneration of the Holy Virgin is of late, pagan introduction, is simply not true. Christians have been invoking the prayers of the Mother of God from the time of the Ancient Church, and continue to this day. Yet more proof that we get into doctrinal and liturgical trouble when we think we can interpret the Bible on our own. The Holy Spirit is not the author of confusion, and the Church has survived 2,000 years because she is conciliar in nature, teaching only that which has always been taught, everywhere and at all times.
The Church even worships in the same manner, with her divine services having roots in the worship that took place in the Temple in Jerusalem and born out of the synagogues and hidden places of the earliest Christian worship of the first century.
In an age when we don't even remember our own American past, is it any wonder so many do not know the history, the worship, and the dogma, of the Ancient Christian Faith? When we live in an age where the attention span is hardly past a ten minute lecture, is it any wonder so many of our neighborhood churches are constantly reinventing their form of worship, in a desperate attempt at remaining relevant?
Not a day goes by that I do not give thanks to God for having revealed His Church to me. I am grateful that I am growing old in a Church that is actually older than I, and whose traditions, teachings, and way of life, will live far beyond myself.
With love in Christ,
Abbot Tryphon
Friday December 7, 2018 / November 24, 2018
28th Week after Pentecost. Tone two.
Nativity (St. Philip's Fast). Food with Oil
Great-martyr Mercurius of Caesarea in Cappadocia (259).
Great-martyr Catherine of Alexandria (305).
Hieromartyr Mercurius of Smolensk (1238).
Venerable Mercurius, the Faster of the Kievan Caves, far caves (14th C).
New Hieromartyr Eugraphus (1919).
New Hieromartyrs Eugine and Michael priests, Virgin-martyr Anysia (1937).
New Hieromartyrs Alexander, Alexis, John, Cornelius, and Metrophanes priests (1937).
Martyrs Augusta (Faustina) the Empress, Porphyrius, and 200 soldiers at Alexandria with Great-martyr Catherine (305).
Venerable Mastridia of Alexandria (1060).
Venerable Simon, abbot of Soiga Monastery (Vologda) (1561).
Martyr Philothea of Romania (1060).
St. Gregory, founder of the monastery of the Golden Rock in Pontus.
Martyr Alexander at Corinth (4th C).
Venerable Luke, steward of the Kiev Caves (13th c.).
St. Hermogenes, bishop of Agrigentum (ca. 260).
Venerable Romanus of Bordeaux (382), and Venerable Protasius, hermit of Auvergne (6th c.) (Gaul).
Venerable Portianus of Arthone (527) (Gaul).
St. Minver, virgin of Cornwall.
Maryrs Philemenus, Christopher, Eugene, Procopius, and another Christopher (Greek).
Martyr Chrysogenes and Monk-martyr Mark Triglinos (Greek).
Hieromartyrs Clement, pope of Rome (101), and Peter, archbishop of Alexandria (311) (Greek).
St. Malchus of Chalcis in Syria (5th c.).
St. Nicodemus the Younger of Philokalos in Thessalonica (ca. 1305).
The Scripture Readings
Titus 1:15-2:1-10
15 To the pure all things are pure, but to those who are defiled and unbelieving nothing is pure; but even their mind and conscience are defiled.
16 They profess to know God, but in works they deny Him, being abominable, disobedient, and disqualified for every good work.
1 But as for you, speak the things which are proper for sound doctrine:
2 that the older men be sober, reverent, temperate, sound in faith, in love, in patience;
3 the older women likewise, that they be reverent in behavior, not slanderers, not given to much wine, teachers of good things-
4 that they admonish the young women to love their husbands, to love their children,
5 to be discreet, chaste, homemakers, good, obedient to their own husbands, that the word of God may not be blasphemed.
6 Likewise, exhort the young men to be sober-minded,
7 in all things showing yourself to be a pattern of good works; in doctrine showing integrity, reverence, incorruptibility,
8 sound speech that cannot be condemned, that one who is an opponent may be ashamed, having nothing evil to say of you.
9 Exhort bondservants to be obedient to their own masters, to be well pleasing in all things, not answering back,
10 not pilfering, but showing all good fidelity, that they may adorn the doctrine of God our Savior in all things.
Luke 19:12-28
12 Therefore He said: "A certain nobleman went into a far country to receive for himself a kingdom and to return. 13 So he called ten of his servants, delivered to them ten minas, and said to them, 'Do business till I come.' 14 But his citizens hated him, and sent a delegation after him, saying, 'We will not have this man to reign over us.'
15 "And so it was that when he returned, having received the kingdom, he then commanded these servants, to whom he had given the money, to be called to him, that he might know how much every man had gained by trading. 16 Then came the first, saying, 'Master, your mina has earned ten minas.' 17 And he said to him, 'Well done, good servant; because you were faithful in a very little, have authority over ten cities.' 18 And the second came, saying, 'Master, your mina has earned five minas.' 19 Likewise he said to him, 'You also be over five cities.'
20 "Then another came, saying, 'Master, here is your mina, which I have kept put away in a handkerchief. 21 For I feared you, because you are an austere man. You collect what you did not deposit, and reap what you did not sow.' 22 And he said to him, 'Out of your own mouth I will judge you, you wicked servant. You knew that I was an austere man, collecting what I did not deposit and reaping what I did not sow. 23 Why then did you not put my money in the bank, that at my coming I might have collected it with interest?'
24 "And he said to those who stood by, 'Take the mina from him, and give it to him who has ten minas.' 25 (But they said to him, 'Master, he has ten minas.') 26 'For I say to you, that to everyone who has will be given; and from him who does not have, even what he has will be taken away from him. 27 But bring here those enemies of mine, who did not want me to reign over them, and slay thembefore me.' "
The Triumphal Entry
28 When He had said this, He went on ahead, going up to Jerusalem.