The formula for happiness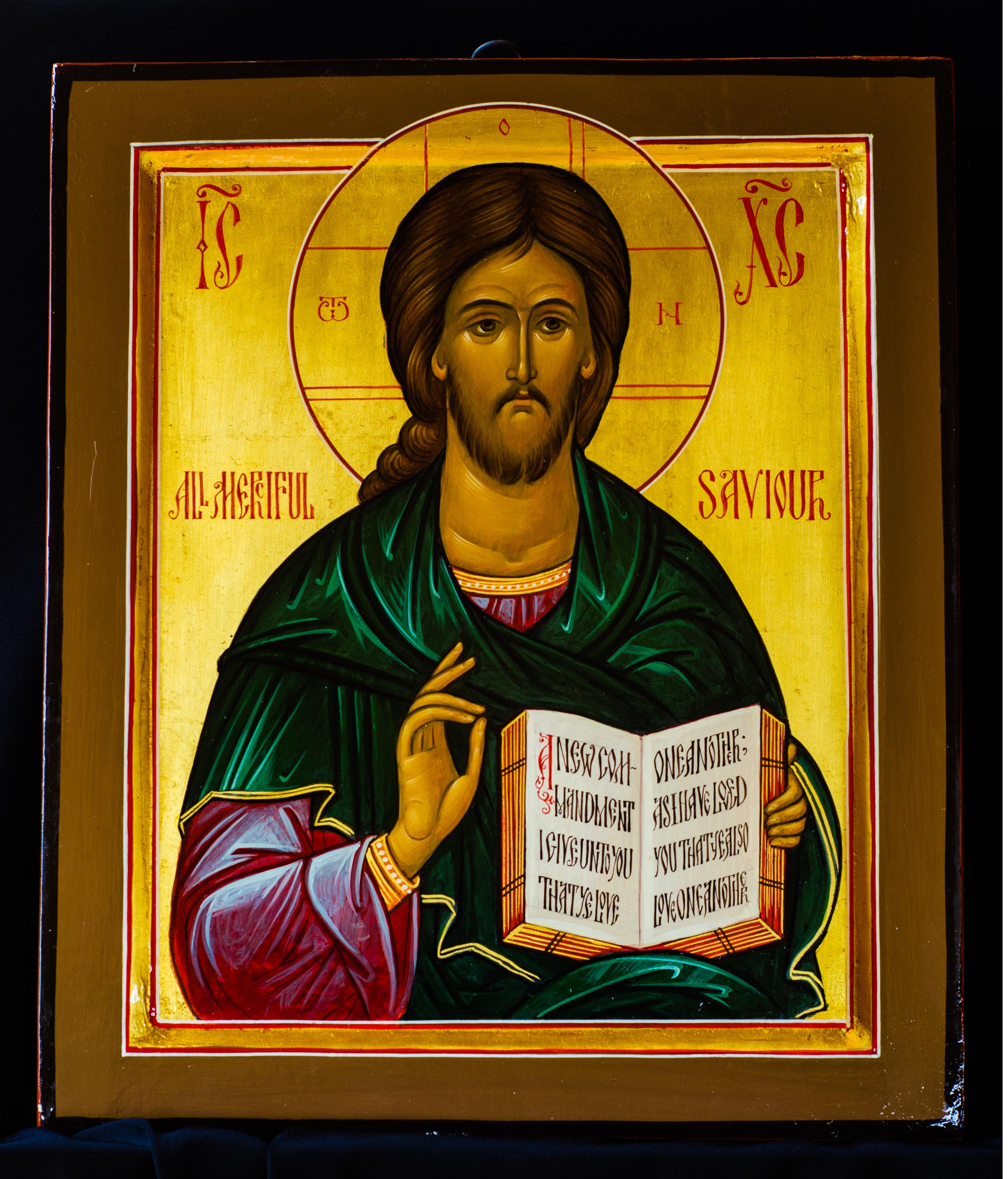 When suffering hardships and sadness, we must remember that we have much to rejoice about. We should rejoice that God had given us life, and that we were baptized into the Orthodox Church. We must remind ourselves that as believers we should embrace pain and suffering, because we have a Co-Suffering Saviour standing with us.
We need to remind ourselves that the Apostle Paul instructed us to "Rejoice always, pray without ceasing, in everything give thanks; for this is the will of God in Christ Jesus for you. (1 Thessalonians 5:16-18)".
The formula for happiness is the ability to be joyful about life, to always be centered in God, and to thank Him for all that he sends us. We know that even hardships are salvific in nature, and that God has allowed suffering in our lives because He loves us. With this knowledge, how can we not be filled with happiness?
With love in Christ,
Abbot Tryphon
Photo: The Icon of Christ the All-Merciful Saviour, the patronal icon of our monastery.
Monday December 10, 2018 / November 27, 2018
29th Week after Pentecost. Tone three.
Nativity (St. Philip's Fast). Fish Allowed
Icon of the Most Holy Theotokos named "Znamenie".
Commemoration of the miracle of the Weeping Icon of the Most Holy Theotokos "Of the Sign" at Novgorod in 1170.
Great-martyr James the Persian (421).
Venerable Palladius of Thessalonica (6th-7th c.).
St. James, bishop and wonderworker of Rostov (1392).
Uncovering of the relics (1192) of St. Vsevolod (Gabriel), prince and wonderworker of Pskov (1138).
Blessed Andrew of Symbirsk (1841).
Synaxis of the Saints of Radonezh.
New Hieromartyrs Nicholas archbishop of Vladimir, Basil, Boris, Theodore, Nicholas, Alexis, John, Sergius, John, Sergius, Nicholas, Demetrius, Vladimir, John priests, New Hieromartyrs Ioasaf, Cronides, Nicholas, Xenophon, Alexis, Appolos, Seraphim, Nicholas and Martyr John (1937).
17 Monk-martyrs in India (4th c.).
Venerable Romanus the Wonderworker of Cilicia (5th c.).
Znamenie-Sign Icons of the Mother of God:  "Kursk-Root" (1295), "Abalatsk" (1637), "Tsarskotsel'sk" and "Seraphimo-Ponetaevsk"(1879), Verkhnetagilsk (1753) and named "Korchemnaia" (18 c.).
Venerable Pinuphrius of Egypt (4th c.).
Venerable Nathaniel of Nitria (6th c.).
Venerable Diodorus of George Hill (Solovki) (1633).
St. Maximus of Riez (460).
Venerable Theodosius of Trnovo (1363).
St. Virgil, bishop of Salzburg (748).
St. Congar, bishop of Somerset.
St. Fergus, bishop of Glamis.
The Scripture Readings
Luke 1:39-49
Mary Visits Elizabeth
39 Now Mary arose in those days and went into the hill country with haste, to a city of Judah, 40 and entered the house of Zacharias and greeted Elizabeth. 41 And it happened, when Elizabeth heard the greeting of Mary, that the babe leaped in her womb; and Elizabeth was filled with the Holy Spirit. 42 Then she spoke out with a loud voice and said, "Blessed are you among women, and blessed is the fruit of your womb! 43 But why is this granted to me, that the mother of my Lord should come to me? 44 For indeed, as soon as the voice of your greeting sounded in my ears, the babe leaped in my womb for joy. 45 Blessed is she who believed, for there will be a fulfillment of those things which were told her from the Lord."
The Song of Mary
46 And Mary said:
"My soul magnifies the Lord,
47 And my spirit has rejoiced in God my Savior.
48 For He has regarded the lowly state of His maidservant;
For behold, henceforth all generations will call me blessed.
49 For He who is mighty has done great things for me,
And holy is His name.
Luke 1:56
56 And Mary remained with her about three months, and returned to her house
Hebrews 3:5-11
5 And Moses indeed was faithful in all His house as a servant, for a testimony of those things which would be spoken afterward, 6 but Christ as a Son over His own house, whose house we are if we hold fast the confidence and the rejoicing of the hope firm to the end.
Be Faithful
7 Therefore, as the Holy Spirit says:
"Today, if you will hear His voice,
8 Do not harden your hearts as in the rebellion,
In the day of trial in the wilderness,
9 Where your fathers tested Me, tried Me,
And saw My works forty years.
10 Therefore I was angry with that generation,
And said, 'They always go astray in their heart,
And they have not known My ways.'
11 So I swore in My wrath,
'They shall not enter My rest.' "
Luke 19:37-44
37 Then, as He was now drawing near the descent of the Mount of Olives, the whole multitude of the disciples began to rejoice and praise God with a loud voice for all the mighty works they had seen, 38 saying:
" 'Blessed is the King who comes in the name of the Lord!'
Peace in heaven and glory in the highest!"
39 And some of the Pharisees called to Him from the crowd, "Teacher, rebuke Your disciples."
40 But He answered and said to them, "I tell you that if these should keep silent, the stones would immediately cry out."
Jesus Weeps over Jerusalem
41 Now as He drew near, He saw the city and wept over it, 42 saying, "If you had known, even you, especially in this your day, the things that make for your peace! But now they are hidden from your eyes. 43 For days will come upon you when your enemies willbuild an embankment around you, surround you and close you in on every side, 44 and level you, and your children within you, to the ground; and they will not leave in you one stone upon another, because you did not know the time of your visitation."