The Orthodox veneration of the saints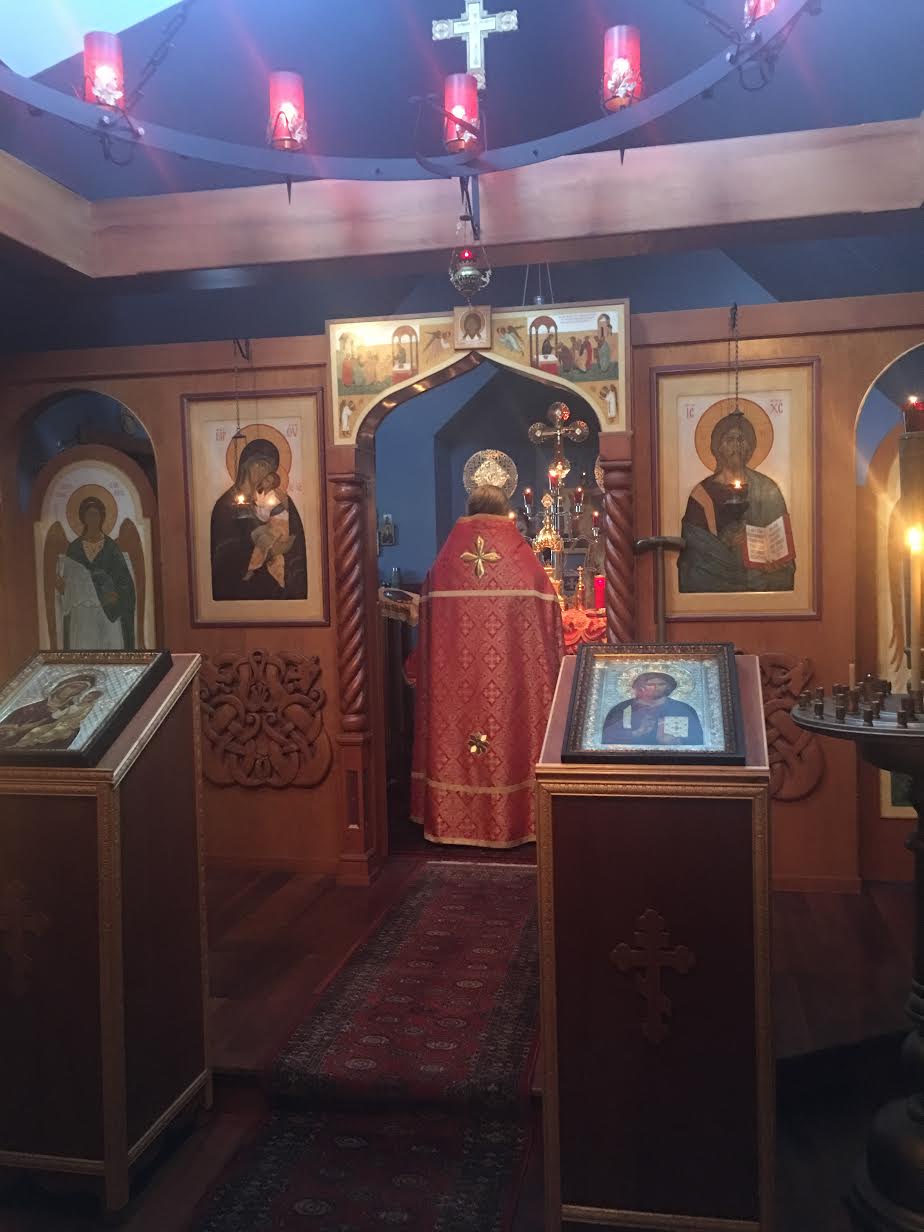 We Orthodox are known for our veneration of the saints, recognizing as we do the truth that there is no separation between the Church Militant, here on earth, and the Church Triumphant, in heaven. In the Divine Services we are not gathered together alone as mortals, but we are joined in our worship before the Throne of God by the Cloud of Witnesses, who are joined with us in Christ. This truth is exemplified by our use of icons and frescoes depicting the saints. Their images surround us, reminding us that heaven awaits us, where those who have won the good fight have gained their reward, and stand before the Lord of Glory.
When entering our temples we venerate the icons with a kiss, not because we believe the saints reside within these icons, but because we, by our veneration, pass on our love to the archetypes. This is not really any different than if we'd kissed a photo of a beloved relative, who's memory we cherish. In our veneration of the icons, we are not worshiping the saints, reserving adoration only for God, but showing honor and love to our friends. They stand before us as witnesses, by their lives, to the truth that eternal life is a reality, because of the sacrifice of Jesus Christ. Because of His redemptive act upon the cross, the saints are not dead, but alive.
The saints gaze upon the glory of Christ in the Kingdom of Heaven, and through the Holy Spirit they see the sufferings of men on earth. The great grace that resides within the saints allows them to embrace the whole world with their love, and they see how we languish in affliction, and they never cease to intercede for us with God.
The saints, having won the good fight, encourage us by their example, and pray for us to be victorious. Their lives give witness to the importance of living in repentance, and placing Jesus above all else, for it is in Jesus Christ that they have gained eternal life. It is in Jesus Christ that we, like the saints who have gone on before us, have the same promise of this life eternal. As our friends, they await the day when we will join them, and they offer their prayers for that end.
With love in Christ,
Abbot Tryphon
Wednesday December 5, 2018 / November 22, 2018
28th Week after Pentecost. Tone two.
Nativity (St. Philip's Fast). Food with Oil
Apostles Philemon and Archippus, Martyr Apphia, wife of Philemon, and St. Onesimus, disciple of St. Paul (ca. 109).
Martyrdom of St. Michael, prince of Tver (1318).
New Hieromartyr Vladimir priest (1932).
New Hieromartyr Iosaph bishop of Mogilev, New Hieromartyrs John, Basil, Paul, Jacob, Theodore, John, Ilia, Alexis, Aphanasius priests and Hieromartyrs Gerasimus, Eutychius, Abenner, Sabbas, Mark and Martyr Boris (1937).
Venerable Paraskeva confessor (1953).
St. Yaropolk-Peter, prince of Vladimir in Volhynia (1086).
Martyrs Cecilia, Valerian, Tiburtius, and Maximus at Rome (288).
Martyr Procopius the Reader at Caesarea in Palestine (303).
Martyr Menignus at Parium (250).
Venerable Agabbas of Syria (5th c.).
Righteous Michael the Soldier of Bulgaria (866).
St. Callistus II, patriarch of Constantinople (Mt. Athos) (1397) (Greek).
St. Clement of Ochrid, bishop of Greater Macedonia (916) (Bulgaria).
St. Germanus of Eikoiphinissa in Macedonia (9th c.).
Martyrs Stephen, Mark, and Mark (another) at Antioch in Pisidia (4th c.).
Martyr Agapion of Greece (304).
The Scripture Readings
2 Timothy 4:9-22
The Abandoned Apostle
9 Be diligent to come to me quickly; 10 for Demas has forsaken me, having loved this present world, and has departed for Thessalonica—Crescens for Galatia, Titus for Dalmatia. 11 Only Luke is with me. Get Mark and bring him with you, for he is useful to me for ministry. 12 And Tychicus I have sent to Ephesus. 13 Bring the cloak that I left with Carpus at Troas when you come—and the books, especially the parchments.
14 Alexander the coppersmith did me much harm. May the Lord repay him according to his works. 15 You also must beware of him, for he has greatly resisted our words.
16 At my first defense no one stood with me, but all forsook me. May it not be charged against them.
The Lord Is Faithful
17 But the Lord stood with me and strengthened me, so that the message might be preached fully through me, and that all the Gentiles might hear. Also I was delivered out of the mouth of the lion. 18 And the Lord will deliver me from every evil work and preserve me for His heavenly kingdom. To Him be glory forever and ever. Amen!
Come Before Winter
19 Greet Prisca and Aquila, and the household of Onesiphorus. 20 Erastus stayed in Corinth, but Trophimus I have left in Miletus sick.
21 Do your utmost to come before winter.
Eubulus greets you, as well as Pudens, Linus, Claudia, and all the brethren.
Farewell
22 The Lord Jesus Christ be with your spirit. Grace be with you. Amen.
Luke 18:15-17 New King James Version (NKJV)
Jesus Blesses Little Children
15 Then they also brought infants to Him that He might touch them; but when the disciples saw it, they rebuked them. 16 But Jesus called them to Him and said, "Let the little children come to Me, and do not forbid them; for of such is the kingdom of God.17 Assuredly, I say to you, whoever does not receive the kingdom of God as a little child will by no means enter it."
New King James Version (NKJV)
Scripture taken from the New King James Version®. Copyright © 1982 by Thomas Nelson. Used by permission. All rights reserved.
Luke 18:26-30
26 And those who heard it said, "Who then can be saved?"
27 But He said, "The things which are impossible with men are possible with God."
28 Then Peter said, "See, we have left all and followed You."
29 So He said to them, "Assuredly, I say to you, there is no one who has left house or parents or brothers or wife or children, for the sake of the kingdom of God, 30 who shall not receive many times more in this present time, and in the age to come eternal life."