The Three Disciplines: Prayer, Fasting, and Almsgiving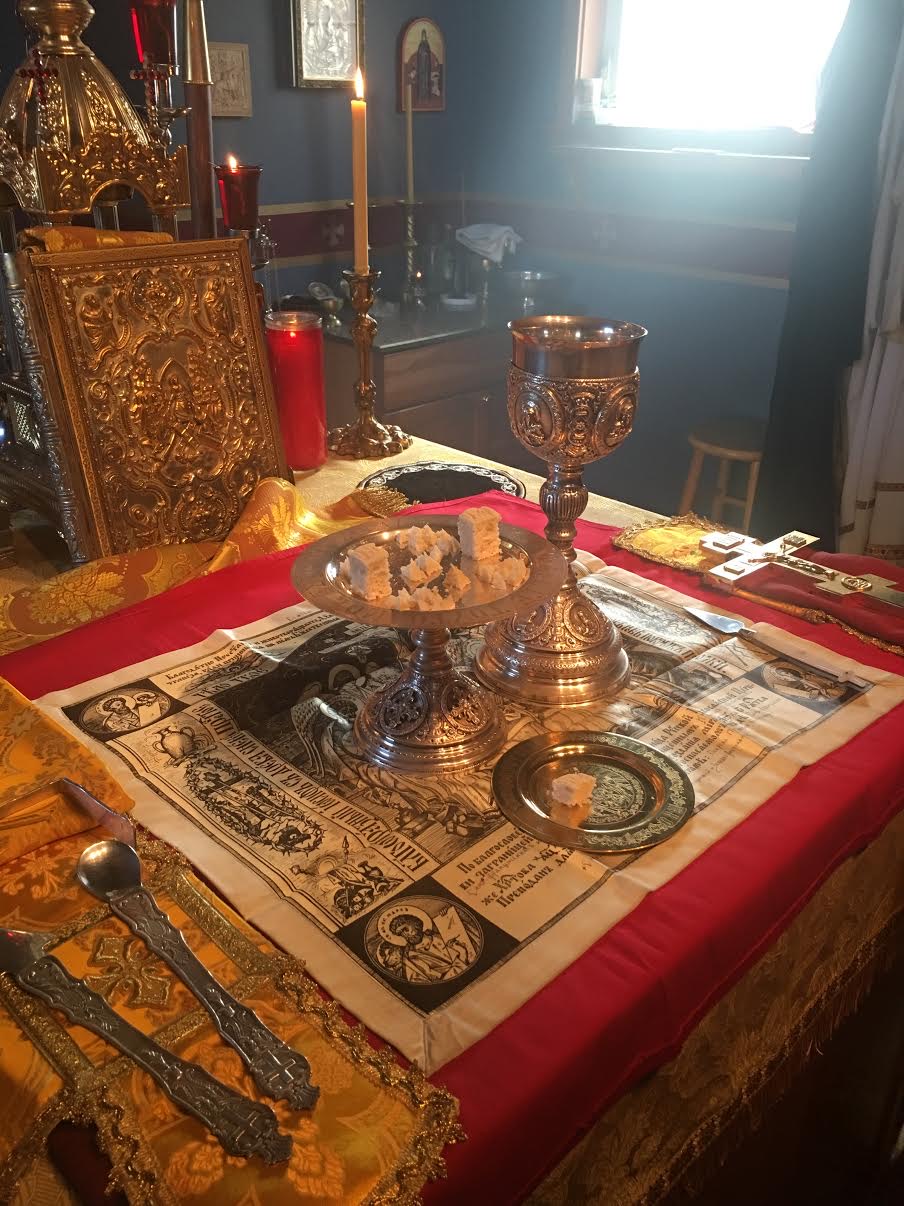 Jesus Christ called for a thorough conversion of our heart and mind, and a complete turning away from the old man (our fallen nature). The main act that begins this conversion is metanoia, which means thorough change of mind.  This happens when we become aware that we have sinned, and that we are in need of God's forgiveness, and resolve, with His help, to submit to Him.
Sometimes we see a synonymous use of two words, penance and confession. When going to confession, a priest sometimes gives a penance, which is a spiritual discipline that can aid in our journey to God. We are given guidelines that can lead to spiritual growth, and change of heart.
These penances are often in the form disciplines that are meant to help increase the time spent in prayer, fasting, and almsgiving. These three disciplines help us deepen our relationship with Christ, and aid in the Acquisition of the Holy Spirit. Sometimes we are asked to do akathist hymns, where we seek the aid of saints, or the Holy Virgin, as we struggle to go deeper in our spiritual quest. We might be given extra periods of fasting, that in depriving ourselves of food, we are able to see deeper into our hearts, and, with God's help, be ridden of the dirt and grime that resides within us. Other times we might be asked to perform acts of charity, or increase our almsgiving, as a way of moving beyond ourselves, and focusing on the needs of others.
These disciplines, along with immersing ourselves in the Holy Scriptures, help us in our continued quest  to live a life in total submission to Christ. These three categories of discipline aid us in the our journey towards theosis (deification), and help us in the transformational work first started at the moment of baptism, when we first received the Holy Spirit.
These disciplines are not ends in themselves, but are exercises which help in our spiritual warfare against the demons who would bring us down. These disciplines are aids that help us in our attempt to repent, and have a thorough change of mind (metanoia). And this repentance does not mean that we must feel sad, but that we strive to put off all pride and selfishness, and replace the ego with love, joy, peace, patience, gentleness, goodness, kindness, meekness and self control.
With love in Christ,
Abbot Tryphon
Tuesday November 6, 2018 / October 24, 2018
24th Week after Pentecost. Tone six.
Icon of the Most Holy Theotokos "The Joy of All Who Sorrow"(1688). (Feast Day of Holy Virgin "Joy of All Who Sorrow" Russian Orthodox Cathedral in San Francisco).
Martyr Arethas of Omir and with him 4299 Martyrs (523).
St. Zosimas (Verkhovsky), elder of Siberia (1833).
New Hieromartyrs Laurence bishop of Balakhninsk, Alexis priest and Martyr Alexis (1918).
Venerable Aretha (1932).
New Hieromartyrs John and Nicholas priests (1937).
New Martyr Peter priest (1938).
Venerables Aretha (12th C), Sisois (13th C) and Theophil (12th-13th C), Hermits of the Kievan Caves, near caves.
Blessed Elesbaan, king of Ethiopia (553).
Martyr Syncletia and her 2 daughters (6th C).
St. Athanasius, patriarch of Constantinople (1311).
Venerable John, recluse of the Pskov Caves (1616).
Martyr Acacius of Armenia (303).
Venerable Senoch, abbot of Tours (576) (Gaul).
Martyr Sebastiana of Heraclea in Thrace (86).
St. Maglorius, abbot of Sark.
The Scripture Readings
Luke 1:39-49
Mary Visits Elizabeth
39 Now Mary arose in those days and went into the hill country with haste, to a city of Judah, 40 and entered the house of Zacharias and greeted Elizabeth. 41 And it happened, when Elizabeth heard the greeting of Mary, that the babe leaped in her womb; and Elizabeth was filled with the Holy Spirit. 42 Then she spoke out with a loud voice and said, "Blessed are you among women, and blessed is the fruit of your womb! 43 But why is this granted to me, that the mother of my Lord should come to me? 44 For indeed, as soon as the voice of your greeting sounded in my ears, the babe leaped in my womb for joy. 45 Blessed is she who believed, for there will be a fulfillment of those things which were told her from the Lord."
The Song of Mary
46 And Mary said:
"My soul magnifies the Lord,
47 And my spirit has rejoiced in God my Savior.
48 For He has regarded the lowly state of His maidservant;
For behold, henceforth all generations will call me blessed.
49 For He who is mighty has done great things for me,
And holy is His name.
1 Thessalonians 3:9-13
9 For what thanks can we render to God for you, for all the joy with which we rejoice for your sake before our God, 10 night and day praying exceedingly that we may see your face and perfect what is lacking in your faith?
Prayer for the Church
11 Now may our God and Father Himself, and our Lord Jesus Christ, direct our way to you. 12 And may the Lord make you increase and abound in love to one another and to all, just as we do to you, 13 so that He may establish your hearts blameless in holiness before our God and Father at the coming of our Lord Jesus Christ with all His saints.
Luke 11:1-10
The Model Prayer
11 Now it came to pass, as He was praying in a certain place, when He ceased, that one of His disciples said to Him, "Lord, teach us to pray, as John also taught his disciples."
2 So He said to them, "When you pray, say:
Our Father in heaven,
Hallowed be Your name.
Your kingdom come.
Your will be done
On earth as it is in heaven.
3 Give us day by day our daily bread.
4 And forgive us our sins,
For we also forgive everyone who is indebted to us.
And do not lead us into temptation,
But deliver us from the evil one."
A Friend Comes at Midnight
5 And He said to them, "Which of you shall have a friend, and go to him at midnight and say to him, 'Friend, lend me three loaves;6 for a friend of mine has come to me on his journey, and I have nothing to set before him'; 7 and he will answer from within and say, 'Do not trouble me; the door is now shut, and my children are with me in bed; I cannot rise and give to you'? 8 I say to you, though he will not rise and give to him because he is his friend, yet because of his persistence he will rise and give him as many as he needs.
Keep Asking, Seeking, Knocking
9 "So I say to you, ask, and it will be given to you; seek, and you will find; knock, and it will be opened to you. 10 For everyone who asks receives, and he who seeks finds, and to him who knocks it will be opened.