Darkness does not exist in its own right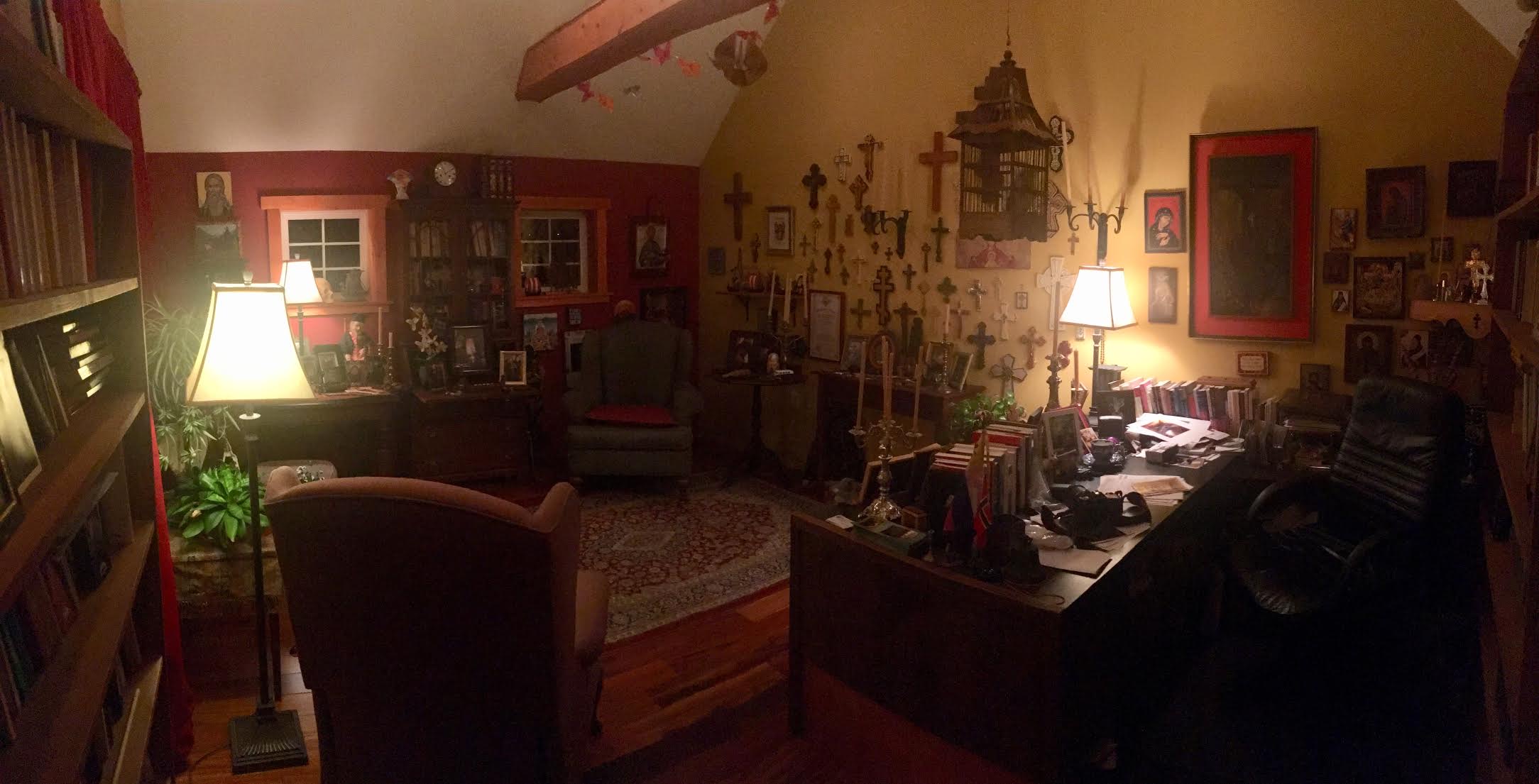 Our Orthodox Christian theology views evil not as a primeval essence that is co-eternal and equal to God, but rather a falling away from good. Evil does not exist in and of itself, and was not created by God. Our Orthodox Church rejects the Gnostic teaching that the entirety of being is made up of two realms which have forever existed together: the kingdom of light, and the kingdom of darkness.
This darkness does not exist in its own right, but is simply the absence or lack of light. Evil, according to Saint Basil the Great, 'is not a living and animated substance, but a condition of the soul which is opposed to virtue and which springs up in the slothful because of their falling away from Good. Do not, therefore, contemplate evil from without; and do not imagine some original nature of wickedness, but let each one recognize himself as the first author of the vice that is in him'.
Nothing is greater than God, including evil, and evil results when the free will of God's creation is directed against God and thereby engendering evil.
This is precisely what happened when the light-bearing morning star (Lucifer), fell away from the Source of goodness, and became the evil one, Satan. Lucifer, by imposing his own will, found himself in darkness. Since his power is based in falsehood, he can only influence us by convincing people that he is as powerful as God. Yet his power is finite, and good will eventually triumph on the Last Day.
That God would allow evil to exist in the first place, is a mystery, for the scriptures do not explain this. Yet we do know through the scriptures that true love must express itself in action, and in the face of evil and suffering, a Christian is called to action by loving God and his neighbor. Evil then becomes but a simple practical problem, one that the Christian finds ways to alleviate. As Christians we are charged with bringing God's love and goodness into the world by our actions.
Saint Anthony of Egypt, said, "The devil is afraid of us when we pray and make sacrifices. He is also afraid when we are humble and good. He is especially afraid when we love Jesus very much. He runs away when we make the Sign of the Cross."
With love in Christ,
Abbot Tryphon
Photo: My study.
Monday November 26, 2018 / November 13, 2018
27th Week after Pentecost. Tone one.
St. John Chrysostom, archbishop of Constantinople (407).
Martyrs Antoninus, Nicephorus, and Germanus of Caesarea in Palestine (308).
Martyr Manetha of Caesarea in Palestine (308).
New Martyr Damascene of Mt. Athos (1681).
St. Bricius, bishop of Tours (444) and St. Quintianus, bishop of Clermont (525) (Gaul).
St. Euphrasius, bishop of Clermont (515) (Gaul).
St. Leonien of Vienne (518) (Gaul).
The Scripture Readings
John 10:1-9
Jesus the True Shepherd
10 "Most assuredly, I say to you, he who does not enter the sheepfold by the door, but climbs up some other way, the same is a thief and a robber. 2 But he who enters by the door is the shepherd of the sheep. 3 To him the doorkeeper opens, and the sheep hear his voice; and he calls his own sheep by name and leads them out. 4 And when he brings out his own sheep, he goes before them; and the sheep follow him, for they know his voice. 5 Yet they will by no means follow a stranger, but will flee from him, for they do not know the voice of strangers." 6 Jesus used this illustration, but they did not understand the things which He spoke to them.
Jesus the Good Shepherd
7 Then Jesus said to them again, "Most assuredly, I say to you, I am the door of the sheep. 8 All who ever came before Me are thieves and robbers, but the sheep did not hear them. 9 I am the door. If anyone enters by Me, he will be saved, and will go in and out and find pasture.
Hebrews 7:26-8:2
26 For such a High Priest was fitting for us, who is holy, harmless, undefiled, separate from sinners, and has become higher than the heavens; 27 who does not need daily, as those high priests, to offer up sacrifices, first for His own sins and then for the people's, for this He did once for all when He offered up Himself. 28 For the law appoints as high priests men who have weakness, but the word of the oath, which came after the law, appoints the Son who has been perfected forever.
The New Priestly Service
8 Now this is the main point of the things we are saying: We have such a High Priest, who is seated at the right hand of the throne of the Majesty in the heavens, 2 a Minister of the sanctuary and of the true tabernacle which the Lord erected, and not man.
John 10:9-16
9 I am the door. If anyone enters by Me, he will be saved, and will go in and out and find pasture. 10 The thief does not come except to steal, and to kill, and to destroy. I have come that they may have life, and that they may have it more abundantly.
11 "I am the good shepherd. The good shepherd gives His life for the sheep. 12 But a hireling, he who is not the shepherd, one who does not own the sheep, sees the wolf coming and leaves the sheep and flees; and the wolf catches the sheep and scatters them.13 The hireling flees because he is a hireling and does not care about the sheep. 14 I am the good shepherd; and I know My sheep,and am known by My own. 15 As the Father knows Me, even so I know the Father; and I lay down My life for the sheep. 16 And other sheep I have which are not of this fold; them also I must bring, and they will hear My voice; and there will be one flock and one shepherd.