God sharing His Divinity with our humanity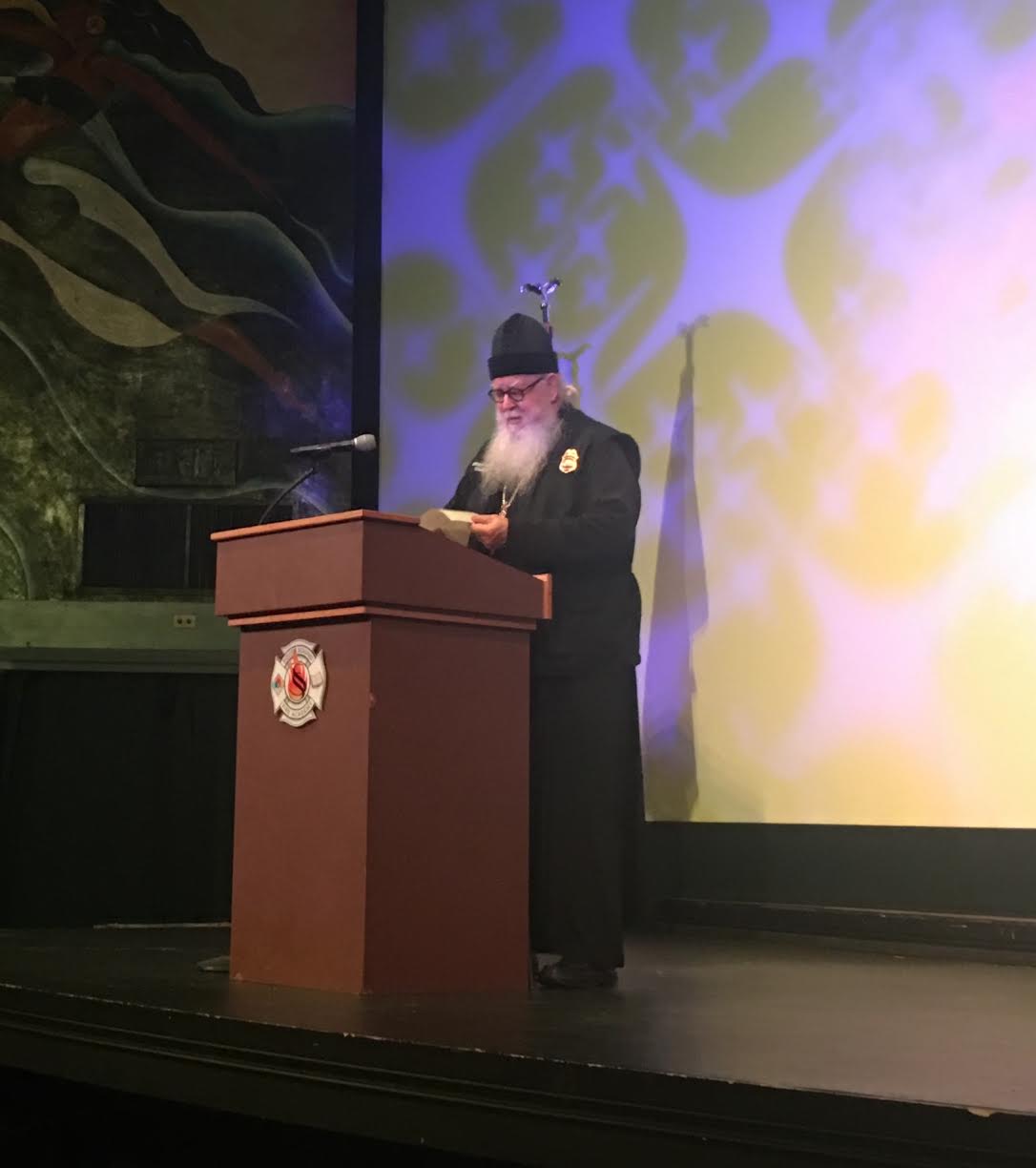 The idea that Christ would have incarnated in the flesh, even if Adam and Eve had not fallen, was taught by a number of early Church Fathers. Although not a formal teaching of the Orthodox Church, the understanding comes from the view that the Logos took on our flesh because God wished to share His Divinity with our humanity. This is called Theosis, or Deification.
The teaching that Christ's incarnation and death on the cross was intended as a propitiation for our sins (the Father demanding death as payment for our sins), was foreign to the Early Church Fathers. Christ's death on the Cross, followed by His Holy Resurrection, was seen from the beginning as the destruction of the power of death over the whole of the cosmos. The fall introduced death into the world, for before the fall death was unknown, even in the whole of the cosmos.  We did not inherit Adam's sin, but rather the result of his sin, which is death.
Theosis ("deification) is the process of a worshiper becoming free of hamartía ("missing the mark"), being united with God, beginning in this life and later consummated in bodily resurrection. For Orthodox Christians, Théōsis (see 2 Pet. 1:4) is salvation. Théōsis assumes that humans from the beginning are made to share in the Life or Nature of the All-Holy Trinity. Therefore, an infant or an adult worshiper is saved from the state of unholiness (hamartía — which is not to be confused with hamártēma "sin") for participation in the Life (zōé, not simply bíos) of the Trinity — which is everlasting.
With love in Christ,
Abbot Tryphon
Photos: I gave the Invocation and the Benediction for the South Sound Fire Academy graduation ceremony at the Vashon Theater on Saturday morning.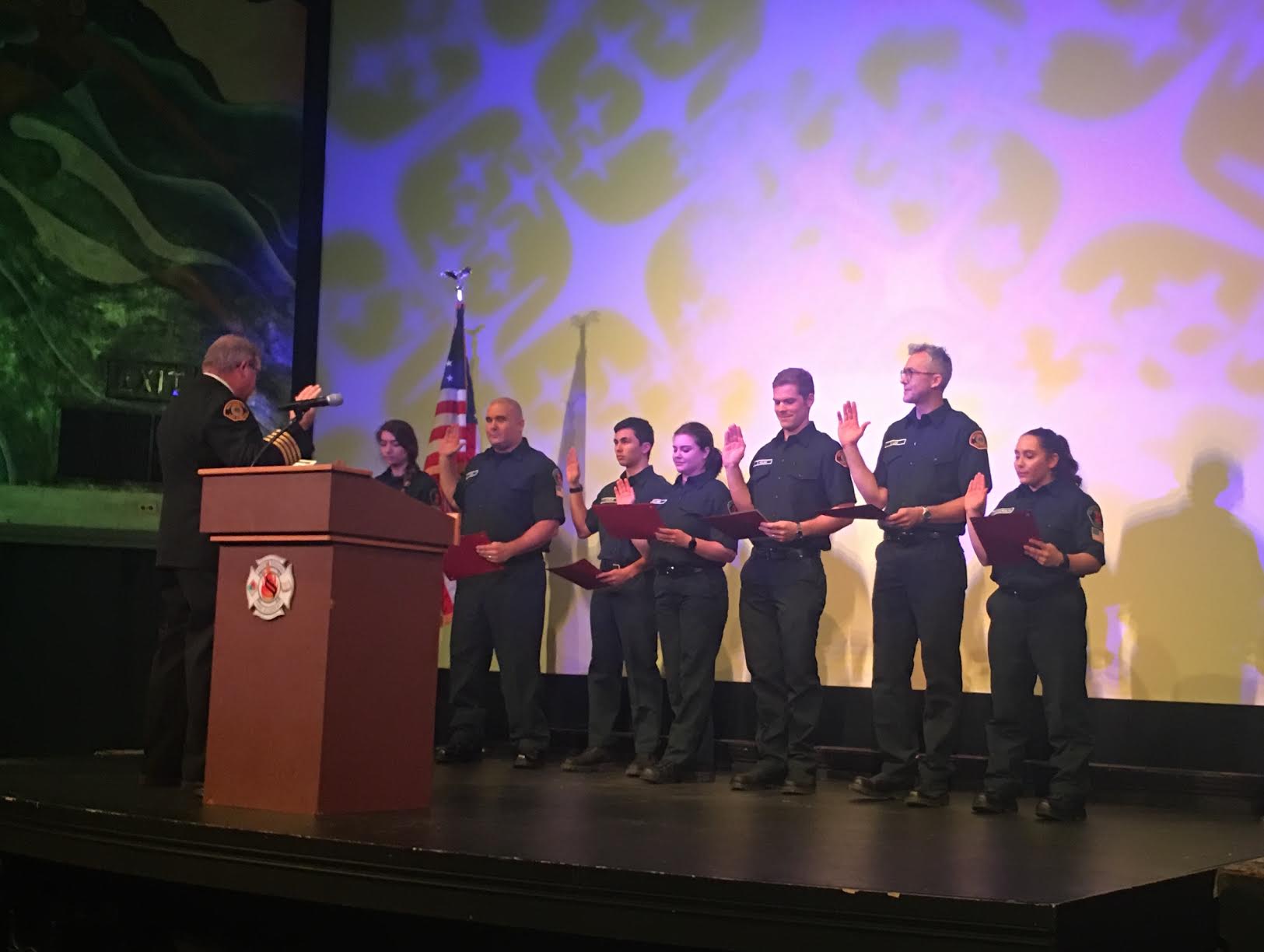 Paradise Fire
The deadliest fire in California's history affects thousands. We would like to assist the Chico, CA., Saints Cyril and Methodius parish to help reconstruct the lives of area families who suffered in this tragedy.
Please contribute.
RACS
300 Anza Street
San Francisco, CA  94118
or
PayPal via RACSSF.org > Paradise Fire
100% of funds received will benefit victims.
THANK YOU!
Sunday November 18, 2018 / November 5, 2018
25th Sunday after Pentecost. Tone eight.
Martyrs Galacteon and his wife Episteme at Emesa (253).
Repose of St. Jonah, archbishop of Novgorod (1470).
St. Tikhon, Patriarch of Moscow and All Rus (Election 1917).
New Hieromartyr Gabriel priest (1937).
Apostles Patrobus, Hermas, Linus, Gaius, and Philologus of the Seventy (1st c.).
St. Gregory, archbishop of Alexandria (9th c.).
Martyrs Domninus, Timothy, Theophilus, Theotimus, Dorotheus, Eupsychius, Carterius, Pamphilius, Agathangelus, and Castorus of Palestine (307).
Hieromartyr Silvanus, bishop of Gaza.
St. Kea, bishop of Devon and Cornwall.
Venerable Odrada, virgin of Balen (8th c.) (Neth.).
St. Cybi, abbot in Cornwall and Wales (550) (Celtic & British).
St. Gregory of Cassano, Calabria (1002).
The Scripture Readings
Mark 16:9-20
Mary Magdalene Sees the Risen Lord
9 Now when He rose early on the first day of the week, He appeared first to Mary Magdalene, out of whom He had cast seven demons. 10 She went and told those who had been with Him, as they mourned and wept. 11 And when they heard that He was alive and had been seen by her, they did not believe.
Jesus Appears to Two Disciples
12 After that, He appeared in another form to two of them as they walked and went into the country. 13 And they went and told it to the rest, but they did not believe them either.
The Great Commission
14 Later He appeared to the eleven as they sat at the table; and He rebuked their unbelief and hardness of heart, because they did not believe those who had seen Him after He had risen. 15 And He said to them, "Go into all the world and preach the gospel to every creature. 16 He who believes and is baptized will be saved; but he who does not believe will be condemned. 17 And these signs will follow those who believe: In My name they will cast out demons; they will speak with new tongues; 18 they will take up serpents; and if they drink anything deadly, it will by no means hurt them; they will lay hands on the sick, and they will recover."
Christ Ascends to God's Right Hand
19 So then, after the Lord had spoken to them, He was received up into heaven, and sat down at the right hand of God. 20 And they went out and preached everywhere, the Lord working with them and confirming the word through the accompanying signs. Amen.
Ephesians 4:1-6
Walk in Unity
4 I, therefore, the prisoner of the Lord, beseech you to walk worthy of the calling with which you were called, 2 with all lowliness and gentleness, with longsuffering, bearing with one another in love, 3 endeavoring to keep the unity of the Spirit in the bond of peace. 4 There is one body and one Spirit, just as you were called in one hope of your calling; 5 one Lord, one faith, one baptism; 6 one God and Father of all, who is above all, and through all, and in you all.
Luke 8:41-56
41 And behold, there came a man named Jairus, and he was a ruler of the synagogue. And he fell down at Jesus' feet and begged Him to come to his house, 42 for he had an only daughter about twelve years of age, and she was dying.
But as He went, the multitudes thronged Him. 43 Now a woman, having a flow of blood for twelve years, who had spent all her livelihood on physicians and could not be healed by any, 44 came from behind and touched the border of His garment. And immediately her flow of blood stopped.
45 And Jesus said, "Who touched Me?"
When all denied it, Peter and those with him said, "Master, the multitudes throng and press You, and You say, 'Who touched Me?'"
46 But Jesus said, "Somebody touched Me, for I perceived power going out from Me." 47 Now when the woman saw that she was not hidden, she came trembling; and falling down before Him, she declared to Him in the presence of all the people the reason she had touched Him and how she was healed immediately.
48 And He said to her, "Daughter, be of good cheer; your faith has made you well. Go in peace."
49 While He was still speaking, someone came from the ruler of the synagogue's house, saying to him, "Your daughter is dead. Do not trouble the Teacher."
50 But when Jesus heard it, He answered him, saying, "Do not be afraid; only believe, and she will be made well." 51 When He came into the house, He permitted no one to go in except Peter, James, and John, and the father and mother of the girl. 52 Now all wept and mourned for her; but He said, "Do not weep; she is not dead, but sleeping." 53 And they ridiculed Him, knowing that she was dead.
54 But He [g]put them all outside, took her by the hand and called, saying, "Little girl, arise." 55 Then her spirit returned, and she arose immediately. And He commanded that she be given something to eat. 56 And her parents were astonished, but He charged them to tell no one what had happened.