The importance of preparing for the Divine Liturgy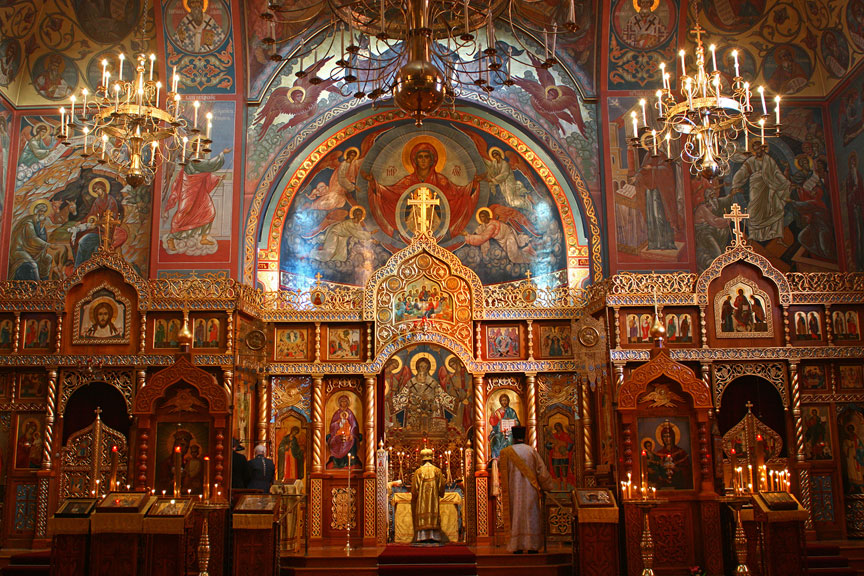 That the Church requires us to prepare to receive the Holy Mysteries of the Body and Blood of Christ, prior to the celebration of the Divine Liturgy, by saying the Pre-Communion Prayers, is a given. The Church also requires us to fast from midnight on, abstaining from either food or drink, until after we have received the Body and Blood of our Saviour. The only exception is when we must, because of health issues, eat or drink something, and this must be blessed by our confessor or priest.
Although not required, if we read the appointed Epistle and Gospel readings prior to entering into the Liturgy, the Word can better enter the heart, for when hearing God's Word for the second time, we are more receptive, and the Word penetrates deeply.
Perhaps the most important preparation we must make before attending the Divine Liturgy, is to be sure we are at peace with all our brothers and sisters. We dare not approach the chalice with malice or hatred towards anyone, nor can we receive the Holy Gifts with a heart that has refused to forgive those who have hurt or offended us. An important part of forgiving others, is for us to seek forgiveness. Thus, frequent confession is an imperative.
Participating in the Divine Liturgy is a great privilege, for in this service we are entering into a place where there is neither time nor space, and where we are worshiping the Holy Trinity, together with the hosts of heaven.
In the Liturgy, encounter God in a way that is beyond human comprehension, for we are invited to commune with our Creator in the most intimate way. To approach the Holy Mysteries (Communion) without thought, as though we were simply going to a movie, is beyond foolishness. To receive the "hot coals" that is meant to transform us, and make us whole, without proper preparation, is a very dangerous thing to do.
Love in Christ,
Abbot Tryphon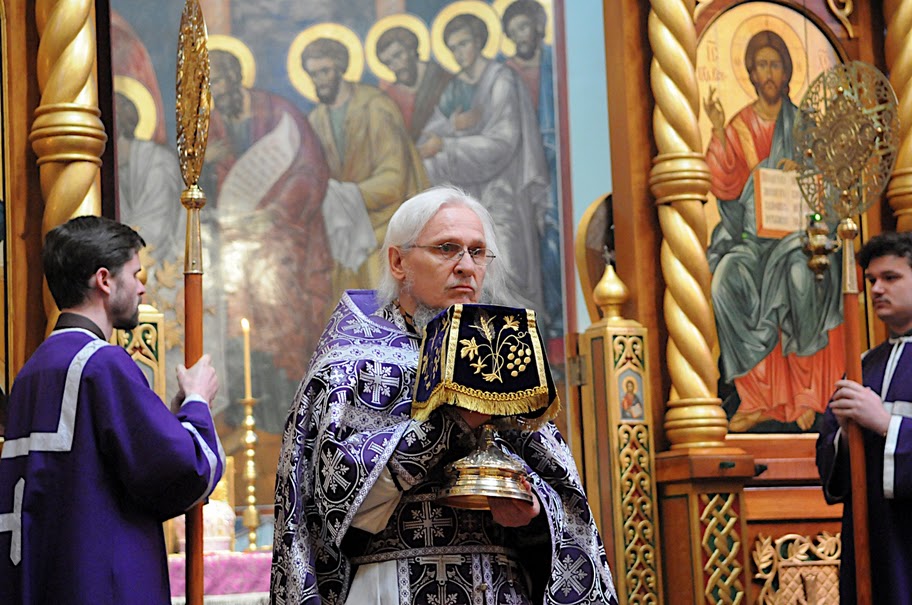 Photos: Interior of Holy Virgin, "Joy of All Who Sorrow" Russian Orthodox Cathedral in San Francisco. I was blessed to have been ordained a priest in this cathedral, built by Saint John the Wonderworker.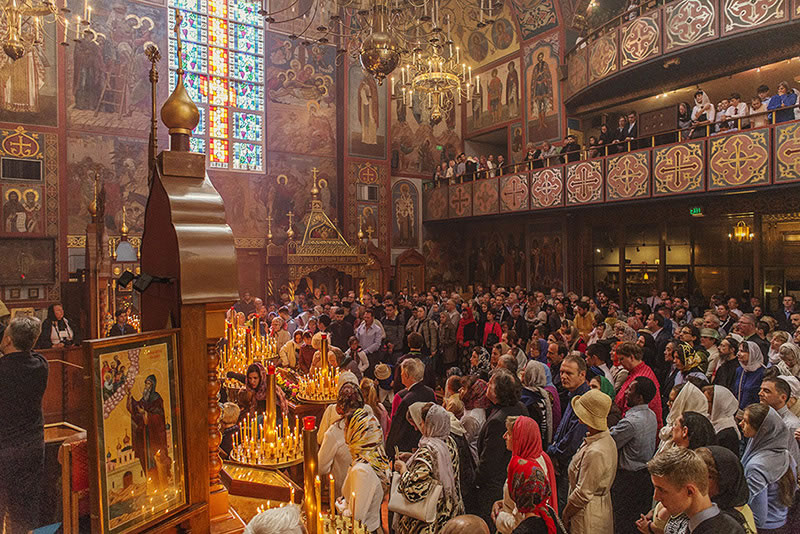 Thursday November 8, 2018 / October 26, 2018
24th Week after Pentecost. Tone six.
Holy and Glorious Great-martyr Demetrius the Myrrh-gusher of Thessalonica (306).
Commemoration of the Great Earthquake at Constantinople in 740 A.D.
Venerable Theophilus of the Kiev Caves, bishop of Novgorod (1482).
Martyr Luppos (306).
Venerable Athanasius of Medikion Monastery (814).
Venerable Demetrius of Basarbov in Bulgaria (1685).
Venerable Demetrius (14th c.).
St. Anthony, bishop of Vologda (1588).
St. Cedd, bishop of Lastingham (664) (Celtic & British).
St. Eata, bishop of Hexham and abbot of Lindisfarne (686) (Celtic & British).
Martyr Ioasaph, monk of Mt. Athos, disciple of St. Niphon of Constantinople (1536) (Greek).
St. Alexander Okropiridze, bishop of Guria and Mingrelia, Georgia (1907) (Georgia).
Martyrs Artemidorus and Basil (Greek).
Martyr Leptina (Greek).
Martyr Glycon (Greek).
The Scripture Readings
Matthew 10:16-22
Persecutions Are Coming
16 "Behold, I send you out as sheep in the midst of wolves. Therefore be wise as serpents and harmless as doves. 17 But beware of men, for they will deliver you up to councils and scourge you in their synagogues. 18 You will be brought before governors and kings for My sake, as a testimony to them and to the Gentiles. 19 But when they deliver you up, do not worry about how or what you should speak. For it will be given to you in that hour what you should speak; 20 for it is not you who speak, but the Spirit of your Father who speaks in you.
21 "Now brother will deliver up brother to death, and a father his child; and children will rise up against parents and cause them to be put to death. 22 And you will be hated by all for My name's sake. But he who endures to the end will be saved.
1 Thessalonians 5:1-8
The Day of the Lord
5 But concerning the times and the seasons, brethren, you have no need that I should write to you. 2 For you yourselves know perfectly that the day of the Lord so comes as a thief in the night. 3 For when they say, "Peace and safety!" then sudden destruction comes upon them, as labor pains upon a pregnant woman. And they shall not escape. 4 But you, brethren, are not in darkness, so that this Day should overtake you as a thief. 5 You are all sons of light and sons of the day. We are not of the night nor of darkness. 6 Therefore let us not sleep, as others do, but let us watch and be sober. 7 For those who sleep, sleep at night, and those who get drunk are drunk at night. 8 But let us who are of the day be sober, putting on the breastplate of faith and love, and as a helmet the hope of salvation.
Luke 11:14-23
A House Divided Cannot Stand
14 And He was casting out a demon, and it was mute. So it was, when the demon had gone out, that the mute spoke; and the multitudes marveled. 15 But some of them said, "He casts out demons by Beelzebub, the ruler of the demons."
16 Others, testing Him, sought from Him a sign from heaven. 17 But He, knowing their thoughts, said to them: "Every kingdom divided against itself is brought to desolation, and a house divided against a house falls. 18 If Satan also is divided against himself, how will his kingdom stand? Because you say I cast out demons by Beelzebub. 19 And if I cast out demons by Beelzebub, by whom do your sons cast them out? Therefore they will be your judges. 20 But if I cast out demons with the finger of God, surely the kingdom of God has come upon you. 21 When a strong man, fully armed, guards his own palace, his goods are in peace. 22 But when a stronger than he comes upon him and overcomes him, he takes from him all his armor in which he trusted, and divides his spoils. 23 He who is not with Me is against Me, and he who does not gather with Me scatters.