A day set aside to give thanks to God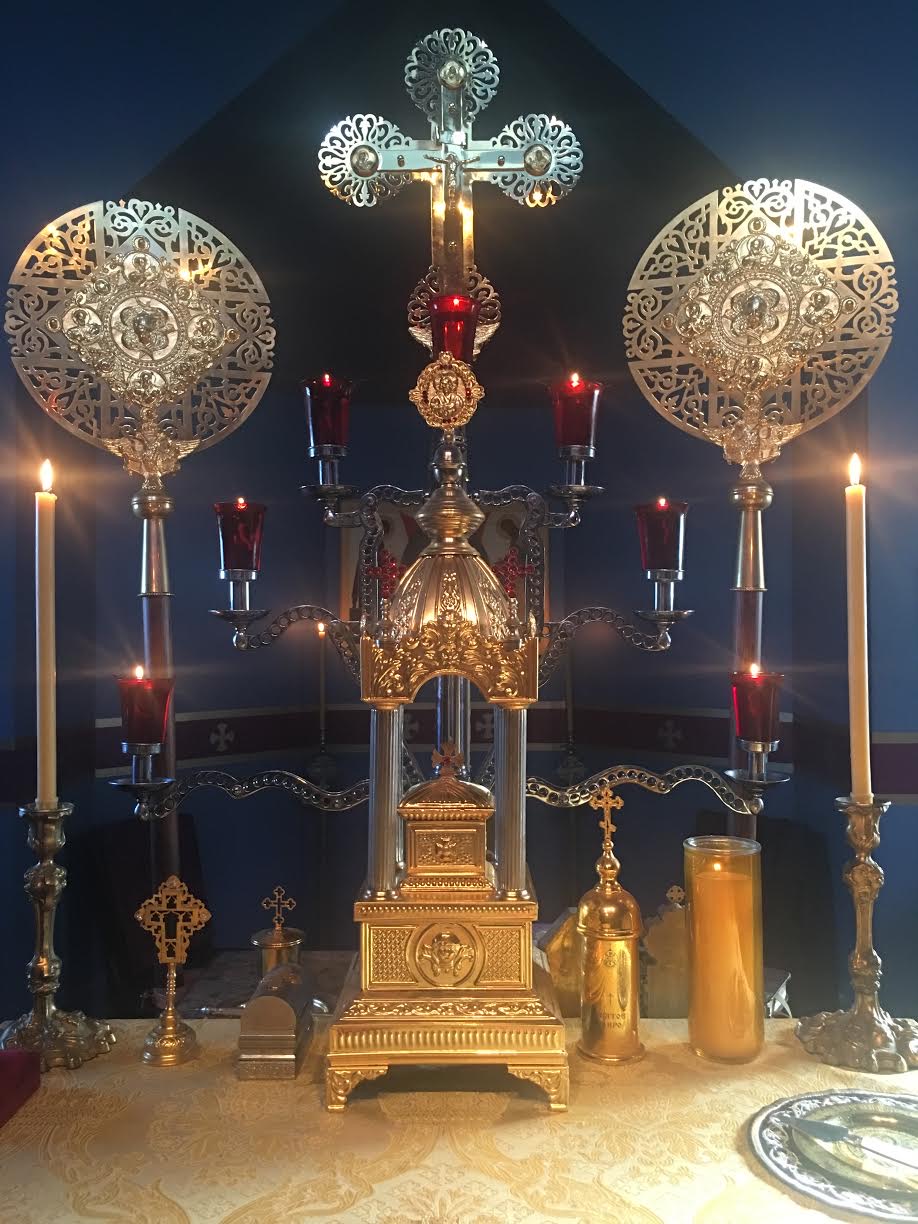 Thanksgiving has officially been an annual tradition since 1863, when during the Civil War, President Abraham Lincoln proclaimed a national day of thanksgiving to be celebrated on the fourth Thursday in November.
The word Thanksgiving has it's roots in the Greek word, εὐχαριστία (eucharistia), where the Church gets the word Eucharist. For Orthodox Christians the ultimate giving of thanks to God comes when we offer the Eucharistic sacrifice, entering into the Heavenly Banquet, participating in the eternal Mystical Supper that is ongoing in the heavenly realm.
During the celebration of the Divine Liturgy we offer a sacrifice of praise and thanksgiving to the Lord for His mercy and loving kindness. It has become common practice in some areas for parishes and monasteries to celebrate the Divine Liturgy on the morning of Thanksgiving, having become a local American Orthodox custom to remember, with thanks, all that the Lord has given to His people.
The Heavenly Banquet, that eternal celebration taking place before the Throne of God is ours, here and now, whenever we participate in the celebration of the Divine Liturgy. This Eucharistic celebration (Thanksgiving) wherein Christ offers His Body and Blood for our spiritual and physical healing, is that moment in time when we are able to experience, and participate in, the Banquet that awaits us. The hope of eternal life is worthy of our struggle in this life, as we prepare for our life worshiping before the Holy Trinity. We have much to be thankful for.
With love in Christ,
Abbot Tryphon
Thursday November 22, 2018 / November 9, 2018
26th Week after Pentecost. Tone eight.
Martyrs Onesiphorus and Porphyrius of Ephesus (284).
Venerable Matrona, abbess, of Constantinople (492).
Venerable Theoctiste of the isle of Lesbos (881).
New Hieromartyrs Parthenius bishop of Ananiev, Constantine, Demetrius, Nestor, Theodore, Constantine, Victor, Elias priests, Joseph deacon and Hieromartyr Alexis (1937).
Venerable Onesiphorus the Confessor of the Kiev Caves (1148).
Martyr Alexander of Thessalonica (305).
Martyr Anthony of Apamea (5th c.).
Venerable John the Short of Egypt (422).
Venerables Eustolia (610) and Sosipatra (635) of Constantinople.
St. Nectarius (Kephalas), metropolitan of Pentapolis (1920) (Greek).
Icon of the Most Holy Theotokos "The Quick Hearer of Mt. Athos"(10th c.).
Venerable Simeon Metaphrastes of Constantinople (960).
Venerables Euthymius (990) and Neophytus, the Serbians of Mt. Athos (Greek).
Martyrs Narses and Artemonos (Greek).
St. Helladius, monk (Greek).
Martyrs Claudius, Castor, Sempronian, and Nicostrat (Romania).
The Scripture Readings
1 Timothy 3:1-13
Qualifications of Overseers
3 This is a faithful saying: If a man desires the position of a bishop, he desires a good work. 2 A bishop then must be blameless, the husband of one wife, temperate, sober-minded, of good behavior, hospitable, able to teach; 3 not given to wine, not violent, not greedy for money, but gentle, not quarrelsome, not covetous; 4 one who rules his own house well, having his children in submission with all reverence 5 (for if a man does not know how to rule his own house, how will he take care of the church of God?); 6 not a novice, lest being puffed up with pride he fall into the same condemnation as the devil. 7 Moreover he must have a good testimony among those who are outside, lest he fall into reproach and the snare of the devil.
Qualifications of Deacons
8 Likewise deacons must be reverent, not double-tongued, not given to much wine, not greedy for money, 9 holding the mystery of the faith with a pure conscience. 10 But let these also first be tested; then let them serve as deacons, being found blameless. 11 Likewise, their wives must be reverent, not slanderers, temperate, faithful in all things. 12 Let deacons be the husbands of one wife, ruling their children and their own houses well. 13 For those who have served well as deacons obtain for themselves a good standing and great boldness in the faith which is in Christ Jesus.
Luke 13:1-9
Repent or Perish
13 There were present at that season some who told Him about the Galileans whose blood Pilate had mingled with their sacrifices. 2 And Jesus answered and said to them, "Do you suppose that these Galileans were worse sinners than all other Galileans, because they suffered such things? 3 I tell you, no; but unless you repent you will all likewise perish. 4 Or those eighteen on whom the tower in Siloam fell and killed them, do you think that they were worse sinners than all other men who dwelt in Jerusalem? 5 I tell you, no; but unless you repent you will all likewise perish."
The Parable of the Barren Fig Tree
6 He also spoke this parable: "A certain man had a fig tree planted in his vineyard, and he came seeking fruit on it and found none.7 Then he said to the keeper of his vineyard, 'Look, for three years I have come seeking fruit on this fig tree and find none. Cut it down; why does it use up the ground?' 8 But he answered and said to him, 'Sir, let it alone this year also, until I dig around it and fertilize it. 9 And if it bears fruit, well. But if not, after that you can cut it down.' "