Our beloved Norwegian Forest Cat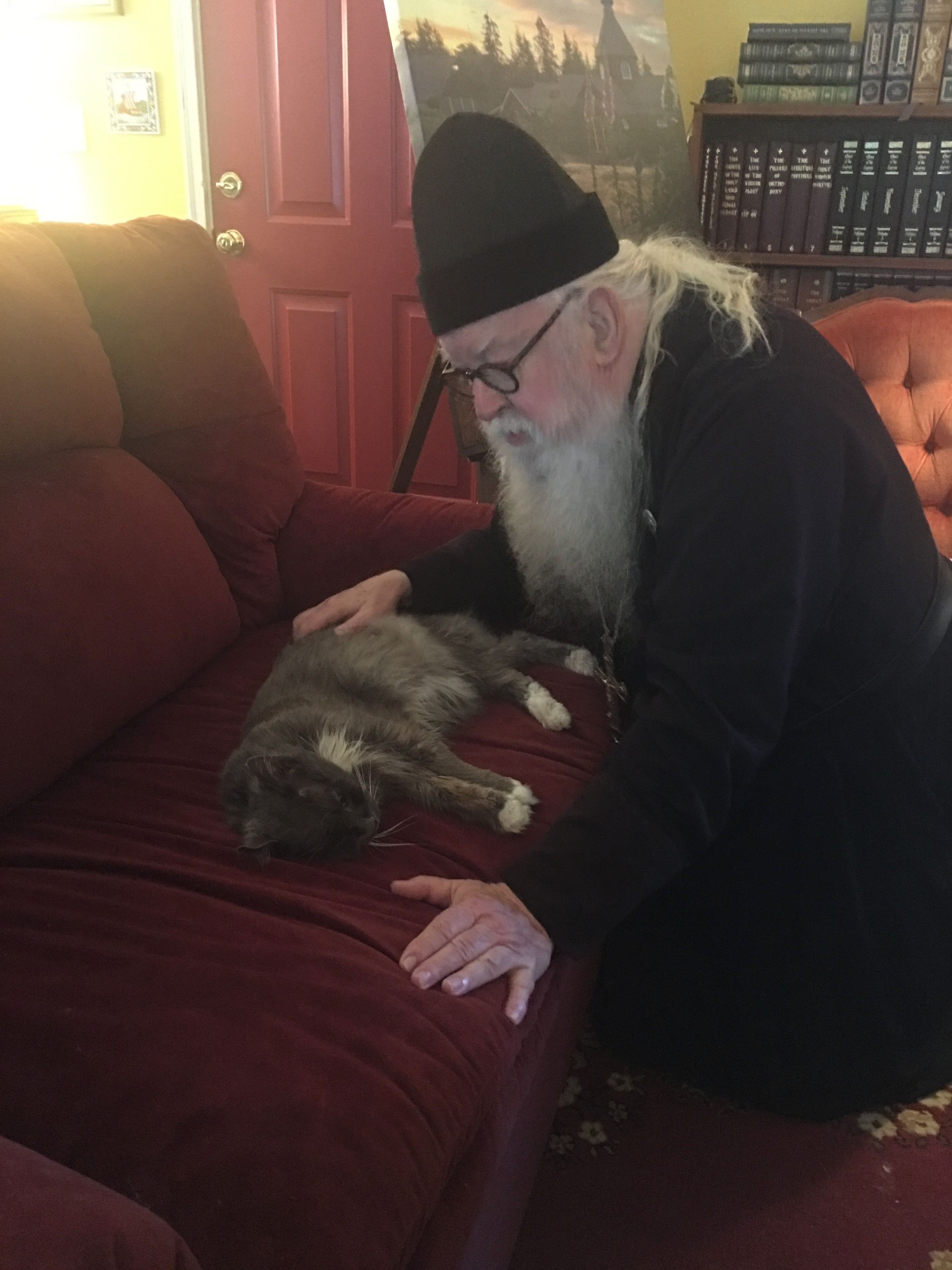 Our beloved Norwegian Forest Cat, Hammi, was most happy when the entire monastic brotherhood gathered together with him in our library/community room. We all considered him an important member of our community, and Hammi was the only cat I knew who had his own facebook fan page, started by a woman who'd met him on a pilgrimage to the monastery (if my memory be correct).
I first met Hammi, a large male cat, as I was walking between our old trailer house (now gone) and my cell, some twenty years ago. We startled one another, but as I reached down with extended hand, he came to me. When I picked him up he began purring immediately, so of course I promptly opened a can of salmon, and he decided, then and there, to adopt us.
A month after his arrival I took him to a vet to be checked out, and was told by the veterinarian this cat had likely been dumped by someone from Seattle, as happens frequently when people want to dispose of a pet, making sure the animal can't find it's way back home (impossible from an island).
I often tell people that Hammi domesticated me, since I'd not previously been a cat fancier, being allergic to cat dander, as I am. Little did I know Hammi was a Norwegian Forest Cat, one of the few breeds that are nonallergic.
Norwegian Forest Cats have a very soft, double fur coat, large paws, sweet facial features, and a very loud purr box. They are known to be personable, for they prefer being around people, as the breed was developed aboard Viking ships.
Hammi greeted everyone who came to the monastery, escorting them up the steps from the parking lot. Everyone who's ever met him, fell in love. I've lost count of the number of people who've stated they never liked cats, but now wanted to get a Norwegian Forest Cat, after meeting Hammi.
Intelligent breed that they are, Hammi  learned to let us know just what he wanted, be it water, food, cuddling, sleep, or just to be left alone. He was a great companion to all of us, even tagging along when one of us took a walk into the forest on the Valaam Trail. He and I had a special game which we both enjoyed. I'd head out on the trail with Hammi running ahead. He'll hide behind a large fern, and even though I knew he'd be waiting ahead, when he jumped out he always managed to scare me. I'd then run ahead and hide behind a tree, jumping out when he walked by. We played this game until the end of the trail!
Our pets teach us so much about unconditional love. I'll never forget the day Hammi spotted our newly arrived Rhode Island Reds for the first time. He was sitting on the veranda of the trapeza with me and some guests. Hammi sat up when he spotted the hens, and started walking toward the chicken coop. I followed him, as did  our guests. As we were standing by one of the hens, Hammi crouched down, ready for the kill. All that was needed was for me to say, "No, Hammi, they are our friends". He turned away and walked back to the veranda, leaving me and the guests alone with the chickens. He never bothered them again.
Over the years, there have been many occasions where we were all out, late at night, calling Hammi. We have Great Horned Owls, raccoons, mountain lions, bears, and who knows what, hunting at night, so we never allowed Hammi to be out after dark. If Hammi was not in for the night, I start praying for him.
I am the one who let Hammi out of the library every morning, always waiting until daylight. Hammi would cuddle in my arms before I fed him, and let him outside, and I always gave him a blessing for the day. If a priest can bless cattle and bee hives, he can certainly bless such a wonderful companion as our Hammi!
As a Norwegian-American, living in  a monastery of Norwegian architecture, it seems clearly evident to me that God sent this Norwegian Forest Cat as a companion for His monks. We named him Hammi, because, from the start, he was a little ham.
We had a veterinarian put our beloved Hammi to sleep, Thursday afternoon. This was a most agonizing moment for all of us, but the vet believed he had a brain tumor, which was likely the reason he became blind and deaf, and unable to withdraw his claws. We finally decided we didn't want our beloved twenty-three year old kitty to suffer any longer. Reader Edward kindly made a casket for him, and we buried him next to one of our apple trees. I am personally going to find it difficult not having my little friend, and his unconditional love and companionship, in my life. I can actually say, my heart is breaking.
With love in Christ,
Abbot Tryphon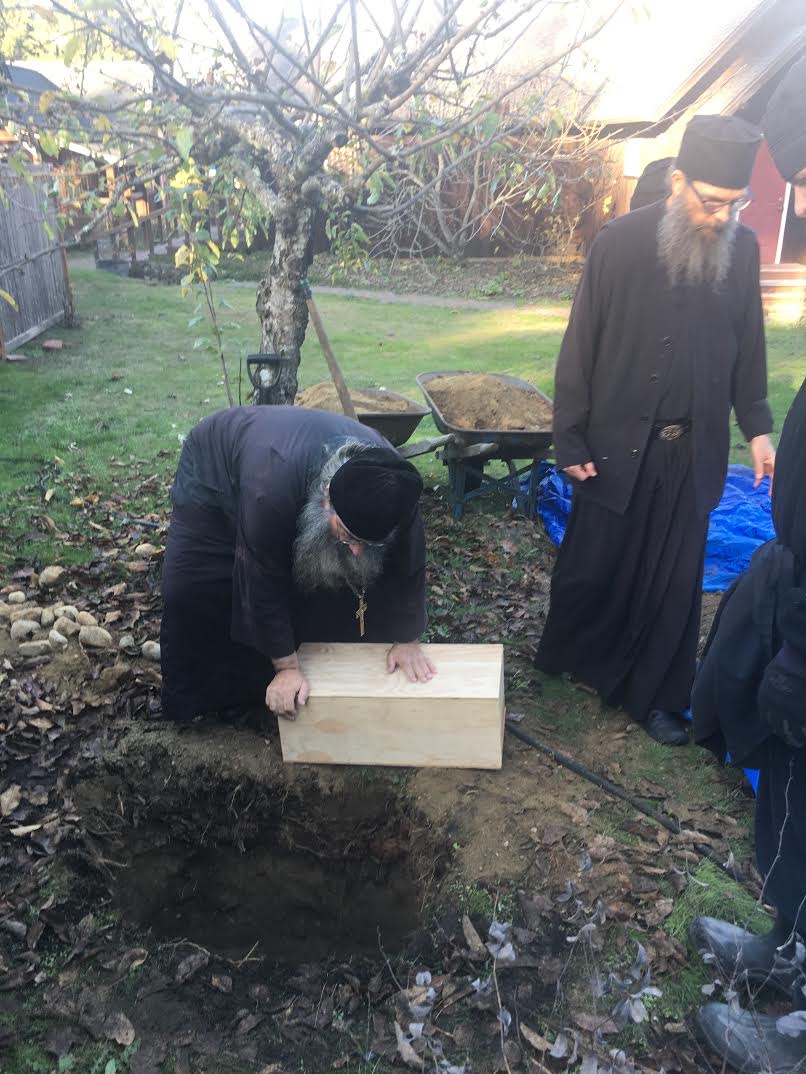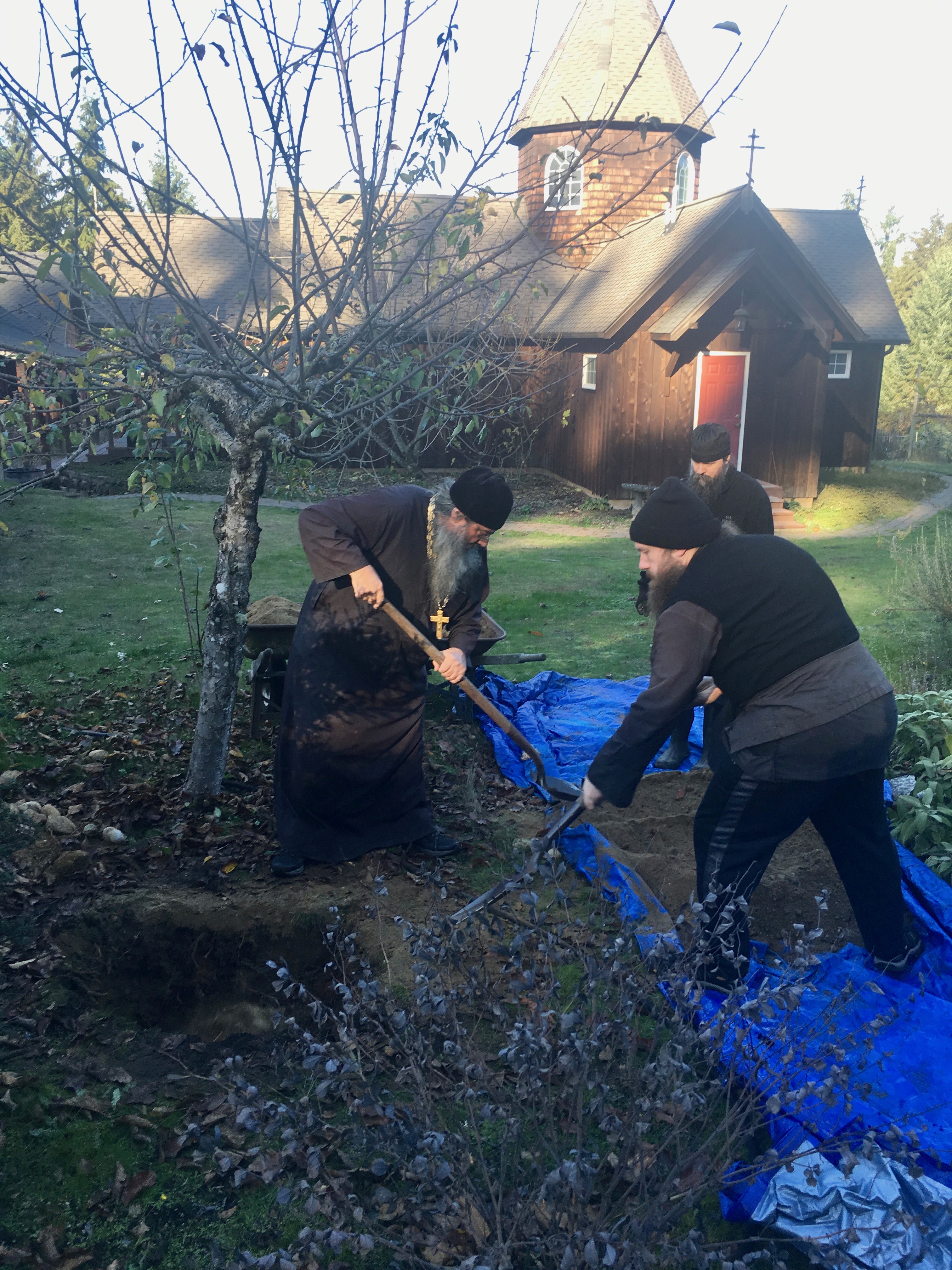 Friday November 9, 2018 / October 27, 2018
24th Week after Pentecost. Tone six.
Fast. By Monastic Charter: Strict Fast (Bread, Vegetables, Fruits)
Martyr Nestor of Thessalonica (306).
New Hieromartyr Sergius (1942).
Venerable Nestor the Chronicler of the Kiev Caves (1114).
Uncovering of the relics (1539) of St. Andrew, prince of Smolensk (1390).
Martyrs Capitolina and Eroteis of Cappadocia (304).
Martyr Mark of the isle of Thasos (304).
St. Cyriacus, patriarch of Constantinople (1390).
St. Procla, wife of Pontius Pilate (1st c.).
New Hieromartyr Seraphim (Samojlovich) bishop of Uglich.
St. Demetrius of Basarbov in Bulgaria (12th-13th c.).
St. Odran, monk of Iona.
St. Ia, virgin of Cornwall.
Hierarch Alexander, Bishop of Guria and Samegrelo (1907) (Georgia)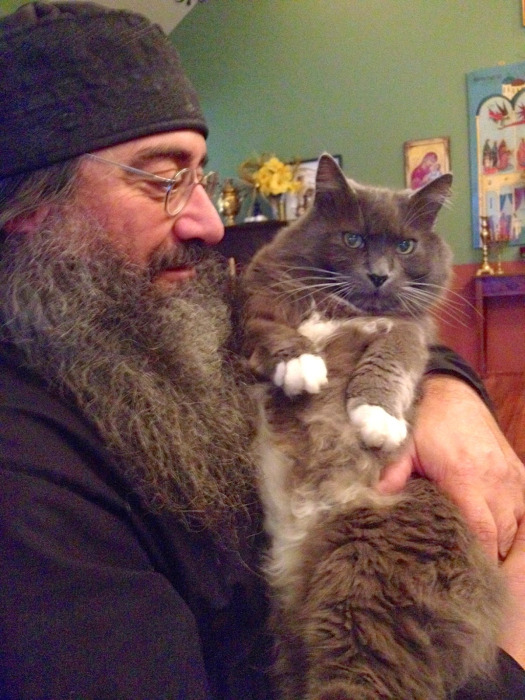 The Scripture Readings
1 Thessalonians 5:9-13
9 For God did not appoint us to wrath, but to obtain salvation through our Lord Jesus Christ, 10 who died for us, that whether we wake or sleep, we should live together with Him.
11 Therefore comfort each other and edify one another, just as you also are doing.
Various Exhortations
12 And we urge you, brethren, to recognize those who labor among you, and are over you in the Lord and admonish you, 13 and to esteem them very highly in love for their work's sake. Be at peace among yourselves.
1 Thessalonians 5:24-28
24 He who calls you is faithful, who also will do it.
25 Brethren, pray for us.
26 Greet all the brethren with a holy kiss.
27 I charge you by the Lord that this epistle be read to all the [b]holy brethren.
28 The grace of our Lord Jesus Christ be with you. Amen.
Luke 11:23-26
23 He who is not with Me is against Me, and he who does not gather with Me scatters.
An Unclean Spirit Returns
24 "When an unclean spirit goes out of a man, he goes through dry places, seeking rest; and finding none, he says, 'I will return to my house from which I came.' 25 And when he comes, he finds it swept and put in order. 26 Then he goes and takes with him seven other spirits more wicked than himself, and they enter and dwell there; and the last state of that man is worse than the first."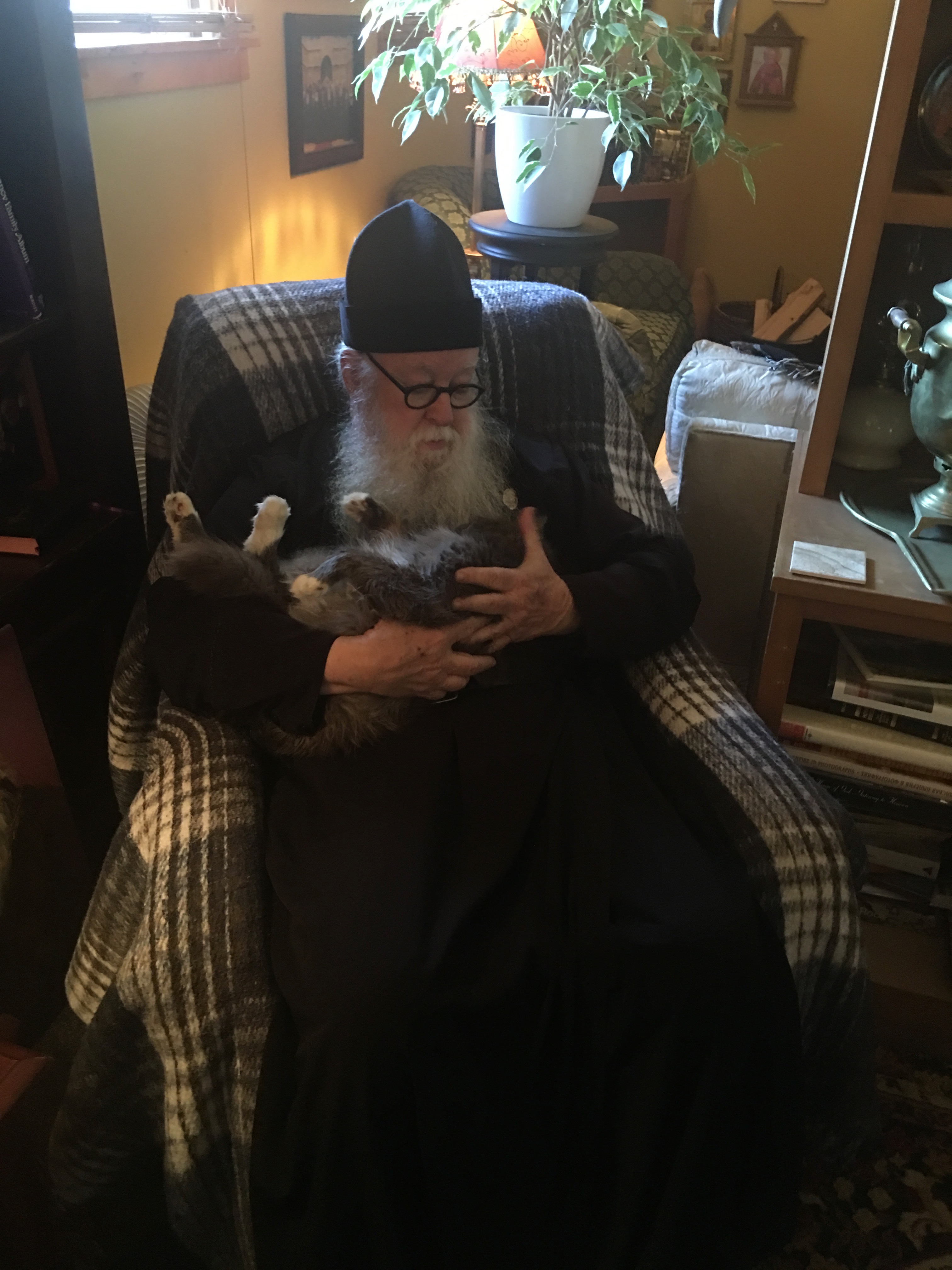 Just after his death, I am holding Hammi for the last time.