The place where heaven and earth are united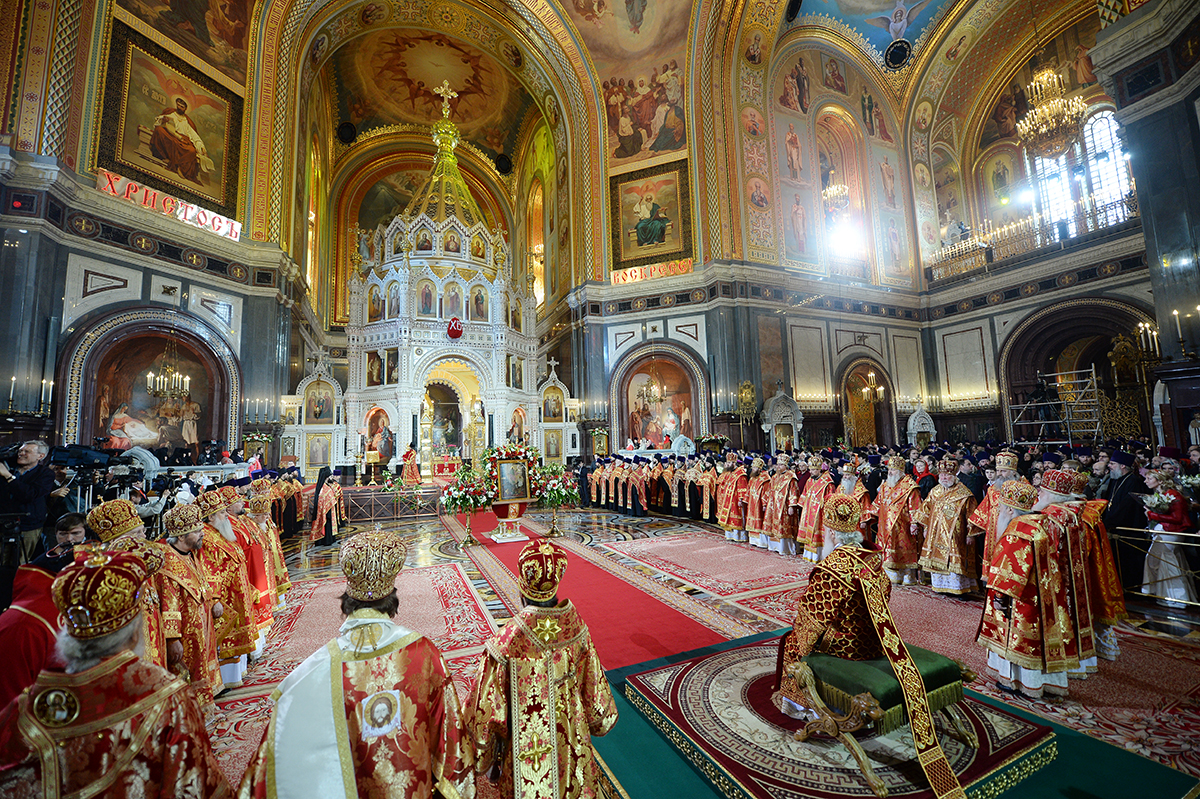 As a priest, I bear the awesome burden of offering the Holy Oblation before the Throne of God, on behalf of all the people who's names are submitted to the monastery, and who are Orthodox. I offer for my spiritual children, and even for the whole world. I commemorate my own beloved parents, Albert and Dolores, who both converted to the Orthodox Faith while in their mid seventies, and who both lived many years in Orthodoxy before reposing in the Lord.
I remember my best friend in college, Russell, who, like myself, converted from Lutheranism to Orthodoxy, and died at the age of 56, in the pastoral care of my friend Archpriest Nicholas Letten. I offer the Holy Oblation for the people who regularly attend the Sunday and Holy Day Liturgies, here in our monastery's temple. I offer, like all priests, the Holy Oblation for our nation, our civil authorities, and our armed forces. I offer the Eucharistic sacrifice for our Holy Patriarch Kirill, our Metropolitan Hilarion, for Archbishop Kyrill of San Francisco, and my Bishop Theodosy of Seattle. I offer the Oblation for all those who have no one to pray for them, and for those who have died, but are forgotten. I offer the Holy Sacrifice for all the clergy of the Seattle area, and for my brother priests of the diocese. I offer the Holy Sacrifice for myself.
As a priest, I am a Servant of the Altar, and when I stand before the holy table I am bound together with every priest who has ever served, and with everyone who has laid down his life for Christ, as a martyr. I am bound to every Christian who has ever lived. I am bound to Christ in His Eternal Kingdom wherein the Heavenly Banquet is eternally celebrated, eternally offered, and am falling down, together with all the heavenly hosts, in worship of the Holy Trinity.
The whole of the cosmos is united together in this heavenly offering, for it is the very source of Life itself. This offering is not simply a "symbol" or "memorial" of something that took place in the past, but a place where we meet the Eternal God, for Christ said, "he who eats of My Body, and drinks of my Blood, has life". Within this celebration we enter into the place where there is neither time, nor space, and we enter into the Heavenly Kingdom, where the Church Triumphant (in heaven) unites with the Church Militant (on earth). We enter into the Communion of Saints!
I am a proponent of frequent communion because we need the Eucharist. It sustains us, encourages us, fortifies us, heals us, transforms us. The early Christians receive whenever they gathered together, for they knew the communal participation in the Eucharistic banquet, was life giving.
With love in Christ,
Abbot Tryphon
Photos: 1) Interior of Christ the Saviour Cathedral in Moscow. 2) Schema-Kid Jonah from Saint Silouan Orthodox Church in Walla Walla, WA. Jonah spent the weekend at the monastery, together with his dad, Patrick.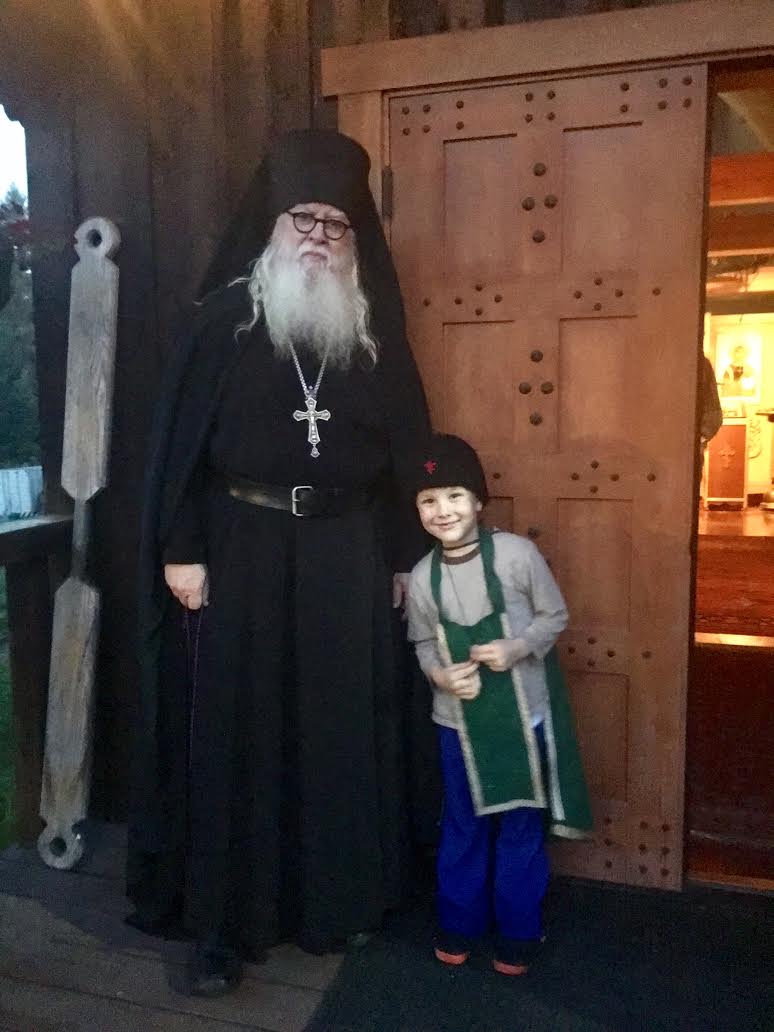 Monday October 22, 2018 / October 9, 2018
22nd Week after Pentecost. Tone four.
Holy Apostle James, son of Alphaeus (1st c.).
Venerable Andronicus and his wife Venerable Athanasia of Egypt (500).
New Hieromartyrs Constantine and Peter priests (1918).
New Hieromartyr Constantine priest (1937).
Uncovering of the relics of Venerable Sebastian Fomin (1997).
Righteous Forefather Abraham (2000 B.C.) and his nephew Righteous Lot.
Martyrs Juventius and Maximus at Antioch (4th c.).
St. Publia the Confessor of Antioch (360).
Venerable Peter of Galatia (9th c.).
Icons of the Most Holy Theotokos "Korsun" (Cherson) and "Assuage My Sorrow".
St. Stephen the New of Serbia (1427) (Serbia).
St. Demetrius, patriarch of Alexandria (231).
Hieromartyr Dionysius (Denis, Denys) of Paris, bishop (258) (Celtic & British).
Venerable Stephen the Blind, king of Serbia (1468).
The Scripture Readings
John 21:15-25
Jesus Restores Peter
15 So when they had eaten breakfast, Jesus said to Simon Peter, "Simon, son of Jonah, do you love Me more than these?"
He said to Him, "Yes, Lord; You know that I love You."
He said to him, "Feed My lambs."
16 He said to him again a second time, "Simon, son of Jonah, do you love Me?"
He said to Him, "Yes, Lord; You know that I love You."
He said to him, "Tend My sheep."
17 He said to him the third time, "Simon, son of Jonah, do you love Me?" Peter was grieved because He said to him the third time, "Do you love Me?"
And he said to Him, "Lord, You know all things; You know that I love You."
Jesus said to him, "Feed My sheep. 18 Most assuredly, I say to you, when you were younger, you girded yourself and walked where you wished; but when you are old, you will stretch out your hands, and another will gird you and carry you where you do not wish."19 This He spoke, signifying by what death he would glorify God. And when He had spoken this, He said to him, "Follow Me."
The Beloved Disciple and His Book
20 Then Peter, turning around, saw the disciple whom Jesus loved following, who also had leaned on His breast at the supper, and said, "Lord, who is the one who betrays You?" 21 Peter, seeing him, said to Jesus, "But Lord, what about this man?"
22 Jesus said to him, "If I will that he remain till I come, what is that to you? You follow Me."
23 Then this saying went out among the brethren that this disciple would not die. Yet Jesus did not say to him that he would not die, but, "If I will that he remain till I come, what is that to you?"
24 This is the disciple who testifies of these things, and wrote these things; and we know that his testimony is true.
25 And there are also many other things that Jesus did, which if they were written one by one, I suppose that even the world itself could not contain the books that would be written. Amen.
Colossians 2:13-20
13 And you, being dead in your trespasses and the uncircumcision of your flesh, He has made alive together with Him, having forgiven you all trespasses, 14 having wiped out the handwriting of requirements that was against us, which was contrary to us. And He has taken it out of the way, having nailed it to the cross. 15 Having disarmed principalities and powers, He made a public spectacle of them, triumphing over them in it.
16 So let no one judge you in food or in drink, or regarding a festival or a new moon or sabbaths, 17 which are a shadow of things to come, but the substance is of Christ. 18 Let no one cheat you of your reward, taking delight in false humility and worship of angels, intruding into those things which he has not seen, vainly puffed up by his fleshly mind, 19 and not holding fast to the Head, from whom all the body, nourished and knit together by joints and ligaments, grows with the increase that is from God.
20 Therefore, if you died with Christ from the basic principles of the world, why, as though living in the world, do you subject yourselves to regulations—
Luke 7:36-50
A Sinful Woman Forgiven
36 Then one of the Pharisees asked Him to eat with him. And He went to the Pharisee's house, and sat down to eat. 37 And behold, a woman in the city who was a sinner, when she knew that Jesus sat at the table in the Pharisee's house, brought an alabaster flask of fragrant oil, 38 and stood at His feet behind Him weeping; and she began to wash His feet with her tears, and wiped them with the hair of her head; and she kissed His feet and anointed them with the fragrant oil. 39 Now when the Pharisee who had invited Him saw this, he spoke to himself, saying, "This Man, if He were a prophet, would know who and what manner of woman this is who is touching Him, for she is a sinner."
40 And Jesus answered and said to him, "Simon, I have something to say to you."
So he said, "Teacher, say it."
41 "There was a certain creditor who had two debtors. One owed five hundred denarii, and the other fifty. 42 And when they had nothing with which to repay, he freely forgave them both. Tell Me, therefore, which of them will love him more?"
43 Simon answered and said, "I suppose the one whom he forgave more."
And He said to him, "You have rightly judged." 44 Then He turned to the woman and said to Simon, "Do you see this woman? I entered your house; you gave Me no water for My feet, but she has washed My feet with her tears and wiped them with the hair of her head. 45 You gave Me no kiss, but this woman has not ceased to kiss My feet since the time I came in. 46 You did not anoint My head with oil, but this woman has anointed My feet with fragrant oil. 47 Therefore I say to you, her sins, which are many, are forgiven, for she loved much. But to whom little is forgiven, the same loves little."
48 Then He said to her, "Your sins are forgiven."
49 And those who sat at the table with Him began to say to themselves, "Who is this who even forgives sins?"
50 Then He said to the woman, "Your faith has saved you. Go in peace."