Thank you for your continued prayerful and financial support.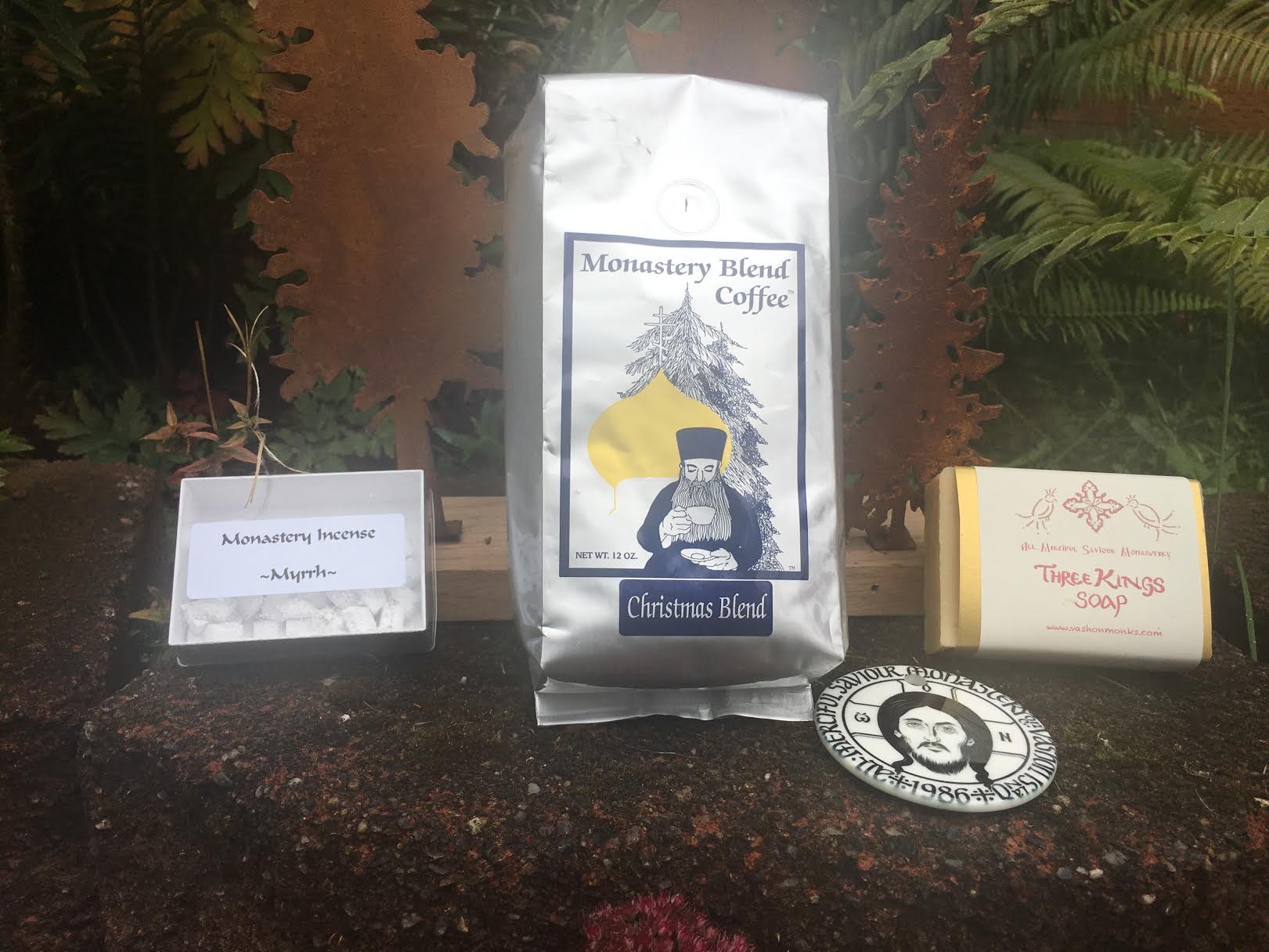 Now you can support us and shop for Christmas at the same time! Click on this link to see what we are offering for Nativity season. Soaps, ornaments and coffee all make great gifts!
All-Merciful Saviour Monastery is a non-profit, 501 C3 organization, under IRS regulations. All donations are therefore tax deductible. We support ourselves through the sales of Monastery Blend Coffee, our hand made soaps, and an on-line gift shop. We grow as many of our fruits and vegetables as we can, raise bees, and raise ducks and chickens for fresh, organic eggs.
The monastery is also dependent on the generosity of our friends, supporters, and benefactors.
Donations can be made directly to the monastery through PayPal, or you may send donations to:
All-Merciful Saviour Monastery
PO Box 2420
Vashon Island, WA 98070-2420 USA
Thank you, and may God bless you,
Abbot Tryphon
Friday October 5, 2018 / September 22, 2018
19th Week after Pentecost. Tone one.
Fast. By Monastic Charter: Strict Fast (Bread, Vegetables, Fruits)
Prophet Jonah (9th c. B.C.).
Hieromartyr Phocas, bishop of Sinope (117).
Venerable Jonah the Presbyter (9th c.), father of St. Theophanes the Hymnographer and St. Theodore Graptus.
Blessed Parasceve od Diveevo (1915).
New Martyr Benjamin bishop of Romanovsk (1930).
Venerable Jonah, abbot of Yash Lake (1589).
Venerable Macarius, abbot of Zhabyn (1623).
Synaxis of All Saints of Tula.
Martyr Phocas the Gardener of Sinope (320).
St. Peter the Tax-collector of Constantinople (6th c.).
Hieromartyr Theodosius of Brazsk (1694) (Romania).
The 26 Martyrs of Zographou Monastery, Mt. Athos, martyred by the Latins (1284) (Greek).
Martyrs Isaac and Martin.
Venerable Theophanes the Silent, recluse of the Kiev Caves.
Venerable Cosmas, desert-dweller of Zographou, Mt. Athos (1323) (Greek).
Hieromartyr Emmeram, bishop in Gaul, martyred at Regensburg (690) (Bavaria)..
Icon of the Most Holy Theotokos "She Who is Quick to Hear" (14th C).
The Scripture Readings
Philippians 1:27-2:4
Striving and Suffering for Christ
27 Only let your conduct be worthy of the gospel of Christ, so that whether I come and see you or am absent, I may hear of your affairs, that you stand fast in one spirit, with one mind striving together for the faith of the gospel, 28 and not in any way terrified by your adversaries, which is to them a proof of perdition, but to you of salvation, and that from God. 29 For to you it has been granted on behalf of Christ, not only to believe in Him, but also to suffer for His sake, 30 having the same conflict which you saw in me and now hear is in me.
Unity Through Humility
2 Therefore if there is any consolation in Christ, if any comfort of love, if any fellowship of the Spirit, if any affection and mercy, 2 fulfill my joy by being like-minded, having the same love, being of one accord, of one mind. 3 Let nothing be done through selfish ambition or conceit, but in lowliness of mind let each esteem others better than himself. 4 Let each of you look out not only for his own interests, but also for the interests of others.
Luke 4:22-30
22 So all bore witness to Him, and marveled at the gracious words which proceeded out of His mouth. And they said, "Is this not Joseph's son?"
23 He said to them, "You will surely say this proverb to Me, 'Physician, heal yourself! Whatever we have heard done in Capernaum, do also here in Your country.' " 24 Then He said, "Assuredly, I say to you, no prophet is accepted in his own country. 25 But I tell you truly, many widows were in Israel in the days of Elijah, when the heaven was shut up three years and six months, and there was a great famine throughout all the land; 26 but to none of them was Elijah sent except to Zarephath, in the region of Sidon, to a woman who was a widow. 27 And many lepers were in Israel in the time of Elisha the prophet, and none of them was cleansed except Naaman the Syrian."
28 So all those in the synagogue, when they heard these things, were filled with wrath, 29 and rose up and thrust Him out of the city; and they led Him to the brow of the hill on which their city was built, that they might throw Him down over the cliff. 30 Then passing through the midst of them, He went His way.