The importance of the desert to the inner life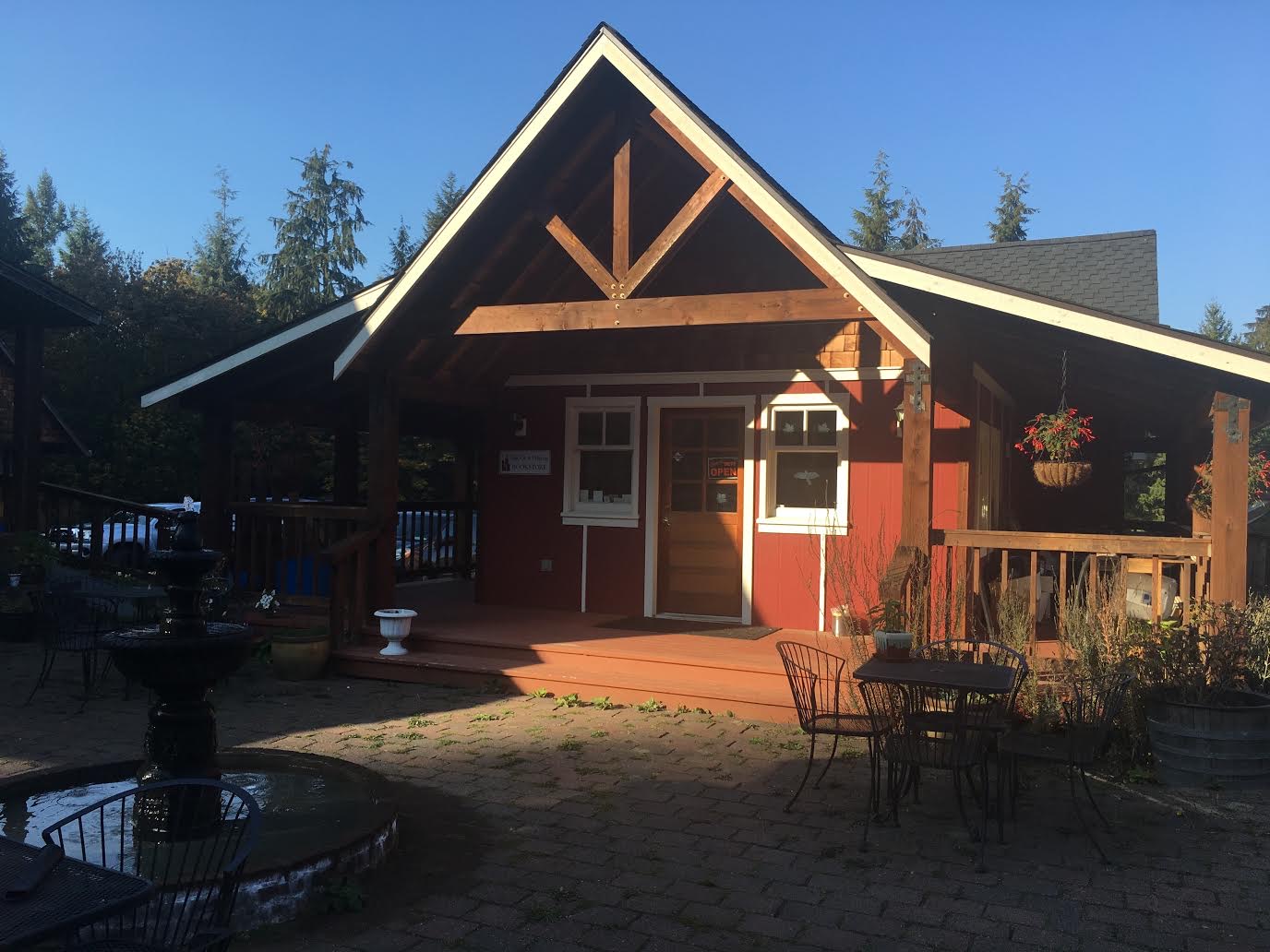 The Russian word, "Poustinia", means "desert", and the importance of the poustinia to the inner life can not be dismissed. If we are to hear the voice of God speaking to us, we must listen to His silence. If we are to learn to hear His voice, we must learn to be silent. Without recollection and silence, the inner life is impossible, and we will not make spiritual progress.
The desert must be a part of our daily living, for without entering into the desert of the heart, nothing can be gained. With the noise of the Internet, and the world of computers, iPods, laptops, and iPhones, the noise of the world threatens our soul like nothing in the previous history of humanity. The world of cybernetics has its place, but we must not allow it to overwhelm the spiritual dimension of our humanity.
With love in Christ,
Abbot Tryphon
Photo: The monastery's Way of a Pilgrim Bookshop.
Sunday October 21, 2018 / October 8, 2018
21st Sunday after Pentecost. Tone four.
Commemoration of the Holy Fathers of the Seventh Ecumenical Council (787).
Venerable Tryphon, abbot, of Vyatka (1612). (My Patronal Saint).
Venerable Pelagia the Penitent of the Mount of Olives (457).
New Hieromartyrs Demetrius archbishop of Mozhaysk and with him John deacon, Hieromartyr Ambrosius and Pakhomius, Virgin-martyr Tatiana, Martyr Nicholas, Virgin-martyrs Mary and Nadezhda (1937).
New Hieromartyr Jonah bishop of Velizhsk, Hieromartyr Seraphim, New Hieromartyrs Peter, Basil, Paul, Peter, Vladimir priests, Martyrs Victor, John, Nicholas and Virgin-martyr Elizabeth (1937).
New Hieromartyr Barlaam (end of 1930th).
Venerable Dositheus, abbot of Verkneostrov (Pskov) (1482).
Synaxis of All Saints of Vyatka.
Venerable Thais (Taisia) of Egypt (4th c.).
Virgin-martyr Pelagia of Antioch (303).
New Monk-martyr Ignatius of Bulgaria and Mt. Athos (1814).
St. Anthony, bishop of Novgorod (1232).
St. Keyene, hermitess of Cornwall.
St. Iwi, hierodeacon of Lindisfarne.
Translation of the relics of St. Aidan, bishop of Lindisfarne and enlightener of Northumria.
Translation of the relics of St. Ceolfrith, abbot of Wearmouth and Jarrow.
St. Triduana, nun of Restalrig.
The Scripture Readings
John 21:1-14
Breakfast by the Sea
21 After these things Jesus showed Himself again to the disciples at the Sea of Tiberias, and in this way He showed Himself: 2 Simon Peter, Thomas called the Twin, Nathanael of Cana in Galilee, the sons of Zebedee, and two others of His disciples were together. 3 Simon Peter said to them, "I am going fishing."
They said to him, "We are going with you also." They went out and immediately got into the boat, and that night they caught nothing. 4 But when the morning had now come, Jesus stood on the shore; yet the disciples did not know that it was Jesus. 5 Then Jesus said to them, "Children, have you any food?"
They answered Him, "No."
6 And He said to them, "Cast the net on the right side of the boat, and you will find some." So they cast, and now they were not able to draw it in because of the multitude of fish.
7 Therefore that disciple whom Jesus loved said to Peter, "It is the Lord!" Now when Simon Peter heard that it was the Lord, he put on his outer garment (for he had removed it), and plunged into the sea. 8 But the other disciples came in the little boat (for they were not far from land, but about two hundred cubits), dragging the net with fish. 9 Then, as soon as they had come to land, they saw a fire of coals there, and fish laid on it, and bread. 10 Jesus said to them, "Bring some of the fish which you have just caught."
11 Simon Peter went up and dragged the net to land, full of large fish, one hundred and fifty-three; and although there were so many, the net was not broken. 12 Jesus said to them, "Come and eat breakfast." Yet none of the disciples dared ask Him, "Who are You?"—knowing that it was the Lord. 13 Jesus then came and took the bread and gave it to them, and likewise the fish.
14 This is now the third time Jesus showed Himself to His disciples after He was raised from the dead.
Galatians 2:16-20
16 knowing that a man is not justified by the works of the law but by faith in Jesus Christ, even we have believed in Christ Jesus, that we might be justified by faith in Christ and not by the works of the law; for by the works of the law no flesh shall be justified.
17 "But if, while we seek to be justified by Christ, we ourselves also are found sinners, is Christ therefore a minister of sin? Certainly not! 18 For if I build again those things which I destroyed, I make myself a transgressor. 19 For I through the law died to the law that I might live to God. 20 I have been crucified with Christ; it is no longer I who live, but Christ lives in me; and the life which I now live in the flesh I live by faith in the Son of God, who loved me and gave Himself for me.
Luke 7:11-16
Jesus Raises the Son of the Widow of Nain
11 Now it happened, the day after, that He went into a city called Nain; and many of His disciples went with Him, and a large crowd. 12 And when He came near the gate of the city, behold, a dead man was being carried out, the only son of his mother; and she was a widow. And a large crowd from the city was with her. 13 When the Lord saw her, He had compassion on her and said to her, "Do not weep." 14 Then He came and touched the open coffin, and those who carried himstood still. And He said, "Young man, I say to you, arise." 15 So he who was dead sat up and began to speak. And He presented him to his mother.
16 Then fear came upon all, and they glorified God, saying, "A great prophet has risen up among us"; and, "God has visited His people."