"Suffer little children to come unto me, for of such is the Kingdom of God." (Luke 18:16)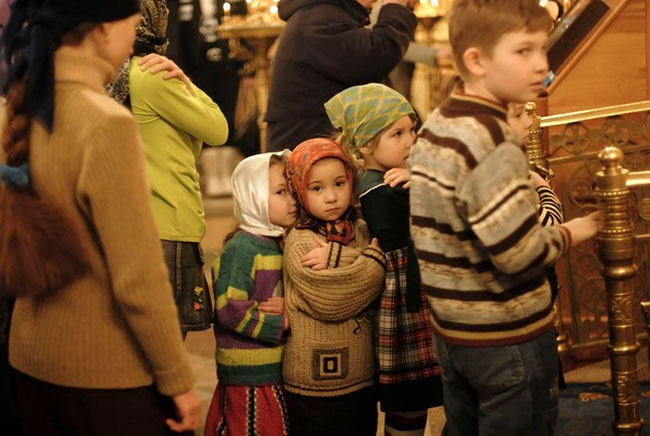 If Orthodox parents think baptizing their children, bringing them to the Divine Services, and making sure they receive the Holy Mysteries, is enough, they are wrong. The truth is that we deprive our children of the fullness of our Orthodox Faith if we decide they will absorb Orthodoxy by osmosis. If their little selves are in church, but in their restlessness they demonstrate they'd rather be anywhere else but in church, we will have failed them.
We may choose to ignore their restlessness in the temple, and dismiss their behavior, even though it is likely distracting other worshippers, but we must admit we wouldn't allow our children to misbehave in the home of good friends. Nor would we allow them to continue disrupting the classroom, should the teacher bring their bad behavior to our attention. Yet we turn a blind eye to bad behavior that is distracting to other worshippers.
Furthermore, when they are older, children who have not been taught proper behavior in the temple of the Lord, will leave the Church, for they will have never learned to feel the presence of the holy. When they leave Orthodoxy, it is ourselves who will one day be answerable to God for their departure. That the world calls us to indulge our children, and starve their souls while feeding their egos, the Church calls us to allow them to suffer hardship for the sake of their eternal souls. We must not be afraid to allow our children to suffer temporary aggravation, while the world encroaches further into their little lives.
It is our responsibility to instruct our children by our example. They must see in our every thought, word and deed, the reality of God, and the holiness of His temple. We must teach our children basic civilized behavior, without which any further education, either secular or religious, will be impossible.
If we remember that Divine Liturgy should be the culmination of all the prayer and worship that takes place in the home during the week, we must not allow Sunday to be the only day our family gives a thought to God, for to do so will only confuse them, and the church services will only seem out of place to the rest of their week. We dare not let them think that a show of piety is a once a week practice, for to do so will leave them without a personal faith of their own.
A child may see that expanse of carpet in the temple as nothing different then the space in front of the TV at home, but we parents must instill in them, at the earliest opportunity, the importance of that sacred place, and impart to them, out of love, a sense of reverence and attentiveness to the presence of God. And, for the sake of other worshippers, we must do our very best to discourage any behavior in our children that leads our fellow Orthodox Christians to distraction.
Each parent needs to determine at what point their child has become too noisy, and consider removing them for a short time. Furthermore, a parent must not expect other worshippers to take care of their child. As well, parents must not allow their children to speak to, or play with, other children, while in the service. They need to be taught, at a very young age, that the Liturgy is the place we find love and joy, collectively, while focusing on the holy.
If we allow our children to bring along a favorite toy, it should be limited to a teddy bear, or any other toy that will not cause distraction for other people, should the toy be dropped on the floor. And the good parent must especially beware of provoking resentment in children whose parents don't allow them to play in church, thus undermining their discipline. We don't want to hear our child say, "Jimmy does it, so why can't I?"
Every parent should be aware that success with our children's good behavior in church, has it's roots in the practice that takes place in the home. Evening prayer, as a family, before our home icon corner, is the perfect place where children learn to stand and be quiet and reverent. Explain that your home icon corner is like a "branch" from the main altar at church, and that that altar deserves even more respect. There are relics embedded in the wooden cross under our altar, and it has been consecrated by our Bishop, who told us that an angel stands there constantly in worship. We adults, as well as our children, need to treat the church, and especially the altar area, with great respect.
Our children may object to our churchly expectations, but they learn to do many things they don't want, because parents insist on them: brushing teeth, attending school, doing homework, having a regular bedtime, and not eating cookies before dinner. When parents have a firm reverence for the church and insist on these standards, children will meet them.
With love in Christ,
Abbot Tryphon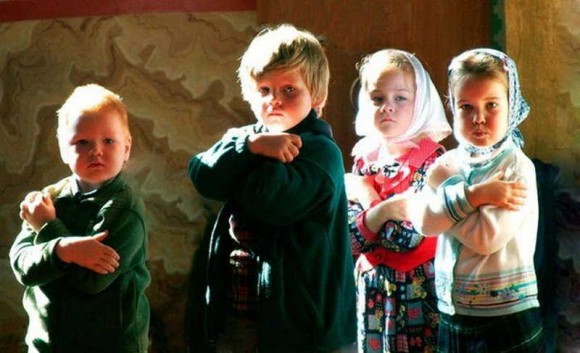 Friday October 19, 2018 / October 6, 2018
21st Week after Pentecost. Tone three.
Fast. Food with Oil
Holy and Glorious Apostle Thomas (1st c.).
New Hieromartyr John priest (1937).
Virgin-martyr Eroteis of Cappadocia.
New Martyr Macarius at Kion in Bithynia (Mt. Athos) (1590) (Greek).
Icon of the Most Holy Theotokos "O All-Hymned Mother".
Venerable Cindeus of Cyprus, monk (Greek).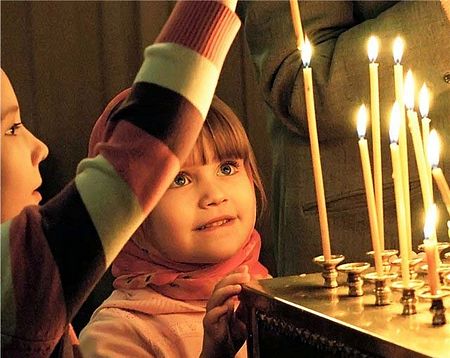 The Scripture Readings
John 21:15-25
Jesus Restores Peter
15 So when they had eaten breakfast, Jesus said to Simon Peter, "Simon, son of Jonah, do you love Me more than these?"
He said to Him, "Yes, Lord; You know that I love You."
He said to him, "Feed My lambs."
16 He said to him again a second time, "Simon, son of Jonah, do you love Me?"
He said to Him, "Yes, Lord; You know that I love You."
He said to him, "Tend My sheep."
17 He said to him the third time, "Simon, son of Jonah, do you love Me?" Peter was grieved because He said to him the third time, "Do you love Me?"
And he said to Him, "Lord, You know all things; You know that I love You."
Jesus said to him, "Feed My sheep. 18 Most assuredly, I say to you, when you were younger, you girded yourself and walked where you wished; but when you are old, you will stretch out your hands, and another will gird you and carry you where you do not wish."19 This He spoke, signifying by what death he would glorify God. And when He had spoken this, He said to him, "Follow Me."
The Beloved Disciple and His Book
20 Then Peter, turning around, saw the disciple whom Jesus loved following, who also had leaned on His breast at the supper, and said, "Lord, who is the one who betrays You?" 21 Peter, seeing him, said to Jesus, "But Lord, what about this man?"
22 Jesus said to him, "If I will that he remain till I come, what is that to you? You follow Me."
23 Then this saying went out among the brethren that this disciple would not die. Yet Jesus did not say to him that he would not die, but, "If I will that he remain till I come, what is that to you?"
24 This is the disciple who testifies of these things, and wrote these things; and we know that his testimony is true.
25 And there are also many other things that Jesus did, which if they were written one by one, I suppose that even the world itself could not contain the books that would be written. Amen.
Colossians 2:1-7
Not Philosophy but Christ
2 For I want you to know what a great conflict I have for you and those in Laodicea, and for as many as have not seen my face in the flesh, 2 that their hearts may be encouraged, being knit together in love, and attaining to all riches of the full assurance of understanding, to the knowledge of the mystery of God, both of the Father and of Christ, 3 in whom are hidden all the treasures of wisdom and knowledge.
4 Now this I say lest anyone should deceive you with persuasive words. 5 For though I am absent in the flesh, yet I am with you in spirit, rejoicing to see your good order and the steadfastness of your faith in Christ.
6 As you therefore have received Christ Jesus the Lord, so walk in Him, 7 rooted and built up in Him and established in the faith, as you have been taught, abounding in it with thanksgiving.
Luke 7:31-35
31 And the Lord said, "To what then shall I liken the men of this generation, and what are they like? 32 They are like children sitting in the marketplace and calling to one another, saying:
'We played the flute for you,
And you did not dance;
We mourned to you,
And you did not weep.'
33 For John the Baptist came neither eating bread nor drinking wine, and you say, 'He has a demon.' 34 The Son of Man has comeeating and drinking, and you say, 'Look, a glutton and a winebibber, a friend of tax collectors and sinners!' 35 But wisdom is justified by all her children."