A monastic as a police and fire chaplain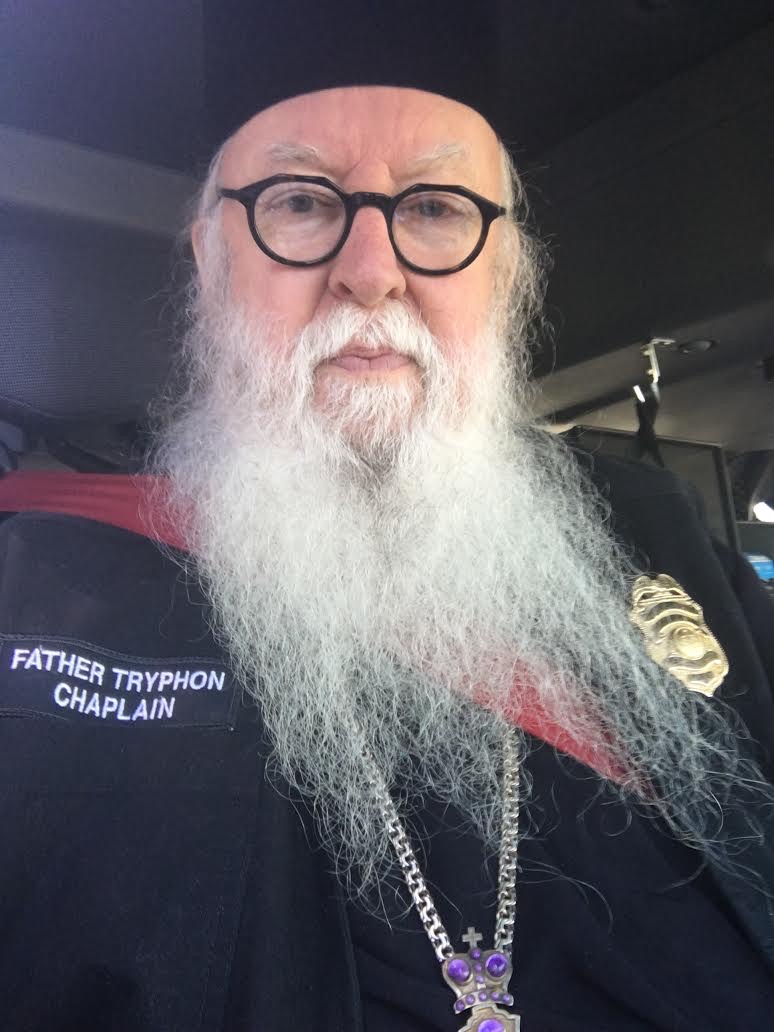 It has been a great blessing for me to have been serving as a police and fire chaplain for the past eleven years. My interest in chaplaincy began when I was asked by a number of inmates to serve as their Orthodox chaplain in one of the state's prisons. Spending one full day a month in two of the prisons in Monroe, WA., I managed to make a number of friends among the guards. Because such open friendships could be dangerous, should inmates see the chaplain as a friend of the enemy, I had to keep my contact with guards to a minimum. After eight years of serving the spiritual needs of inmates, I decided that I wanted to serve those in law enforcement and fire service.
Vashon Island's Fire Department, had not had their own chaplain in some thirty years. When you live on an island that is accessible only by ferry, there were many occasions where a chaplain was needed, but none was available, especially in the dead of night when the boats were not running. Following a number of tragic events on the island, I finally offered my services and went through a formal week long training through the Police Chaplains Academy at the Washington State Criminal Justice Center, where many of our police are trained, and became a certified chaplain.
Hundreds of hours of additional training, and membership in the Federation of Fire Chaplains and the International Conference of Police Chaplains, has prepared me for priestly service to the whole of this island community in ways that I would never have imagined.
In an age of increasing lawlessness, it is a huge blessing for me to have been called to serve men and women who selflessly place their lives on the line for the rest of us, each and every day. I've ridden with medics who've saved lives right in front of my eyes. I've been on board fire trucks, witnessing firefighters risk their lives to save the homes of fellow islanders. I've witnessed Sheriff Department deputies give comfort to the widow of a murder victim.
I am grateful to God for the many friendships I've formed over these past sixteen years, with police and fire fighters. I've shed tears at the funerals of too many officers. I pray daily for the safety and well being of those who serve our communities so gallantly, and ask my readers to unite their prayers with mine.
With love in Christ,
Abbot Tryphon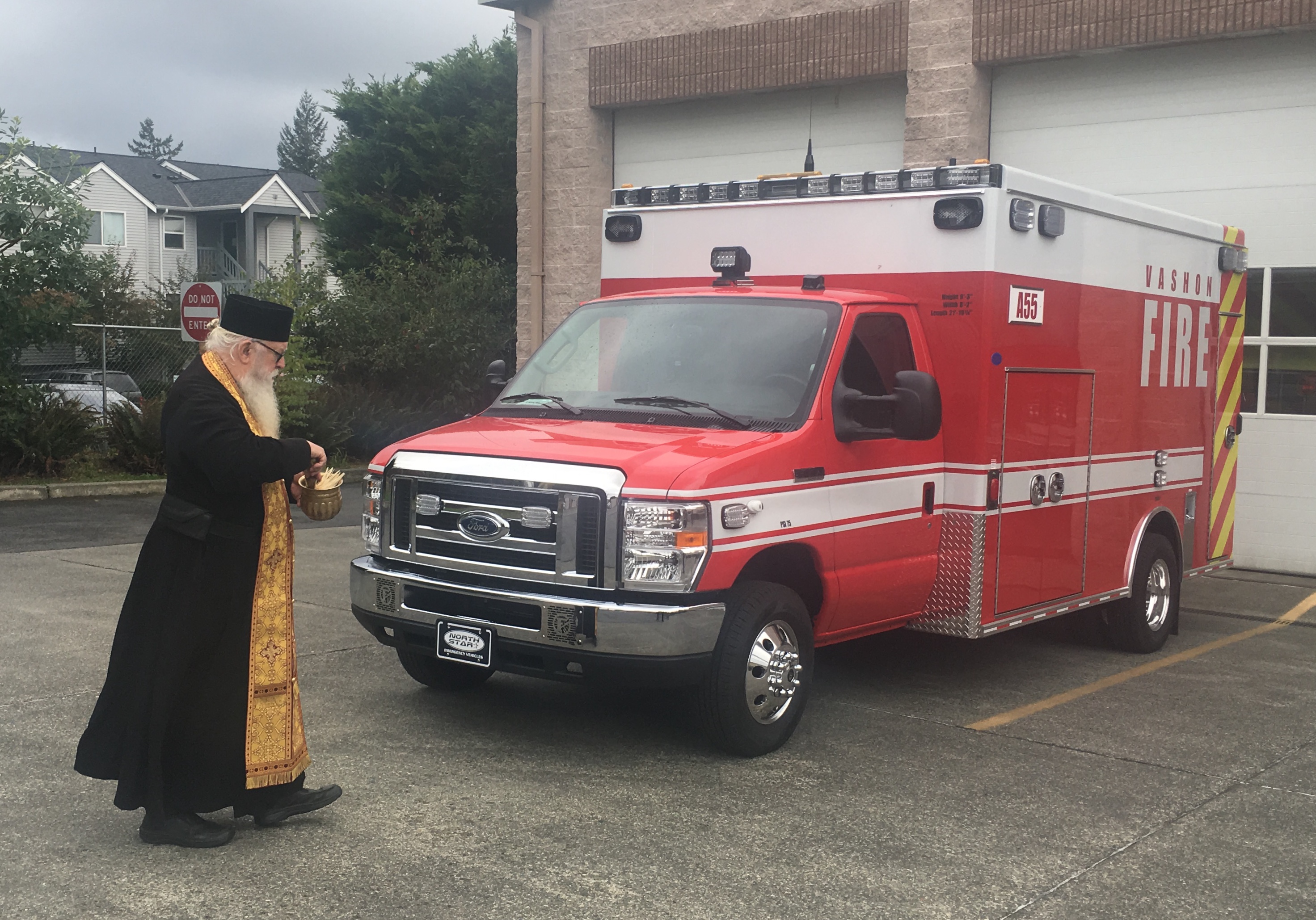 Sunday October 28, 2018 / October 15, 2018
22nd Sunday after Pentecost. Tone five.
Venerable Euthymius the New of Thessalonica, monk of Mt. Athos (889).
Martyr Lucian, presbyter of Greater Antioch (312).
New Hieromartyr Simeon priest (1918).
New Hieromartyr Valerian Novitsky, priest of Telyadovich (1930).
New Hieromartyr Demetrius priest (1942).
St. Athanasius (Sakharov) the Confessor, bishop of Kovrov (1962).
Synaxis of Twenty-three New Martyrs of Belorussia: archbisop Seraphim (Shakhmut), archpriest Alexander Shalay, archpriest Vladimir Zubkov, archpriest Vladimir Izmajlov, archpriest Vladimir Pasternatsky, archpriest Vladimir Khirasko, archpriest Demetrius Pavsky, archpriest John Voronec, archpriest Leonod Biriukovich, archpriest Mathew Kritsuk, archpriest Michael Novitsky, archpriest Michael Polishevsky, archpriest Porfiry Rubanovich, archpriest Sergius Rodakovsky, priest Valerian Novitsky, priest Vladimir Taliush, priest Vladimir Khrischanovich, priest Demetrius Polyshevsky, priest John Vecherko, priest John Pankratovich, priest Nicholas Matskevich, priest Peter Grudinsky and deacon Nicholas Vasiukovich.
St. John, bishop of Suzdal (1385).
Hieromartyr Lucian, presbyter of the Kiev Caves (1243).
Martyrs Sarbelus and Bebai (Barbea) of Edessa (2nd c.).
St. Sabinus, bishop of Catania (760).
Icon of the Most Holy Theotokos "She Who Ripens the Grain"(19th c.).
St. Dionysius, archbishop of Suzdal (1373).
St. Barses the Confessor, bishop of Edessa (378).
St. Thecla, abbess of Ochsenfurt ( 790) (Germany).
St. Aurelia of Strasburg (Alsace) (383) (Gaul).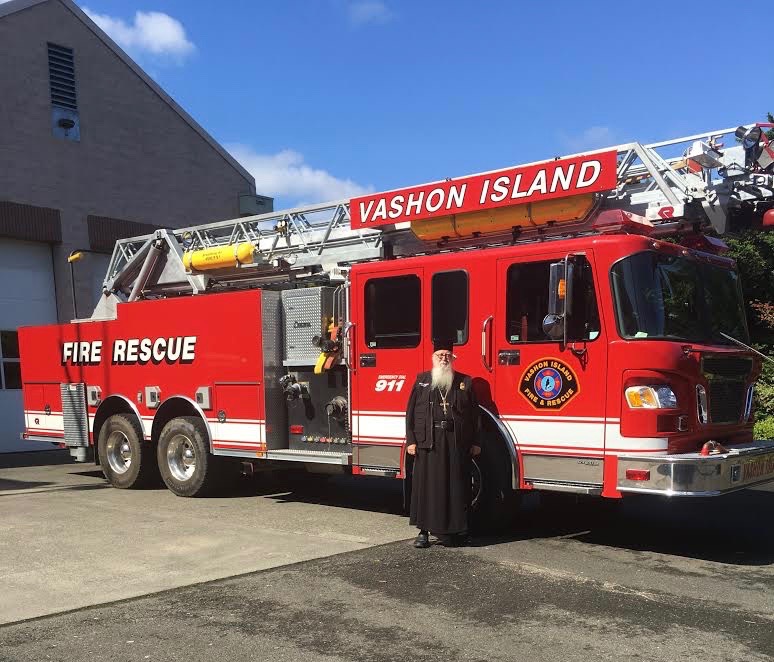 The Scripture Readings
John 21:15-25
Jesus Restores Peter
15 So when they had eaten breakfast, Jesus said to Simon Peter, "Simon, son of Jonah, do you love Me more than these?"
He said to Him, "Yes, Lord; You know that I love You."
He said to him, "Feed My lambs."
16 He said to him again a second time, "Simon, son of Jonah, do you love Me?"
He said to Him, "Yes, Lord; You know that I love You."
He said to him, "Tend My sheep."
17 He said to him the third time, "Simon, son of Jonah, do you love Me?" Peter was grieved because He said to him the third time, "Do you love Me?"
And he said to Him, "Lord, You know all things; You know that I love You."
Jesus said to him, "Feed My sheep. 18 Most assuredly, I say to you, when you were younger, you girded yourself and walked where you wished; but when you are old, you will stretch out your hands, and another will gird you and carry you where you do not wish."19 This He spoke, signifying by what death he would glorify God. And when He had spoken this, He said to him, "Follow Me."
The Beloved Disciple and His Book
20 Then Peter, turning around, saw the disciple whom Jesus loved following, who also had leaned on His breast at the supper, and said, "Lord, who is the one who betrays You?" 21 Peter, seeing him, said to Jesus, "But Lord, what about this man?"
22 Jesus said to him, "If I [g]will that he remain till I come, what is that to you? You follow Me."
23 Then this saying went out among the brethren that this disciple would not die. Yet Jesus did not say to him that he would not die, but, "If I will that he remain till I come, what is that to you?"
24 This is the disciple who testifies of these things, and wrote these things; and we know that his testimony is true.
25 And there are also many other things that Jesus did, which if they were written one by one, I suppose that even the world itself could not contain the books that would be written. Amen.
Galatians 6:11-18
Glory Only in the Cross
11 See with what large letters I have written to you with my own hand! 12 As many as desire to make a good showing in the flesh, these would compel you to be circumcised, only that they may not suffer persecution for the cross of Christ. 13 For not even those who are circumcised keep the law, but they desire to have you circumcised that they may boast in your flesh. 14 But God forbid that I should boast except in the cross of our Lord Jesus Christ, by whom the world has been crucified to me, and I to the world. 15 For in Christ Jesus neither circumcision nor uncircumcision avails anything, but a new creation.
Blessing and a Plea
16 And as many as walk according to this rule, peace and mercy be upon them, and upon the Israel of God.
17 From now on let no one trouble me, for I bear in my body the marks of the Lord Jesus.
18 Brethren, the grace of our Lord Jesus Christ be with your spirit. Amen.
Luke 8:5-15
5 "A sower went out to sow his seed. And as he sowed, some fell by the wayside; and it was trampled down, and the birds of the air devoured it. 6 Some fell on rock; and as soon as it sprang up, it withered away because it lacked moisture. 7 And some fell among thorns, and the thorns sprang up with it and choked it. 8 But others fell on good ground, sprang up, and yielded a crop a hundredfold." When He had said these things He cried, "He who has ears to hear, let him hear!"
The Purpose of Parables
9 Then His disciples asked Him, saying, "What does this parable mean?"
10 And He said, "To you it has been given to know the mysteries of the kingdom of God, but to the rest it is given in parables, that
'Seeing they may not see,
And hearing they may not understand.'
The Parable of the Sower Explained
11 "Now the parable is this: The seed is the word of God. 12 Those by the wayside are the ones who hear; then the devil comes and takes away the word out of their hearts, lest they should believe and be saved. 13 But the ones on the rock are those who, when they hear, receive the word with joy; and these have no root, who believe for a while and in time of temptation fall away. 14 Now the ones that fell among thorns are those who, when they have heard, go out and are choked with cares, riches, and pleasures of life, and bring no fruit to maturity. 15 But the ones that fell on the good ground are those who, having heard the word with a noble and good heart, keep it and bear fruit with patience.