Our humanity binds us together when we suffer sorrow and loss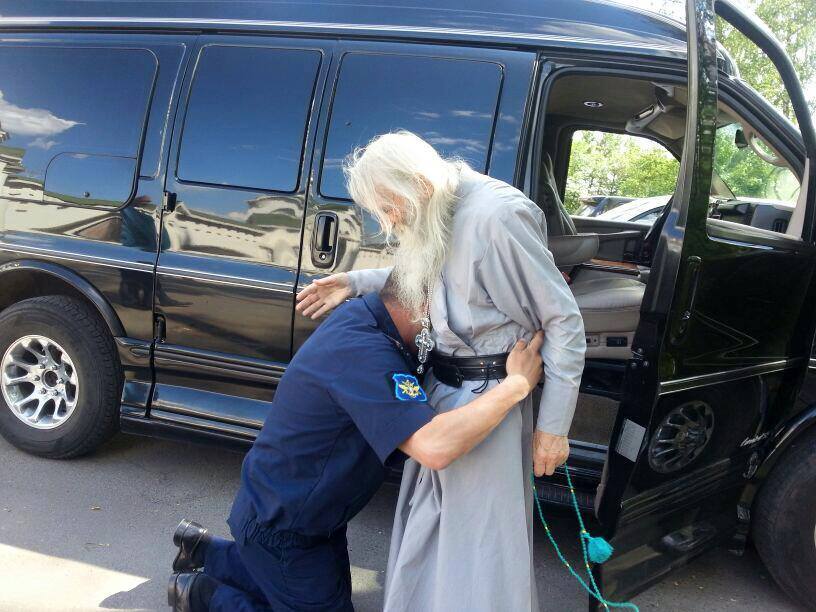 One of the most tremendously rewarding and challenging aspects of the priesthood is comforting people in their darkest moments of sorrow. Do not be mistaken, and think that priests, monks and chaplains are exempt from the pain of those whom they try to comfort, or that we have magical words that somehow ease the pain or bring order to the chaos of grief. Platitudes are useless in dark days of mourning. They may very well be "in a better place," but it is oddly of little comfort to say those words. In a powerful witness of human behavior, Christ does not say, Well, now he is in heaven, everything is well; he is separated from this difficult and tormented life. Christ does not say all those things we do in our pathetic and uncomforting attempts to console. In fact he says nothing—he weeps."
In like fashion, we need to embrace the grief that we feel at the loss of people in our lives. We need to honor the bereavement process, because just as God gave to us wonderful years with friends and relatives, sons and daughters, spouses and parents, so too God has blessed us with the grief that we feel at their leaving. Grief is confirmation they were persons of value, a beloved son, a cherished brother, a treasured friend, a sweet parent. Grief is how we honor a well-lived life. Their death is grief-worthy. In grieving, we do their memory justice, and follow in the example of Jesus, who wept at the grave of his friend Lazarus. Like martyrs of the ancient church, like Lazarus in the New Testament, their departure from this world is what makes their death particularly galling for those of us left behind to wonder how we are going to the fill the space that they once occupied. The mystery of a future without them is daunting, in the immediacy of their death, as the mystery of death itself.
As a priest and monk of the Orthodox Church, I am comfortable with this mystery, as all Christians should be. Death can be a mystery precisely because the triumph over death is not a mystery. As the Orthodox theologian Alexander Schmemann wrote, "in essence, Christianity is not concerned with coming to terms with death, but rather with the victory over it." In the light of everlasting life, in the name of Jesus Christ, the dreadful threat and dark mystery that is death is transformed into a happy and victorious event for the believer, and "Death is swallowed up in victory." (1 Cor. 15:54)
So mourning is an ancient ritual, one in which Jesus participated. For all of us, all people, death is a common element of humanity, the common trait that we share, and the common enemy of our loved ones. And like grief, victory over death binds people together in a larger, more powerful community, the community that is found in the Christian faith. People accuse Christians of being members of a "death cult," obsessed with a dying savior and focused on the afterlife to the exclusion of the present; but they are wrong. Christianity does not deny life, Christianity affirms life. Christianity affirms life even in death, because for Christians, death does not remove the relationship that exists. In death, as in life, the deceased is our son, the deceased is our brother, the deceased is our friend. In death, as in life, we love and honor them, and death cannot separate them from us. Death may have taken them, but it has also provided us with the opportunity to live with the hope of one day joining them. And a life with hope is a good life.
So for us, their death is the beginning of the true life that also awaits us beyond the grave, if indeed we have begun to live it here. Christ, "the resurrection and the life," (John 11:25) transformed death. Christ assumed human flesh, Christ was crucified, resurrected, ascended to heaven and waits for us there, and Christ ushers us into new life both now and after our death. Therefore, even as death exposes our frailty and our grief, death does not reveal our finiteness; instead it reveals our infiniteness, our eternity. To this end, the Christian does not ponder the mystery of death in a way that is paralyzing, negative and apathetic, but in a way that is productive, positive and dynamic.
God, to whom we have entrusted our soul, is a good and perfect God. This God will do what is right with our child, what is just with our brother, and what is honorable with our friend. There is no saying, no claim, no scripture that will give us peace in our loss right now or even calm our troubled souls; but we can find comfort and peace in God who is present with us, and in us and through us as we gather in the intimacy of grief, to mourn the death of our loved one.
With love in Christ,
Abbot Tryphon
Thursday September 6, 2018 / August 24, 2018
15th Week after Pentecost. Tone five.
Hieromartyr Eutychius (1st c.), disciple of St. John the Theologian.
Translation of the relics of St. Peter, metropolitan of Kiev (1479).
New Hieromartyr Maximus priest (1914).
Venerable Aristoclius elder of Moscow (1918).
New Hieromartyr Seraphim (1946).
Venerable Arsenius, abbot of Komel (Vologda) (1550).
Martyr Tation at Claudiopolis (305).
Virgin-martyr Cyra of Persia (558).
Venerable George Limniotes the Confessor of Mt. Olympus (716).
Equal-to-the-Apostles Cosmas of Aitolia (1779).
Icon of the Most Holy Theotokos "Petrovskaya" ("of St. Peter of Moscow") (1306).
St. Martyrius, ArchBishop of Novgorod (1199).
Commemorating the appearance of Our Most Holy Lady, the Theotokos and Ever-Virgin Mary to Venerable Sergius, abbot, of Radonezh (1385).
St. Dionysius of Zakynthos, archbishop of Aegina (1622).
St. Serapion the Wonderworker, abbot of the Monastery of St. John the Baptist at Garesja, Georgia (1747) (Georgia).
St. Maxim (Sandovich), martyr of the Lemkos, Poland (1914).
The Scripture Readings
Galatians 3:23-4:5
23 But before faith came, we were kept under guard by the law, kept for the faith which would afterward be revealed. 24 Therefore the law was our tutor to bring us to Christ, that we might be justified by faith. 25 But after faith has come, we are no longer under a tutor.
Sons and Heirs
26 For you are all sons of God through faith in Christ Jesus. 27 For as many of you as were baptized into Christ have put on Christ. 28 There is neither Jew nor Greek, there is neither slave nor free, there is neither male nor female; for you are all one in Christ Jesus. 29 And if you are Christ's, then you are Abraham's seed, and heirs according to the promise.
Sons and Heirs Through Christ
4 Now I say that the heir, as long as he is a child, does not differ at all from a slave, though he is master of all, 2 but is under guardians and stewards until the time appointed by the father. 3 Even so we, when we were children, were in bondage under the elements of the world. 4 But when the fullness of the time had come, God sent forth His Son, born of a woman, born under the law, 5 to redeem those who were under the law, that we might receive the adoption as sons.
Mark 6:30-45
Feeding the Five Thousand
30 Then the apostles gathered to Jesus and told Him all things, both what they had done and what they had taught. 31 And He said to them, "Come aside by yourselves to a deserted place and rest a while." For there were many coming and going, and they did not even have time to eat. 32 So they departed to a deserted place in the boat by themselves.
33 But the multitudes saw them departing, and many knew Him and ran there on foot from all the cities. They arrived before them and came together to Him. 34 And Jesus, when He came out, saw a great multitude and was moved with compassion for them, because they were like sheep not having a shepherd. So He began to teach them many things. 35 When the day was now far spent, His disciples came to Him and said, "This is a deserted place, and already the hour is late. 36 Send them away, that they may go into the surrounding country and villages and buy themselves bread; for they have nothing to eat."
37 But He answered and said to them, "You give them something to eat."
And they said to Him, "Shall we go and buy two hundred denarii worth of bread and give them something to eat?"
38 But He said to them, "How many loaves do you have? Go and see."
And when they found out they said, "Five, and two fish."
39 Then He commanded them to make them all sit down in groups on the green grass. 40 So they sat down in ranks, in hundreds and in fifties. 41 And when He had taken the five loaves and the two fish, He looked up to heaven, blessed and broke the loaves, and gave them to His disciples to set before them; and the two fish He divided among them all. 42 So they all ate and were filled. 43 And they took up twelve baskets full of fragments and of the fish. 44 Now those who had eaten the loaves were about five thousand men.
Jesus Walks on the Sea
45 Immediately He made His disciples get into the boat and go before Him to the other side, to Bethsaida, while He sent the multitude away.