The Church is forever united with Christ and is Christ like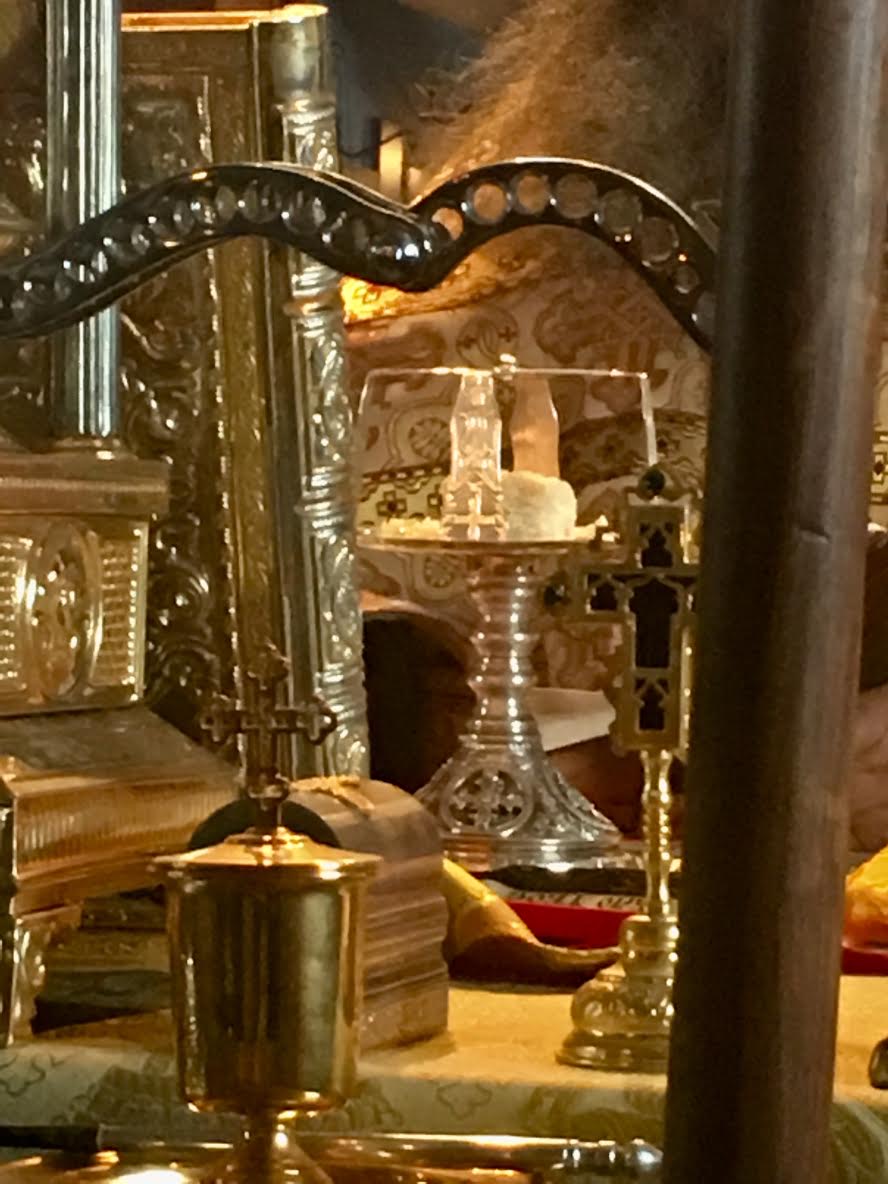 If someone says, "I love God," and hates his brother, he is a liar; for he who does not love his brother whom he has seen, how can he love God whom he has not seen? 1 John 4:20
The Church Fathers saw Orthodoxy as a Way of Life, rather than "a religion". Although the Church has many of the same attributes as religion, this does not mean she herself is "just a religious institution", but rather the Body of Christ, and one with our Saviour. Most importantly, she is a Hospital for the Soul, wherein we can receive the healing that makes it possible to commune with our Creator. It is within this hospital, the Church, that we are made holy (whole), making this communion possible. The Sacraments, and specifically the Eucharist, which is the chief vehicle by which we can receive the grace that opens the doors for communion with God, bring about spiritual transformation, and are the chief sign of our unity in Christ.
Although there is uniformity in doctrine and practice within the Orthodox Church, the unity within the Church does in no way excludes other souls who are outside the Church, for all are God's children, and the doors of the Church are open wide, even to those who are blind to this truth. The Church does not judge those who remain outside her walls, but loves them, and prays for them. She is not an "exclusive" institution, but rather the living embodiment of Christ. Her claim to divine origin, and absolute truth, in no way suggests a denial of the basic dignity of all humanity as being the children of God.
The Church's claim to divine origin is no where more clearly seen, then her celebration of the Eucharist, for this is the moment when heaven comes down to earth, and her faithful are united one to another, in the Christ Who gives Himself so freely and completely. In this way the Eucharist is both the vehicle to unity in Christ, and a sign of a unity that transforms time and space. Yet without unity of faith, where each believer has received the teachings of the Church in all her integrity and authenticity as their own, communion would simply be a common participation in a symbolic act, rather than the participation in the Divine. Our reception of the very Body and Blood of Christ, is that point in eternity that brings about transformation and holiness.
These teachings are in direct opposition to the theories and philosophies of today, for they would deny the existence of Absolute Truth. The Church's strict adherence to the beliefs, teachings, and practices, that have been handed down from Apostolic times, are the basis for our unity, for we have bound ourselves to the unchanging Apostolic Church, and forever united ourselves to Christ.
We join the Church to become one with Christ, and thus Christ like. As the essence of God is love, if we are truly Christ like, and truly in unity with Christ and His Church, we MUST show love towards all around us – and especially the poor, the destitute, the unfortunate, and our enemies.
With love in Christ,
Abbot Tryphon
Tuesday September 11, 2018 / August 29, 2018
16th Week after Pentecost. Tone six.
Fast. Food with Oil
The Beheading of the Glorious Prophet, Forerunner, and Baptist John.
Fast Day.
Commemoration of orthodox soldiers killed on a battle fields.
Venerable Alexander, abbot of Voche, of Galich (16th c.).
New Martyr Anastasius of Bulgaria (1794).
St. Sebbi, king of the East Saxons (694) (Celtic & British).
Venerable Theodora, nun, of Thessalonica (892) (Greek).
Venerable Arcadius of Arsinoe, Cyprus, bishop and wonderworker (Greek).
Translation of the relics of Venerable Joseph the Sanctified of Samaka (Greek).
New Hieromartyr Peter, metropolitan of Krutitsa (1936).
Sts. Candida (418) and Gelasia (422) of Constantinople.
The Scripture Readings
Matthew 14:1-13
John the Baptist Beheaded
14 At that time Herod the tetrarch heard the report about Jesus 2 and said to his servants, "This is John the Baptist; he is risen from the dead, and therefore these powers are at work in him." 3 For Herod had laid hold of John and bound him, and put him in prison for the sake of Herodias, his brother Philip's wife. 4 Because John had said to him, "It is not lawful for you to have her." 5 And although he wanted to put him to death, he feared the multitude, because they counted him as a prophet.
6 But when Herod's birthday was celebrated, the daughter of Herodias danced before them and pleased Herod. 7 Therefore he promised with an oath to give her whatever she might ask.
8 So she, having been prompted by her mother, said, "Give me John the Baptist's head here on a platter."
9 And the king was sorry; nevertheless, because of the oaths and because of those who sat with him, he commanded it to be given to her. 10 So he sent and had John beheaded in prison. 11 And his head was brought on a platter and given to the girl, and she brought itto her mother. 12 Then his disciples came and took away the body and buried it, and went and told Jesus.
Feeding the Five Thousand
13 When Jesus heard it, He departed from there by boat to a deserted place by Himself. But when the multitudes heard it, they followed Him on foot from the cities.
Acts 13:25-32
25 And as John was finishing his course, he said, 'Who do you think I am? I am not He. But behold, there comes One after me, the sandals of whose feet I am not worthy to loose.'
26 "Men and brethren, sons of the family of Abraham, and those among you who fear God, to you the word of this salvation has been sent. 27 For those who dwell in Jerusalem, and their rulers, because they did not know Him, nor even the voices of the Prophets which are read every Sabbath, have fulfilled them in condemning Him. 28 And though they found no cause for death in Him, they asked Pilate that He should be put to death. 29 Now when they had fulfilled all that was written concerning Him, they took Him down from the tree and laid Him in a tomb. 30 But God raised Him from the dead. 31 He was seen for many days by those who came up with Him from Galilee to Jerusalem, who are His witnesses to the people. 32 And we declare to you glad tidings—that promise which was made to the fathers.
Mark 6:14-30
John the Baptist Beheaded
14 Now King Herod heard of Him, for His name had become well known. And he said, "John the Baptist is risen from the dead, and therefore these powers are at work in him."
15 Others said, "It is Elijah."
And others said, "It is the Prophet, or like one of the prophets."
16 But when Herod heard, he said, "This is John, whom I beheaded; he has been raised from the dead!" 17 For Herod himself had sent and laid hold of John, and bound him in prison for the sake of Herodias, his brother Philip's wife; for he had married her. 18 Because John had said to Herod, "It is not lawful for you to have your brother's wife."
19 Therefore Herodias held it against him and wanted to kill him, but she could not; 20 for Herod feared John, knowing that he was a just and holy man, and he protected him. And when he heard him, he did many things, and heard him gladly.
21 Then an opportune day came when Herod on his birthday gave a feast for his nobles, the high officers, and the chief men of Galilee. 22 And when Herodias' daughter herself came in and danced, and pleased Herod and those who sat with him, the king said to the girl, "Ask me whatever you want, and I will give it to you." 23 He also swore to her, "Whatever you ask me, I will give you, up to half my kingdom."
24 So she went out and said to her mother, "What shall I ask?"
And she said, "The head of John the Baptist!"
25 Immediately she came in with haste to the king and asked, saying, "I want you to give me at once the head of John the Baptist on a platter."
26 And the king was exceedingly sorry; yet, because of the oaths and because of those who sat with him, he did not want to refuse her. 27 Immediately the king sent an executioner and commanded his head to be brought. And he went and beheaded him in prison, 28 brought his head on a platter, and gave it to the girl; and the girl gave it to her mother. 29 When his disciples heard of it, they came and took away his corpse and laid it in a tomb.
Feeding the Five Thousand
30 Then the apostles gathered to Jesus and told Him all things, both what they had done and what they had taught.