Let my prayer arise as incense before Thee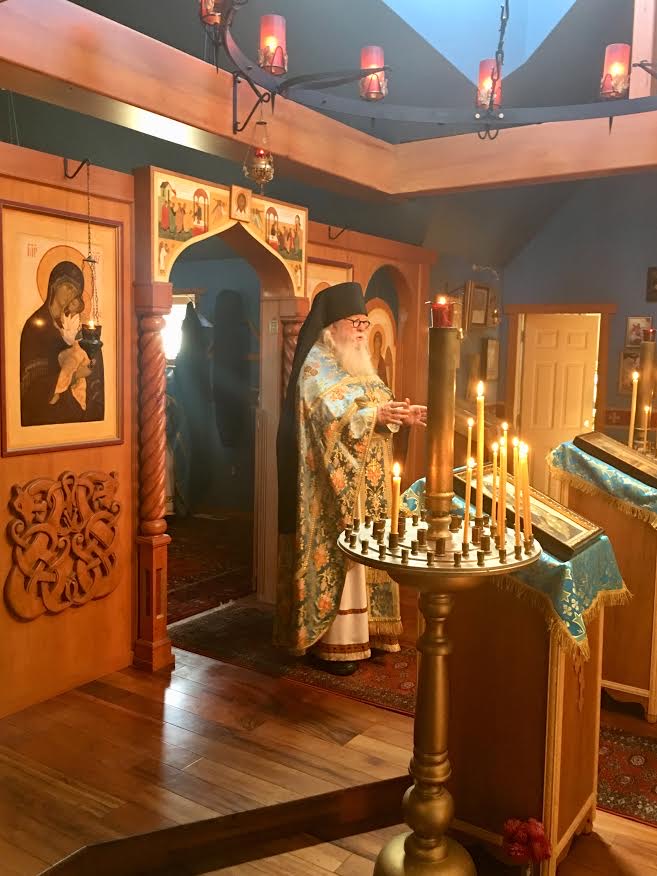 From Old Testament times believers have burned incense as an offering when worshiping God. The ancient temple in Jerusalem even had priests whose sole duty was to keep the censer burning twenty-four hours a day.
Ancient pagan kings were often escorted with large fans of peacock feathers and burning incense when entering their palaces. Early Christians took both these symbols for their worship in recognition of Christ as their Sovereign King and Lord. To this day the Orthodox Church uses incense in most of her services, and large circular fans, reminiscent of the peacock fans of ancient times, are held over the Gospel book during the proclamation of God's word during celebrations of the Divine Liturgy.
As a young man attending my very first Orthodox Liturgy, I was struck by the use of incense. The words of the Psalmist King David, "Let my prayer arise as incense before Thee…", is chanted during every celebration of Vespers during the censing of the temple. During every service where there is a great censing of the whole church, the priest (or deacon) censes the frescoes and icons as windows into eternity, as the incense wafts upward as an offering of the people of God.
The people are also censed by the priest in recognition of their having been created in the image and likeness of their Creator God. Incense is so central in Christian worship that it is even used in the worship of the domestic church, where the family gathers in prayer around their own icons, reading the scriptures together, and offering their family prayers to the Lord.
"Let my prayer arise as incense before Thee." Psalm 141:2
With love in Christ,
Abbot Tryphon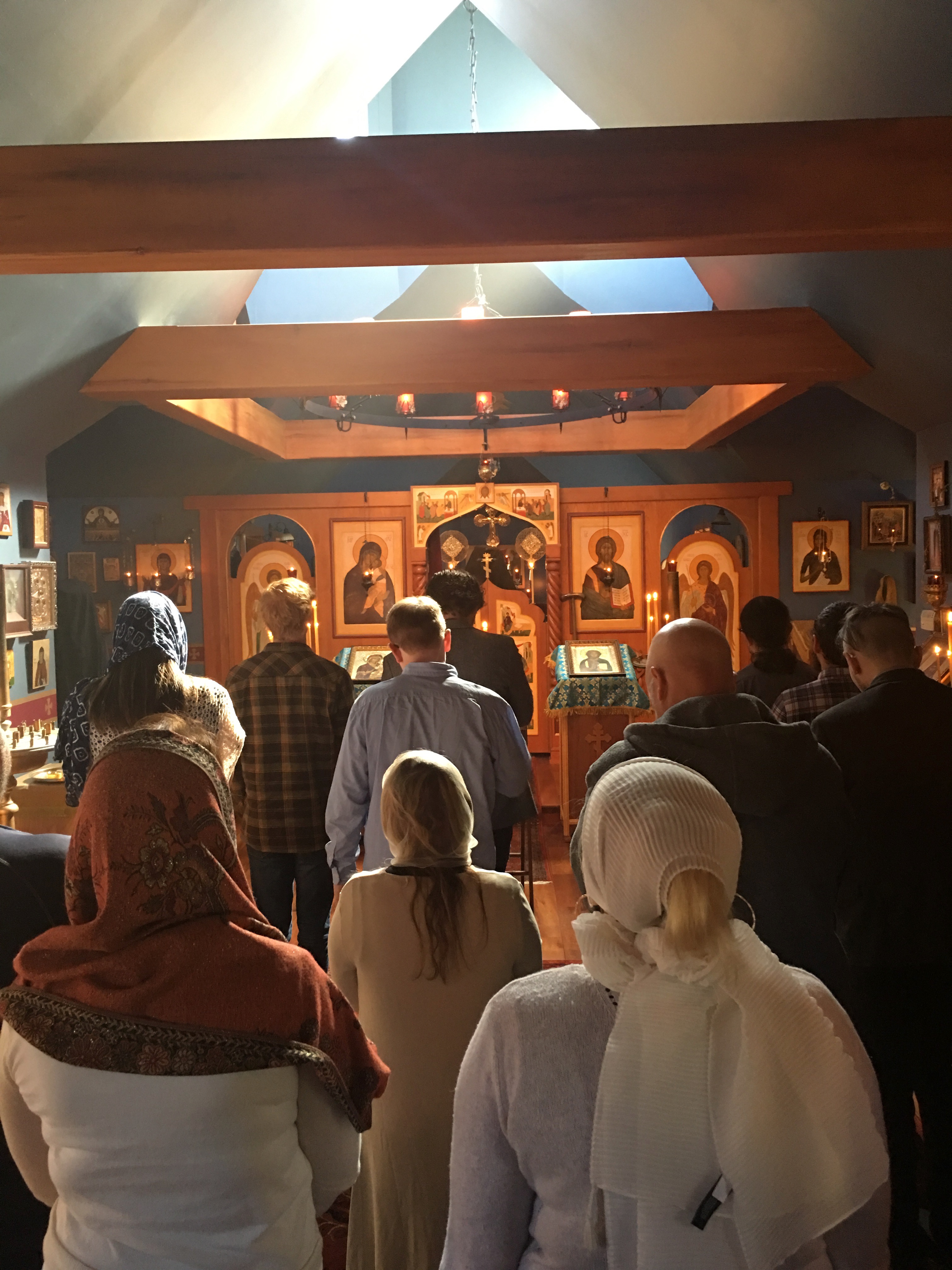 Wednesday September 5, 2018 / August 23, 2018
15th Week after Pentecost. Tone five.
Fast. Food with Oil
Apodosis of the Dormition.
Martyr Lupus (306), slave of St. Demetrius of Thessalonica.
New Hieromartyrs Ephraim, bishop of Selenginsk (1918) and Archpriest John Vostorgov of Moscow (1918) and Martyr Nicholas.
New Hieromartyrs Paul and John priests (1937).
Hieromartyr Irenaeus, bishop of Lyons (202).
Venerables Eutychius (540) and Florentius (547) of Nursia.
St. Callinicus, patriarch of Constantinople (705).
Holy Martyr Ebba the Younger, abbess of Coldingham, Northumbria, and her companions (870) (Celtic & British).
38 Martyrs of Thrace (Greek).
Venerable Nicholas the Sicilian, who struggled on Mt. Neotaka in Euboea (Greek).
Hieromartyr Pothinus, bishop of Lyons (177).
Martyr Victor of Marseilles (3rd c.).
Martyr Tydfil of Merthyr Tydfil.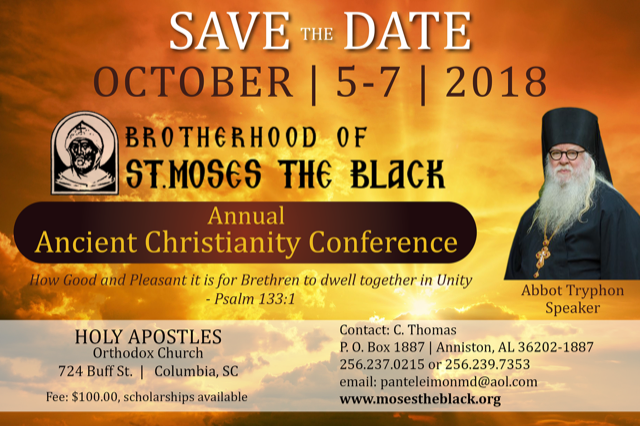 The Scripture Readings
Galatians 3:15-22
The Changeless Promise
15 Brethren, I speak in the manner of men: Though it is only a man's covenant, yet if it is confirmed, no one annuls or adds to it. 16 Now to Abraham and his Seed were the promises made. He does not say, "And to seeds," as of many, but as of one, "And to your Seed," who is Christ. 17 And this I say, that the law, which was four hundred and thirty years later, cannot annul the covenant that was confirmed before by God in Christ, that it should make the promise of no effect. 18 For if the inheritance is of the law, it is no longer of promise; but God gave it to Abraham by promise.
Purpose of the Law
19 What purpose then does the law serve? It was added because of transgressions, till the Seed should come to whom the promise was made; and it was appointed through angels by the hand of a mediator. 20 Now a mediator does not mediate for one only, but God is one.
21 Is the law then against the promises of God? Certainly not! For if there had been a law given which could have given life, truly righteousness would have been by the law. 22 But the Scripture has confined all under sin, that the promise by faith in Jesus Christ might be given to those who believe.
Mark 6:7-13
Sending Out the Twelve
7 And He called the twelve to Himself, and began to send them out two by two, and gave them power over unclean spirits. 8 He commanded them to take nothing for the journey except a staff—no bag, no bread, no copper in their money belts— 9 but to wear sandals, and not to put on two tunics.
10 Also He said to them, "In whatever place you enter a house, stay there till you depart from that place. 11 And whoever will not receive you nor hear you, when you depart from there, shake off the dust under your feet as a testimony against them. Assuredly, I say to you, it will be more tolerable for Sodom and Gomorrah in the day of judgment than for that city!"
12 So they went out and preached that people should repent. 13 And they cast out many demons, and anointed with oil many who were sick, and healed them.