Proper attire in the House of God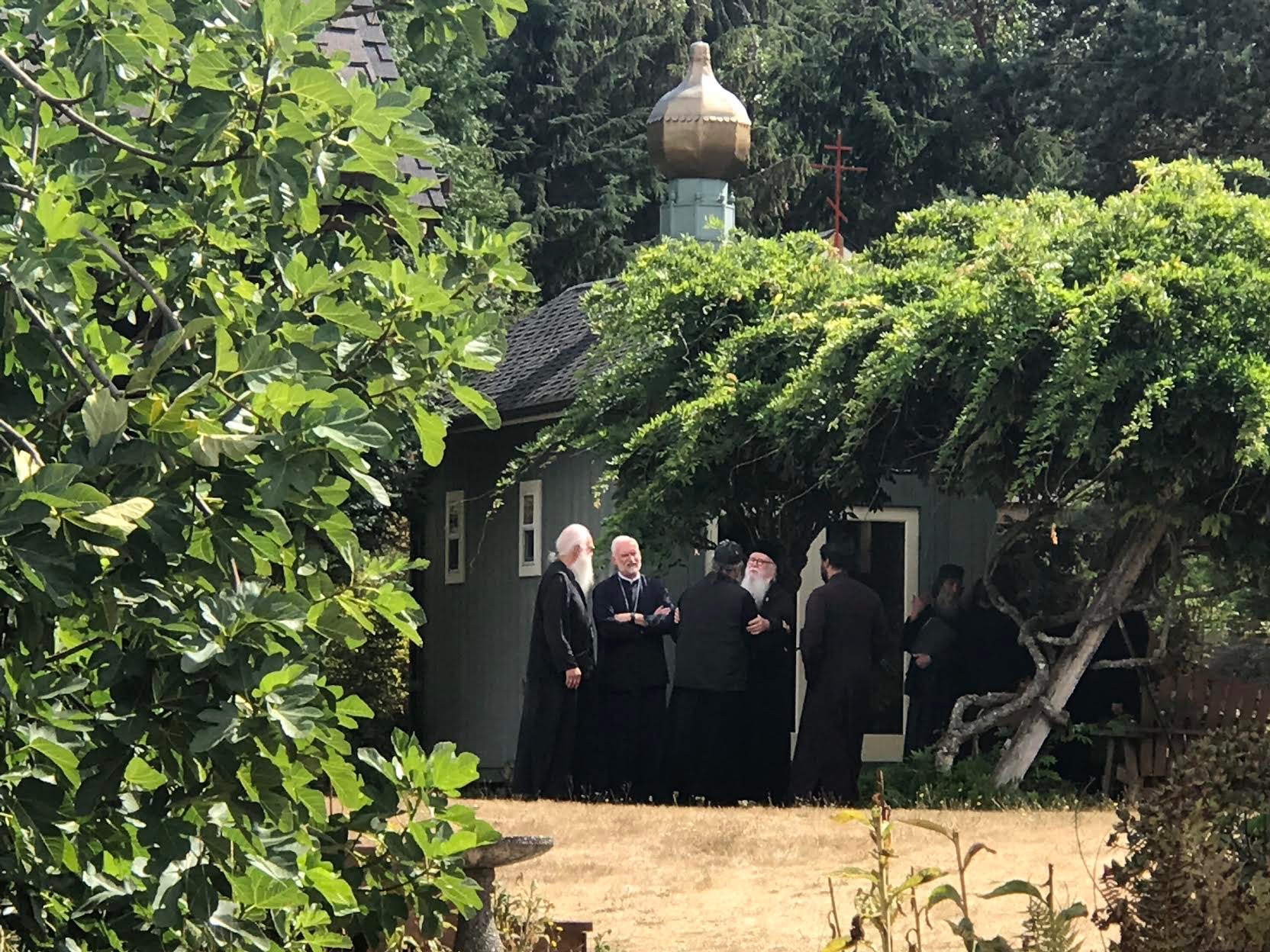 The Church is our home, a place where we should feel comfortable, and at ease. It is also God's house and is a temple set aside for worship of the Holy Trinity. Although times have changed and we have become a very casual society, this attitude can not be allowed to influence how we dress to worship God. Our way of dressing for church should reflect our desire to offer our very best to Christ. Just as we want to act in ways that demonstrate the centrality of Christ in our lives, our dress should show forth the modesty that is befitting a Christian.
Just as we take special care to dress for formal social occasions, or job interviews, how much more important it is to show our respect for God's house. If we were invited to the wedding of our boss's daughter, we'd make sure to show respect to our employer by dressing our best. Does God deserve anything less?
We should wear clothes that are modest and befitting a Christian, especially when worshiping in God's house. In our monastery's temple, we keep the ancient practice of removing our shoes before entering, recalling God's direction to Moses " … take off your shoes from your feet, for the place where you are is holy ground". We ask that no one wear shorts or tee shirts when entering the holy grounds of the monastery, and, as is proper in all Orthodox churches, ask visitors to avoid the distractions that come with slogans on clothing, or "showy" clothing that is best reserved for elegant events.
Both men and women should avoid wearing clothing that can be distracting to other worshipers. Just as we want to keep our focus on the divine services, so too we must not be the cause of the distraction for our fellow Christians. Christ should be the focus of our worship, not our personal outfits. Church is not the place to show off the latest fashion, nor the results of the fitness center.
Just as it is Orthodox custom that men remove their hats upon entering the Church, women, throughout the history of the Church, have worn head coverings. The idea that this pious, biblical custom be seen as an antiquated or sexist practice, should be foreign to our Orthodox mindset. This tradition is not intended as an insult to women but as a great compliment. The scriptures refer to a woman's hair as her "crowning glory", and the covering of her head as an act of humility. Throughout Christian history, modest believing women chose not to allow their beauty to distract others from the glory of God and the beauty of His house.
With love in Christ,
Abbot Tryphon
Photos: The Monastery hosted a meeting of the Washington Orthodox Clergy Association on Tuesday.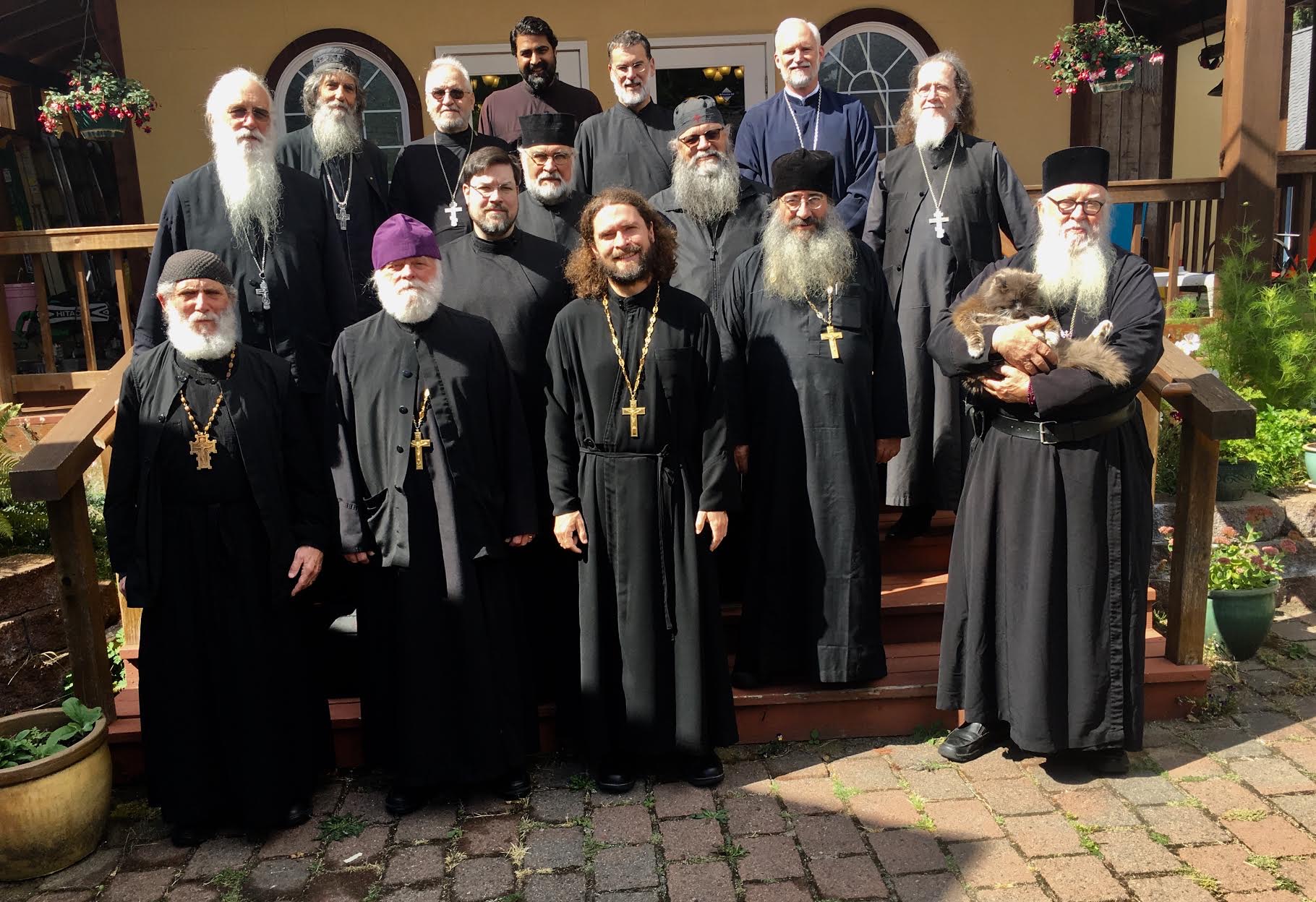 Wednesday September 12, 2018 / August 30, 2018
16th Week after Pentecost. Tone six.
Fast. Food with Oil
Sts. Alexander (340), John (595), and Paul the New (784), patriarchs of Constantinople.
Repose of Venerable Alexander, abbot of Svir (1533).
Translation of the relics (1724) of St. Alexander Nevsky (1263).
Uncovering of the relics of St. Daniel, prince of Moscow (1652).
New Hieromartyr Peter priest (1918).
New Hieromartyr Apollinaris (1918).
New Hieromartyr Paul priest and Virgin-martyr Elizaveta and Martyr Theodore (1937).
New Hieromartyr Schema-archimandrite Ignatius (Lebedev) of St. Peter's Monastery (1938).
Hiero-confessor Archpriest Peter Cheltsov of Smolensk (1972).
Venerable Christopher of Palestine (6th c.).
Venerable Fantinus of Calabria (9th c.).
Synaxis of the Serbian Hierarchs: Sts. Sava I (1235), Arsenius (1266), Sava II (1271), Eustathius I (1285), James (1292), Nicodemus (1325), and Daniel II (1338), archbishops; Sts. Ioannicius II (1354), Spyridon (1388), Ephraim II (1395), Cyril (1419), Nicon (ca. 1439), Macarius (1574), Gabriel I (1659), patriarchs; and St. Gregory (1012), bishop.
Venerable Bryaene of Nisibis (318).
St. Eulalius, bishop of Caesarea (4th c.).
Sixteen Monk-martyrs of Thebes (Greek).
Six Martyrs of Melitene (Greek).
St. Sarmata of The Paradise (Greek).
Hieromartyr Felix and Martyrs Fortunatus, Septimius and Januarius (Greek).
St. Fiacrius of Brogillum (670) (Gaul).
Translation of the relics of St. Guthlac. Hieromonk of Crowland.
The Scripture Readings
Matthew 11:27-30
27 All things have been delivered to Me by My Father, and no one knows the Son except the Father. Nor does anyone know the Father except the Son, and the one to whom the Son wills to reveal Him. 28 Come to Me, all you who labor and are heavy laden, and I will give you rest. 29 Take My yoke upon you and learn from Me, for I am gentle and lowly in heart, and you will find rest for your souls.30 For My yoke is easy and My burden is light."
Galatians 6:2-10
2 Bear one another's burdens, and so fulfill the law of Christ. 3 For if anyone thinks himself to be something, when he is nothing, he deceives himself. 4 But let each one examine his own work, and then he will have rejoicing in himself alone, and not in another. 5 For each one shall bear his own load.
Be Generous and Do Good
6 Let him who is taught the word share in all good things with him who teaches.
7 Do not be deceived, God is not mocked; for whatever a man sows, that he will also reap. 8 For he who sows to his flesh will of the flesh reap corruption, but he who sows to the Spirit will of the Spirit reap everlasting life. 9 And let us not grow weary while doing good, for in due season we shall reap if we do not lose heart. 10 Therefore, as we have opportunity, let us do good to all, especially to those who are of the household of faith.
Mark 7:14-24
14 When He had called all the multitude to Himself, He said to them, "Hear Me, everyone, and understand: 15 There is nothing that enters a man from outside which can defile him; but the things which come out of him, those are the things that defile a man. 16 If anyone has ears to hear, let him hear!"
17 When He had entered a house away from the crowd, His disciples asked Him concerning the parable. 18 So He said to them, "Are you thus without understanding also? Do you not perceive that whatever enters a man from outside cannot defile him, 19 because it does not enter his heart but his stomach, and is eliminated, thus purifying all foods?" 20 And He said, "What comes out of a man, that defiles a man. 21 For from within, out of the heart of men, proceed evil thoughts, adulteries, fornications, murders, 22 thefts,covetousness, wickedness, deceit, lewdness, an evil eye, blasphemy, pride, foolishness. 23 All these evil things come from within and defile a man."
A Gentile Shows Her Faith
24 From there He arose and went to the region of Tyre and Sidon. And He entered a house and wanted no one to know it, but He could not be hidden.